LGBTQ U.S. Stamp Gallery
Below is a sampling of the many U.S. LGBTQ themed stamps available. If your favorite(s) are missing, please help add to this page by indicating what issue should be included and providing a description of the subject matter, to include how it relates to a LGBTQ theme. The Webmaster is listed on the "Contacts Us" page of this website.
The sexuality of famous personalities is often open to debate. Even today, many remain in the closet for fear of ruining their career and relationships. For some individuals depicted on the stamps listed below, all we have are clues as their being or possibly being gay, lesbian or bisexual; correspondence that would reveal homosexual relationships was often destroyed after the death of those involved. Also included are some LGBTQ icons. The biographical sketches below are drawn from Wikipedia, Biography.com, Britannica.com, the Gay and Lesbian History on Stamps Journal, the Lambda Philatelic Journal, and various LGBTQ websites.
The U.S. has issued only one AIDS stamp, in 1993. The topic AIDS on stamps is comprehensively covered up to the year 2021 on the AIDS on Stamps website.
Abraham Lincoln
Scott #77, #367, #4380
The legacy of 16th U.S. president Abraham Lincoln (1809-1865) is well known. Speculation about his sexuality relates to his relationship with shopkeeper and life-long friend Joshua Speed, with whom Lincoln shared a house and bed with for four years in Springfield, Illinois. After Lincoln married, Mary Todd allegedly refused to allow Speed to be near her husband. Lincoln's image has appeared on dozens of U.S. stamps besides the ones depicted here.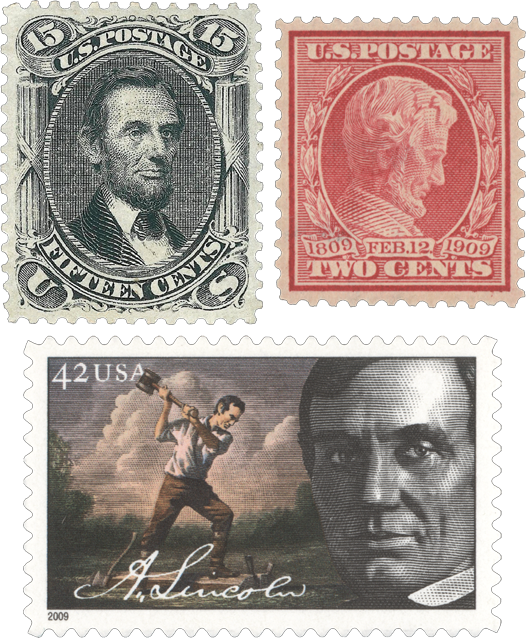 Alexander Hamilton
Scott #154, 1053, 1086
One of America's founding fathers, Alexander Hamilton (1755-1804) was a believer in a strong central government. As the first Secretary of Treasury during the Washington administration, he put the nation on a firm financial footing. When vice President Burr ran for governor of New York State in 1804, Hamilton campaigned against him as unworthy. Taking offense, Burr challenged Hamilton to a duel on July 11, 1804, in which Burr shot and mortally wounded Hamilton, who died the following day. Some of his surviving correspondence strongly suggests he was at least bisexual. To date, he has appeared on a half dozen U.S. postage stamps not depicted here plus numerous revenue stamps.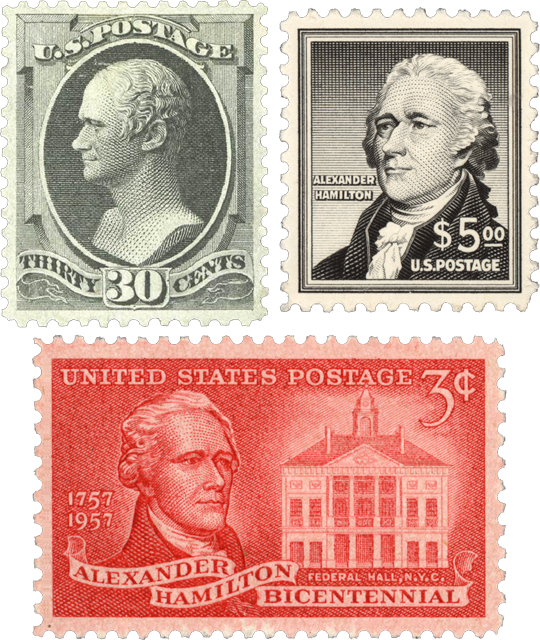 Friedrich Wilhelm von Steuben
Scott #689
In 1777 a former Prussian military officer, Friedrich Wilhelm von Steuben (1730-1794), was approached by Benjamin Franklin, then in France, about joining the rag-tag Continental Army. Steuben declined as he would have to come as a volunteer and upon returning to Prussia found that he was being threatened with prosecution for homosexuality. He returned to Paris and accepted the Franklin's offer, arriving in America in December of that year. George Washington first appointed Steuben temporary inspector general and, impressed with his organizational skills, recommended to the Continental Congress that Steuben be appointed permanent inspector general of the army with the rank of major general. Steuben served in the army throughout the Revolutionary War and his training program, which was used for decades thereafter, is credited with helping make the Continental Army a credible fighting force that was able to win the war. At Valley Forge, he began close relationships with Benjamin Walker and William North, officers both in their 20s, whom he later adopted and lived with until his death. Towards the end of his life, Steuben indicated in a letter that "an inconsiderate step and an implacable personal enemy" led to his leaving the Prussian army. Germany has issued several stamps honoring Steuben as well.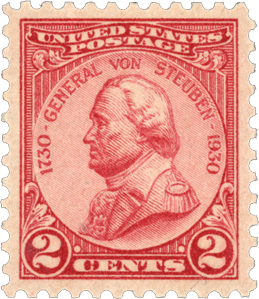 Susan B. Anthony
Scott #784, #1051
America's greatest suffragette, Susan Brownell Anthony (1820-1906) was also a leader in the antislavery and temperance movements. She was arrested for voting in the presidential election of 1872. She dedicated her life to the fight for the equality of women, and the women's right to vote. Three women were central in her life: Elizabeth Cady Stanton penned "[when we are] separated, we have a feeling of incompleteness;" Anna Dickinson received provocative invitations from Susan to come and "share my big bed;" and of Emily Gross, Susan said "I'm sure no man could have made me happier than I have been."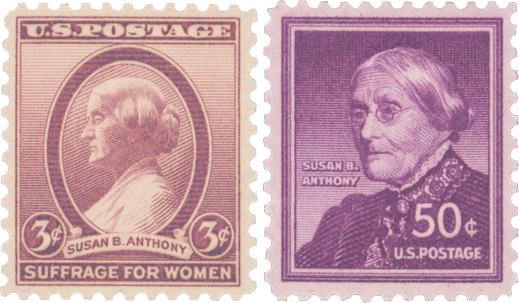 Stephen Decatur
Scott #791, #1440
Stephen Decatur (1779-1820) was born in Sinepuxent, Maryland, grew up in Philadelphia, and came to love the sea while accompanying his father to Europe and back in order to recover from whooping cough. He attended Episcopal Academy where he met Richard Somers, his love until Richard's death in 1804. Stephen's first appointment came in 1798, as midshipman aboard the USS United States. He fought in the Quasi-War, became a national hero during the First Barbary War, and fought during the War of 1812 and the Second Barbary War, rising to the rank of Commodore before dying after a duel with James Barron.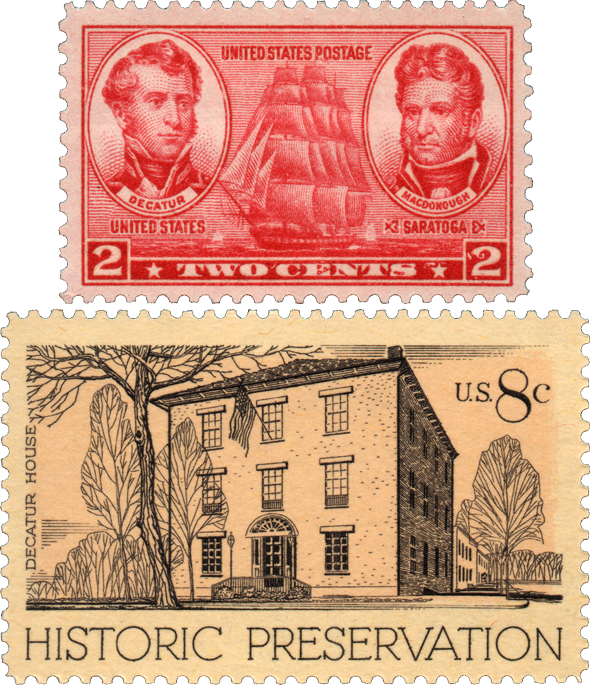 Kamehameha I
Scott #799
Also known as Kamehameha the Great, Kamehameha I (c. 1736-1819) was founder and the first ruler of the Kingdom of Hawaii. He was raised in the royal court of his uncle, ruler of the Island of Hawaii. In 1782, he won the Battle of Moku'ōhai, the first key battle in his wars to conquer the Hawaiian Islands, completed by 1810. Kamehameha had many wives, perhaps as many as 30. He had at least one same-sex sexual relationship, known as aikāne, a part of life for Hawaiian nobility, with a man named Kuakini.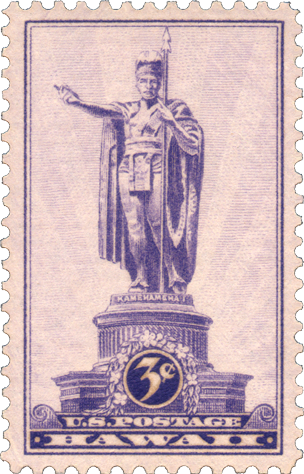 James Buchanan
Scott #820, #1081
James Buchanan Jr. (1791-1868) is often cited as one of America's most ineffectual presidents, with historians citing his failure to address the slavery issue and the secession of the Southern states. A lawyer by trade, his political career began in 1814 with his election to the Pennsylvania House of Representatives. Prior to his election as U.S. President in 1856, Buchanan's political career included stints in the U.S. House of Representatives, the U.S. Senate, ambassadorships to France, Russia and the United Kingdom, and as Secretary of State during the Polk administration. Usually described as America's only bachelor president, Buchanan had a close and intimate relationship with William Rufus King, an Alabama politician who briefly served as vice president under Franklin Pierce. Andrew Jackson called King "Miss Nancy" and prominent Democrat Aaron V. Brown referred to King as Buchanan's "better half", "wife" and "Aunt Fancy." Most of the correspondence between the two men was apparently destroyed by their nieces.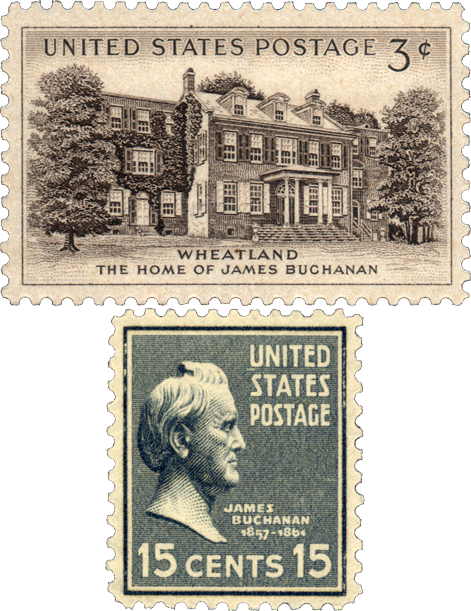 Ralph Waldo Emerson
Scott #861
As the leader of the transcendentalist movement of the mid-19th century, Ralph Waldo Emerson (1803-1882) was an an essayist, lecturer, philosopher and poet. Transcendentalists believed in the inherent goodness of people and nature, that the power of the individual was corrupted by society and its institutions. There is some evidence that Ralph Waldo Emerson was bisexual. During his early years at Harvard, he said he was "strangely attracted" to a young man named Martin Gay, about whom he wrote sexual poetry. Nathaniel Hawthorne, author of The Scarlet Letter, was also alleged to be one of his infatuations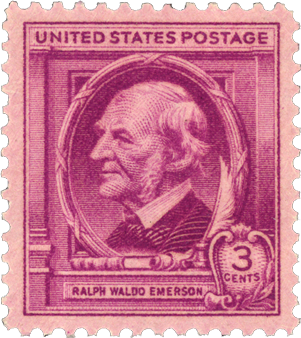 Walt Whitman
Scott #867, #5414
Poet, essayist and journalist Walt Whitman (1819-1893) is best known for his poetry collection Leaves of Grass, first published in 1855 and revised on and off until 1891. Whitman never married and after the Civil War had several long-term relationships with much younger men.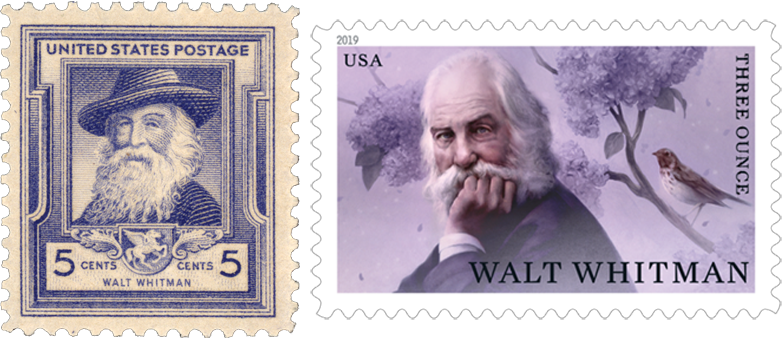 Frances E. Willard
Scott #872
Frances Willard (1839-1898) was an educator, temperance reformer, and women's suffragist. She was born in Churchville, New York, studied at the Milwaukee Normal Institute and graduated from North Western Female College. She taught at colleges that would later become parts of Syracuse University and Northwestern University. Willard participated in the founding of the Women's Christian Temperance Union, eventually becoming president. In 1888, she became the president of the National Council of Women of the United States. Her journals revealed her love for women, including Mary Bannister.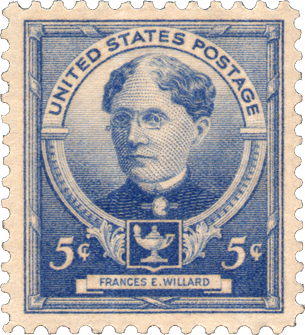 Jane Addams
Scott #878
One of the most prominent reformers of the progressive era of presidents like Theodore Roosevelt and Woodrow Wilson was Jane Addams (1860-1935), who founded Hull House in Chicago and addressed issues of concerns to mothers, such as children's needs and local public health. Soon after the onset of World War I she became involved in the peace movement, often receiving heavy criticism after the U.S. joined the conflict. In 1920 she co-founded the American Civil Liberties Union and 11 years later became the first American woman to receive the Nobel Peace Prize. During lecture tours, Addams always insisted in advance that the hotel supply her and her female companion with a large full-size bed for the two of them to share. She had two long term relationships, with the second one lasting 40 years.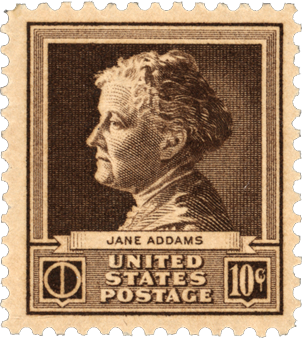 Stephen Collins Foster
Scott #879
The father of American music, Stephen Collins Foster (1826-1864), composed more than 200 songs, with ones like Beautiful Dreamer, Camptown Races, Jeanie with the Light Brown Hair, Oh! Susanna and My Old Kentucky Home still performed today. He left his wife and family in Pittsburgh, and moved to New York City at the onset of the Civil War to be near his lover, George Cooper. The two men combined their talents, Foster composing the music and Cooper the lyrics. Cooper cared for Foster during his final illness at Bellevue hospital. Foster wrote little about himself, and his brother Morrison Foster destroyed much of the information which he judged to reflect negatively upon the family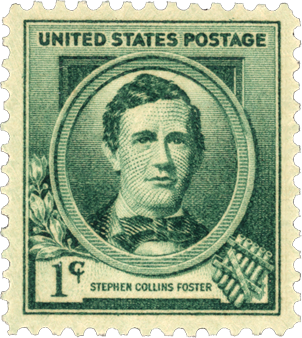 George Washington Carver
Scott #953
Born into slavery, George Washington Carver (early 1860s-1943) promoted using rotations of various cash crops to overcome the depletion of soil by repeated plantings of cotton. Carver received his advanced education at Simpson College in Iowa and the Iowa State Agricultural College (now Iowa State University); he was the first black student at the latter. In 1896, Booker T. Washington invited Carver to head Tuskegee Institute's (now Tuskegee University) Agriculture Department. During his 47 years there, Carver taught generations of black students farming techniques for self-sufficiency and transformed his department into a strong research center, earning the college national recognition. Never married, at age 70 Carver began a friendship and research partnership with the fellow scientist Austin W. Curtis, Jr., with the pair living together until Carver's death, after which Curtis was fired from Tuskegee.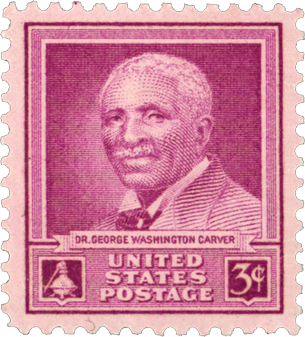 Carrie Chapman Catt
Scott #959
Carrie Chapman Catt (1859-1947) was a women's suffrage leader who campaigned for the 19th Amendment to the U.S. Constitution. Twice president of the National American Woman Suffrage Association, she founded the International Woman Suffrage Alliance, and also the League of Woman Voters. After her second husband died, she lived with longtime companion Mary Garrett Hay, next to whom she is buried.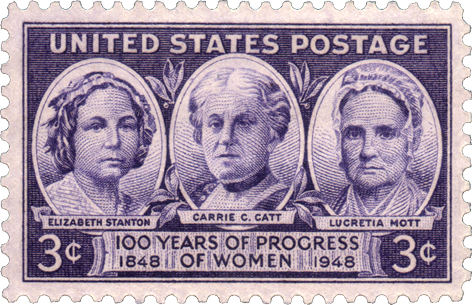 Dag Hammarskhjöld
Scott #1203-04
Dag Hjalmar Agne Carl Hammarskjöld was a Swedish economist and diplomat who served as the second Secretary-General of the United Nations. Hammarskjöld was the youngest person to have held the post, at an age of 47 years upon his appointment. His second term was cut short when he died in the crash of his DC-6 airplane while in route to cease-fire negotiations during the Congo Crisis. Hammarskjöld is one of only four people to be awarded a posthumous Nobel Peace Prize. He was reputedly averse to women and never married. Numerous countries issued stamps upon his death; a pane of the U.S. version was discovered with an inverted color, so millions more of stamps were printed with the error.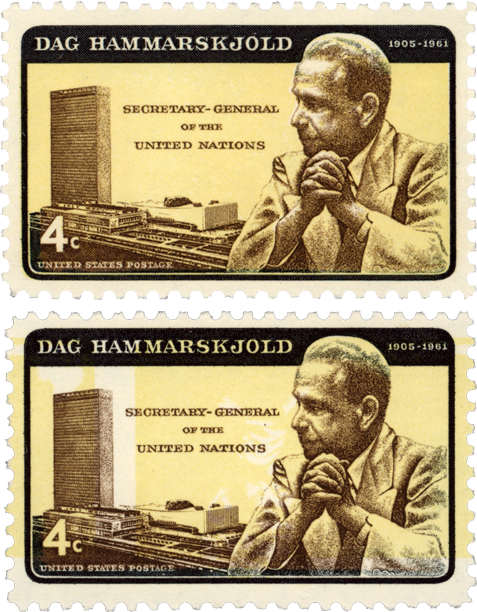 Eleanor Roosevelt
Scott #1236, #2105, #3185d
Anna Eleanor Roosevelt (1884-1962) was an extremely vocal, active, and influential First Lady. During press conferences for women reporters, and in her syndicated column, she championed the rights of women, youths, minorities, and the disadvantaged. Roosevelt had intimate personal and political relationships with two lesbian couples. Esther Lape and Elisabeth Read and Nancy Cook and Marion Dickerman were among her closest friends. She was also very close to lesbian newspaper reporter, Lorena Hickok, whom she sent 10 to 15 written pages a day over three decades, intending Hickok to be her biographer; after Eleanor's passing, much of the correspondence was destroyed.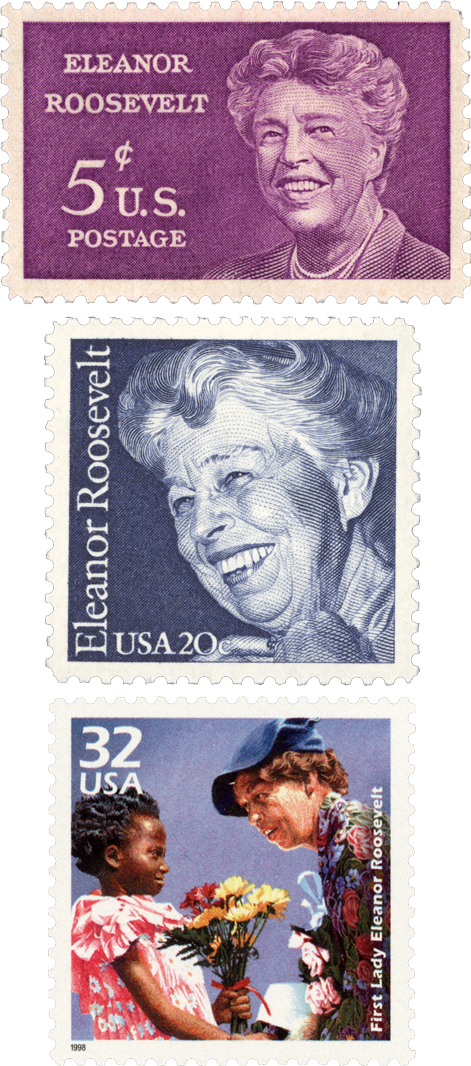 Lucy Stone
Scott #1293
Lucy Stone (1818-1893) was the first woman from Massachusetts to earn a college degree. She helped initiate the first National Women's Rights Convention, supporting and sustaining it annually. She helped establish the Women's National Loyal League working to abolish slavery. Stone helped form the American Woman Suffrage Association and founded the long-running and influential weekly Woman's Journal. Dell Richard's Lesbian Lists: A Look at Lesbian Culture, History and Personalities (1990) links Stone with sister-in-law Antoinette Brown Blackwell. The two met while attending Oberlin College, married two of the Blackwell brothers, and their correspondence of 50 years has been published. Perhaps they were "soul mates." Her only child, a daughter, was lesbian. She made a "contract" before agreeing to marry (sort of like what Amelia Earhart did) and refused to change her name upon marriage.
Henry David Thoreau
Scott #1327, #5202
Like Ralph Waldo Emerson, essayist, poet, and philosopher Henry David Thoreau (1817-1862) was a leader in the transcendentalist movement of the mid-19th century. Thoreau is best known for his book Walden, a reflection upon simple living in natural surroundings, and the essay Civil Disobedience, an argument for disobedience to an unjust state. His proposal of marriage to Ellen Sewall was rejected, so he never married. A long paean in Walden to the French-Canadian woodchopper Alek Therien and the elegy Sympathy, inspired by the 11-year-old Edmund Sewell, give pause to some scholars about his sexuality.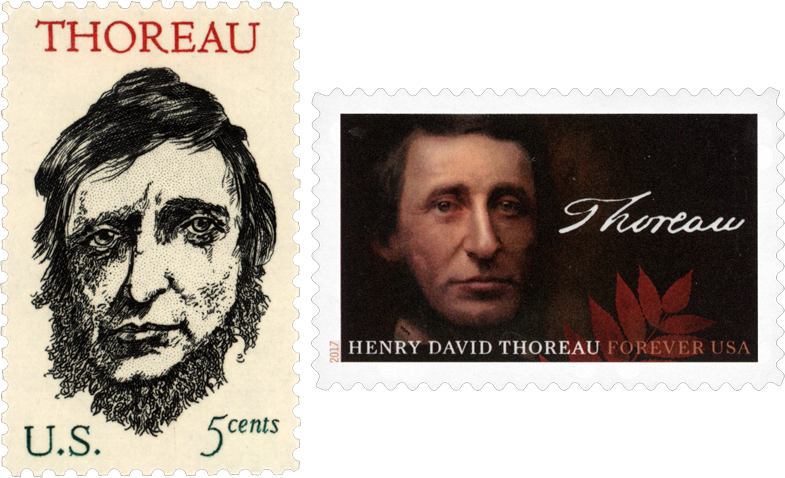 Thomas Eakins
Scott #1335
An realist painter, photographer, sculptor, and fine arts educator widely acknowledged as one of the most important artists in American art history, Thomas Eakins (1844-1916) was born and lived most of his life in Philadelphia. He studied at the Pennsylvania Academy of the Fine Arts and at Jefferson Medical College. Homoeroticism and nudity are themes in his work. He wrote, "She [the female nude] is the most beautiful thing there is in the world except a naked man ...." He was once fired for removing the loin cloth from a nude male model. There is little doubt that he was attracted to men. In later years, his constant companion was the handsome sculptor Samuel Murray.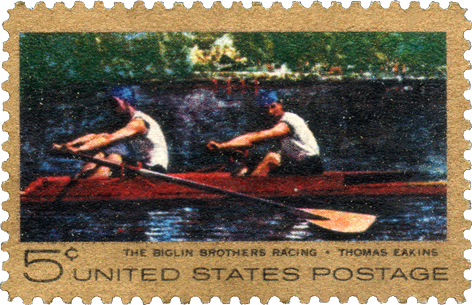 Emily Dickinson
Scott #1436
Emily Dickinson (1830-1886) is regarded as one of the most important figures in American poetry. She was born in Amherst, Massachusetts, briefly attended Mount Holyoke Female Seminary, and lived much of the rest of her life in isolation. Her writing was prolific, comprising nearly 1,800 poems. Most were published after her death. Her correspondence revealed her romantic relationship with sister-in-law Sue Gilbert.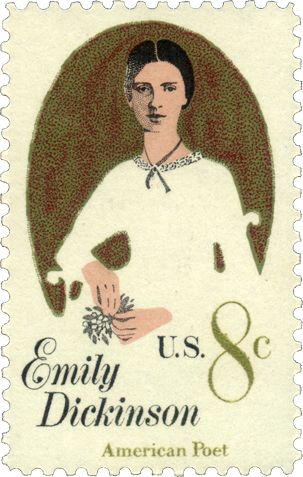 Love by Robert Indiana
Scott #1475
"Pop is love in that it accepts all..," gay artist Robert Indiana (1928-2018) once told an interviewer when asked about the meaning of pop art. Indiana's work often consisted of bold, simple, iconic images, especially numbers and short words like EAT, HUG, and, his best known example, LOVE. His LOVE print, first created for the Museum of Modern Art's Christmas card in 1965, was the basis for his 1970 Love sculpture and the 1973 LOVE stamp. Indiana failed to copyright this creation, making it one of the most ripped-off pieces of art of all time.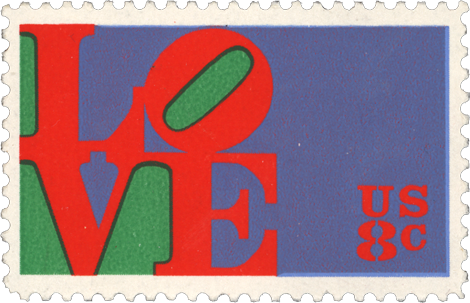 Willa Cather
Scott #1487
Novelist Willa Sibert Cather (1873-1947) gained recognition for tales of frontier life on the Great Plains, among them being O Pioneers! (1913), The Song of the Lark (1915), and My Ántonia (1918). A novel set in World War I, One of Ours (1922), earned her a Pulitzer Prize. Death Comes for the Archbishop (1928) is considered one of the best English language novels of the 20th century. Cather never married and her relationships were primarily with women, including editor Edith Lewis, with whom she lived for the last 39 years of her life. Cather destroyed many old drafts, personal papers and letters herself; in her will she restricted the ability of scholars to quote from her remaining papers.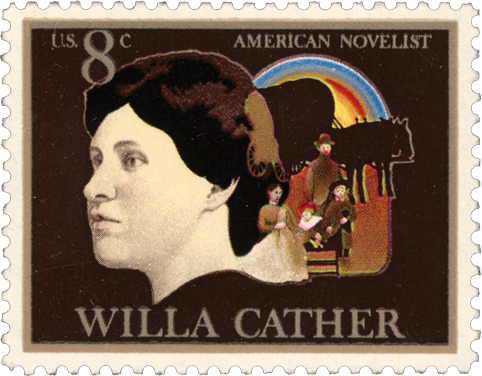 John Laurens
Scott #1686e
John Laurens (1754-1782) was born in Charleston, South Carolina, and from ages 16 to 22 was educated in Europe, where he "never had difficulty attracting women and men" while reserving "his primary emotional commitments for other men." He began studying law at Middle Temple, London, but left his pregnant wife behind to join the Continental Army in December 1776. George Washington invited him to become volunteer aide-de-camp. He became close to Alexander Hamilton, and their correspondence revealed their romantic relationship. He fought at Brandywine and was wounded at Germantown. He went on a diplomatic mission to France, before returning to become one of the last casualties of the war at the Battle of the Combahee River in South Carolina.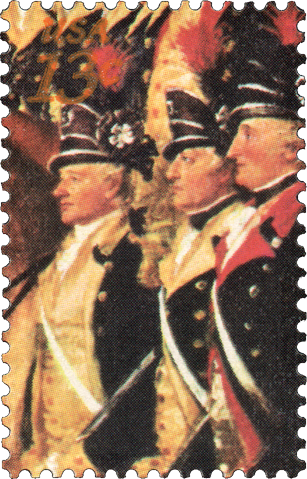 Pueblo Pottery by Ford Ruthling
Scott #1709a
A block of four stamps featuring Pueblo Pottery appeared on April 13, 1977. The pottery depicted on the stamps, from various museums, was reproduced as stamp art by Ford Ruthling (1933-2015), a Santa Fe artist who worked in many mediums. He came out as gay during a December 2011 interview when asked if he was married.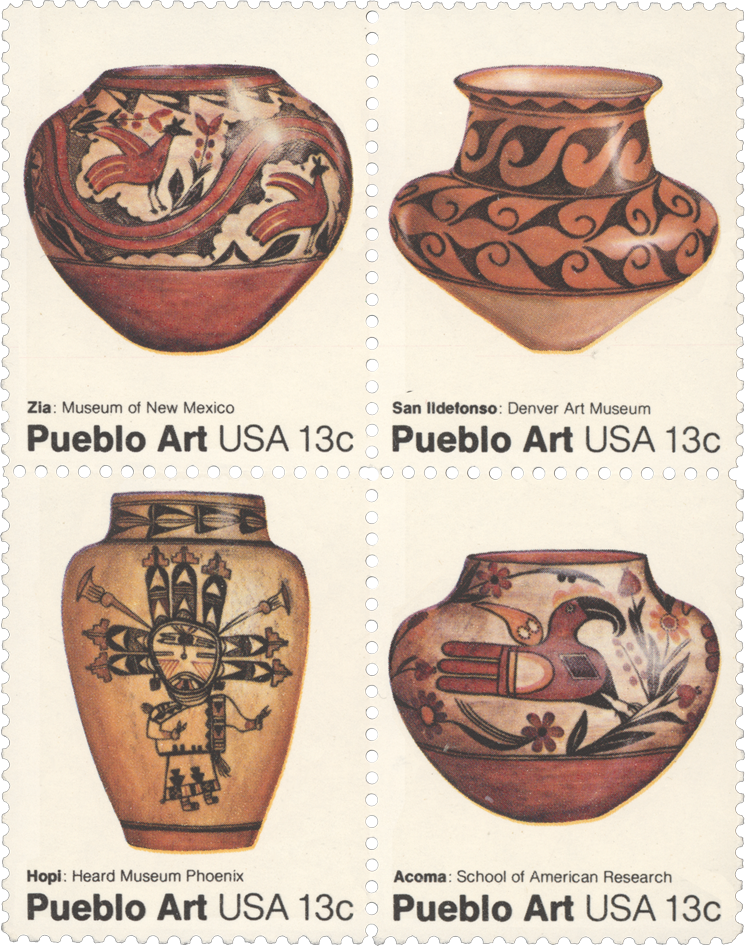 Crazy Horse
Scott #1855
Crazy Horse (c. 1840-1877) was a Lakota war leader of the Oglala band. He fought several battles of the Black Hills War, including winning the Battle of the Little Bighorn. He had at least two female "wives" and had sexual relationships with male berdaches (known as "winkte" in Lakota).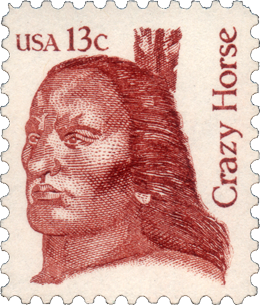 Rachel Carson
Scott #1857
Born near Springvale, Pennsylvania, Rachel Carson (1907-1964) graduated from the Pennsylvania College for Women, and earned a master's degree in zoology from Johns Hopkins University. She worked at the U.S. Bureau of Fisheries and became a full-time nature writer in the 1950s. Her 1951 bestseller, The Sea Around Us, won the National ;Book Award. She met Dorothy Freeman in the summer of 1953. Their intimate relationship lasted until Rachel's death. Her 1962 book, Silent Spring, is recognized as advancing the global environmental movement. She was posthumously awarded the Presidential Medal of Freedom.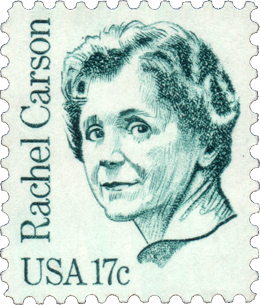 Katherine Lee Bates
Scott #1890-91, #1893
Katharine Lee Bates (1859-1929) is best known for writing the "America the Beautiful." The Falmouth, Massachusetts, native graduated from Wellesley College in 1880. She taught at high schools and won a prize for a young adult novel, Rose and Thorn, that taught about social reform. She popularized the concept of Mrs. Claus from her poem, "Goody Santa Claus on a Sleigh Ride." She studied at Oxford before earning her master's degree and becoming professor at Wellesley. Bates's poems and some letters to Katharine Coman that survived destruction revealed their romantic relationship, a "Boston marriage."
Edna St. Vincent Millay
Scott #1926
Edna St. Vincent Millay (1892-1950) was a Pulitzer Prize-winning poet known for her feminism and social activism. From an early age, she spoke out against injustices against women, often rebelling against authority at home and at school. She published her first poems when she was 15. By the time she enrolled in Vassar College, which was then exclusively female, she was having affairs with her classmates.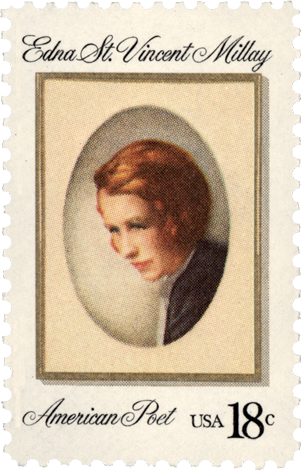 Babe Didrikson Zaharias
Scott #1932
Babe Didrikson Zaharias (1911-1956) was an American athlete who won two gold medals in track and field in the 1932 Los Angeles Olympics and won 10 LPGA major championships as a professional golfer. Born in Port Arthur, Texas, she competed in sewing, played the harmonica, and sang, recording several songs with Mercury Records. She played organized baseball and softball and achieved All-American status in basketball. She spent the last six years of her life living with and loving Betty Dodd. Babe is widely regarded as one of the greatest athletes of all time.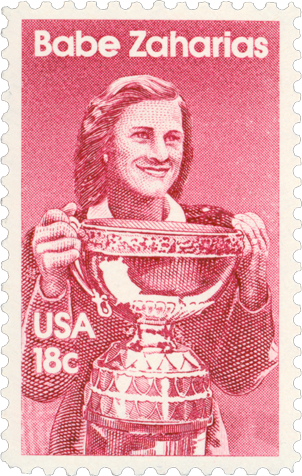 Sitting Bull
Scott #2183
Sitting Bull (c. 1831-1890) was a Hunkpapa Lakota leader whose vision foresaw victory at the Battle of the Little Bighorn. Refusing to surrender in the wake of the battle, he led his band into what is now Saskatchewan, remaining there until 1881. He worked as a performer with Buffalo Bill's Wild West show before returning to South Dakota where he was killed during an arrest over fears that he would support the Ghost Dance movement. At least one of Sitting Bull's wives was a man, known as a berdache.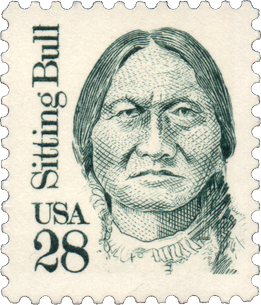 Horatio Alger
Scott #2010
"Rags to riches" narratives were the forte of Horatio Alger Jr. (1932-1899), a writer of young adult novels. The theme of impoverished boys rising from humble backgrounds to middle-class respectability through hard work, courage and honesty resonated with the youth when they first began being published in 1864. By the 1880s that concept, from which he never deviated, had become stale and his popularity waned. From 1864-1866, he served as a pastor at the First Unitarian Church and Society of Brewster, Massachusetts, a post he left after admitting to sexual abuse of boys. He casually adopted two boys in the early 1880s and led a busy life with street boys, Harvard classmates and the social elite. Per his wishes upon his death, his sister destroyed his manuscripts and letters.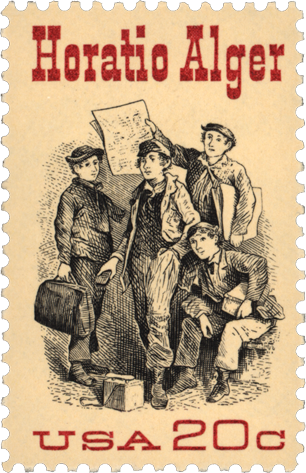 Dr. Mary Walker
Scott #2013
The only woman to ever receive the Medal of Honor was Dr. Mary Edwards Walker (1932-1919). She earned her medical degree in 1855 and married Albert Miller, a fellow student whose last name she refused to take. She wore trousers and a dress coat to the wedding ceremony, which excluded a promise to obey. The joint medical practice they set up didn't last long, nor did their marriage. Walker volunteered with the Union Army at the outbreak of the Civil War, serving as a civilian surgeon at a temporary Washington, D.C., hospital. Crossing enemy lines to treat wounded civilians, she was arrested as a spy, sent to a prisoner of war camp, and later released in a prisoner exchange. After the war she resumed her pre-war activity of working for women's dress reform and was arrested several times for wearing men's clothing, her trademark. She also became involved in the suffrage movement but died a year before passage of the 19th Amendment to the U.S. Constitution that guaranteed women the right to vote. Although she never remarried and was definitely a transvestite, whether she was a lesbian is open to debate.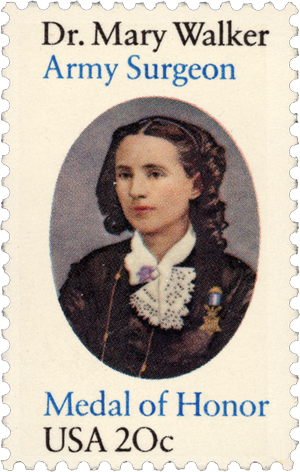 Rainbow Love Stamps
Scott #2072, #2143, #2396
A rainbow flag has yet to appear on a U.S. stamp, so these two Love stamps and one of the Special Occasions stamps from the 1980s are as close as it gets!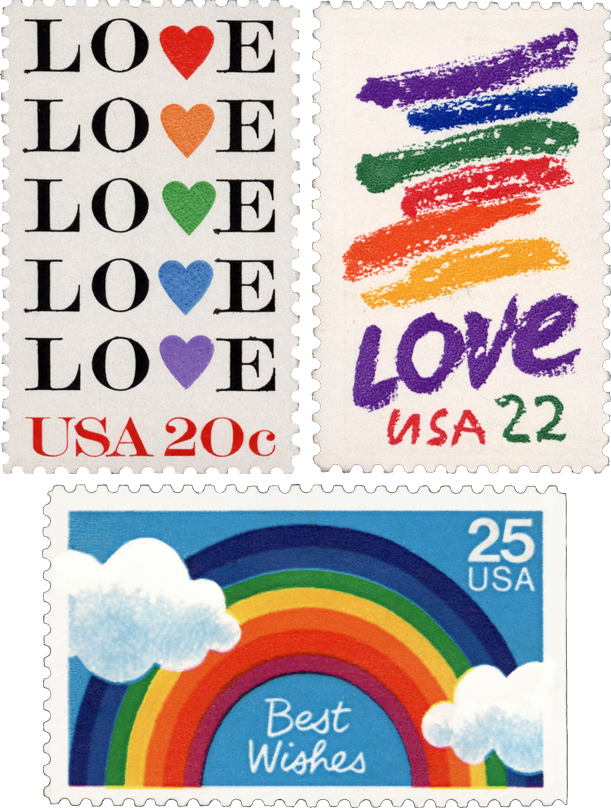 Herman Melville
Scott #2094
During his lifetime, Herman Melville (1819-1891) never reaped acclaim or financial rewards for his novel Moby Dick (1850). The literary masterpiece was based on his experiences aboard whaling ships and the story of the Essex, a whaling ship that was attacked and destroyed in 1820 by a sperm whale. Most of his other novels had sea-faring themes but were also poorly received. After the failure of The Confidence-Man: His Masquerade (1857), he all but gave up on novels, turning to poetry and taking a government customs job to make ends meet. His sea-faring adventures made him quite familiar with homosexuality, which was often referenced in his works: in the opening pages of Moby Dick narrator Ishmael and the cannibal Queequeg go to bed together, and symbolically marry and even give birth. Before his death in 1891 Melville finally began work on another novel, but Billy Budd, Sailor was not published until 1924, by which time his efforts were finally receiving well-deserved recognition.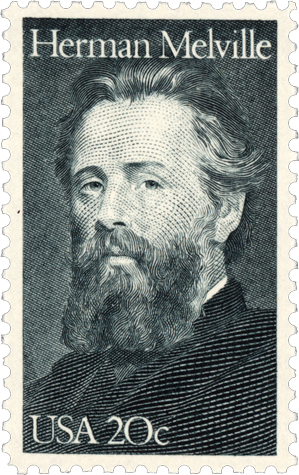 Special Occasions by Oren Sherman
Scott #2274a
The first U.S. stamps designed expressly for birthdays, anniversaries and so forth were designed by gay artist Oren Sherman (1956 -). He is an alumni and Professor at Rhode Island School of Design and his artwork is geared towards branding for corporate clients. According the U.S. Postal Service's original announcement for the Special Occasions stamps, they were prompted by the successful Love stamp series. (Click on image to see a larger one in a new window)

Love Birds
Scott #2440
The 1990 Love stamp features two doves over a heart. Ring and Rock doves are two of more than 150 species of birds that have been shown to exhibit homosexual behavior.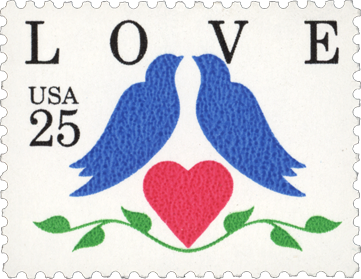 Judy Garland
Scott #2445, 4077
Actress Judy Garland (1922-1969), born Frances Ethel Gumm, has long been considered an icon to members of the gay community because her personal struggles with inner conflict, instability and loneliness often mirrored their own. She began performing in vaudeville with her two sisters, appeared in more than two dozen MGM films, was a popular singer and near the end of her life hosted her own TV variety show. Some say the rainbow flag was inspired by a song she sang in The Wizard of Oz. An alcohol and substance abuser, she tragically died from a barbiturate overdose just six days before the Stonewall Riot.
Cole Porter
Scott #2550
Many songs Cole Albert Porter (1891-1864) wrote for musical theater became standards, thanks to their witty, urbane lyrics. They would not exist had Porter accepted his grandfather's offer of fortune if he would become a lawyer instead of a composer. While at Yale, Porter preferred to spend his time socializing and composing. There he met Monty Wooley, who would remain a friend for nearly 50 years; Cole was very class conscious and severed ties when Wooley began a relationship with his black chauffer. In 1917, Porter headed to France, ostensibly to serve as military volunteer. After World War I, he hosted lavish parties in his Paris, meeting American divorcee Linda Lee Thomas, whom he married in 1919. Thomas was well aware of Porter's homosexuality, but the marriage was an advantageous front for both and they enjoyed a hectic social life during their 39-year marriage, both in Europe and upon their return to the U.S. in 1928. After a horseback accident in 1937 that left Porter in a wheelchair for the rest of his life, his popularity declined until Kiss Me, Kate opened on Broadway in 1948 and ran for 1,070 performances, the third musical to do so.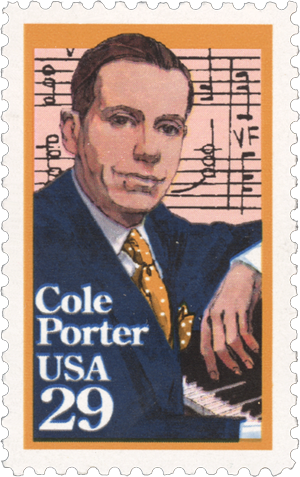 AIDS Awareness
Scott #2806
The U.S. AIDS awareness stamp was issued on December 1, 1993, more than 11 years after the U.S. Centers for Disease Control and Prevention coined the name Acquired Immune Deficiency Syndrome for a new disease that was surfacing among gay men. The U.S., Jordan, Nepal, Peru and Uruguay stamps all issued stamps on World AIDS Day that year, but emissions from 39 other countries and the United Nations had preceded them
Rudolph Valentino
Scott #2819
Italian actor Rodolfo Alfonso Raffaello Pierre Filibert Guglielmi di Valentina d'Antonguella, known professionally as Rudolph Valentino was a pop icon and sex symbol of the 1920s, starring in popular American silent films such as The Four Horsemen of the Apocalypse, The Sheik and Blood and Sand. His exceptional good looks made him a heart throb for women and an early gay icon. His early death at age 31 caused mass hysteria among his female fans.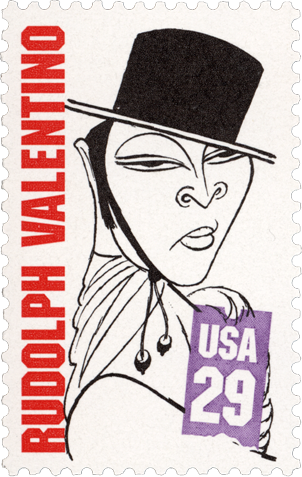 Ethel Waters
Scott #2851
Beginning her career in vaudeville as a pops and blues singer, Ethel Waters (1896-1977) switched later into movies and television. She was the first African-American to host her own television show, the Ethel Waters Show, broadcast on NBC in 1939. Water's role in Pinky (1949) earned her a best supporting actress Academy Award nomination. Another first for a black woman was a primetime Emmy Award nomination for an appearance in an episode of the television series Route 66 (1961). Waters married three times but had no children. She was bisexual, most notably having a relationship in the 1920s with dancer Ethel Williams (1891-1961); the two women gained the nickname of "Two Ethels."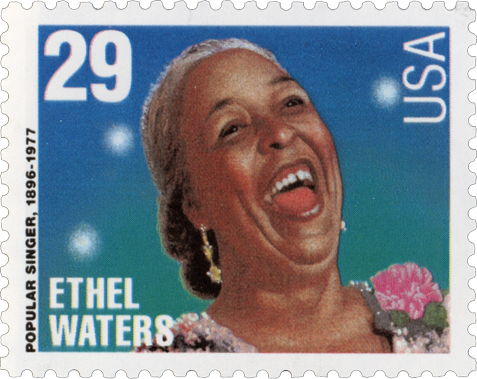 Bessie Smith
Scott #2854
Nicknamed the "Empress of the Blues," Bessie Smith (1894-1937) was the most popular female blues singer of the 1920s and 1930s. She is often regarded as one of the greatest singers of her era and was a major influence on fellow blues singers, as well as jazz vocalists. Smith's lyrics appealed to a subculture within the African American working class and also incorporated commentary on social issues like poverty, intra-racial conflict, and female sexuality, which were not widely accepted as appropriate expressions for African-American women. She married in 1923, but the stormy relationship ended after six years due to infidelity on both sides, including numerous female lovers for Bessie. Here untimely passing was due to an automobile accident while on the road; more than 10,000 persons passed by her casket at her funeral in Philadelphia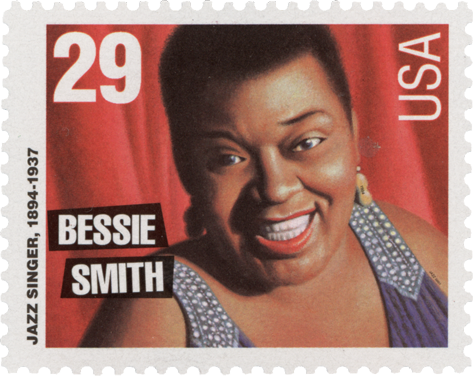 Billie Holiday
Scott #2856
Jazz singer Billie Holiday, born Eleanora Fagan (1915-1959), had an almost three decade long career that strongly influenced jazz and pop singing. Although she lacked a formal music education, her vocal style was inspired by jazz instrumentalists, pioneering a new way of phrasing and tempo. She had mainstream success in the 1930s and 1940s, recording on mainstream labels. But her drug and alcohol abuse inevitably caught up with her, causing her voice to wither. She was openly bisexual, and many of her female relationships were with stage and film actresses. She died at age 44 from causes related to cirrhosis of the liver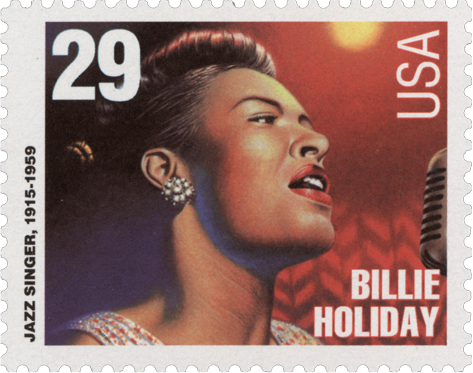 "Ma" Rainey
Scott #2859
The mother of blues, Gertrude Pridgitt, better known as "Ma" Rainey (1882 or 1886-1939), first appeared on stage in 1900. In 1904 she married song and dance man William "Pa" Rainey. She became known as "Ma" and the couple began to tour with the Rabbit Foot Minstrels; later they formed their own group, Rainey and Rainey, Assassinators of the Blues. Between 1923 and 1928 she recorded more than 100 songs for Paramount. Despite her marriage, she had affairs with dancers in her shows throughout her career and was a frequent visitor to "buffet flats," party houses where all forms of sexual expression were permitted. Most of her songs that mention sexuality refer to love affairs with men, but some of her lyrics contain references to lesbianism or bisexuality. Her career waned after the 1920s as her fan base could no longer afford to buy records.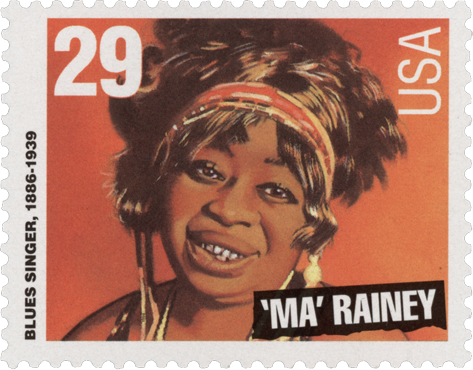 Ruth Benedict
Scott #2938
Ruth Benedict (1887-1948) was born in New York City, grew up in Norwich, New York, and graduated from Vassar College in 1909. She received her Ph.D. in anthropology from Columbia University in 1923. She taught at Barnard College where she met Margaret Mead, with whom she had a sexual relationship. She was president of the American Anthropological Association and a prominent member of the American Folklore Society.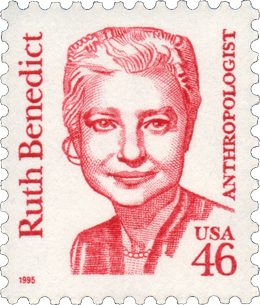 Alice Hamilton
Scott #2940
The founder of occupational medicine and a pioneer in the field of industrial toxicology, Alice Hamilton (1869-1970) was born in New York City, grew up in Fort Wayne, Indiana, and attended Miss Porter's School in Farmington, Connecticut. She graduated from the University of Michigan Medical School in 1893. She was Jane Addams' personal physician while a member and resident at Hull House, where she lived with Clara Landsberg and met Julia Lathrop. By 1916, she had become America's leading authority on lead poisoning. In 1919, Hamilton became the first woman appointed to the faculty at Harvard University. In 1947, she became the first woman to receive the Albert Lasker Public Service Award.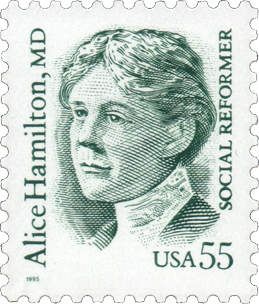 Alice Paul
Scott #2943
Alice Stokes Paul (1885-1977) was a leader in the women's suffrage movement of the early 20th century. After attending Swarthmore College, She moved to England in 1906 where she became active in the suffrage movement there, being arrested several times, serving time in jail and going on a hunger strike. Returning home in 1910, she joined American groups working for women's suffrage, eventually becoming a member of what became the more militant National Women's Party. She was jailed twice in 1917 after protests in Washington, D.C. After women won the right to vote in 1920, she continued to work for women's equal rights and fair employment practices. Paul never displayed interest in marrying a man; in the early 1940s she moved in with her sister and later with Elsie Hill, also a feminist. After her death, personal letters between Paul and Hill were turned over to the Vassar College, but only after relatives had reviewed and destroyed many more.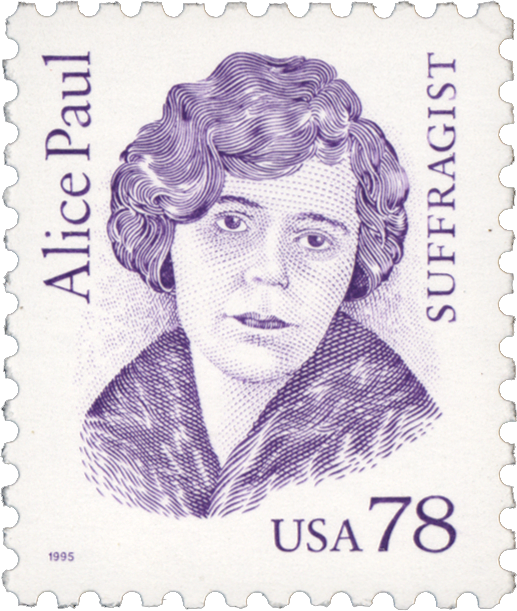 Richard M. Nixon
Scott #2955
Aside from the resignation in disgrace after the Watergate affair, Richard Milhous Nixon's (1913-1994) legacy includes ending American involvement in the Viet Nam War, and his visit to China that eventually resulted in the resumption of diplomatic relations between the two nations. Nixon was married for 53 years and publicly homophobic. But in the 2012 biography Nixon's Darkest Secrets, former UPI White House reporter Don Fulsom suggested a "homosexual nature" to the relationship between Nixon and his best friend Bebe Rebozo, a Cuban-American banker with alleged ties to the mob. When Nixon died, Rebozo was at the former president's side.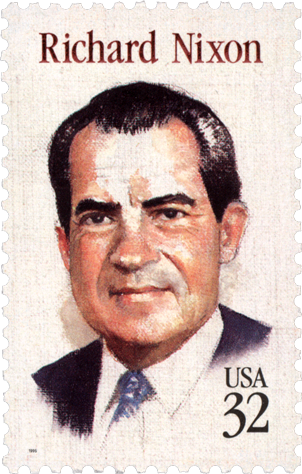 Tennessee Williams
Scott #3002, 3186n
During his lifetime, Tennessee Lanier Williams III (1911-1983) was hailed as America's greatest living playwright for his works like The Glass Menagerie, Cat on a Hot Tin Roof and A Streetcar Named Desire. He and Arthur Miller are still regarded as the greatest post World War II era writers for the stage. In his younger days, he hid and refused to accept his homosexuality, and did not begin to record his sexual encounters in his diary until he was 28. In 1947 he met Frank Merlo, who became his longtime lover. Merlo's death in 1963 devastated Williams, leaving a void that no one else would ever be able to fill.
Georgia O'Keeffe
Scott #3069, #4768
The mother of American modernism, Georgia Totto O'Keeffe (1887-1986) is best known for her paintings of New Mexico landscapes, enlarged flowers and New York skyscrapers. Her formal art training began in 1905 at the School of the Art Institute of Chicago and later the Art Students League of New York. Lacking funds to continue her education, she worked between 1908 and 1918 as a commercial illustrator and later as a teacher, taking sporadic art classes. During that time she switched from realism to the abstract art that is her hallmark. After that time, she moved to New York at the request of well-known New York art dealer Alfred Stieglitz, 20 years her elder, whom she married in 1924. The couple lived together until 1929, when O'Keeffe moved part time to New Mexico. After Stieglitz died in 1946, she abandoned New York altogether, staying at her beloved Ghost Ranch, near Taos, New Mexico. In 1941 she met Maria Chabot, a writer whom she described as "a tall handsome young woman." The on-and-off relationship lasted until O'Keeffe's passing.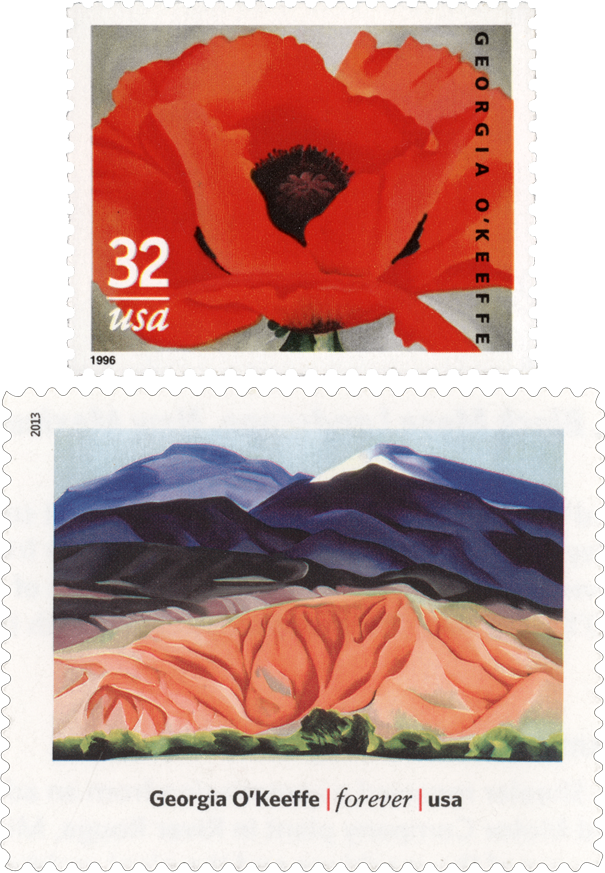 James Dean
Scott #3082
Movie actor James Byron Dean (1931-1956) starred in East of Eden, Rebel Without a Cause, and Giant. Teenagers idolized him and copied his rebellious mode of attire and mannerisms. In 1955 his fans were devastated when the actor was killed in a tragic auto accident. While Dean publicly dated women, he private associations with known homosexuals gave rise to rumors in the tabloid press about his sexuality. When questioned about registering for the draft as a homosexual, he is reported to have said, "No, I am not a homosexual. But, I'm also not going to go through life with one hand tied behind my back..."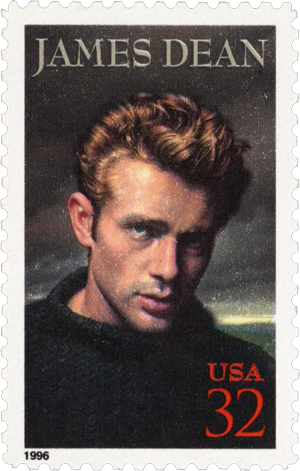 Thornton Wilder, Gisele Freund
Scott #3134
Playwright and novelist Thornton Niven Wilder (1897-1975) was a prolific writer who won three Pulitzer Prizes, first for the novel The Bridge of San Luis Rey (1927) and later for the plays Our Town (1937) and The Skin of Our Teeth (1942). He was discreet homosexual, keeping his sexual proclivities far out of the limelight and having no explicit gay themes or even subtext in his works.
Gisèle Freund (1908-2000) was born in Berlin and received her first camera in 1925. She studied at the University of Frankfort and fled to Paris shortly after Hitler rose to power in 1933. In 1935, Adrienne Monnier arranged a marriage of convenience so that Gisèle could obtain a visa to stay in France legally. She had an affair with Adrienne while Adrienne's partner, Sylvia, was overseas. She continued to photograph notable artists, including the "lens-phobic" James Joyce. In 1942, she fled to Buenos Aires at the invitation of Victoria Ocampo. Her photo of a bejeweled Eva Paron made the cover of Life magazine. The controversy caused her to flee again, to Mexico. She returned to Paris in 1953. The design of the 1997 Thornton Wilder stamp is based on one of her photographs.
Samuel Barber
Scott #3162
One of the most celebrated composers of the 20th century was Samuel Osborne Barber II (1910-1981) who twice won the Pulitzer Prize, first for his opera Vanessa (1956-57) and then for the Concerto for Piano and Orchestra (1962). Also popular was his Knoxville: Summer of 1915 (1947), for voice and orchestra with text from a 1938 short prose piece by James Agee. At age nine, Barber expressed his musical intent when he indicated in a note to his mother "To begin with I was not meant to be an athlet[e]. I was meant to be a composer, and will be I'm sure." When he was 14, he entered the Curtis Institute of Music in Philadelphia, where he studied piano, composition and voice. He began composing seriously in his late teenage years and also met fellow Curtis schoolmate Gian Carlo Menotti, who became his life partner.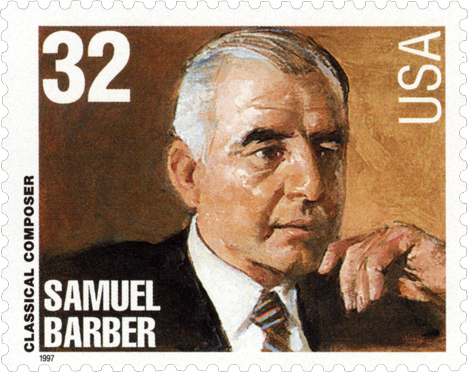 Margaret Mead
Scott #3184g
Anthropologist and author Margaret Mead (1901-1978) was prominent in the mass media during the 1960s and 1970s for her views on sexuality, influencing the sexual revolution of the time. Her views were shaped her studies of sex in South Pacific and Southeast Asian traditional cultures, beginning with a trip to Samoa in 1925. She was married three times, with the third lasting 14 years and producing her only child. Never openly identifying as lesbian or bisexual, she said in her writings that sexual orientation may evolve during life. Letters published in 2006 between Mead and Rhoda Metraux, with who she lived for the last 23 years of her life, clearly indicated a romatic relationship. Another long-term relationship was with Ruth Benefict, one of her instructors at Columbia University, the sexual nature of which was also revealed in correspondence.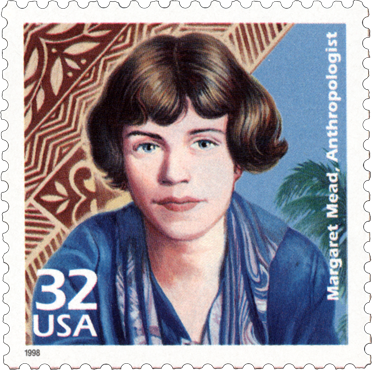 Jackson Pollock
Scott #3186h, 4444d
A major figure in the abstract expressionist movement, Jackson Pollock (1912-1956) was born in Cody, Wyoming, but grew up in Arizona and Chico, California. In 1930, he moved to New York City and studied at the Art Student League. He worked for the WPA Federal Art Project from 1938 to 1942. He married Lee Krasner in 1945 and moved to East Hampton, Long Island. His most famous paintings were made during the "drip period" from 1947 to 1950. Gregory White Smith and Steven Naife's Pulitzer-Prize-winning biography mentions Jackson's sexual experiences with men.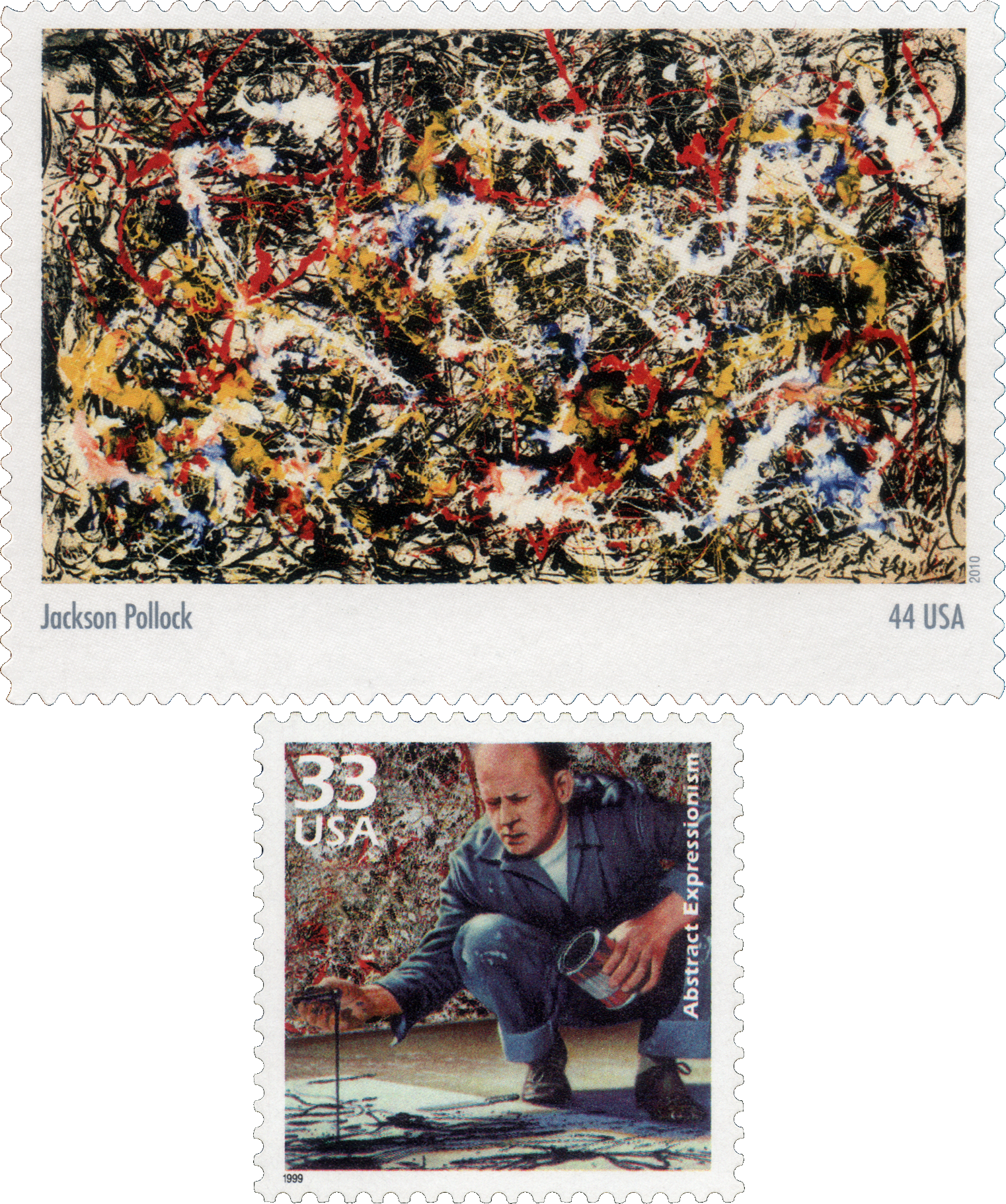 Orson Welles
Scott #3186o
Orson Welles (1915-1985) was born in Kenosha, Wisconsin, and is considered one of the greatest filmmakers of all time. While in school, he met and fell in love with Roger Hill, who remained a friend for the rest of his life. While visiting Ireland, he fell in love with actor Cathal O'Ceallaigh, and despite marrying three times, he had affairs with men, including actor Francis Carpenter. For the stage, he directed the musical The Cradle Will Rock, and an African-American cast in Macbeth. For radio, he directed the notorious 1938 broadcast of The War of the Worlds. He co-wrote, produced, directed, and starred in his first film, Citizen Kane, which is consistently ranked as one of the best films of all time. Welles produced 12 other films, including The Magnificent Ambersons, Touch of Evil, and Chimes at Midnight.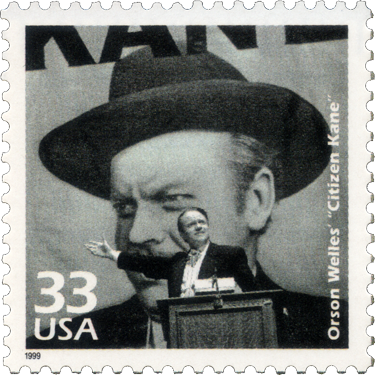 Clara Ward
Scott #3218
The daughter of a controlling mother, Clara Mae Ward (1924-1972) achieved great artistic and commercial success as a gospel singer in the 1940s and 1950s. Her mother Gertrude formed a family singing group in 1931, consisting of herself, Clara and her older daughter Willa. Clara eloped in 1941, but her mother forced her to tour with the group, resulting in a miscarriage. This lone marriage lasted only one year. The group, known as The Ward Singers, began to tour nationally in 1943 and Clara's lead-switching style, which allowed others in the group to improvise and perform lead vocals, increased their popularity on the gospel circuit. Willa left in 1947 and was replaced with Marion Williams. Others singers were added and replaced over the ensuing years, with complaints of low pay being responsible for the turnover. In her biography of Clara, Willa describes Clara as explaining her occasional lesbian encounters as the sexual expression likely to escape her mother's notice.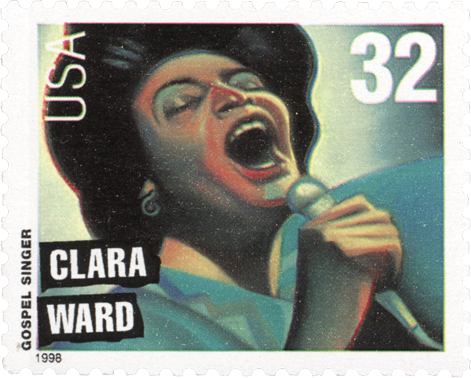 Sister Rosetta Tharpe
Scott #3219
"The godmother of rock 'n' roll," Sister Rosetta Tharpe's (1915-1973) swagger and howling electric guitar is credited with inspiring rock legends like Elvis Presley and Jerry Lee Lewis. At age six, she and her mother began performing in a traveling evangelical troupe, with Rosetta developing fame as a musical prodigy. In 1938 she recorded four gospel songs for Decca which became instant hits. Her popularity continued to grow, with her performances going beyond the black and gospel audiences to encompass those favoring rhythm-and-blues and rock 'n' roll. In 1946 Tharpe invited Marie Knight to tour with her; speculation ensued in the gospel community that the twice-divorced Tharpe was maintaining a romantic and sexual relationship. In 1950, the two split and a year later she married her manager Russell Morrison in a Washington, D.C., baseball stadium where over 20,000 paying customers attended. As rock 'n' roll began to take off with young white singers, her career declined and in 1957 she began touring Europe, where she found new fans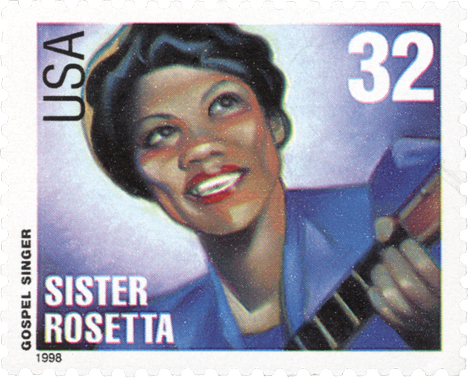 Grant Wood
Scott #3236
Among painters best known for a single work, Grant DeVolson Wood (1891-1942) is at the top of list for American Gothic (1930), one of his many paintings depicting the rural American Midwest. After high school, the Iowan studied art at the Handicraft Guild, a school run entirely by women in Minneapolis, and a few years later at the School of the Art Institute of Chicago. Four trips to Europe from 1922-128 further influenced his techniques. From 1922 to 1935, Wood lived with his mother in the loft of a carriage house in Cedar Rapids. A marriage to an older woman from 1935-38 was considered a mistake by his friends. Critic Janet Maslin stated that his friends knew him to be "homosexual and a bit facetious in his masquerade as an overall-clad farm boy."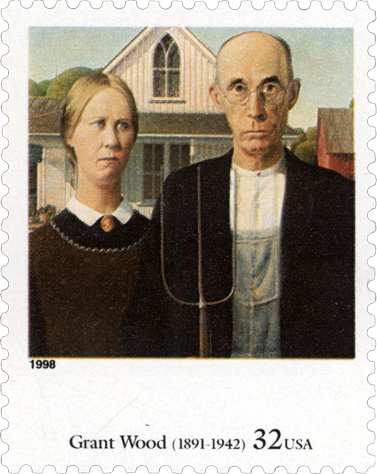 Malcolm X
Scott #3273
Malcolm X (1925-1965, born Malcolm Little, was an American Muslim minister and human rights activist involved in the civil rights movement. In 1946 he was sentenced to 10 years in prison for larceny and breaking and entering. While there, he joined the Nation of Islam and became one of the organization's most influential leaders after his parole. In the early 1960s he came disillusioned, made the pilgrimage to Mecca and became a Sunni Muslim. He also founded the Muslim Mosque, Inc. and the Organization of Afro-American Unity. Less than a year later, he was assassinated in Washington Heights on the first day of National Brotherhood Week by three Nation of Islam adherents. Before his conversion to Islam, he bragged of earning money servicing 'queers'. However, some biographers suggest his encounters with men were not all financially motivated. After converting to the Muslim faith, he apparently repressed any homosexual desires, marrying in 1958 and having six offspring.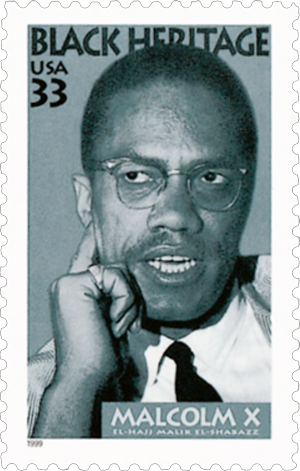 Alfred Lunt and Lynn Fontaine
Scott #3287
Alfred Davis Lunt Jr. (1892-1977) and Lillie Louise "Lynn" Fontanne (1887-1993) were a famous Broadway theatrical duo from the 1920s until their retirement from the stage in 1958. They married in 1922 and from the late 1920s on acted exclusively in productions together, among them Design for Living (1933), The Taming of the Shrew (1935-36), Idiot's Delight (1936), There Shall Be No Night (1940), and Quadrille (1952). The Lunt-Fontanne Theater on 46th street was named after them. Although their public persona was one of complete devotion to each other, playwright Noel Coward, an intimate of the couple, told their biographer that the marriage had been part of a plan to become "idols, of the public", and perhaps to surpass their rivals, the Barrymores. There were frequent rumors about a lavender marriage, but the couple left no traces of any same-sex activities.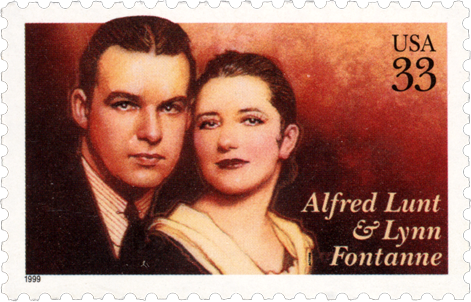 Lorenz Hart
Scott #3347
Lorenz Milton Hart (1895-1943) was the lyricist half of the Broadway songwriting team Rodgers and Hart, whom he met in 1919 and continued to work with for 23 years. His famous lyrics include "Blue Moon," "The Lady Is a Tramp," "Bewitched, Bothered, and Bewildered," "My Funny Valentine," "With a Song in My Heart," and "Isn't It Romantic?" Aside from Broadway musicals, Rogers and Hart also wrote music and lyrics for film. During the Great Depression, Hart was earning $60,000 annually and hosted huge parties; his alcoholism, attributed to depression, increased. Sometimes he would disappear for weeks at a time and his erratic behavior finally led to the breakup of his professional partnership with Rogers. A closeted homosexual, he lived with his widowed mother. Devastated after her passing in 1943, he died seven months later.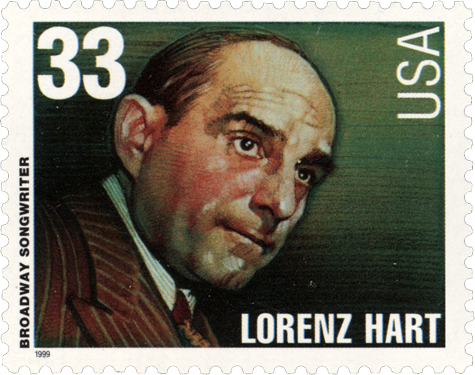 Louise Nevelson
Scott #3383a
The trademark of American sculptor Louise Nevelson (1899-1988) was her monumental, monochromatic, wooden wall pieces and outdoor sculptures. Born in present day Ukraine, her family emigrated to America in the early 20th century. In 1931, she separated from her husband of 11 years, and began seriously attending art classes, culminating with her first solo art exhibition in 1941. One of the most important figures in 20th century sculpture, her artwork can be seen in major museums and corporate headquarters. In 1962, she began living with artist Diana MacKown, a relationship that endured 26 years. Mostly being dependent on public art commissions, she reportedly stated "I couldn't live with myself if I was a lesbian." After Nevelson's death, MacKown threatened the estate with a palimony claim.

J.C. Leyendecker
Scott #3502c
Joseph Christian Leyendecker (1874-1951) was an illustrator best known for his Saturday Evening Post covers and a trade character known as The Arrow Collar Man. Leyendecker is said to have given birth to modern magazine design with his cover and advertising illustrations. He worked with his brother Frank for much of his career and never married, living with Charles Beach, the original model for the Arrow Collar Man, for much of his adult life. After a change of editors at the Post in 1936, the era of lucrative commissions waned. During World War II, he designed war bond posters for the U.S. Department of War.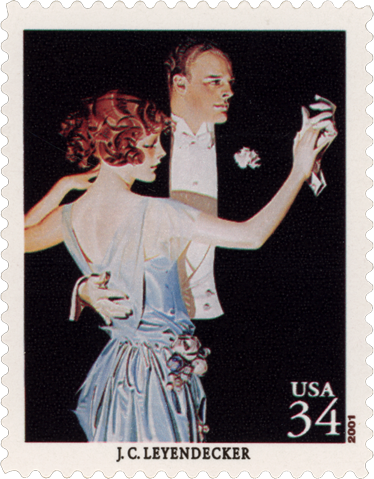 Jessie Willcox Smith
Scott #3502l
Illustrator Jessie Willcox Smith (1863-1935), who worked in the late 19th and early 20th century, is considered one of the greatest illustrators of children. Smith provided illustrations for more than 60 books and for stories and articles in many popular magazines. All the Good Housekeeping covers from December 1917 to 1933 were created by her. While studying at Drexel, Smith met her life-long friends Elizabeth Shippen Green and Violet Oakley, who had similar talents. They shared a studio for four years at the Red Rose Inn in Villanova, Pennsylvania, and became known as the "Red Rose Girls". After losing their lease in 1904, they moved into a farmhouse just outside of Philadelphia, which they named "Cogslea," drawn from the initials of their surnames and that of Smith's roommate, Henrietta Cozens. In 1911, when Green married and Oakley began spending more time away, Smith had a home called "Cogshill" built nearby, which she shared with Cozens, her aunt, and her brother. Smith died there in 1935 after becoming increasing frail during a previous European trip.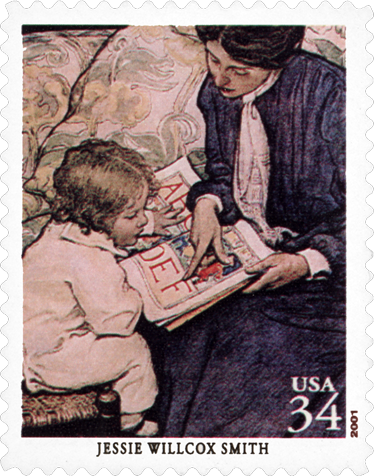 Frieda Kahlo
Scott #3509
Mexican artist Frida Kahlo (1907-1954), born Magdalena Carmen Frida Kahlo y Calderón, painted mainly folk-art style portraits or self-portraits inspired by the nature and artifacts of Mexico. Twice married to fellow artist Diego Rivera, both were ardent communists and Frida has a particular disdain for capitalist America, where the pair worked during the early 1930s. Frida's health was always fragile as were her marriages to Rivera; both pursued extra marital activities. She had numerous affairs, with Georgia O'Keefe, Dolores Del Rio, Paulette Goddard, Josephine Baker, and Leon Trotsky being some better known names. Her artwork was largely ignored until being discovered in the late 1970s. A Mexican stamp was to be a part of an official joint issue with the U.S. Although the joint issue idea was aborted because of Kahlo's communist ties, the U.S. issued its stamp anyway. See the entry in the Foreign Stamp Gallery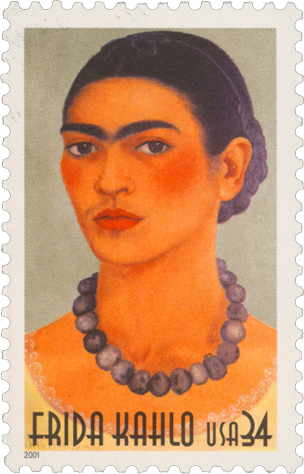 Leonard Bernstein
Scott #3521
Before Leonard Bernstein (1918-1990), leading American orchestras sought out conductors from overseas to bolster their prestige. Bernstein changed all that as music director of the New York Philharmonic Orchestra, which he led from 1958 to 1969. As a composer, he covered a broad spectrum, from classical to ballet to opera and choral, but is best known for the musical West Side Story. To advance his career, in 1951 he married Chilean actress Felicia Cohn Montealagre, telling her he was homosexual. In 1976, he had enough and left her for Tom Cothan, the music director of a classical music radio station in San Francisco, whom he had met five years earlier. Bernstein reconciled with his wife a year before her death in 1978. After his wife died, Bernstein abandoned all caution, becoming addicted to alcohol and drugs, and surrounding himself with an entourage of beautiful boys.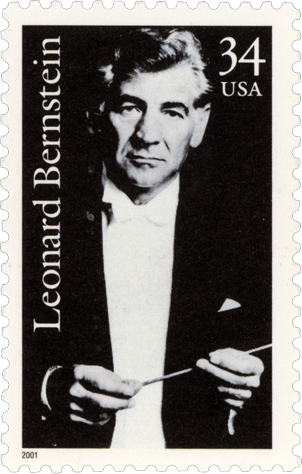 Langston Hughes
Scott #3557
James Mercer Langston Hughes (1902-1967) was a lecturer and prolific writer, responsible for 16 books of poems, two novels, three collections of short stories, four volumes of "editorial" and "documentary" fiction, 20 plays, children's poetry, musicals, operas and much more. While his literary legacy is enormous and varied, he was closeted, though homosexuality nonetheless filters through in poems such as "Joy," "Desire," "Café: 3 A. M.," "Waterfront Streets," "Young Sailor," "Trumpet Player," "Tell Me," and his book-length poem suite "Montage of a Dream Deferred (1951)."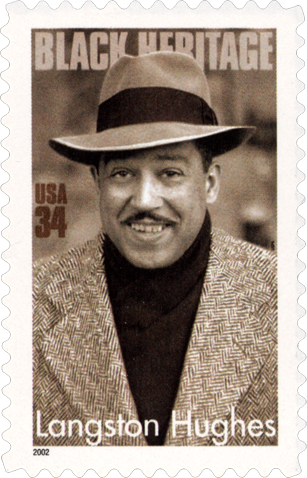 Andy Warhol
Scott #3652
As to the pop art movement of the 1960s, Andy Warhol (1928-1987), born Andrew Warhola, is probably the first name that comes to mind. An openly gay man before the gay liberation movement, he worked in a variety of media, including painting, silk-screening, photography, film and sculpture. His Campbell's Soup Cans and Marilyn Diptych silkscreens of 1962 are among his best known works. His original art brings stratospheric prices, with the 1963 canvas Silver Car Crash (Double Disaster) costing the buyer $105 million in a 2013 auction. Warhol died at age 58 due to complications from a gallbladder operation.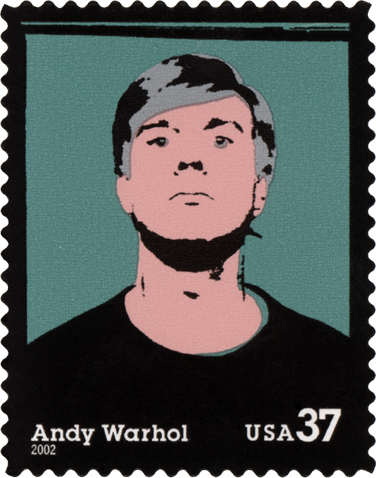 Cary Grant
Scott #3692
English born Archibald Alec Leach, known professionally as Cary Grant (1904-1986), was one of Hollywood's classic leading men, known for his debonair demeanor, light-hearted approach to acting and sense of comic timing. Before his arrival in Hollywood in 1932, Grant worked mostly in vaudeville. He received an Oscar nomination, for his role in Philadelphia Story (1940), but North by Northwest (1959) is regarded as his best movie and one of the greatest films of all time. Grant married five times, usually at a film studio's suggestion. He and Randolph Scott, whom he met on the set of Hot Saturday (1932), shared a beach house for 12 years in Malibu that became known as "Bachelor Hall;" they remained close friends throughout their lives and were sometimes seen holding hands in darkened areas of Hollywood's gay bars.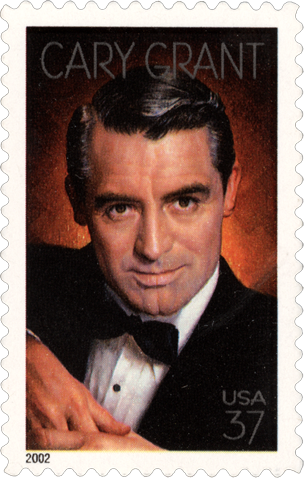 Edith Head
Scott #3772c
Winner of eight Academy Awards for Best Costume Design, Bernardino, California, native Edith Head (1897-1981) graduated from the University of California at Berkeley, and earned a master's degree from Stanford University. She taught French before being hired as a sketch artist at Paramount Pictures. There and at Universal Pictures, she designed costumes for 1,131 films. In the late 1970s, she designed a woman's uniform for the United States Coast Guard, earning a Meritorious Public Service Award. She married twice, and it was an open secret in Hollywood that she was a lesbian.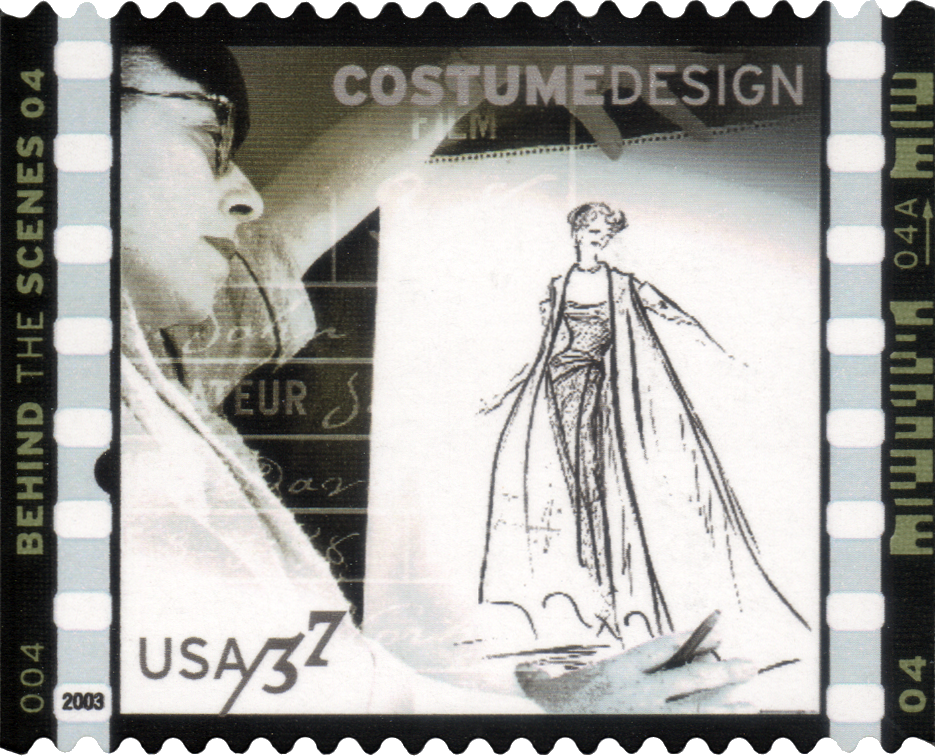 Alvin Ailey
Scott #3841
Alvin Ailey (1931-1989) was an African-American choreographer who popularized modern dance and black participation in the art form. He did not become serious about dance until he was age 18, studying at the studio of Lester Norton in Hollywood, California. In 1953, he debuted in the school's Revue Le Bal Caribe. Horton died later that year, and the inexperienced Ailey took over as artistic director. In the following year, he headed to New York and appeared in various productions there. Not finding this work satisfying, he formed his own group, Alvin Ailey American Dance Theater in 1958. Over the years, Ailey created 79 works for his dancers including his signature Revelations. The Alvin Ailey School he founded in 1969 continues his legacy, training about 3,500 dancers a year. He was closeted about his sexuality, dying of AIDS at the age of 58.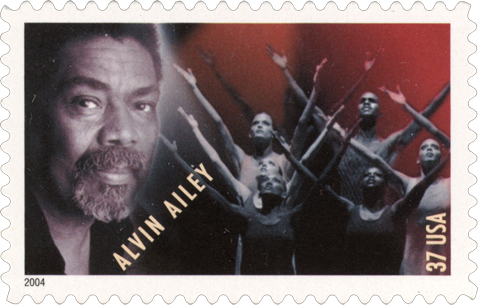 James Baldwin
Scott #3871
Novelist, playwright and activist James Arthur Baldwin (1924-1987) is one of the best known American-American writers of the 20th century, writing of the destructive power of love and brotherhood. His second novel, Giovanni's Room, appeared in 1956, well before the gay liberation movement; it caused great controversy over its explicit homoerotic content. Baldwin had moved to Paris France eight years before publication of the novel, and in 1949 met and fell in love with a 17-year old runaway, Lucien Happsberger. Baldwin was devastated when Happsberger married three years later and had no known relationships thereafter. Baldwin returned to the U.S. in 1957, continuing to write and becoming involved in the civil rights movement. He moved back to France in the early 1970s and continued to live there until his passing. When asked about being gay, he replied "everybody's journey is individual. If you fall in love with a boy, you fall in love with a boy. The fact that many Americans consider it a disease says more about them than it does about homosexuality."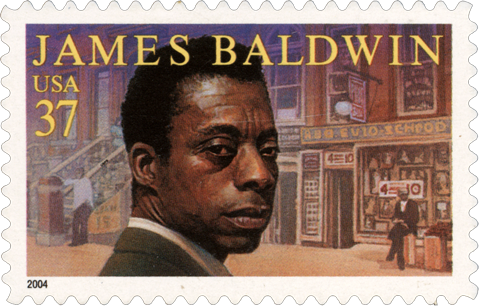 Moss Hart
Scott #3882
New York City native Moss Hart (1904-1961) wrote his first Broadway hit play, Once in a Lifetime, in 1930. It was the first of a string of hits written in collaboration with George S. Kaufman, including the Pulitzer-Prize-winning You Can't Take It with You (1936) and The Man Who Came to Dinner (1939). He received a screenwriting Oscar nomination for 1947's Gentleman's Agreement. As stage director, his biggest hit was 1956's My Fair Lady, earning him a Tony Award. He married Kitty Carlisle and had brief sexual liaisons with men including actor Glen Boles.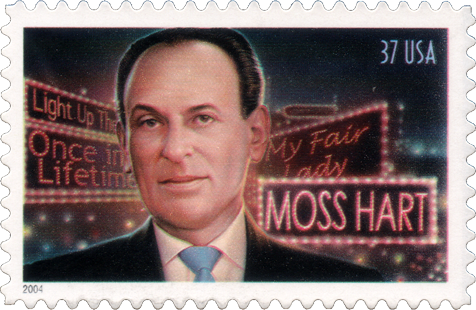 Philip Johnson
Scott #3910h
Famous for designing the Glass House (1949) he built for himself in New Canaan, Connecticut, Philip Cortelyou Johnson (1906-2005) did not enter architecture school until 1941 at the age of 35. After graduating from Harvard in 1927, he made trips to Europe that piqued his interest in architecture and resulted in some related jobs, but in 1936 he decided to dabble in politics and journalism. Becoming sympathetic to the Nazi movement during that time, he said the sight of "all those blond boys in black leather" marching past the Führer thrilled him. His buildings were all in the modernist or post-modernist style, the best example of the latter being the former AT&T Building (1984) in New York City that has a split pediment at the top that resembles an enormous piece of 18th-century Chippendale furniture. He came out as gay in 1993. His partner of 45 years was David Hockney, who passed away a year after Johnson.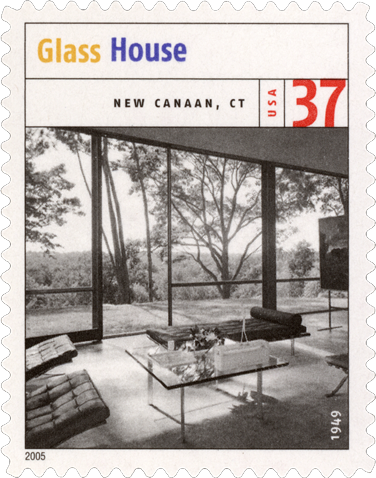 Paul Rudolph
Scott #3910i
Paul Rudolph (1918-1997) was born in Elkton, Kentucky, and graduated from Auburn University before studying at the Harvard Graduate School of Design and serving in the Navy. He was the chair of Yale University's Department of Architecture, and his most famous work is the Yale Art and Architecture Building. He was open about his homosexuality.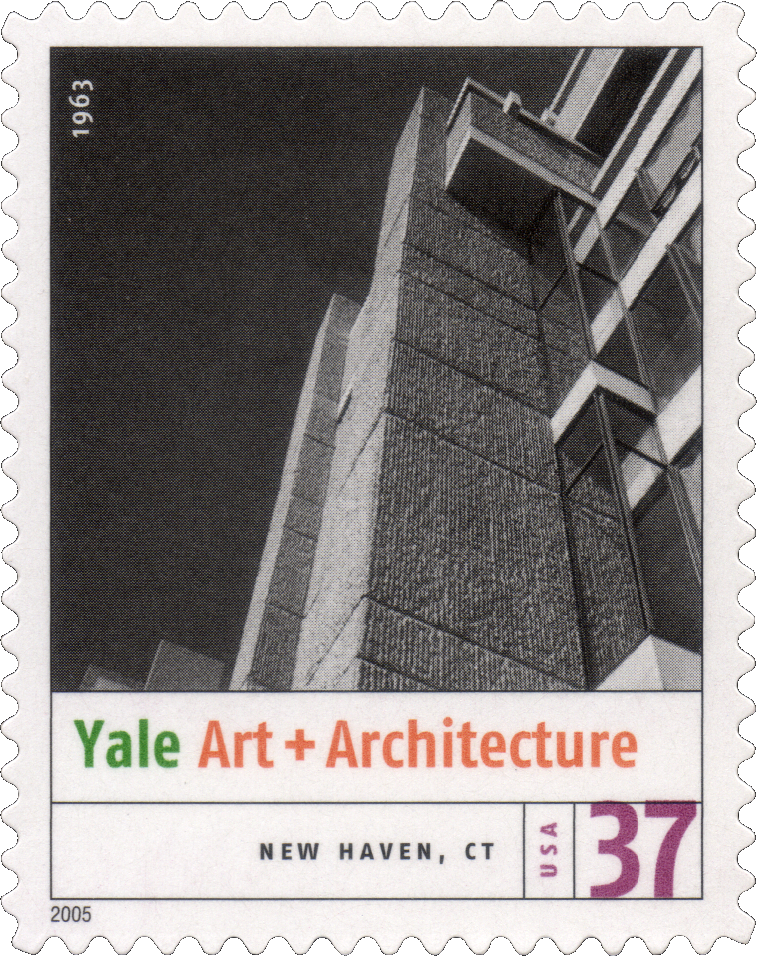 Sergio E. Baradat
Scott #3942, #4257a, #5166a
Sergio Baradat (Born 1959) is an openly gay graphic designer of Cuban descent who grew up in Miami, Florida. He now works out of New York City and is currently the U.N. Postal Administration's art director. His illustrations often reflect the stylistic arts of the first half of the 20th century, influenced by the French art deco style. In addition to some U.S. stamp designs, his artwork also appears on some U.N. postal emissions. (Click on image to see two other U.S. issues designed by Baradat.)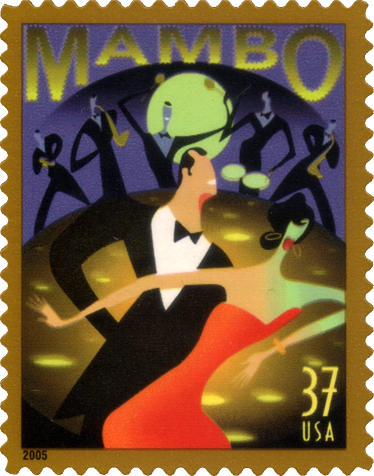 Greta Garbo
Scott #3943
Swedish-American actress Greta Lovisa Gustafsson (1905-1990), who adopted the stage name Greta Garbo, was popular in the 1920s and 1930s, earning three Oscar nominations during that time. Her later films faltered, prompting her to retire from the screen after 1941. She had many love affairs throughout her life. She thrilled audiences dressed in men's tuxedos, and wearing pants before it was the style. Both men and women flocked to Garbo's movies. Garbo is quoted as saying: "I could not choose between love for a man or love for a woman ... I became a slave to both sexes ... I was equally fascinated by both female and male bodies." Both Sweden and the U.S. issued almost identically designed stamps on the centennial of her birth.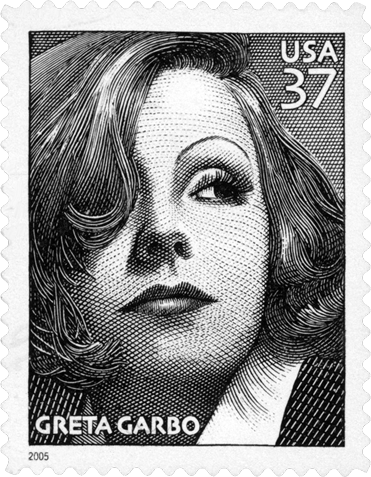 Maurice Sendak
Scott #3991
Children's book illustrator and writer Maurice Bernard Sendak (1928-2012) is widely known for his book Where the Wild Things Are, first published in 1963. Born to Polish-Jewish parents in Brooklyn, New York, his childhood was affected by the death of many of his extended family members during the Holocaust. Sendak also wrote works such as In the Night Kitchen, Outside Over There, and illustrated many works by other authors including the Little Bear books by Else Holmelund Minarik. Sendak mentioned in a September 2008 article in The New York Times that he was gay and had lived with his partner, psychoanalyst Eugene Glynn (1926-2007), for 50 years.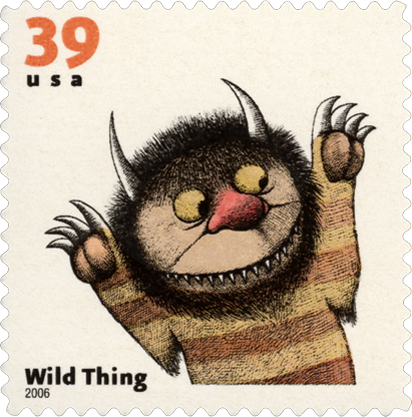 Ian Falconer
Scott #3993
Ian Falconer (born 1959) is an American author and illustrator of children's books. Born in Ridgefield, Connecticut, he studied at New York University, the Parsons School of Design, and the Otis Art Institute. He has created over 30 covers for The New Yorker magazine and has written and illustrated the Olivia series of children's books. Ian is openly gay.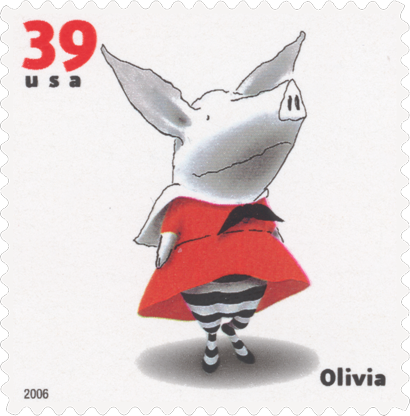 Hattie McDaniel
Scott #3996
Born in Denver, Colorado, and the first African American woman to sing on the radio in the United States, Hattie McDaniel (1893-1952) moved to Los Angeles and appeared in over 300 films. She was the first African-American to win an Oscar, winning Best Supporting Actress for Gone with the Wind (1939). She had four brief marriages and had a relationship with Ruby Goodwin.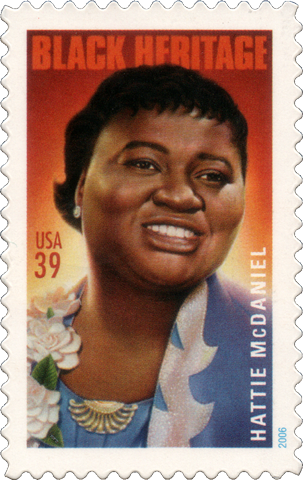 Raymond Burr
Scott #4414n
Canadian-American actor Raymond William Stacy Burr (1917-1993) is primarily known for his title roles in the television dramas Perry Mason and Ironside. Before television, Burr starred in more than 50 films, usually as a villain. Scenes including him were spliced into the 1954 and 1956 American versions of Godzilla and Godzilla, King of the Monsters!. Burr's homosexuality, an open secret, was not reported until his death. By then, he had been living with his life partner, former actor Robert Benavides, for more than 30 years. A Canadian stamp depicting Burr was included in the 2008 Canadians in Hollywood issue.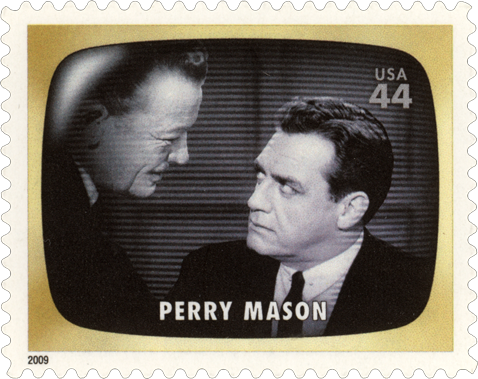 Barbara Jordan
Scott #4565
Always silent about her sexuality, Barbara Charline Jordan (1936-1996) was the first African-American elected to the Texas senate since reconstruction. A native of Houston, Texas, she also was the first African-American woman elected to the U.S. House of Representatives. In the early 1970s, Jordan began to suffer from multiple sclerosis. Her companion for her last 20 years was Nancy Earl, an educational psychologist and occasional speechwriter whom Jordan met in the late 1960s on a camping trip.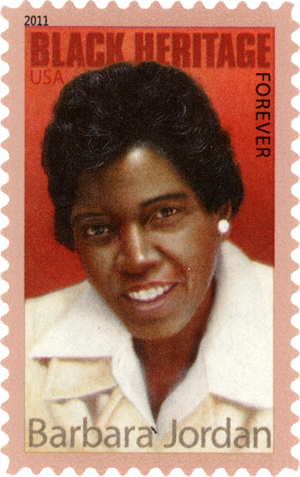 Elizabeth Bishop
Scott #4659
Being a perfectionist, Elizabeth Bishop (1911-1979) published only 101 poems during her lifetime. Yet she is acknowledged as one of the most important and distinguished America poets of the 20th century. Her father died when she was eight months old and by age five her mother was committed to an asylum, so she wound up living with her grandparents in Nova Scotia, Canada. Later, her wealthy paternal parents gained custody and she boarded at the Walnut Hill School in Natick, Massachusetts, where she began writing poems. In 1929 she entered Vassar College. Thanks to a large inheritance from her deceased father, she was able to write and travel throughout her life. An intended two-week boat trip around South America in 1951 turned into a 14-year stay in Brazil with her lover, architect and socialite Lota de Macedo Soares. The relationship eventually soured with Bishop returning to the U.S.; Soares followed her and committed suicide in 1967. Bishop's last relationship was with Alice Methfestsel, whom she met in 1971 and was executor of her estate.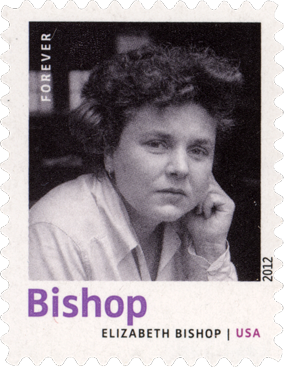 Édith Piaf
Scott #4692
Known as France's national chanteuse, Édith Piaf (1915-1963) was a singer-songwriter, cabaret performer, and film actress. She was born in Belleville, Paris, and was raised in her grandmother's brothel. At age 14, she first began to sing in public when she joined her father in his acrobatic street performances all over France. In 1932, she fell in love with Louis Dupont, the first of several romances throughout her life, including one with Marlene Dietrich. In 1935, she was discovered by nightclub owner Louis Laplée, leading to her first two record recordings the same year. She wrote and performed her signature song, "La Vie en rose," in 1945. After the war, she became internationally known, touring Europe, the United States, and South America. After a series of famous concerts at the Paris Olympia music hall, she recorded her last song, "L'Homme de Berlin," in 1963. The 2012 U.S. stamp was part of a joint issue with France. See the entry in the Foreign Stamp Gallery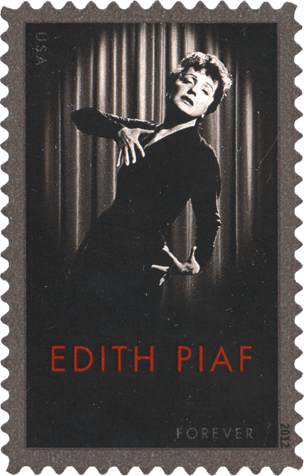 Isadora Duncan
Scott #4698
A celebrated dancer and teacher, Angela Isadora Duncan (1877 or 1878-1927) moved to Europe in 1898 after feeling unappreciated in America. There she created innovative techniques that emphasized natural movement in contrast to the rigidity of traditional ballet, becoming quite popular despite mixed reviews from critics. In 1921, her leftist tendencies took her to the Soviet Union where she founded a school in Moscow. After several years, promised support from the Soviet government failed to materialize, so she returned to Europe and occasionally toured the U.S. As a bisexual and atheist, she flouted traditional mores and morality. She died in France when a scarf she was wearing became entangled in the spokes of roadster's wheels, breaking her neck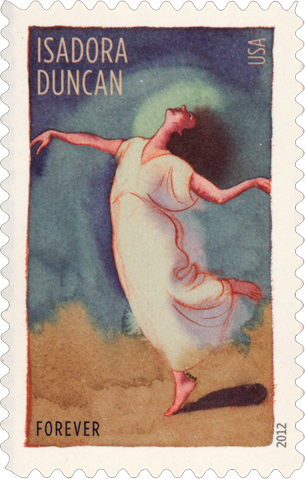 Marsden Hartley
Scott #4768d
After what he described as a bleak childhood in New England, Marsden Hartley (1877-1943) began his formal art education at the Cleveland School of Art. In 1898 he moved to New York for further education. However, his first mature paintings were produced when he moved to an abandoned farm in Maine. Like many other American artists of the time, Hartley was drawn to Europe for inspiration, living in Berlin from 1913-1915. His most important piece is considered to be Portrait of German Officer (1914), a reference to Prussian lieutenant Karl von Freyburg, whose death during World War I traumatized Hartley, who afterword idealized their short-lived relationship. He lived in Europe again from 1921 to 1930, then returned to the U.S., painting scenes from around the country until 1937. Reflecting the popular regionalism movement of the time, he returned to his roots in Maine. Towards the end of his life Hartley fell in love with Alty Mason, a young fisherman, who along with several relatives, drowned at sea.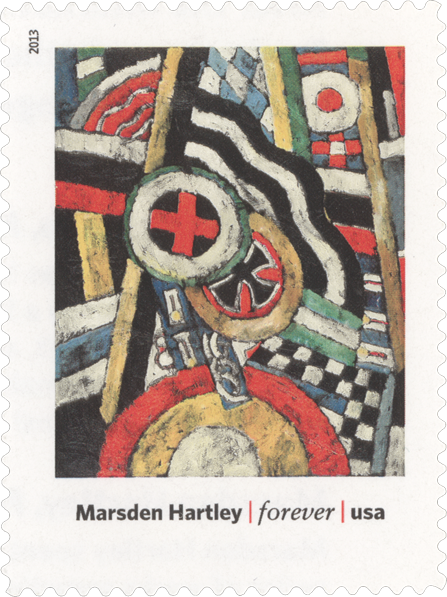 Harvey Milk
Scott #4906
Harvey Bernard Milk (1930-1978) was the first openly gay elected official in California and the first to appear on a U.S. postage stamp. In 1977, he was elected as a San Francisco city supervisor, but he and Mayor George Moscone were assassinated the following year by a former city supervisor who had resigned but was trying to get his job back.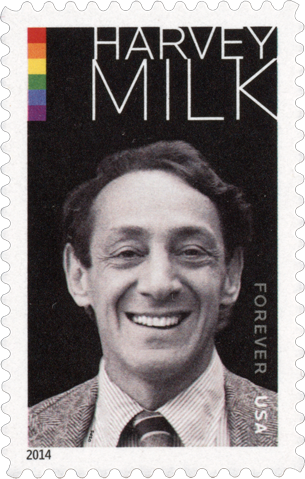 Janis Joplin
Scott #4916
Janis Joplin (1943-1970) was an American rock, soul, and blues singer-songwriter. In 1966, she joined Big Brother and the Holding Company, and they had their breakthrough performance at the 1967 Monterey Pops Festival. The band's second album, Cheap Thrills, launched Janis to stardom in 1968. The next year, she went solo, formed backup group Kozmic Blues Band, and performed in Europe. At Woodstock, she was accompanied by her sometime lover, clothing boutique owner Peggy Caserta.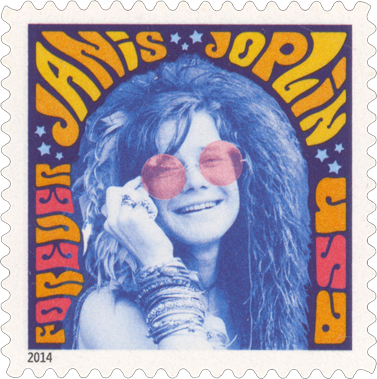 James Beard
Scott #4925
James Andrews Beard (1903-1985) was a cook, author of 20 books, teacher and a television personality. He became known as 'The Dean of American Cuisine;' his I Love to Eat show that ran live on NBC from August 1946 to May 1947 was the first cooking show to appear on American television. He came out publicly in 1981 and said in his memoir, "By the time I was seven, I knew that I was gay."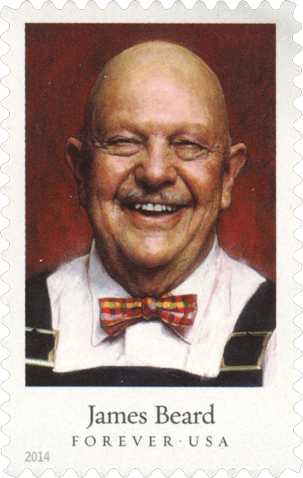 Olive Byme
Scott #5148-51
Credited as the inspiration for the Wonder Woman comic book cover is Olive Byrne (1904-1990). She was the domestic partner of William Moulton Marston and Elizabeth Holloway Marston. She met them in 1925 during her senior year at Tufts University. After graduation, she moved in with them and 𔃈married" them on November 21, wearing wide-band bracelets on each arm instead of a ring. Byme largely raised Elizabeth's two children as well as her own two children fathered by William. After William's death, Olive continued to live with Elizabeth. (Click on image to see the entire strip of four stamps.)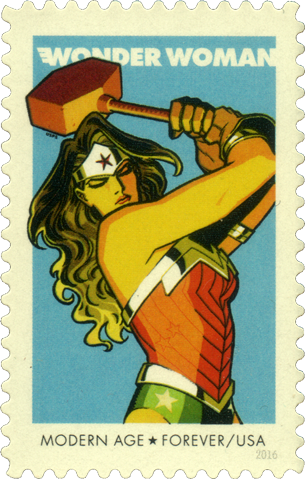 Sally Ride
Scott #5283
The first American and first known LGBT astronaut was Sally Kristen Ride (1951-2012), who flew twice on the orbiter Challenger in 1983 and 1984. In 1987 she divorced fellow astronaut Steve Hawley after a five-year marriage and left NASA. Upon her death from pancreatic cancer, her obituary revealed that her partner of 27 years was Tam O'Shaughnessy, a childhood friend and a professor emerita of the School of Psychology at San Diego State University.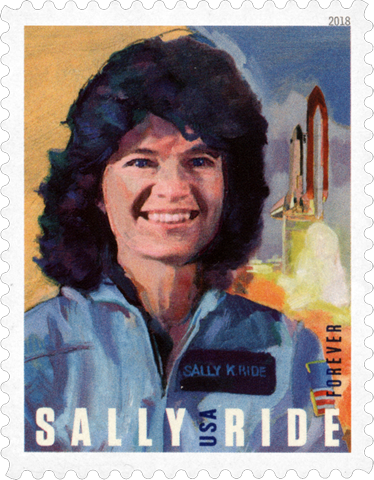 Emma Stebbins
Scott #5348
Emma Stebbins (1815-1882) was an American sculptor and the first woman to receive a public art commission from New York City. Born in New York, she studied sculpture in Rome. There she met actress Charlotte Cushman and the two exchanged vows. Emma's most famous work is Angel of the Waters, otherwise known as Bethesda Fountain, located in New York's Central Park.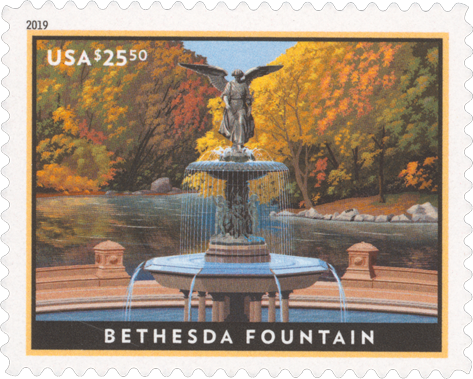 Ellsworth Kelly
Scott #5382-91
A member of The Ghost Army, a unit specializing in deception, during World War II, Ellsworth Kelly (1923-2015) as a pioneer of hard-edge painting in the 1940s and 1950s. He is most known for two- and three-color paintings, possibly based on two- and three-color bird watching at an early age. He received the National Medal of Arts in 2013. From 1984, he lived with his partner, photographer Jack Shear. (Click on image to see a larger one in a new window)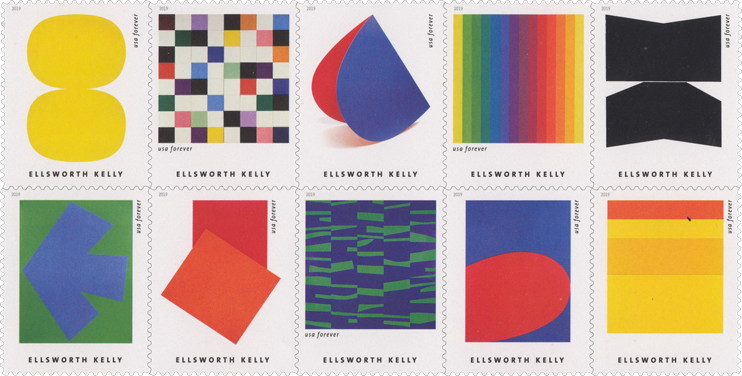 Nella Larsen
Scott #5471
Nellallitea "Nella" Larson (1891-1964), was a mixed race nurse and librarian who wrote two novels, Quicksand, which is largely autobiographical, and Passing, an examination of racial identification and marriage that includes a lesbian subtext between protagonists, Claire and Irene. Identified as bisexual, Larson married in 1919 but by the late 1920s the marriage was failing and a divorce was finalized in 1933. Suffering from depression after her ex-husband died and the generous alimony ended, she quit writing, abandoned her literary circles and returned to her nursing career.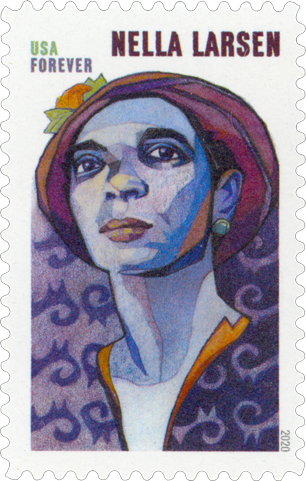 Alan Locke
Scott #5474
Writer, philosopher, educator, and patron of the arts Alain Leroy Locke (1885-1954) was in 1907 was the first African-American to be selected as a Rhodes Scholar and went on to be become chair of the department of philosophy at Howard University. A gay man, he may have supported other gay African-Americans who were part of the Harlem Renaissance movement of the 1920s.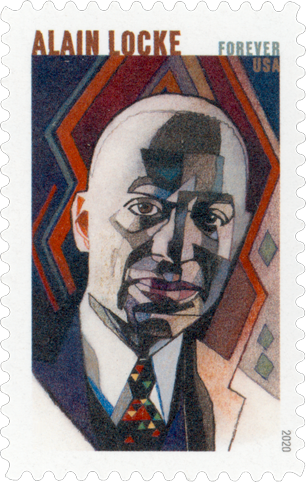 Bugs Bunny in drag
Scott #5498-99
A running gag that continues to this day in Bugs Bunny shorts is the Waskally Wabbit appearing in drag. Among the 10 stamp designs that appeared in the 2020 Bugs Bunny 80th anniversary pane are two depictions of Bugs in female costumes. One is from the Hare-Ribbin' (1944) and the other from What's Opera, Doc (1957). Female impersonator RuPaul called Bugs "my first introduction to drag."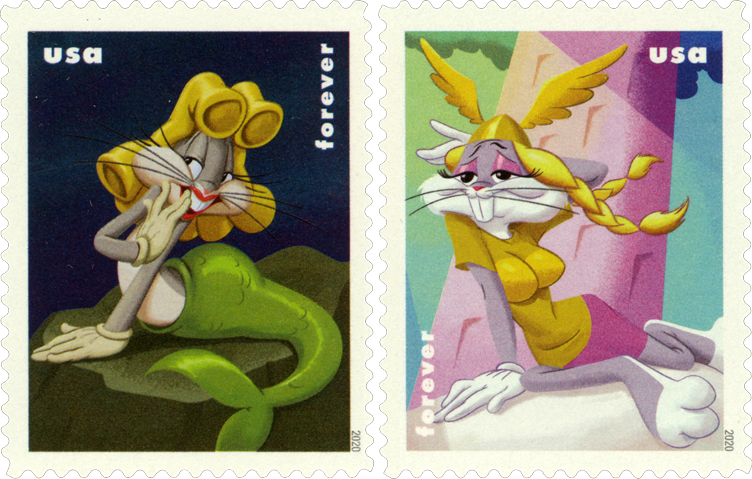 Emilio Sanchez
Scott #5594-97
Emilio Sanchez (1921-1999) was born in Camagüey, Cuba, into privilege as part of one of the island's oldest and wealthiest families. He was encouraged to draw by his grandmother and became fascinated with the play of light and shadow on colored forms. Sanchez studied at New York's Art Students League before attending Columbia University School of the Arts. He held his first solo exhibition in 1949. He became an American citizen in 1968, and by 1971, architectural themes were his major subject. Sanchez was discreet about his homosexuality. A photograph of Sanchez taken by Alexis Rodriguez is found in the selvage of full panes of the stamps; it was taken by New York based art photographer, author and filmaker Alexis Rodriguez Duarte, whose husband of 35 years is fashion stylist Tico Torres.

Charles Chaisson
Scott #5608
The portrait of Yogi Berra was done by Brooklyn-based freelance illustrator Charles Chaisson, who identifies as queer on his social media accounts. Born in New Orleans, Louisiana. He received his B.F.A. from the Ringling College of Art and Design and his M.F.A. from New York's School of Visual Art. He currently teaches at the Rhode Island School of Design.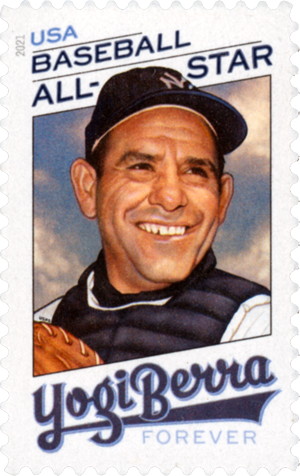 Matthew Murphy
Scott #5609-13
New York City-based photographer Matthew Murphy was responsible for the photographs appearing on the 2021 Tap Dance quintet. Specializing in theater, dance, and portrait photography, he started a dance career with the American Ballet Theatre before becoming a professional photographer. He travels worldwide and lives with his husband, composer Ryan Scott Oliver, and their two dogs.

The Left Hand of Darkness
Scott #5619
Ursula K. Le Guin's science fiction novel The Left Hand of Darkness explores gender identity, following human ambassador Genly Ai, who travels to icebound planet Genthen, where individuals are ambisexual. A major theme of the novel, the effect of sex and gender on culture and society, is explored in particular through the relationship between Genly Ai and Estraven, a Gethenian politician who trusts and helps Ai. The pair are depicted towing a sled in the background artwork on this Literary Arts stamp.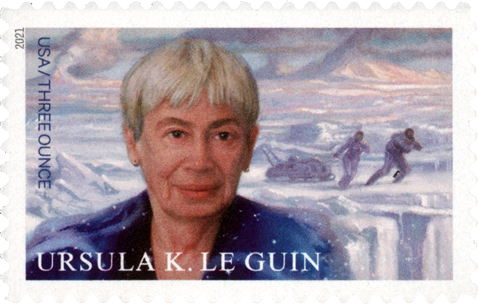 Edmonia Lewis
Scott #5663
Edmonia Lewis (1844-1907) was born in upstate New York and worked most of her career in Rome, Italy. She was the first African American and Native American sculptor to achieve national and international prominence. She incorporated themes relating to Black people and indigenous American people into Neoclassical-style sculpture. Edmonia was part of a circle of lesbian expatriate artists in Rome that included Charlotte Cushman, Emma Stebbins, Harriet Hosmer, and Anne Whitney.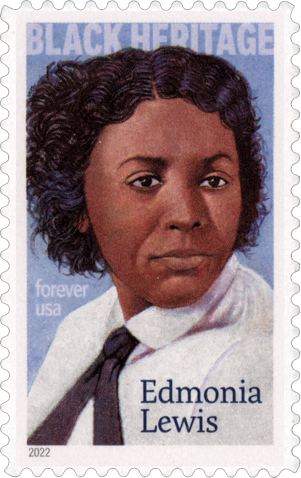 Title IX
Scott #5668-71
The 1972 landmark legislation, Title IX, prohibits discrimination on the basis of sex in any school or education program that receives federal funding. It is currently interpreted to include discrimination based on sexual orientation and discrimination based on gender identity. Title IX protects all students who experience sexual violence or harassment, including LGBTQ survivors.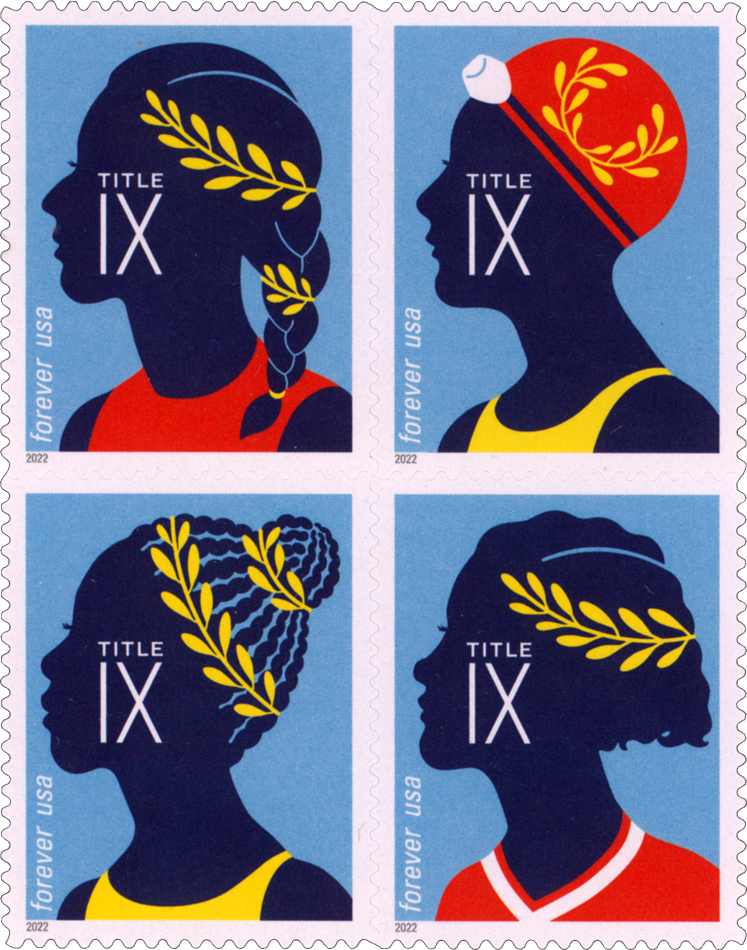 RETURN TO TOP OF PAGE