LGBTQ Foreign Stamp Gallery
Below is a sampling of the many foreign LGBTQ themed stamps available. Shown are primarily stamps with subject matter that relates to the country of issue. Unless there is no other source, topical issues having themes with no connection to the issuing entity, usually promoted by philatelic agents, are not included here. Otherwise, if your favorite(s) are missing, help add to this page by contacting the webmaster who is listed on the "Contacts Us" page of this website. Either high resolution scans or actual items are acceptible; the latter will be scanned and returned if desired. Be sure to provide a brief description of the subject matter, to include how it relates to a LGBTQ theme.
The sexuality of famous personalities is often open to debate. Even today, many remain in the closet for fear of ruining their career and relationships. For some individuals depicted on the stamps listed below, all we have are clues as their being or possibly being gay, lesbian or bisexual; correspondence that would reveal homosexual relationships was often destroyed after the death of those involved. Also included are some LGBTQ icons. The biographical sketches below are drawn from Wikipedia, Biography.com, Britannica.com, the Gay and Lesbian History on Stamps Journal, the Lambda Philatelic Journal, and various LGBTQ websites.
The topic AIDS on stamps is not explored here. This subject matter is comprehensively covered up to the year 2021 on the AIDS on Stamps website.
Antony Armstrong-Jones
Antigua & Barbuda, Scott #1671a
Best known for marrying Princess Margaret, sister of Queen Elizabeth II, Antony Armstrong-Jones, first Earl of Snowdon (1930-2017), was a British photographer and filmmaker. He attended Eton and Jesus College, Cambridge, coxing the eights to televised victory in 1950. He was inventive in design, making tiny crystal wireless sets, a gadget for rolling cigarettes, a photographic enlarger from tomato soup cans, and a radiogram. Having suffered polio as a teenager, he would become a tireless advocate for disabled people. Despite marrying twice, Lord Snowdon continually had affairs with both women and men, including Jeremy Fry.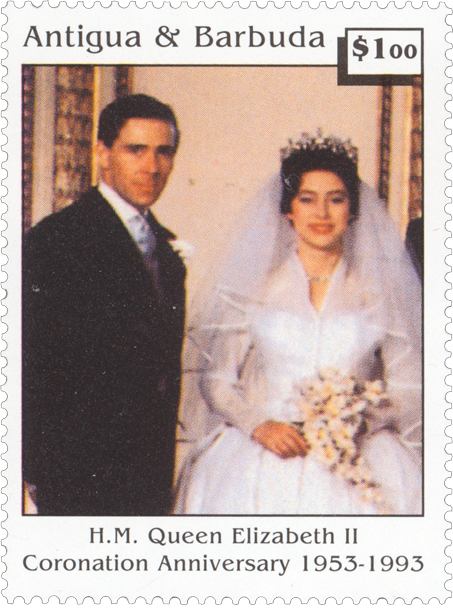 María Elena Walsh
Argentina, Scott # to come
Famous in Argentina for her songs and books for children, María Elena Walsh (1930-2011) was a poet, novelist, musician, playwright, and composer. Walsh's El país del nomeacuerdo ("I-Don't-Remember Land") was highly commended for the Hans Christian Andersen Award, the most important international award for children's literature. Her partner for 33 years was photographer Sara Facio. Stamps with illustrations from her stories appear on Argentina Scott #2491a-f, #1992-95 (not shown) and Scott #2487 (not shown).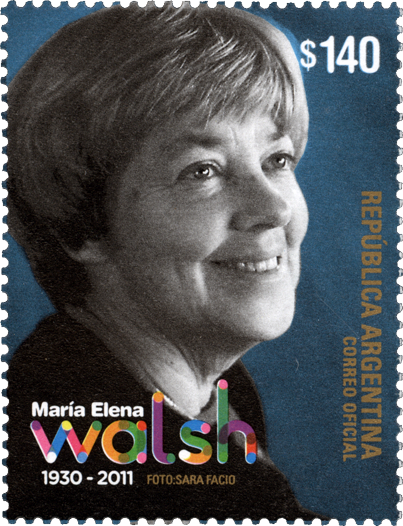 Argentina 2010 Census
Argentina, Scott #2593
Argentina's 2010 Census stamp includes two same-sex couples among the various silouettes of individuals depicted.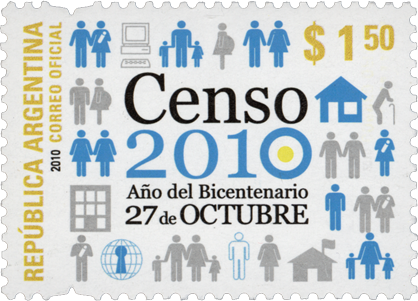 Argentina 2014 Marriage Equality
Argentina, Scott #2702
Among 20 stamps issued in 2014 relating to new Argentine laws, policies and regulations was a 50¢ value noting Law 26-618 that established marriage equality in the South American nation.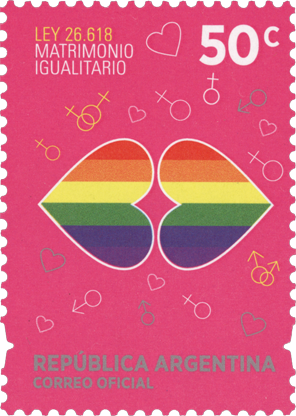 Sergei Parajanov
Armenia, Scott #588
Sergei Parajanov (1924-1990) was a Soviet film director who made significant contributions to Soviet cinematography, using a style totally out of step with socialist realism, through Ukrainian, Georgian, and Armenian cinema. Born in Tbilisi, Georgia, to Armenian parents, he enrolled in Moscow's VGIK, one of the oldest and highly respected film schools in Europe. In 1948, he was arrested for homosexual acts with an MGB officer and sentenced to five years, but he was released after three months. He made his first professional film in 1954. Abandoning socialist realism in 1965, he became somewhat a celebrity. He created Sayat Nova in 1969 (re-edited as The Color of Pomegranates). The Soviet film administration sabotaged or banned his projects and plans until he was charged with homosexuality in 1973 and imprisoned four years. He returned to film creation in the late 1980s.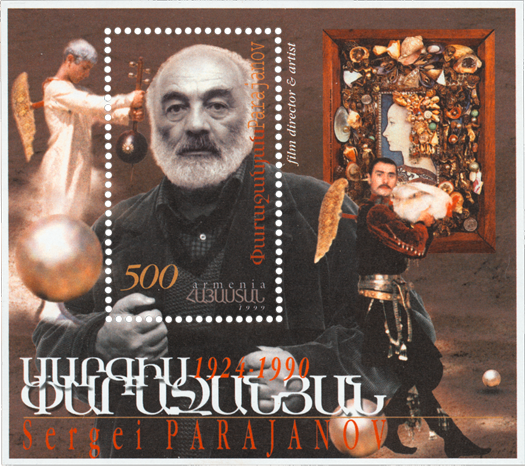 Henry Lawson
Australia, Scott #222
Henry Archibald Hertzberg Lawson (1867-1922) was an Australian writer and bush poet. He is among the best-known Australian poets and fiction writers of the colonial period and is often called Australia's "greatest short story writer.". According to a book released in 2017 by Frank Moorehouse, Lawson may have had a gay relationship with a fellow bush poet, Jim Gordon. (Also known as Jim Grahame.) They met in 1892 when Lawson was 25 and Gordon was 17 or 18. What was supposed to be a three week trip together covering 200 kilometers turned into three months, the men sleeping under the stars. The trip became a significant event for both men. They parted thereafter and did not meet again until 1916. Both men married and fathered several children. Lawson's stormy marriage ended after six years and most of his relationships ended abruptly. Gordon's wife was leery of their friendship.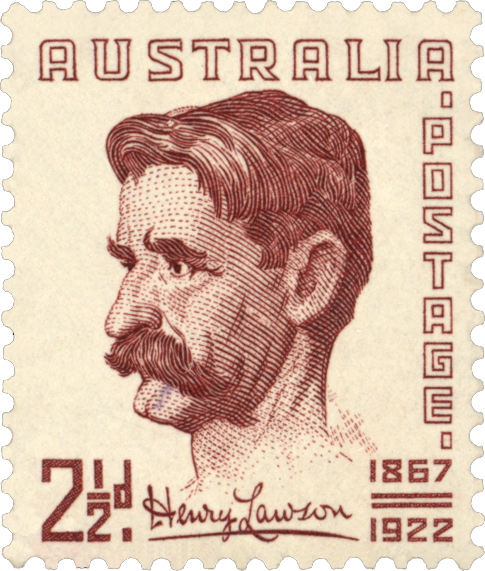 Percy Grainger
Australia, No Scott # for 1982 envelope
Born in Brighton, near Melbourne, Australia, Percy Grainger (1882-1961) studied in Frankfurt, Germany, and moved to London before eventually settling in the United States and becoming an American citizen in 1918. He had a successful career as a concert pianist. His most famous music composition was a piano arrangement of the folk-dance, Country Gardens. His private life was eccentric, including being a physical-culture faddist, lifelong pursuit of sado-masochistic practices, being beloved by Edvard Grieg and Vachel Lindsay, living with his mother until her death (with indications of a sexual relationship), and marrying during a concert at the Hollywood Bowl.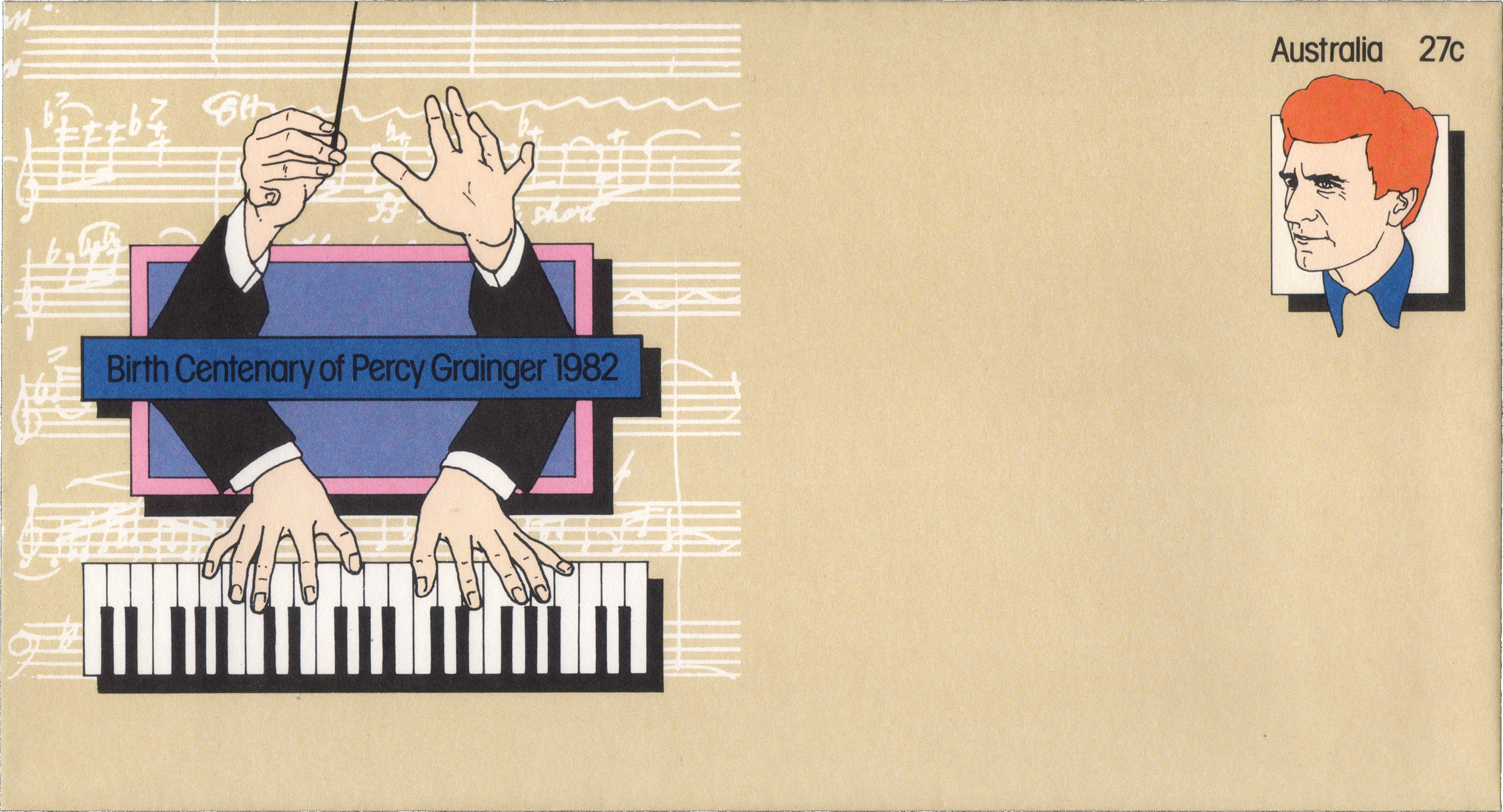 Ian Thorpe
Australia, Scott #2268
Ian Thorpe (born 1982) is an Australian retired swimmer who won five Olympic gold medals, the most won by any Australian. He qualified for the Australian Championships in 1996 and made his international debut in 1997. The next year, he won an individual and a team gold medal at the World Championships. His first individual world record was set in 1999. He competed at both the 2000 Sydney and 2004 Athens Olympics. Ian came out as gay during a 2014 televised interview.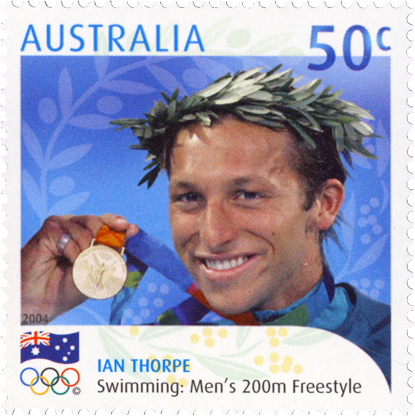 Erin Phillips
Australia, Scott #2470f
Erin Phillips (born 1985) is An Australian rules footballer for the Adelaide Football Club, a radio host, and a former professional basketball player, Erin Phillips (born 1959) played nine seasons in the WNBA, helping the Indiana Fever and the Phoenix Mercury win championships. She played on the Australian women's basketball national team, winning the world championship in 2006 and a silver medal at the 2008 Beijing Olympics. She helped Adelaide win the AFLW premierships in 2017 and 2019. Erin is married to former basketball player Tracy Graham.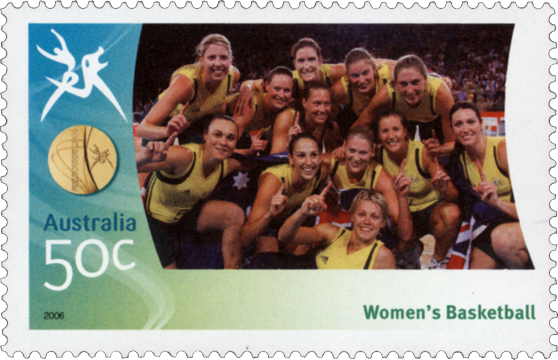 Matthew Mitcham
Australia, Scott #2925
Retired diver and trampolinist Mathew Mitcham (born 1988) was the first openly gay man to win an Olympic gold medal. Competing in the 10-meter platform during the 2008 Olympics, he received the highest single-dive score in Olympic history and was the first Australian to receive a gold medal in diving since 1924. He narrowly failed to make the 10-meter platform finals in the 2012 Olympics and has since retired from sports to pursue a showbiz career, appearing sporadically on Australian television and LGBT promotional events.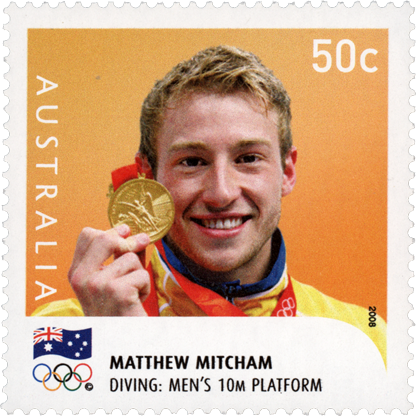 David Malouf
Australia, Scott #3202, 3203
An openly gay Australian writer born in Brisbane, David Malouf (born 1934) graduated from the University of Queensland and published his first novel, Johnno, in 1975. His Remembering Babylon was shortlisted for the Booker Prize in 1993. He has also written short stories, poetry, opera libretti, and a play.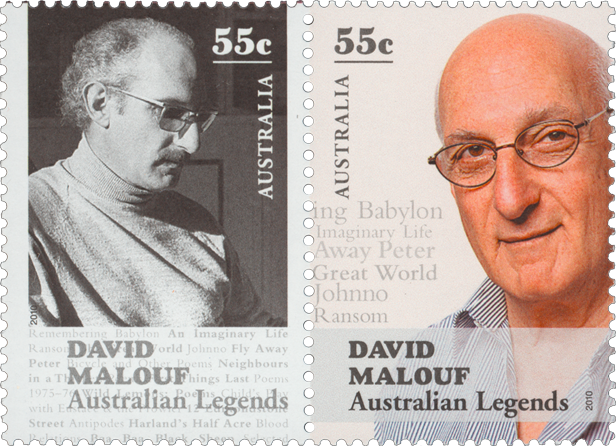 Patrick White
Australia, Scott #3754
Patrick White (1912-1990) is the only Australian to have been awarded the Nobel Prize in Literature. Between boarding school in England and study at King's College, Cambridge, he worked as a stockman at Bolaro, near Adaminaby, New South Wales, for two years. After joining the British Royal Air Force in World War II, he met his life partner, Greek army officer Manoly Lascaris. Patrick's novel Voss won the inaugural Miles Franklin Literary Award in 1957. During his career, he published twelve novels, three short-story collections, and eight plays.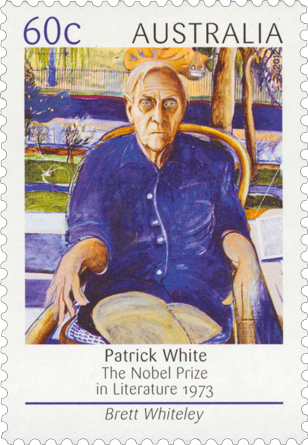 Molly Meldrum
Australia, Scott #3836
Openly gay Australian music critic, journalist, record producer, and musical entrepreneur Molly Meldrum (born 1943) was born in Orbost, Victoria, and moved to Melbourne intending to become a disc jockey. In 1966, he started writing for the weekly pop music newspaper Go-Set, and became editor of Gas. He produced Russell Morris' single, "The Real Thing," widely acknowledged as one of the finest Australian pop-rock recordings. Molly worked for the successful and popular television music series Countdown from 1974 to 1987, initially as talent coordinator, then onscreen in his "Humdrum" weekly segment. In 1986, he was made a Member of the Order of Australia. He is openly gay.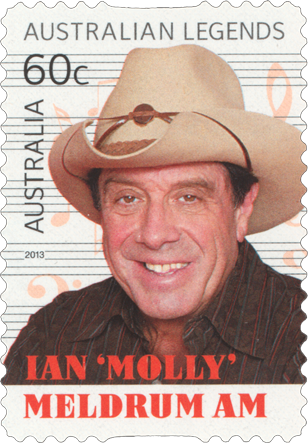 Kylie Kwong
Australia, Scott #4038, 4043
Celebrity chef Kylie Kwong (born 1969) was one of the honorees in the 2014 Legends of Australia stamp series that honors living Australians. Kwong opened her first restaurant in 1999 and has since hosted several Australian television shows as well as appear on the Australian version of Master Chef. She and the artist known as Nell have been together since 2006.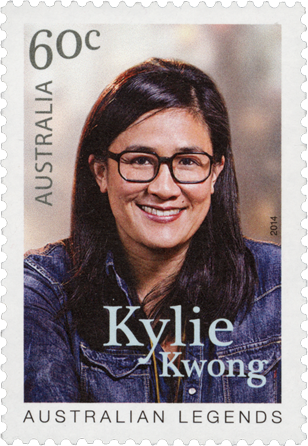 Morris Gleitzman
Australia, Scott #4905, 4910
English born Australian author Morris Gleitzman (born 1953) writes children's and young adult fiction, having more than 40 books under his belt, many of which have serious themes. The most controversial at the time of publication was Two Weeks with the Queen (1990) in which the young protagonist meets two gay men, one of whom eventually dies from AIDS. In February 2018 Gleitzman was named the Australian Children's Laureate for 2018/2019.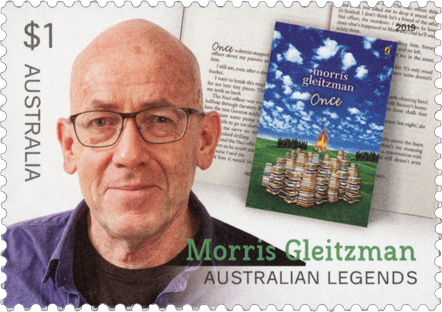 Leign Hobbs
Australia, Scott #4906, 4911
Leigh Hobbs (born 1953) is an artist and author of humorous and gently subversive children's books that are popular in Australia and the United Kingdom. His books principally feature the characters Old Tom, Horrible Harriet, Fiona the Pig, Mr. Badger and Mr. Chicken, plus characters from the 4F for FREAKS books. He was the Australian Children's Laureate for 2016-17 and lives in Melbourne with his partner Dmetri Kakmi. He appeared on one of the 2019 Legends of Australia stamps.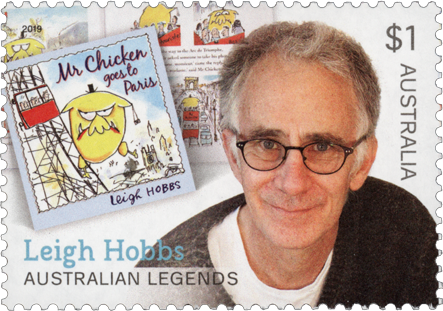 Marriage Equality
Australia, Scott #5015-16
Following a 2017 survey that showed about 61.6% of almost 12.7 million respondents favored the removal of discrimination against same sex couples, Liberal senator Dean Smith introduced just a day after the release of the survey results a marriage equality bill to the Australian parliament. The bill passed the parliament on December 7, 2017 and received royal assent from the Governor-General the following day, coming into effect on December 9, 2017. The first same-sex wedding under the law occurred six days later.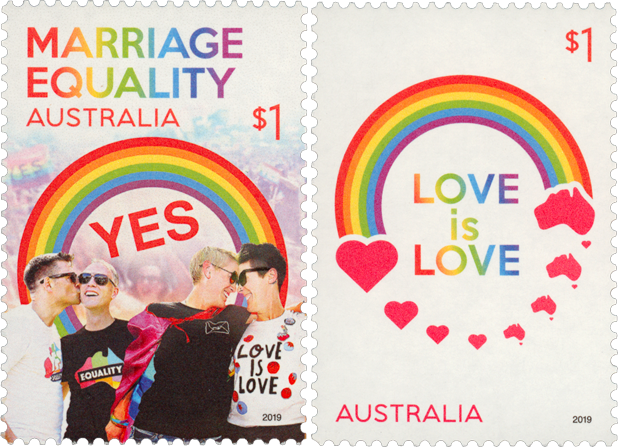 Magda Szubanski
Australia, Scott #5129, 5133
Originally from Liverpool, England, Magda Szubanski (born 1961) is an Australian television and film actress, comedian and writer. Her mother is Scottish-Irish and her father was Polish, having been in the counter-intelligence branch of the Polish resistance during World War II. She attended school in Australia and got her start in comedy on television, where she has produced much-loved characters, especially the people-pleasing, accident-prone Sharon Strzelecki in Kath and Kim, depicted on the stamp. She also played Esme Hoggett in both Babe movies, and voiced Miss Voila in the two Happy Feet films. She came out in 2012 and was a leading voice in support of same-sex marriage. She released her award winning memoir in 2015.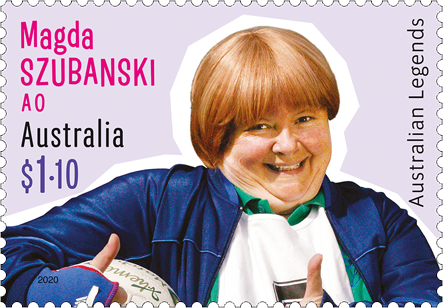 Georgie Stone
Australia, 2020 personalized stamp
Australian actress Georgie Stone (born 2000) joined the long-running soap opera, Neighbours to portray Mackenzie Hargreaves, the first ever transgender character on the show. Stone, transgender herself, at the age of ten was the youngest person to receive hormone blockers in Australia. Her hormone replacement therapy began at age 15. In 2020, she was honored with a Medal of the Order of Australia. She continues to advocate for transgender children.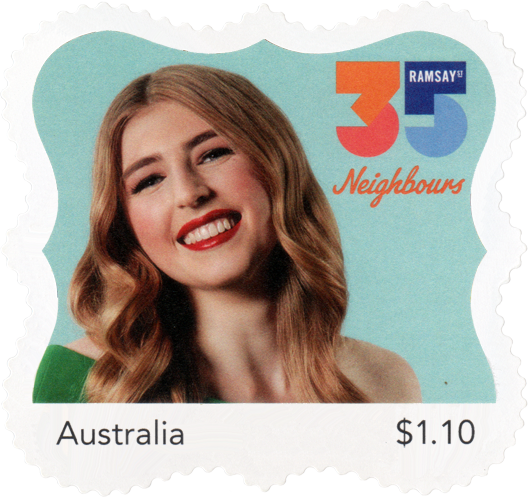 William Dobell
Australia, Scott #5370
Sir William Dobell (1899-1970) was a portrait and landscape artist who won the Archibald Prize, Australia's premier award for portrait artists, three times. He was born in Newcastle, New South Wales, apprenticed with an architect, worked as a draftsman, and took evening art classes at the Sydney Art School. He won a scholarship to London's Slade School of Fine Art and spent ten years in Europe before returning to Australia. Four of his portraits appeared on the cover of TIME magazine. William kept his homosexuality private.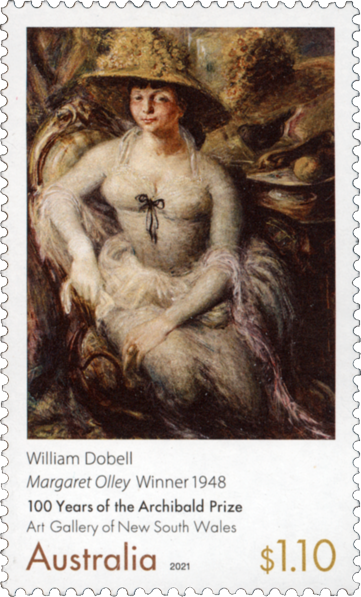 Dean DeBlois
Australia, 2020 personalized stamp
Canadian film director, film producer, screenwriter, and animator Dean DeBlois (born 1970) wrote and directed the three How to Train Your Dragon films and the Disney film, Lilo & Stitch, all of which received Oscar® nominations for Best Animated Feature. DeBlois is openly gay. (click on image to see the entire sheet of 20 in a new window)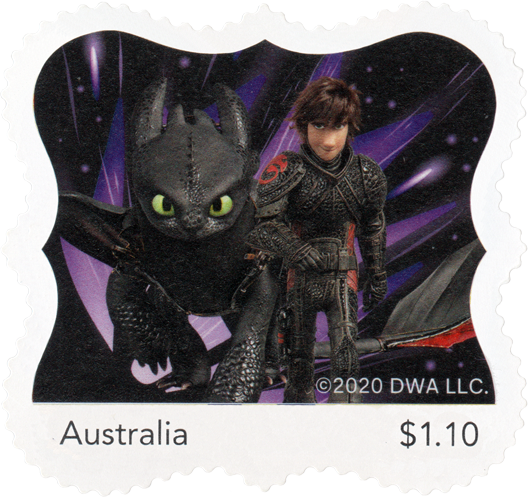 Franz Schubert
Austria, Scott 491, #1095
Born in Vienna, Franz Schubert (1797-1828), was a prolific composer of more than 600 secular vocal works, seven complete symphonies, sacred music, operas, and a large body of piano and chamber music, all before his death at age 31. He is considered one of the greatest composers of Western classical music. His great loves were poet and sometime female impersonator Franz von Schober, with whom he lived, and painter Moritz von Schwind.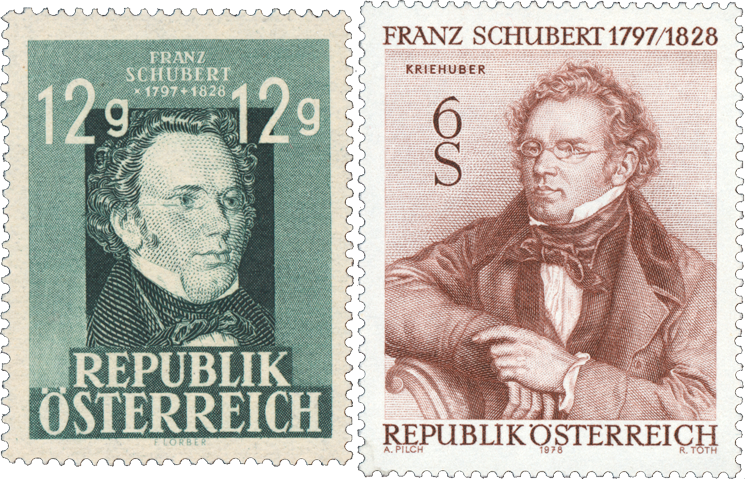 Prince Eugene of Savoy
Austria, Scott #709
TA field marshal of the Holy Roman Empire and of the Austrian Hapsburg dynasties, Prince Eugene of Savoy (1663-1736) was born in Paris and grew up around the court of King Louis XIV. His homosexuality was widely known to his contemporaries, even referenced in a letter by Elizabeth Charlotte, Madame Palatine. Denied military service by the King of France, Eugene sought service abroad, beginning his military career under Emperor Leopold I. Twenty years later, in collaboration with the Duke of Marlborough, Prince Eugene would defeat the French at Blenheim. Over six decades, under Leopold I, Joseph I, and Charles VI, he fought in the Great Turkish War, the War of the Holy League, the Nine Years' War, the War of the Spanish Succession, the Austro-Turkish War, and the War of the Polish Succession. He was one of the most successful military commanders of his time.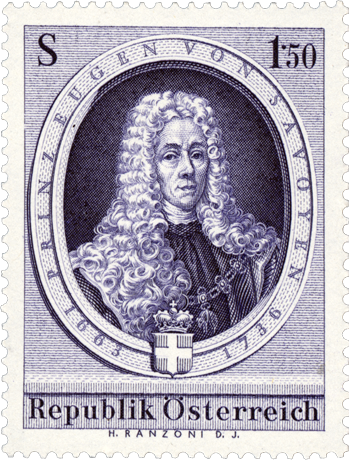 Franz Grillparzer
Austria, Scott #915, #1525
A writer mostly known for dramas, Franz Grillparzer (1791-1872) was born in Vienna and attended the University of Vienna. For over 40 years he was in the civil service, spending almost 25 of them as director of the archives at the Imperial Hofkammer. He had a relationship with physicist Georg Altmútter. He wrote Sappho in 1818, Waves of the Sea of Love in 1831, and The Dream, a Life, in 1834. After 1850, he became the most popular author of the day, ranked with Goethe and Schiller, and was lauded as the national poet of Austria. His 80th birthday was a national festival.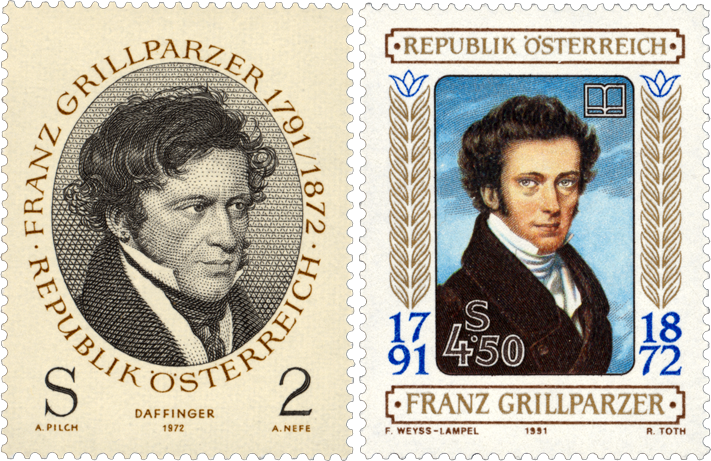 Rainer Maria Rilke
Austria, Scott #1049
Rainer Maria Rilke (1875-1926) was born in Prague and was treated as if he were a girl by his mother in early childhood. He passed the university entrance exam and studied in Prague and Munich. He became infatuated with a married woman, and made two extended trips to Russia. He married sculptor Clara Westhoff, though a mutually-agreed-upon divorce was bureaucratically hindered the rest of his life. He moved to Paris and happened to be in Germany when World War I started, preventing his return to Paris. He had an affair with the painter Lou Albert-Lasard. After the war, he moved to Switzerland and completed the Duino Elegies and Sonnets to Orpheu in 1922. Books by Martin Grief, A. L. Rowse and Ralph Freedman indicate he was a repressed homosexual, though others dispute this. Rilkee was a signatory to Hirschfeld's Committee's 1897 petition against paragraph 175, a provision of the German Criminal Code that made male homosexuality a crime.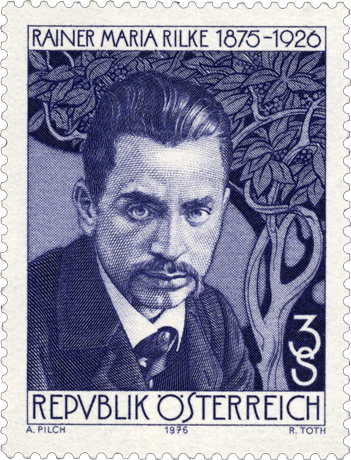 Rainbow Parade
Austria, Scott #2269
Austria issued a stamp in 2010 to note the 15th anniversary of Vienna's Rainbow Parade.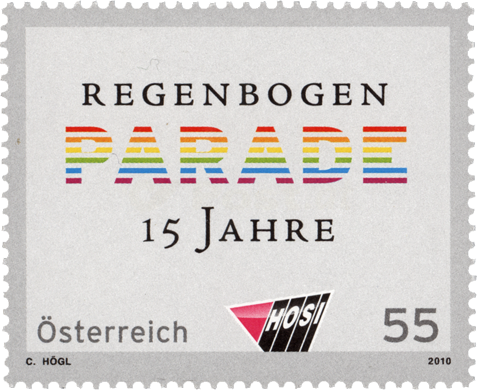 Ludwig Wittgenstein
Austria, Scott #2970
Considered to be one of the greatest philosophers of the modern era, Ludwig Wittgenstein was born into one of Europe's richest families. He inherited a fortune from his father in 1913, but after World War I, gave it away to his brothers and sisters. He worked mostly in academia after the war. Being of Jewish descent, he wound up in England before the onset of World War II. Wittgenstein contributed several ground-breaking ideas to philosophy, primarily in the foundations of logic, the philosophy of mathematics, the philosophy of language, and the philosophy of the mind. His two major works are Tractatus and Philosophical Investigations (Philosophische Untersuchungen) , the latter published posthumously. He had numerous relationships with men, many of which are documented in his writings.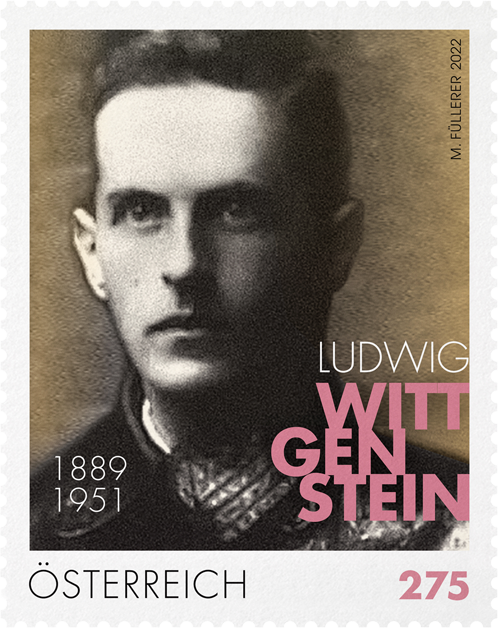 Billy Preston
Bangladesh, Scott #841
Billy Preston (1946-2006) was born in Houston and was raised in Los Angeles. At age 11, he sang "Blueberry Hill " " on Nat King Cole 's NBC TV show, and he appeared in the 1958 film, St. Louis Blues, as a young W. C. Handy. He released his debut album, 16 Yr. Old Soul, in 1963. He became one of several people called "the fifth Beatle " and co-wrote "You Are So Beautiful. " His hit singles included "Will It Go Round in Circles" , "Nothing from Nothing", and "Space Race". He won two Grammy Awards and performed at 1971's The Concert for Bangladesh. Preston struggled throughout his life to cope with his homosexuality, coming out shortly before he died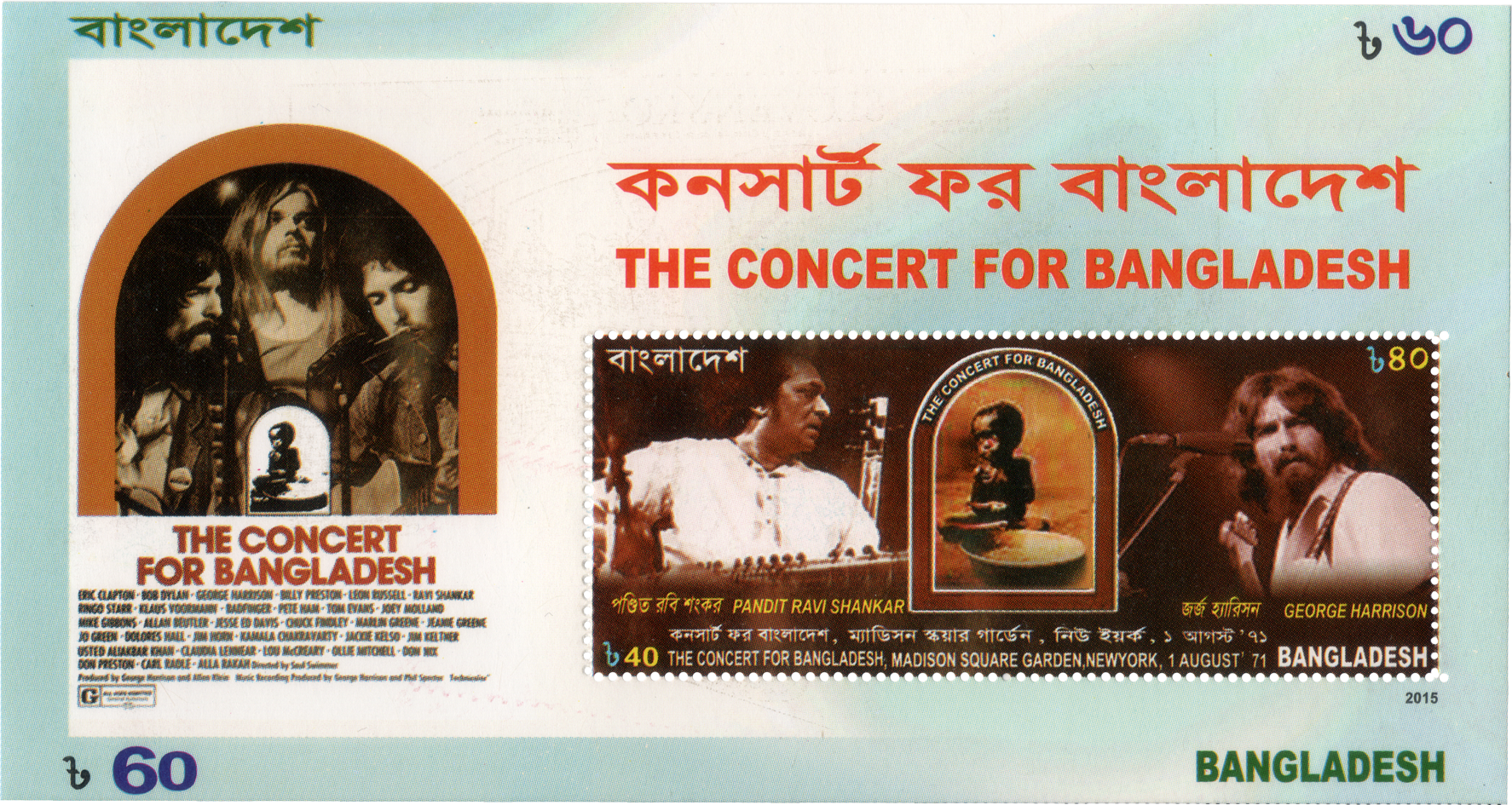 John Maynard Keynes
Belgium, Scott #1781p
Born in Cambridge, England, economist John Maynard Keynes (1883-1946) attended Eton before King's College. He published his first professional economics article in 1909 and was made editor of The Economic Journal in 1911. He was appointed Companion of the Order of Bath for his wartime work and was British financial representative to the Versailles peace conference. He published The Economic Consequences of the Peace, considered his best book, in 1919. His magnum opus, The General Theory of Employment, Interest and Money was published in 1936. Keyes was open about his love affairs and had relationships with Daniel Macmillan, Duncan Grant, and Arthur Hobhouse before marrying ballerina Lydia Lopokova.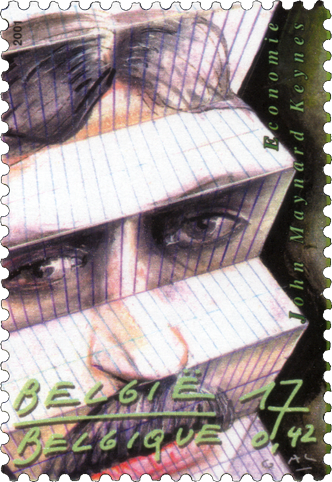 Ludwig Wittgenstein
Belgium, Scott #1781t
An Austrian philosopher who worked primarily in logic and the philosophies of mathematics, mind, and language, Ludwig Wittgenstein (1889-1951) was born near Karlskirche into the second-wealthiest family (after the Rothschilds) in the Austro-Hungarian Empire. He had absolute pitch, studied mechanical engineering at the Technische Hochschule Berlin, and studied aeronautics at the Victoria University of Manchester. From 1929 to 1947, he taught at the University of Cambridge. He had relationships with Francis Skinner and Ben Richards.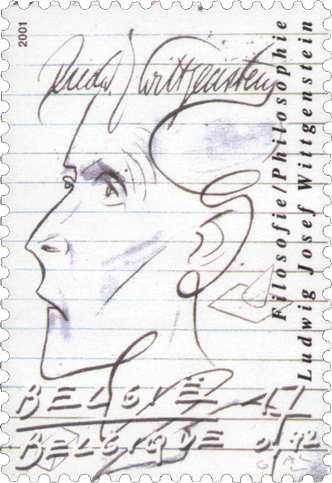 Marguerite Yourcenar
Belgium, Scott #1989; France, Scott #B654
Marguerite Antoinette Jeanne Marie Ghislaine de Crayencour (1903-1987) was one of the most famous French writers of the 20th Century. Born in Brussels, her mother died a little over a week after giving birth to her. She inherited her love of books from her father. Her first book was published in 1921 under the pen name, Marguerite Yourcenar, which she took as her official name in 1947. Her masterpiece is Mémoires d'Hadrien, a historical novel constituting the fictionalized memoirs of 2nd-century Roman emperor Hadrian. In 1939, a planned short vacation to visit Grace Frick, whom she met two years earlier, became permanent due to World War II. The couple settled on Mount Desert Island in Maine and Marguerite became a naturalized U.S. citizen in 1947. In 1980, she was the first female elected to the Academie Francaise, with the president of France granting her dual U.S.-French citizenship so she could meet the French citizenship requirement of the Academie.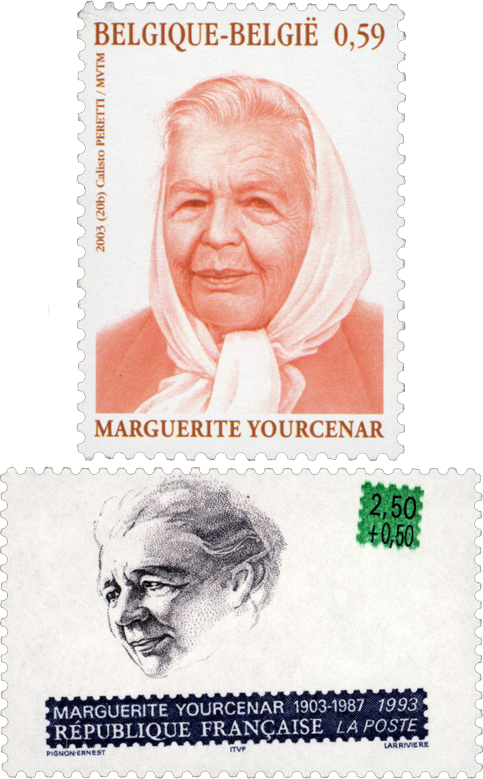 Arthur Rimbaud and Paul Verlaine
Belgium, Scott #2416
French poets' Arthur Rimbaud (1854-1891) and Paul Verlaine (1844-1896) are forever linked due to a short but tempestuous relationship that began in 1871 when 16-year old Rimbaud sent copies of his poems to Verlaine, already an eminent symbolist poet 10 years older than Rimbaud. Verlaine, though married at the time, sent a one-way ticket to Paris for Rembaud, who moved into their home. Verlaine, unlike Rimbaud, had repressed his homosexuality; he quit his regular job, began drinking and abandoned his wife. The pair's ensuing wild and torrid affair was spiced by absinthe, opium and hashish. While in London, Verlaine decided he had enough and left Rimbaud to meet his abandoned wife but quickly missed Rimbaud. An attempt by the pair to reconcile in Brussels ended badly, with Verlaine shooting Rimbaud during a drunken rage. Rimbaud survived while Verlaine ended up in prison for two years. Rimbaud quit writing poetry at age 21 in favor of a steady working life. Verlaine continued to write verse but by the 1880s his best days had passed.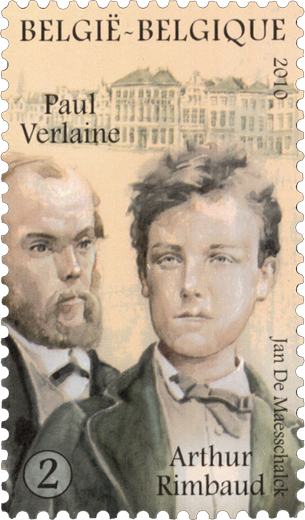 Narcissus
Bosnia & Herzegovina (Croat/Mostar), Scott #351
In Greek mythology, Narcissus was a hunter from Thespiae in Boetia who was known for his beauty. According to Ovid, he rejected the romantic advances of mountain nymph Echo. The goddess of revenge, Nemesis, lured him to a pool where he saw himself in reflection and fell deeply in love with it. Unable to leave, he pined away from the fire of passion inside and turned into a gold and white flower.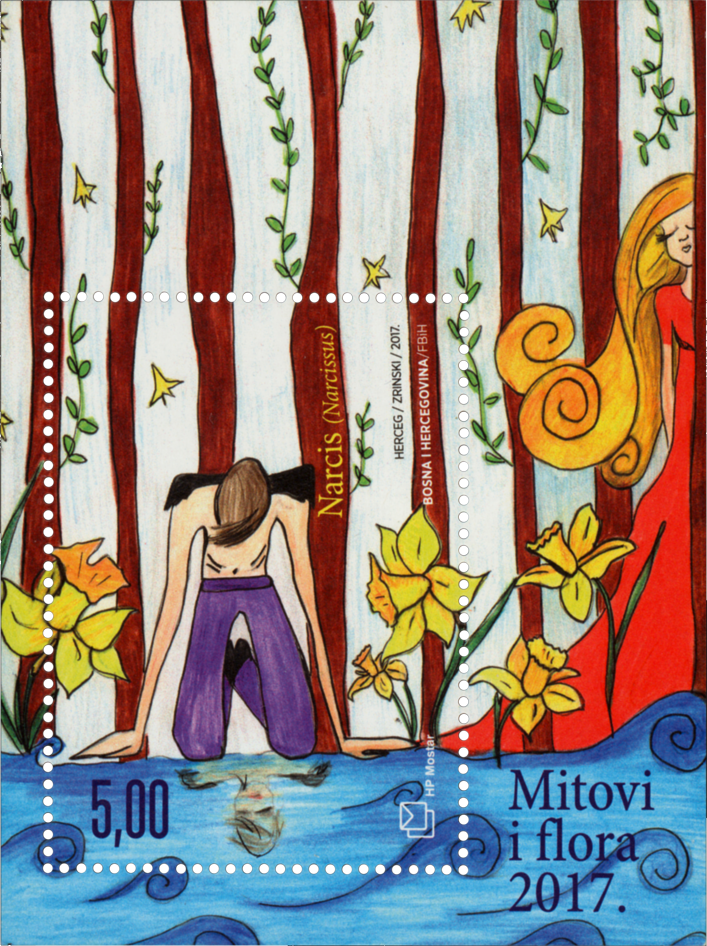 Mihailo Petrovic
Bosnia & Herzegovina (Serb Administration), Scott #607a
Serbian mathematician and inventor, Mihailo Petrovic (1868-1943) received his PhD degree from the University of Paris, Sorbonne, in 1894 and became a professor at the University of Belgrade until his retirement in 1938. He was very interested in fishery, played the violin, and won a Gold medal at the World Exposition in Paris in 1900 for his hidrointegrator. He had an erotic relationship with Crown Prince George of Serbia, signing one of his personal letters to George as "Your dog on a chain."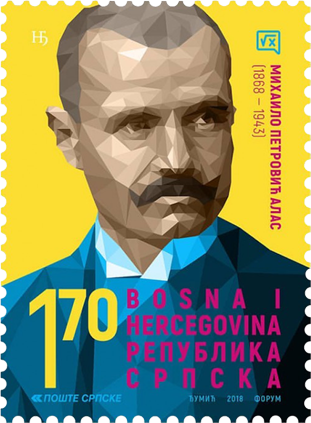 Cazuza
Brazil, Scott #2298
An openly bisexual Brazilian singer and songwriter, Cazuza (1958-1990) was born in Rio de Janeiro, son of a record producer and an amateur singer. He began to write lyrics and poems in about 1975. His singing career began with the 1980s successful rock band, Barão Vermelho. In 1985, they appeared in the first Rock in Rio festival. Cazuza contracted HIV and spent the rest of the decade singing solo.
Renato Russo
Brazil, Scott #3413
Renato Russo (1960-1996) was the lead singer of alternative rock band Legião Urbana (translates as Urban Legion). He was the subject of the biographical Brazilian film, Somos Tão Jovens. He publicly came out as bisexual in 1988 in his song, "Meninos e Meninas." He died due to complications from AIDS.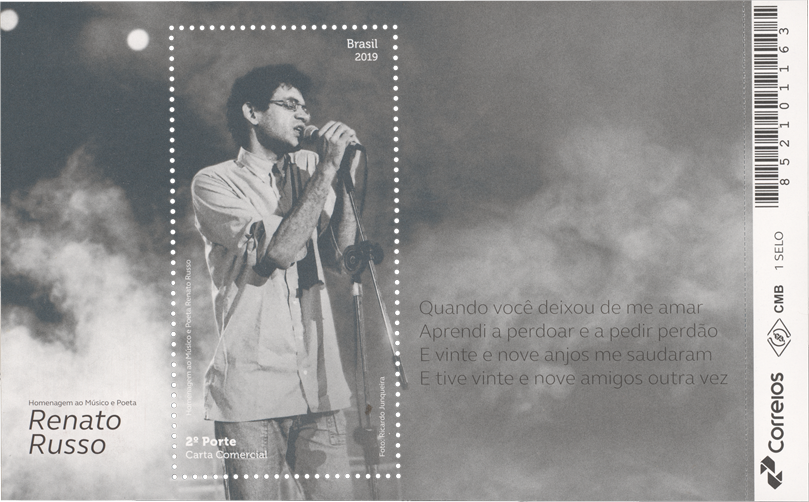 Maria Leopoldina of Austria
Brazil, Scott #3367
Born Archduchess of Austria, the sixth child of Holy Roman Emperor Francis II and the fifth child of Maria Theresa of Naples and Sicily, Maria Leopoldina of Austria's (1797-1826) 1817 marriage by proxy to Dom Pedro de Alcântara was arranged. The well-cultured Maria Leopoldina travelled to Rio de Janeiro to meet her new husband, already living as if in wedlock with a French dancer. She began a lifelong intimate relationship with her daughter's governess, Maria Graham. After Brazil's independence, Maria Leopoldina became Brazil's first Empress consort, her popularity greater than that of her husband.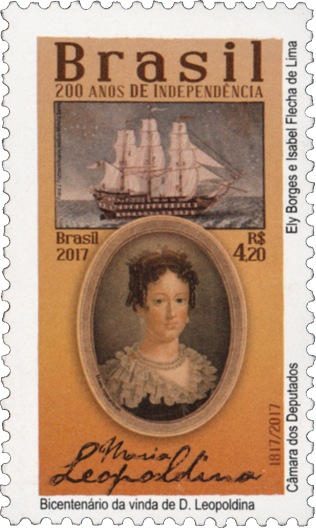 Nino Muñoz
Brazil, Scott # to come
Nino Muñoz (born 1977) was born in Chile and at age seven moved to Canada with his family. He started photo assisting in New York City and spent the last two decades as a successful fashion and celebrity photographer. Muñoz currently lives in Los Angeles with his husband and three dogs.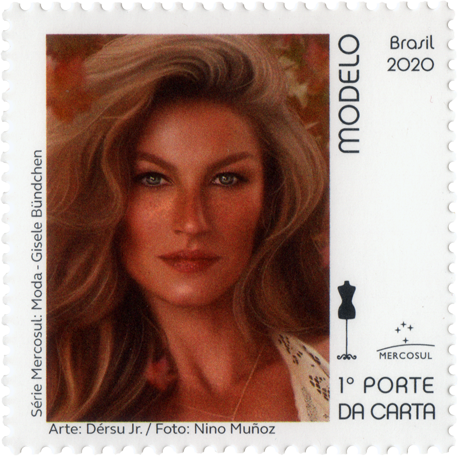 Tsar Ferdinand
Bulgaria, Scott #130-33
Tsar Ferdinand I of Bulgaria (1861-1948) was the second monarch of the Third Bulgarian State until his abdication in 1918. He was born in Vienna as a German prince of the House of Saxe-Coburg and Gotha-Kohary and later became an officer in the Austrian-Hungarian army. In desperation to prevent Russian occupation, he was elected Prince of Bulgaria by its Grand National Assembly in 1887. To the amazement of most of the royal houses in Europe, Ferdinand generally made a success during his first two decades of reign. In 1893, he entered a marriage of convenience with Marie-Louise of Bourbon-Parma. His second marriage in 1908 was similarly devoid of love. Instead, he had trysts and affairs with both women and men. In 1908, he proclaimed de jure independence from the Ottoman Empire (de facto since 1878) and made himself Tsar. In 1910, he became the first head of state to fly in an airplane. (click on image to see the entire set of four in a new window)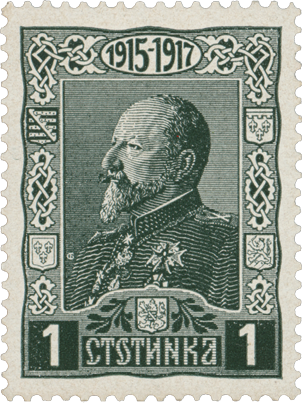 Georgi Partsalev
Bulgaria, Scott #4959
Georgi Partsalev (1925-1989) was born in Levski, Bulgaria, and studied medicine at Sofia University. He acted at the Satirical Theatre in Sofia, and his first film role came in 1958's Lyubimets 13. In 1964, he and 25 other men were put on trial on grounds of homosexuality, which led to the legalization of homosexuality in Bulgaria in 1968. He became a legend of Bulgarian comedy, starring in films from the late 1960s into the 1980s.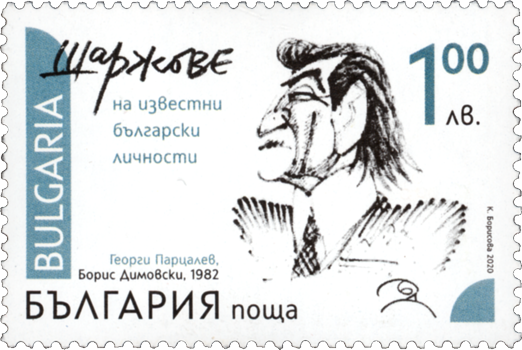 Il Sodoma
Burundi, Scott #361f
Il Sodoma (1477-1549) was born Giovanni Bazzi in Vercelli, Piedmont. He studied first with Martino Spanzotti and was one of the first to practice in Siena the style of the High Rennaissance. Among his masterpieces are the frescoes in the chapel of St. Catharine of Siena and two paintings, Deposition from the Cross and Christ Scourged, in Siena's San Francesco basilica. He married young, but the two quickly separated. He acquired the nickname, "the sodomite&," as early as 1512. He always surrounded himself with "boys and beardless youths, whom he loved more than was decent."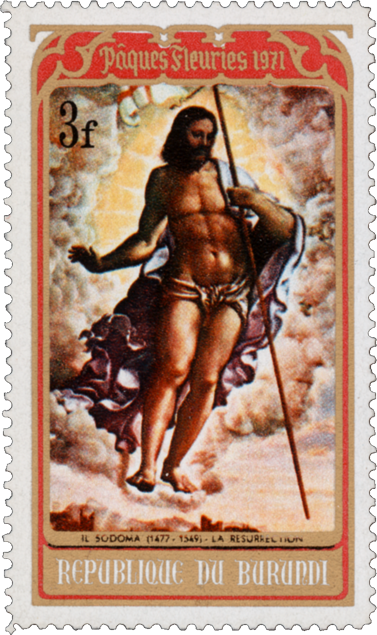 Erica Rutherford
Canada, Scott #1422
Born Eric Rutherford in Edinburgh, Scotland, Erica Rutherford (1923-2008) attended Dartmouth Royal Navy College before beginning an acting career at the Royal Academy of Dramatic Art at age 16. She produced African Jim, the first feature film made in South Africa with an all-African cast, in 1949. In London in 1959, she met her life partner, Australian-born artist Gail Turner, with whom she had a daughter. After reassignment surgery in 1976, Erica settled on Prince Edward Island, Canada, in 1985, beginning a career as a children's book illustrator. In 1988, she wrote and illustrated her most popular book, Yoga for Cats.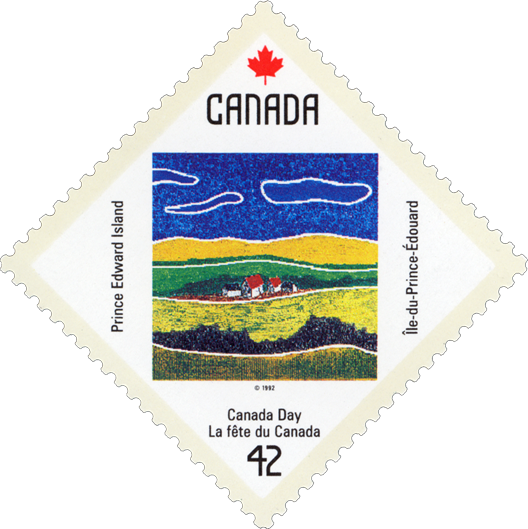 Norman McLaren
Canada, Scott #1615c, 2738, Great Britain, Scott #3294a
Scottish-Canadian animator, director and producer Norman McLaren (1914-1987) began his work and experimentation in animation in the early 1930s. He was hired in 1936 by the UK General Post Office film unit on the recommendation of a fellow Scot, John Grierson, who was familiar with McLaren's work. Prior to the outbreak of World War II, McLaren moved to New York City. Grierson invited him to Canada in 1941 to work for the National Film Board of Canada. McLaren's His most famous film Neighbors (1952), won the best documentary Academy Award in 1953, a scene from which appears on a 1996 Canadian stamp. On the centenary of his birth in 2014, both Canada and Great Britain issued stamps noting two of his other films. In London in 1937, McLaren met his life-long partner, Guy Glover; they remained in a committed relationship until McLaren's death in 1987.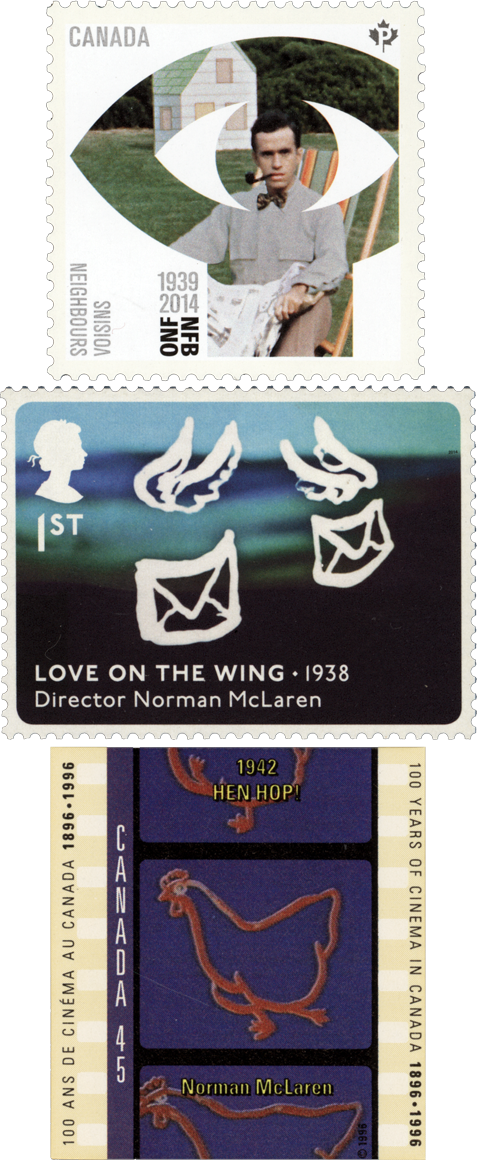 William Hutt
Canada, Scott #1827d
William Hutt's (1920-2007) acting career spanned 50 years. He was born in Toronto and served as a medic during World War II, receiving a Military Medal for "bravery in the field." After the war, he graduated from Trinity College, University of Toronto and joined the Stratford Festival of Canada for its first season in 1953. He spent most of his career performing in Stratford, but he also appeared at the UK's Chichester Festival and on television. In 1969, he was made a Companion of the Order of Canada, and he was awarded the 1996 Sam Wanamaker Prize. He was openly gay.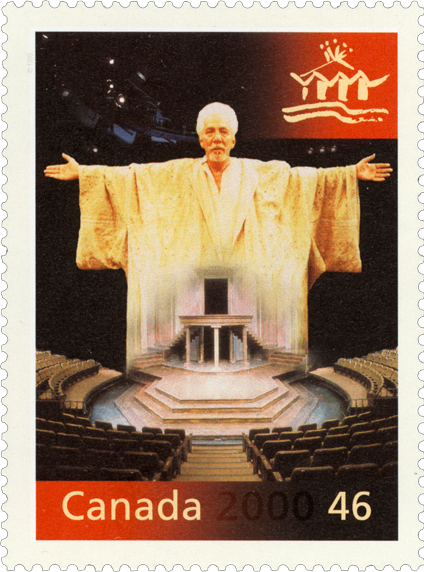 Cecil Youngfox
Canada, Scott #1966
Cecil Youngfox (1942-1987) was born to Ojibway and Metis parents in Blind River, Ontario, Canada. He was awarded the Aboriginal Order of Canada for his work in preserving his native heritage. Youngfox and his partner, Alberto Decastro, were active in the Toronto gay community according to his great-niece. Youngfox died in 1987 due to complications from AIDS. His painting, Winter Travel, is depicted on the 2002 Canadian Christmas U.S. rate stamp.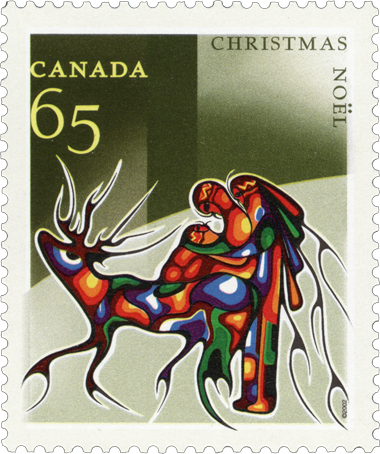 Arthur Erickson
Canada, Scott #1778, #2215
A Canadian architect and urban planner, Arthur Erickson's (1924-2009) buildings can be found throughout Canada and the world. He resided in Vancouver, British Columbia with his life partner, Francisco Kripacz, until the early 1980s. Though they separated romantically, they remained business partners until Kripacz's death. Erickson eventually returned to Vancouver where he remained until his passing. (click on image to see a larger version in a new window).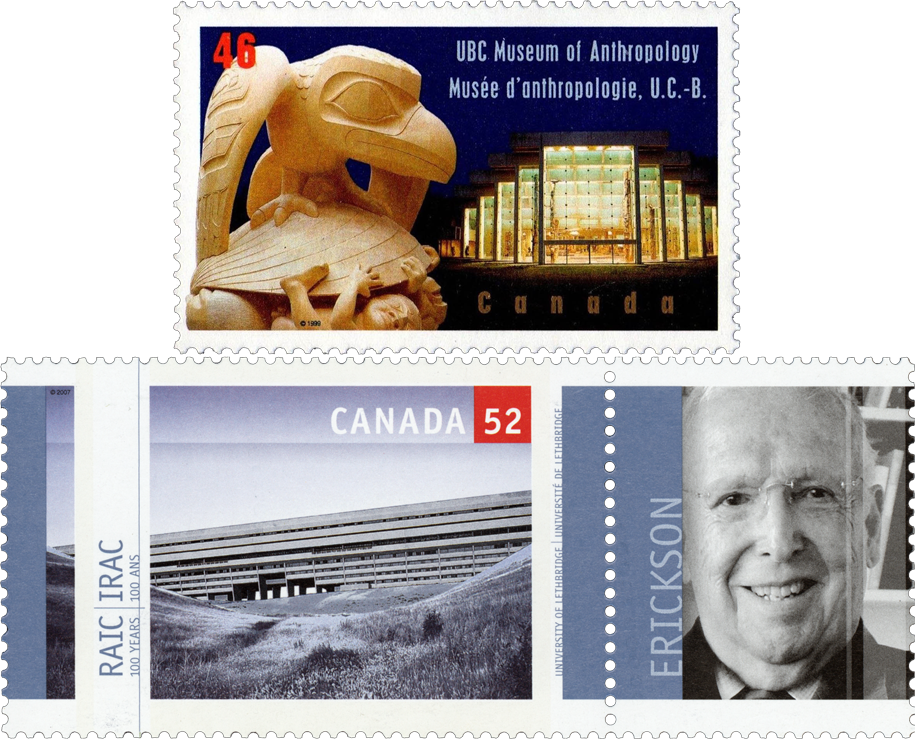 Raymond Burr
Canada, Scott #2279d
Canadian-American actor Raymond William Stacy Burr (1917-1993) is primarily known for his title roles in the television dramas Perry Mason and Ironside. Before television, Burr starred in more than 50 films, usually as a villain. Scenes including him were spliced into the 1954 and 1956 American versions of Godzilla and Godzilla, King of the Monsters!. Burr's homosexuality, an open secret, was not reported until his death. By then, he had been living with his life partner, former actor Robert Benavides, for more than 30 years. A U.S. stamp with Burr as Perry Mason was included in the 2009 Early TV Memories issue.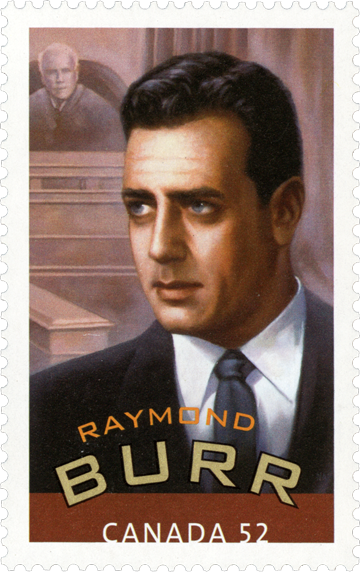 k.d. lang
Canada, Scott #2270
Pop and country singer Kathryn Dawn Lang (born 1961) goes by her stage name k.d. lang is best known for her hits Constant Craving (1993) and Miss Chatelaine (1994). She has contributed songs to movie soundtracks and has occasionally appeared in films as well on television. She has collaborated with musicians such as Roy Orbison, Tony Bennett, Elton John, Anne Murray, Ann Wilson, and Jane Siberry. Lang, who came out as a lesbian in June 1992, is also known for being an animal rights, gay rights, and Tibetan human rights activist.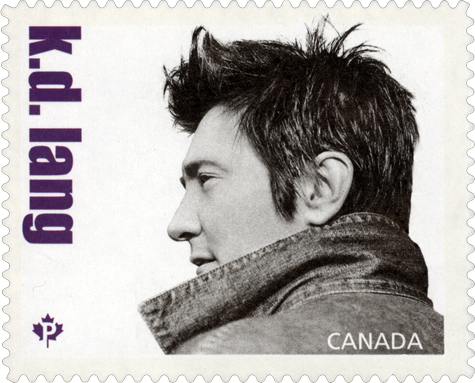 Canada Marriage Equality
Canada, Scott #2999h, #3007
After several Canadian provinces legalized same-sex marriage in prior years, the right was legally recognized nationwide with the Civil Marriage Act of July 20, 2005. A stamp within a souvenir sheet and inside a self-adhesive booklet, issued in 2017, noted the landmark gay rights legislation.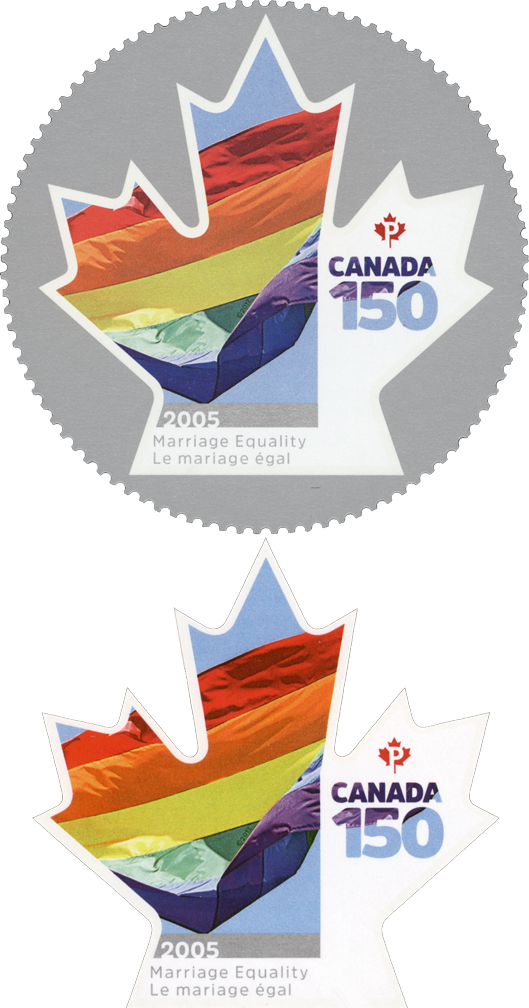 Fernand Nault
Canada, Scott #3289a; 3290
Montreal native Fernand Nault (1920-2006) was hired in 1944 by the American Ballet Theatre to replace an injured dancer. He became a distinguished character dancer and ballet master with the company and director of the company 's school. After joining Les Grands Ballets Canadiens, his artistic leadership lifted them to international status. His best-known work is his production of The Nutcracker, performed annually in Montreal. He was made an Officer of the Order of Canada in 1977. Nault 's partner was Philippe Giroux.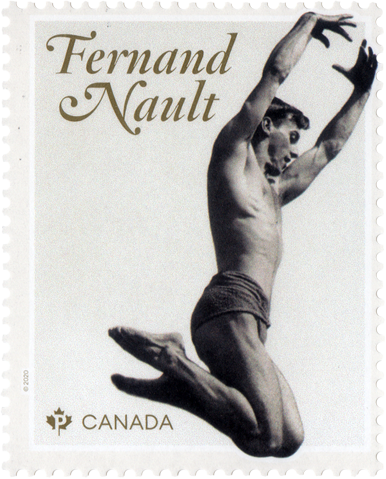 John Curry
Central African Republic, Scott #C149
With his parents disapproving of his desire to become a dancer, John Curry (1949-1994) began taking skating lessons in his home town of Birmingham before studying in London. He earned his first British title in 1971. An American sponsor allowed him to move to the United States from where Carlo Fassi coached Curry to win a Grand Slam in 1976: the British championship, the European championship, the World championship, and the Olympic gold medal. His Olympic performance received the highest score ever given during the era of 6.0 scoring for figure skating. Along with Toller Cranston, he was responsible for bringing the artistic and presentation aspects of men's figure skating to a new level. Before the 1976 Montreal Olympics, Curry was outed by the German tabloid newspaper, Bild-Zeitung. He died of an AIDS-related heart attack.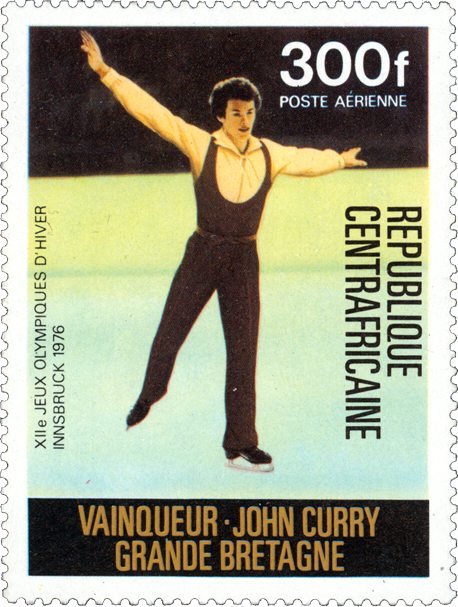 Gabriela Mistral
Chile, Scott #300, 1149
Gabriela Mistral (1889-1957) was the first Latin American to win the Nobel Prize in Literature. The Chilean national narrative, especially during the Pinochet years, elevated her as "Schoolteacher of America," a celibate, saintly, and suffering heterosexual national icon. The publication of her letters to lover Doris Dana revealed otherwise. Gabriela was an accomplished poet, educator, and consul to Mexico, Europe, Brazil, and the United States. In addition to those shown, she has appeared on nine other Chilean stamps, Scott #826-29, #C192 and #1541a-d.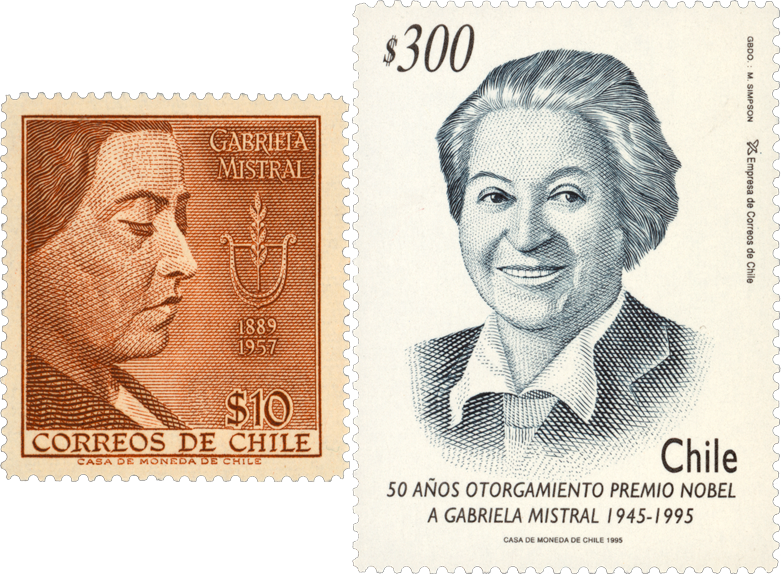 Zheng Xie
China, Republic of, Scott #4473
Zheng Xie (1693-1765) was born in poverty and rose through the exam system to become a magistrate. He painted and wrote poetry, becoming one of the Eight Eccentrics of Yangzhou. He was the official calligrapher and painter for the Qianlong Emperor. Zheng Xie had a celebrated homosexual relationship with his young page.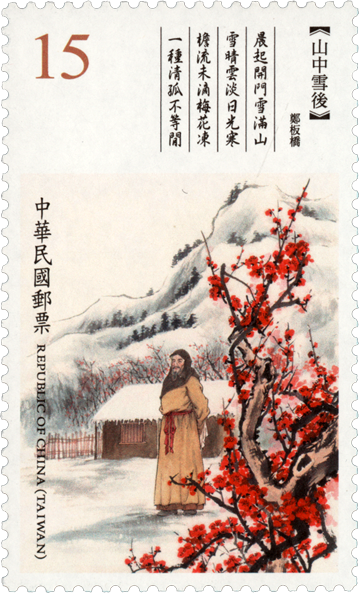 Luis Caballero
Columbia, Scott #1064
Luis Caballero (1943-1995) was a Colombian painter who studied in Bogotá and Paris. He won First Prize at 1968's 1st Ibero-American Painting Biennial in Medellín. His work is known for depicting masculine figures, often nude, in powerful and expressive compositions of erotic and violent imagery.
Tyrone Power
Cuba, Scott #4189
Descended from a long Irish theatrical line of actors. Cincinnat born Tyrone Power found success on Broadway before moving to Hollywood in 1936. His breakout film role was the lead in Lloyd's of London. Hit followed hit until he entered military service in 1943. Some of the best reviews he received were for the 1947 flop, Nightmare Alley. Tyrone was attracted to both men and women. He married three times and had relationships with Errol Flynn, Cesar Romero, and Richard Blackwell.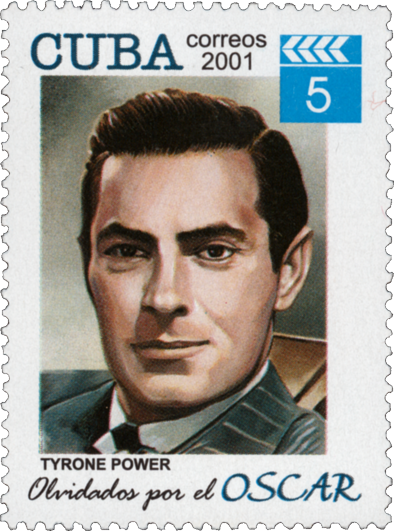 Rock Hudson
Cuba, Scott #4192
Born in Winnetka, Illinois, Rock Hudson (1925-1985 enlisted in the Navy during World War II, and moved to Los Angeles to pursue an acting career. He made his debut in 1948's Fighter Squadron, and his first leading role was in 1952's Scarlet Angel. 1954's Magnificent Obsession made him a star. He received an Oscar® nomination for Best Actor for 1956's Giant. Hudson's homosexuality was well known in Hollywood and it became public knowledge in 1985 when his AIDS diagnosis was revealed.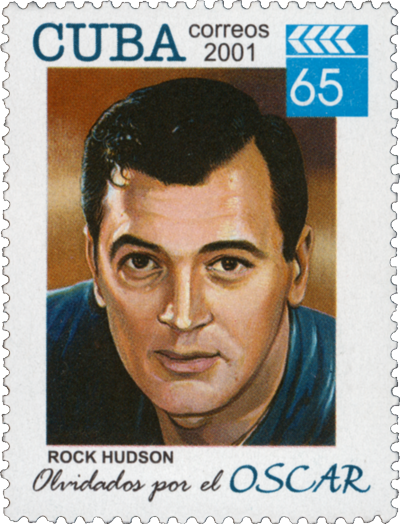 José Lezama Lima
Cuba, Scott #5187
Cuban writer and poet José Lezama Lima (1910-1976) is considered one of the most influential figures in Latin American literature. Born in Marianao, his first published work, the long poem "Muerte de Narciso," brought him national acclaim. His 1966 semi-autobiographical novel, Paradiso, included descriptions of homosexual relationships.
Campaign Against Discrimination
Cuba, Scott #5439
One of four AMERICA (UPAEP) stamps highlighting the fight against discrimination includes the topic of homophobia. The stamps were first distributed on October 12, 2013. See the related stamp from Uruguay.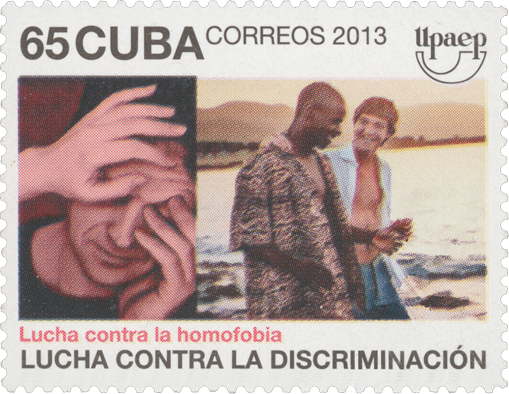 10th Cuban Day Against Homophobia and Transphobia
Cuba, Scott #6056
Each May 17, the International Day Against Homophobia, Transphobia, and Biphobia is celebrated as the annual landmark for the promotion of sexual and gender diversities. It commemorates the 1990 elimination of homosexuality from the list of mental illnesses by the World Health Organization. In Cuba, the celebrations are coordinated by the National Center for Sexual Education (CENESEX).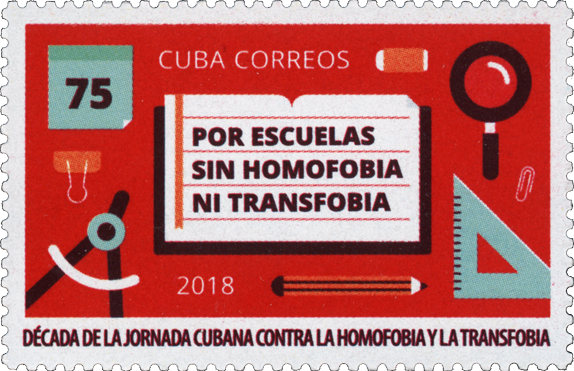 Zeno of Citium
Cypress, Scott #534
Zeno of Citium (c. 334 – c. 262 BC) was a Hellenistic philosopher of Phoenician origin from Citium, Cyprus. He founded the Stoic school of philosophy; it laid great emphasis on goodness and peace of mind gained from living a life of virtue in accordance with nature. From about 300 BC, he taught at Athens, beginning in the Stoa Poikile on the north side of the Agora. According to contemporaries, Zeno was exclusively homosexual, beloved by Parmenides and devoted to his disciple Persaeus, with whom he lived.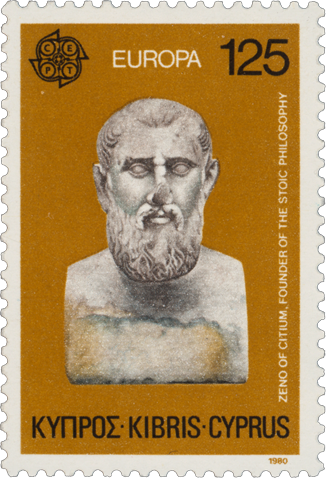 Jaroslav Hašek
Czechoslovakia, Scott #2432
Czech writer Jaroslav Hašek (1883-1923) authored The Good Soldier Švejk, an unfinished collection of farcical incidents about a soldier in World War I and a satire on the ineptitude of authority figures. Based on his experiences as a Czech soldier during the war, the work has been translated into 58 languages as of 2013, making it the most available novel in Czech literature. While writing short stories for varied publications, Hašek led a vagabond, bohemian life style, first favoring anarchist ideas, then after the war's end embracing socialism while in the Soviet Union. His two marriages, first in 1910 in his homeland and again in 1920 in Russia, were brief; though he never legally ended the first one, due to the lack of order after the war, he avoided being tried for polygamy upon his return to Czechoslovakia in late 1920. His sexual orientation is disputed by scholars, but literary historian Jindřich Chalupecký in The Strange Hašek Study in Expressionists writes about the subject based on the testimony of Hašek's friend Rudolf Šimanovský. Morbidly obese, Hašek began writing The Good Soldier Švejk in 1921, dictating the text after he could no longer write and continuing until his passing.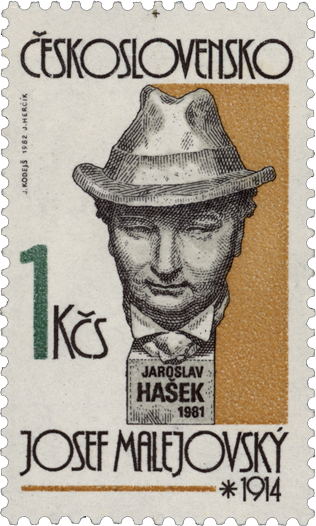 Bronzino
Czech Republic, Scott #3226
Italian Mannerist painter Bronzino (1503-1572) apprenticed with Pontormo, who became his lover, before becoming the court painter of Cosimo I de' Medici, Grand Duke of Tuscany. He lived all his life in Florence, mostly producing portraits, but his best-known work was Venus, Cupid, Folly and Time. He produced virile nude male portraits and homoerotic poetry.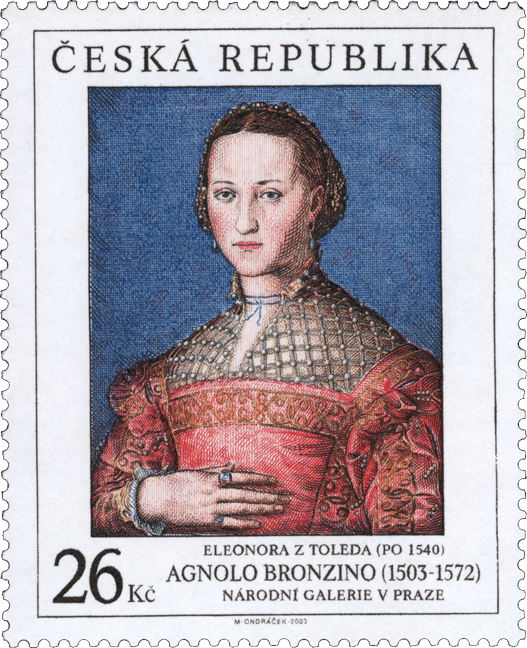 Hans Christian Anderson
Denmark, Scott #246-51
Hans Christian Andersen (1805-1875), the Danish author, is best remembered for his fairy tales. He wrote 168 stories that have been translated into over 125 languages and are readily accessible to children. His most famous ones include "The Emperor's New Clothes," "The Ugly Duckling," "The Little Mermaid," "The Little Match Girl," "The Snow Queen," "The Princess and the Pea," and "Thumbelina." His diaries revealed unrequited love for both women and men, including Edvard Collin. In addition to the 1935 stamps shown here, a set of stamps was released in 2005 on the bicentennial of his birth.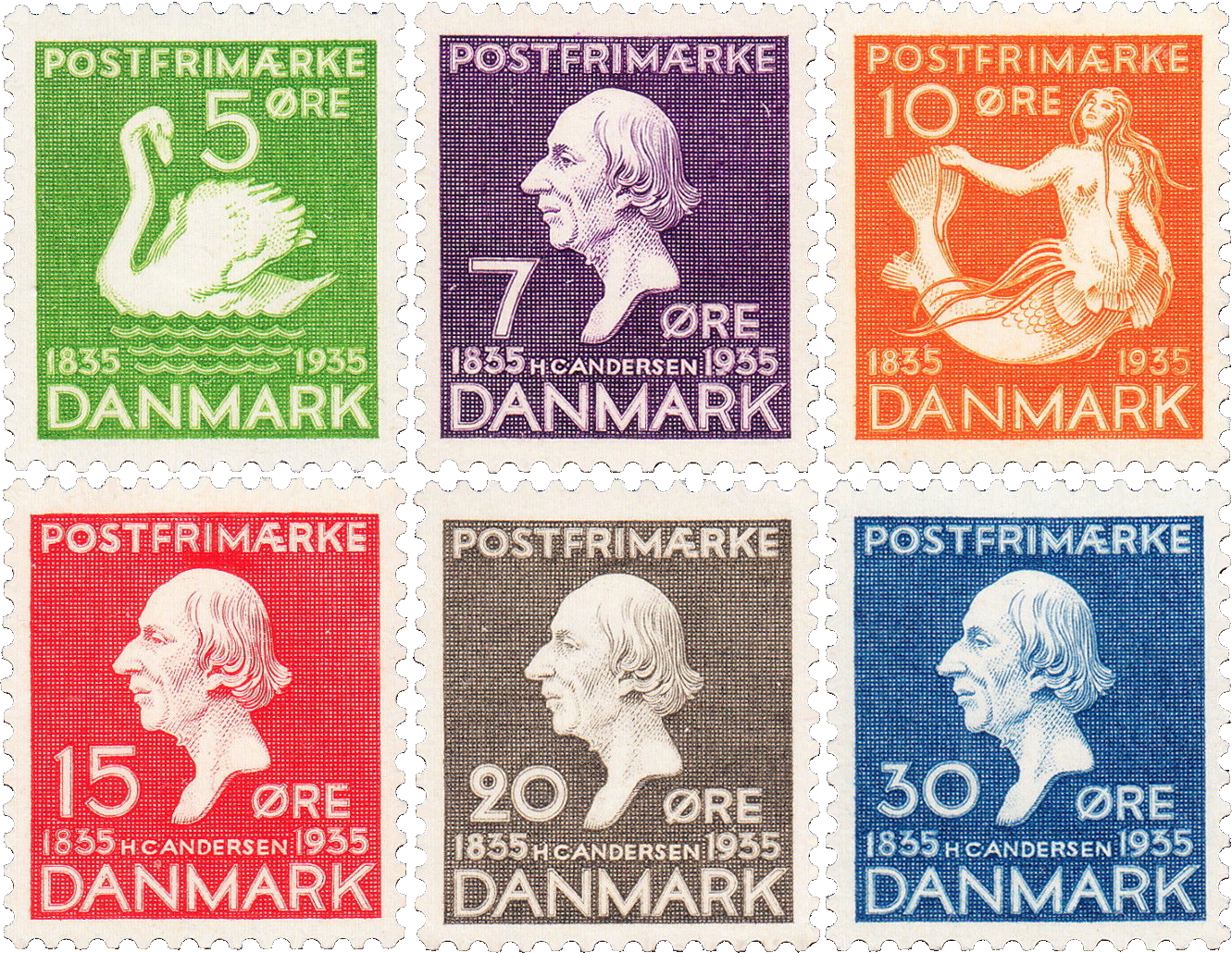 Denmark Pride
Denmark, Scott #1770-71
In 2017 The Danish postal service, PostNord, introduced two rainbow-colored stamps to highlight the fight for LGBTQ equality and celebrate diversity. The Swedish division of PostNord issued a pride stamp the previous year.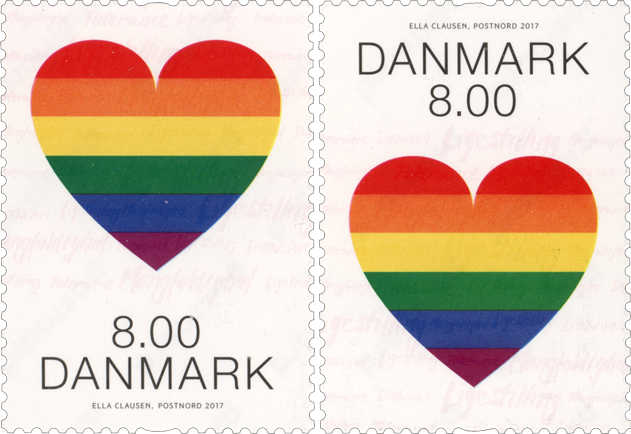 Tove Jansson
Finland, Scott #1455
A Swedish-speaking Finnish author who created the Moomins in 1945, Tove Jansson (1914-2001 won the 1966 Hans Christian Andersen Award, the highest recognition available to a writer or illustrator of children's books. Her lifelong partner was graphic artist and professor Tuulikki Pietila. Not only Finland, but also Japan has issued a number of stamps featuring the Moonmins, Jansson's eccentric and oddly shaped ccharacters.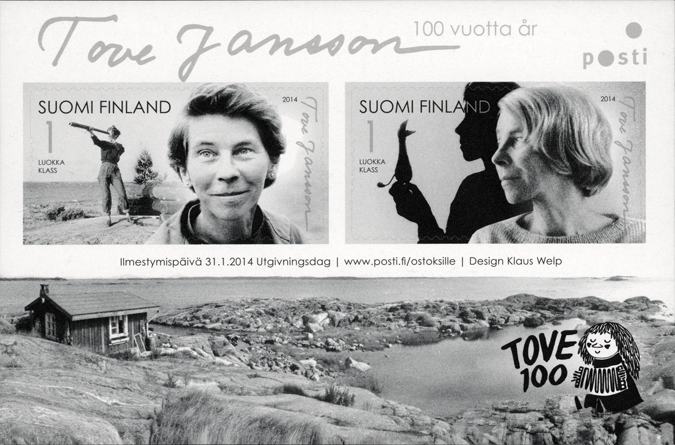 Horus
Egypt, Scott #652
In ancient Egypt, Horus was most notably god of kingship and the sky. He was told by his mother Isis to protect the people of Egypt from her brother Set, the god of the desert, who had killed Horus' father, Osiris. Set tried to prove his dominance of Horus by seducing him and having sexual intercourse with him. However, Horus places his hand between his thighs, catches Set's semen, and throws it into the river so that it may not be said that Set inseminated him. Horus then spreads his own semen on some lettuce, which Set eats. Horus eventually obtained the throne of Egypt by beating Set in a boat race.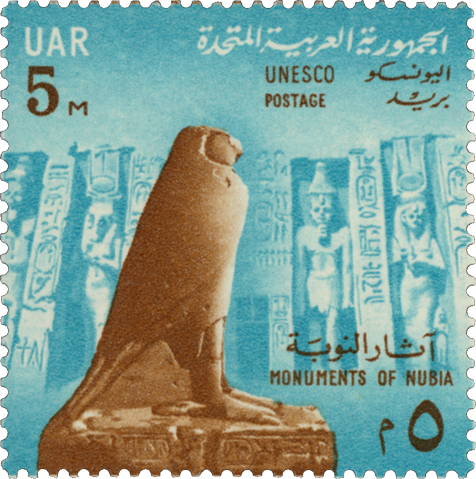 Tom of Finland
Finland, Scott #1467
Homoerotic artist Touko Laarksonen (1920-1991), who used the pseudonym as Tom of Finland, attributed his fetishistic interest in uniformed men to encounters with men in army uniform, especially soldiers of the German Wehrmacht while he was serving in the Finnish army during World War II. He gave up his day job with an advertising agency in 1973 to devote full time to his drawings; gay pornography had become more popular in the U.S. after being decriminalized a decade earlier. The 2014 stamp sheet depicting his art was the most popular Finnish issue ever, garnering orders from 178 countries, and generating only minimal controversy that was limited to Finnish conservatives.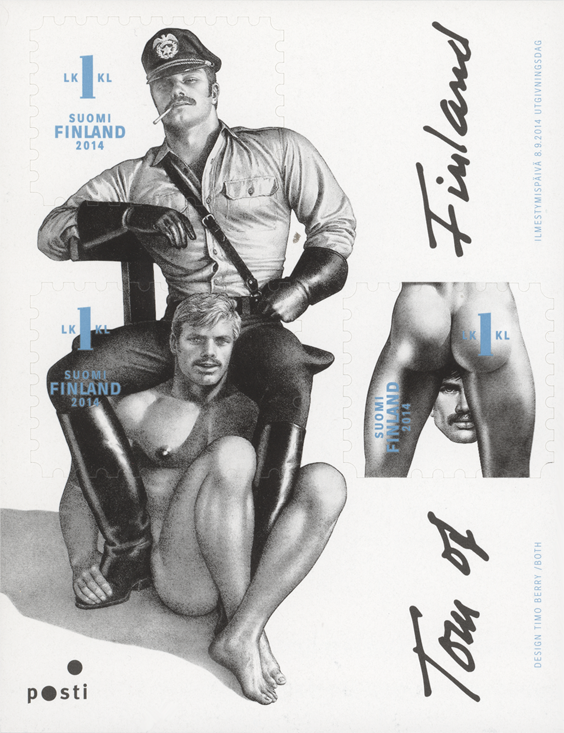 Juliette Récamier
France, Scott #641
Juliette Récamier (1777-1849) was a French socialite born in Lyon. Her family moved to Paris where, at the age of 15, the beautiful lover of literature married Jacques-Rose Récamier, nearly 30 years her senior. The marriage was never consummated, and she remained a virgin until at least the age of 40. From 1799 until the 1840s, she conducted a salon that drew Parisians from the leading literary and political circles of the early 19th century. Her great romantic friend was Germaine de Staël.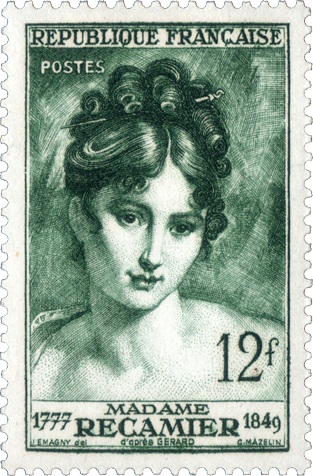 Charles Baudelaire
France, Scott #666
Poet Charles Baudelaire (1821-1867) was a pioneering translator of Edgar Allan Poe. He was born in Paris and attended the Lycée Louis-le-Grand before voyaging to Kolkata, India, and back. He became known as a dandy and free-spender and took part in the Revolutions of 1848. In 1857, he finally finished Les Fleurs du Mal (The Flowers of Evil), his most famous work. The themes of sex and death were scandalous for the period, touching on lesbianism, sadomasochism, sacred love, and profane love. Jonathan to Gide: the Homosexual in History by Noel Garde points to his probable homosexuality.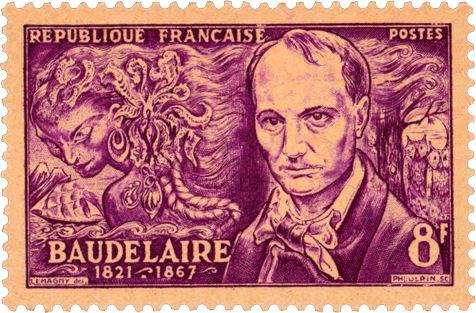 Jean Baptiste Lully
France, Scott #812
Born in Florence, Tuscany, at the age of 14 Jean-Baptiste Lully (1632-1687) was taken to Paris to serve as a "chamber boy" to the Mademoiselle de Montpensier. After the Fronde he was released and attracted the attention of Louis XIV while dancing in the Ballet royal de la nuit. In 1653, he was made royal composer. In 1661, Lully became a French subject, and he continued to work in the court of Louis XIV until his death despite the King's disapproval of his homosexual liaisons. He is considered a master of the French baroque music style.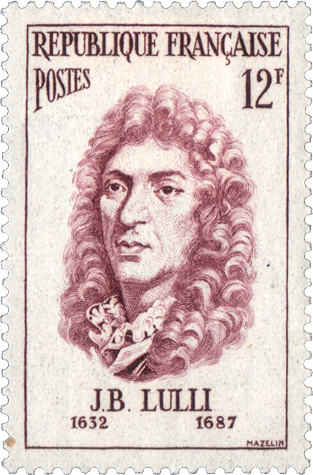 King Philip II
France, Scott #1199
Born near Paris, King Philip II of France (1165-1223) acceded to the throne at the age of 14. The following year he married Isabella of Hainault, bringing the County of Artois as her dowry. He was the first Capetian king to build a French navy actively. He waged war against Count Philip I of Flanders and King Henry II of England (and his sons, eventually), becoming nicknamed "Augustus" for augmenting French lands. He transformed France into the most prosperous and powerful country in Europe. Contemporary chronicler Roger of Howden recorded Philip's relationship with Richard I of England.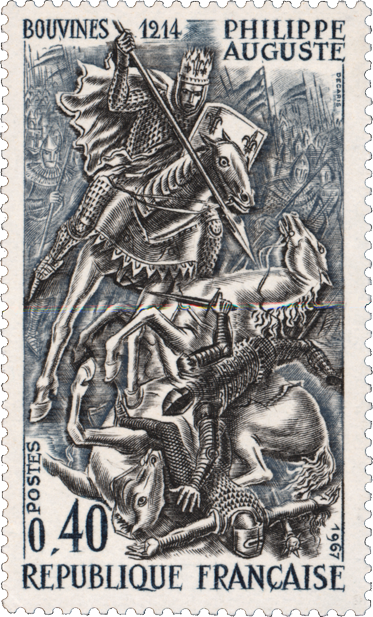 Charles the Bold
France, Scott #1262
Charles the Bold (1433-1477) was born in Dijon, the son of Philip the Good and Isabella of Portugal. He was married at the age of seven to Catherine, daughter of King Charles VII of France. At the age of 21, his father chose Isabella of Bourbon to be his next wife. His father died in 1467, making him the Duke of Burgandy. The next year, he married Margaret of York. Charles bought Upper Alsace and obtained other territories in order to turn the Burgundian State into a contiguous kingdom, but it led to the Burgundian Wars with the Old Swiss Confederacy and its allies. Several sources mention evidence Charles was homosexual, one citing his misogyny and another nothing how little time he spent with Margaret of York. Another notes his illegitimate half-brother Baudouin and his associate Jehan de Chasse virtually accused him of buggery when they fled from his court at the end of 1470. In addition to portions of eastern France, the territories of the Burgundian State included much of present day Belgium (which also issued a Charles the Bold stamp), Luxembourg and Netherlands.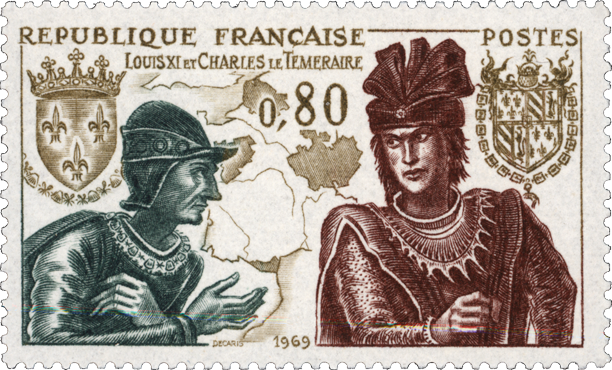 Moliere
France, Scott #1381, 6166, #B179
Playwright Moliere (1622-1673) is widely regarded as one of the greatest writers in the French language and in universal literature. He was born in Paris and attended the Collège de Clermont (a.k.a. Lycée Louis-le-Grand). At age 21, he decided to abandon his social class and pursue a career in the theatre. He toured the provinces for 12 years before performing for the King in the Louvre. Moliere fell in love with fellow actor Michel Baron. He became famous for his farces. In 1662, he married Armande Béart and premiered his masterpiece, The School for Wives. His Tartuffe premiered in 1664, creating his greatest scandal, depicting the hypocrisy of the dominant classes. Other masterpieces include The Misanthrope (1666), The Learned Ladies (1672), and The Imaginary Invalid (1673).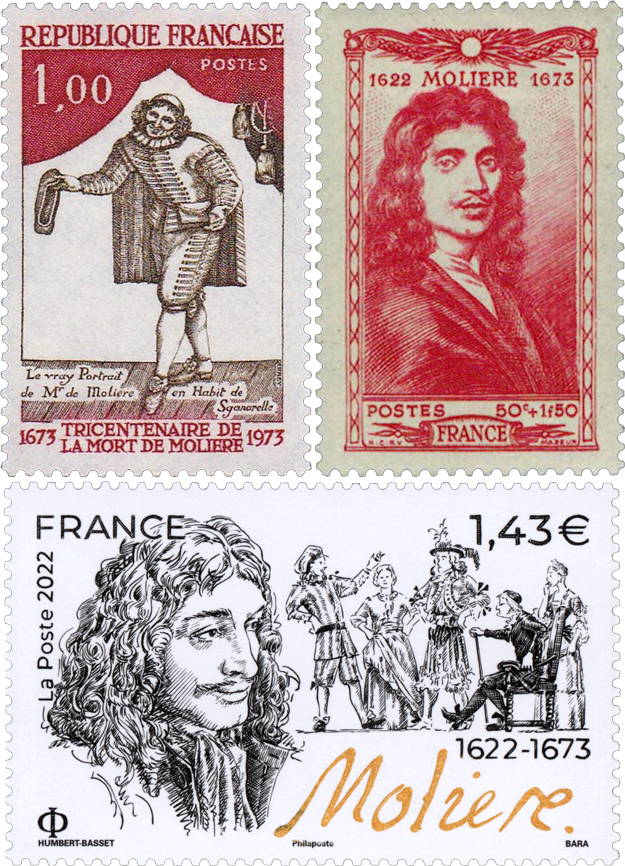 Louise Michel
France, Scott #2000
A native of northeastern France, in 1865, Louise Michel (1830-1905) opened a school in Paris which became known for its modern and progressive methods. She became a leading figure in the Paris Commune and engaged in armed struggle against the French government. She was sentenced to deportation to New Caledonia. After seven years, Michel returned to France as an anarchist, going on speaking tours. A journalist called her the "French grande dame of anarchy." She was aided and cared for by a succession of female companions including Julie Longchamps, Marie Ferré, Nathalie Lemel, and Charlotte Vauvalle.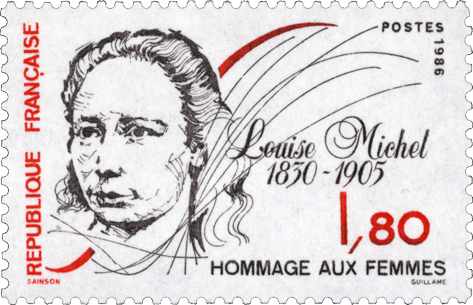 George Sand
France, Scott #3006, #B316
Novelist, satirist, and Socialist Amantine Lucile Aurore Dupin (1804-1876), best known by her pen name George Sand, was born in Paris, but raised at her grandmother's estate, Nohant, province of Berry. She chose to wear male attire in public without bothering to obtain a permit. At age 18, she married Casimir Dudevant. In 1831, she left him and had affairs with several men, including Frédéric Chopin, plus the actress Marie Dorval and Adah Isaacs Menken. She was the most popular writer in Europe by the age of 27.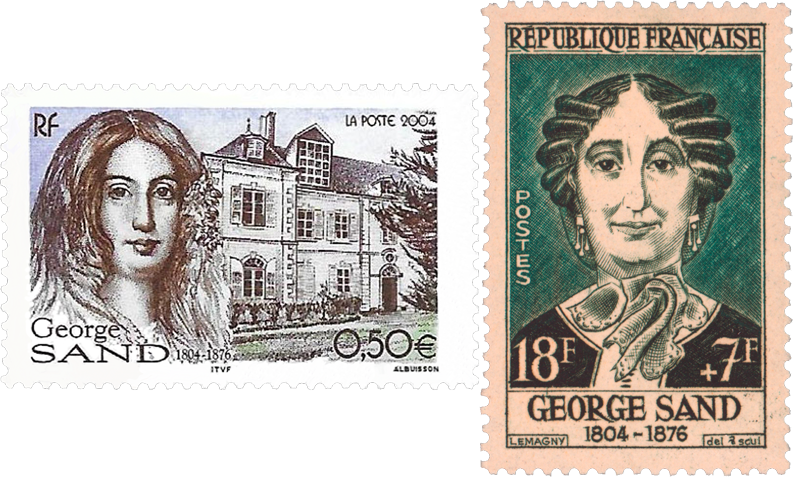 Édith Piaf
France, Scott #4257, #B618
Known as France's national chanteuse, Édith Piaf (1915-1963) was a singer-songwriter, cabaret performer, and film actress. She was born in Belleville, Paris, and was raised in her grandmother's brothel. At age 14, she first began to sing in public when she joined her father in his acrobatic street performances all over France. In 1932, she fell in love with Louis Dupont, the first of several romances throughout her life, including one with Marlene Dietrich. In 1935, she was discovered by nightclub owner Louis Laplée, leading to her first two record recordings the same year. She wrote and performed her signature song, "La Vie en rose," in 1945. After the war, she became internationally known, touring Europe, the United States, and South America. After a series of famous concerts at the Paris Olympia music hall, she recorded her last song, "L'Homme de Berlin," in 1963. The 2012 French stamp (Scott #4257) was part of a joint issue with the U.S. See the entry in the U.S. Stamp Gallery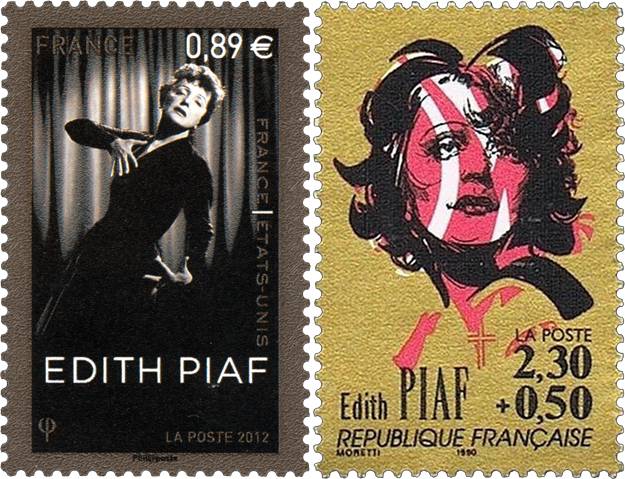 Keith Haring
France, Scott #4671
Keith Haring (1958-1990) was an American pop artist who first gained public attention during the late 1970s with chalk outline figures sketched on unused black advertising space in New York City subways. He pursued the outline figure style throughout his brief career, gaining international acclaim in the early 1980s. His later works often included political and societal themes, such as homosexuality and AIDS; he died due to complications from the latter. This stamp in the long-running French art series depicts a mural he created for the Paris' Necker Hospital, the world's first pediatric hospital.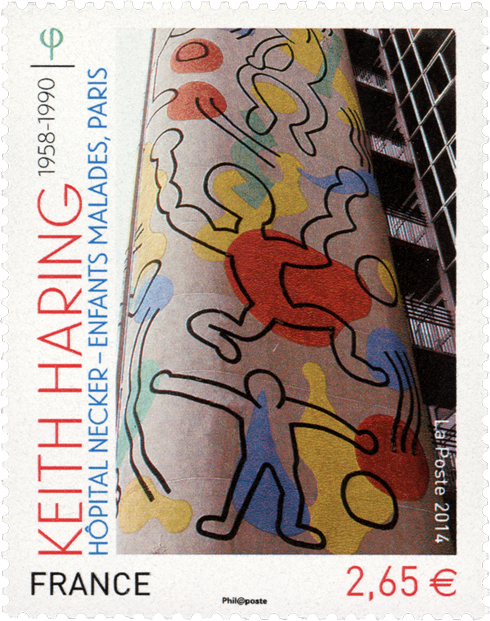 Jacques Demy
France, Scott #4822c
Jacques Demy (1931-1990) was born in France and directed his first film, Lola, in 1961. In the wake of the French New Wave, his films frequently feature (1) setting in the French Atlantic coast of his childhood, (2) appropriated iconic Hollywood imagery, (3) characters bursting into song, and 4) plot dictated by his fascination with fate, chance encounters, and long-lost love. He is best known for 1964és sung-through musical film, The Umbrellas of Cherbourg. His films, A Slightly Pregnant Man (1973) and Lady Oscar (1979), broached feminist and queer themes. Demy married film director Agnés Varda and separated from her to be with David Bombyk. Agnès revealed in 2008 that Jacques died of complications due to AIDS.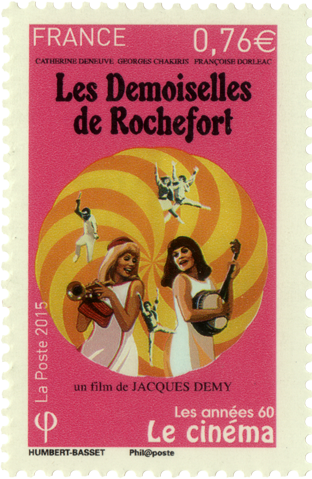 Marie Laurencin
France, Scott #5122a-b
An important figure in the Parisian avante-garde and a member of the circle of Pablo Picasso, painter and printmaker Marie Laurencin (1883-1956) had a notable relationship with poet, playwright, short story writer Guillaume Apollinaire, whom she considered her muse. While her works show the influence of Cubist painters, she developed a unique approach to abstraction which often centered on the representation of groups of women and animals. Laurencin had important connections to the salon of the American expatriate and famed lesbian writer Natalie Clifford Barney, having relationships with both men and women. She married a German baron and after their divorce, had further relationships with women.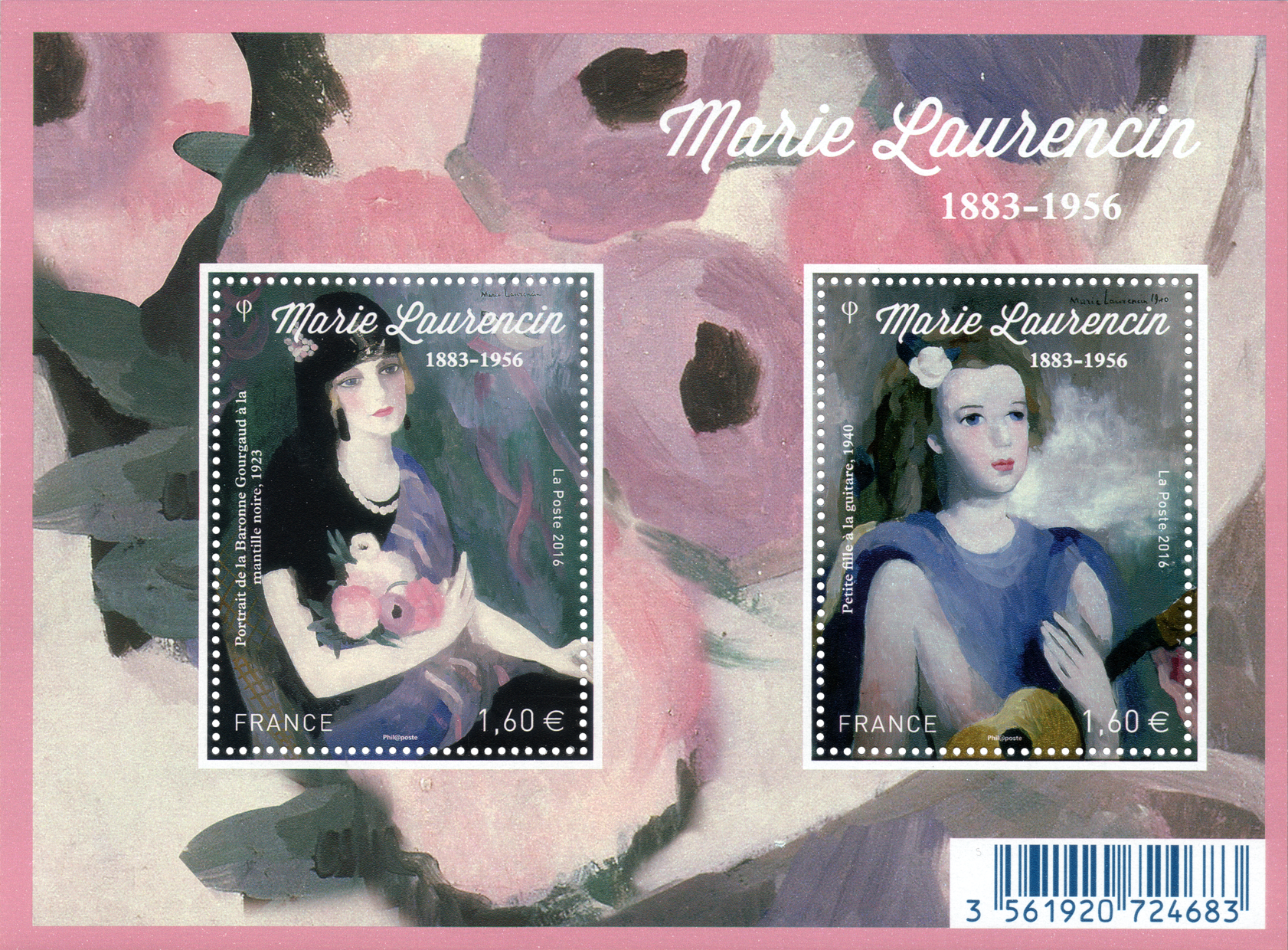 Jean-Claude Brialy
France, Scott #5322d
Born in Algeria, Jean-Claude Brialy (1933-2007) was a dashing leading man of French New Wave cinema. He starred in such films as Le Beau Serge, Les Cousins, The 400 Blows, A Woman Is a Woman, King of Hearts, Cleo from 5 to 7 and Claire 's Knee. Brialy received a 1988 César Award for Best Actor in a Supporting Role for Les Innocents. He revealed his bisexuality in two autobiographies.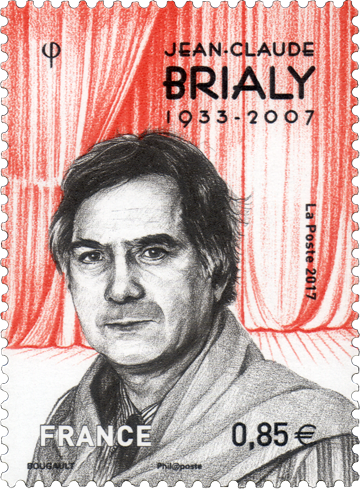 Rose Valland
France, Scott #5524
A French art historian, member of the French Resistance, captain in the French military, and one of the most decorated women in French history, Rose Valland (1898-1980) secretly recorded details of the Nazi plundering of National French and private Jewish-owned art from France. Working with the French Resistance, she saved thousands of works of art. After the World War II ended, she was put in charge of the Fine Arts activities of the French Oversight Board, helping to locate and recover over 60,000 works. Rose's life partner was secretary-interpreter Joyce Helen Heer.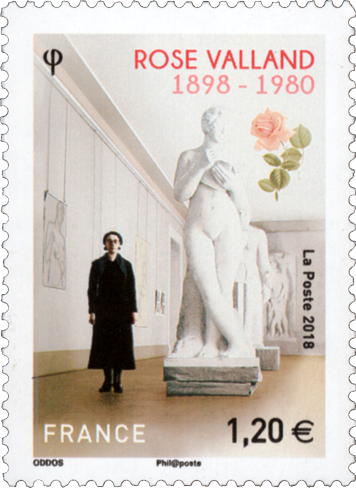 Jean-Michel Basquiat
France, Scott #5977
American artist Jean-Michel Basquiat (1960-1988) was born in Brooklyn, New York, to a Haitian father and a mother of Puerto Rican descent and achieved his initial fame in the late 1970s as a street graffiti artist. He was also involved in the music scene, though this ended by the early 1980s when he focused mainly on his paintings. Bisexual, he died of a drug overdose in 1988.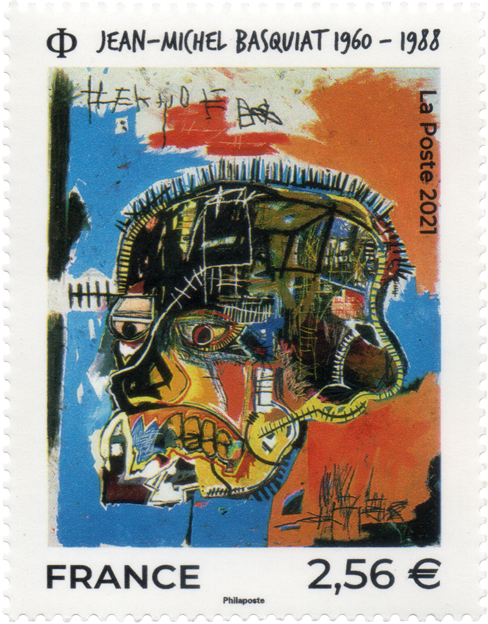 Simone de Beauvoir
France, Scott #5993
A French writer, intellectual, existentialist philosopher, political activist, feminist, and social theorist, Simone de Beauvoir (1908-1986) was known for her 1949 treatise The Second Sex, a detailed analysis of women's oppression and a foundational tract of contemporary feminism; and for her novels, including She Came to Stay and The Mandarins. Her most enduring contribution to literature are her memoirs. A known bisexual, she had a life long open relationship with Jean-Paul Sartre.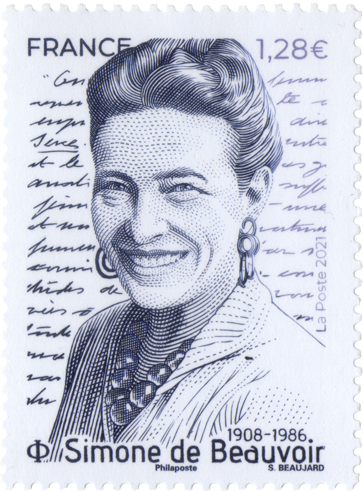 Camille Saint-Saëns
France, Scott #5995, #B269
Camille Saint-Saëns (1835-1921) was born in Paris, and before the age of three, he displayed perfect pitch. He made his official public musical debut at age 10 and entered the Conservatoire de Paris at age 13. He was a church organist before becoming a successful freelance pianist and composer. His best-known works include Danse Macabre (1874), Samson and Delila (1877), and The Carnival of the Animals (1886). He surprised many by marrying, at almost age 40, a 19-year-old. His domineering mother continued to live with him, and the marriage fell apart within three years. He once said, "I am not a homosexual; I am a pederast." He was known to favor adolescent males in Algeria.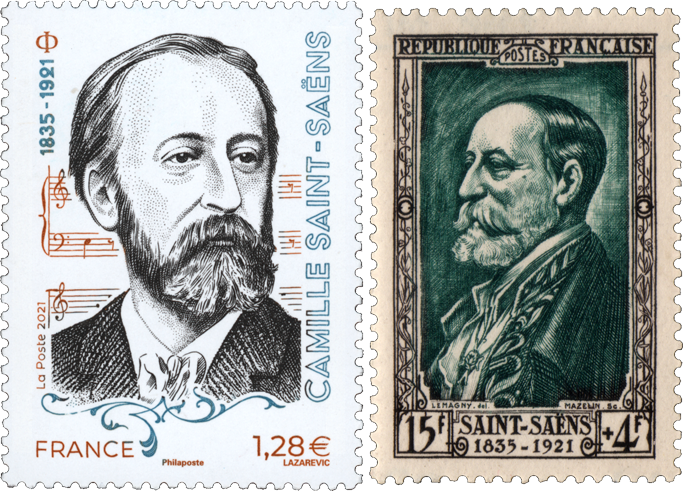 Rosa Bonheur
France, Scott #6191
Rosa Bonheur (1822-1899), the great French animal painter, was hailed as the most popular artist, male or female, of the 19th century. Her family belonged to Saint-Simonianism, a French sect that promoted the education of women alongside men, so Rosa, her sister and brother became painters while the other brother became a sculptor. All four focused on animals in their works. She was one of only 12 women to obtain a cross-dressing permit in the 1850s. Her most famous work is The Horse Fair, which appeared on a 2015 Grenada souvenir sheet, and was first exhibited at the Paris Salon of 1853. Rosa was the first female artist to earn admittance to the once exclusively male club founded by Napoleon Bonaparte, the French Legion of Honor. She met her partner Nathalie Micas while they were both teenagers, a relationship that lasted 40 years. After Micas' death, she began a relationship with the American painter Anna Elizabeth Klumpke. All three are buried at Père Lachaise Cemetery in Paris.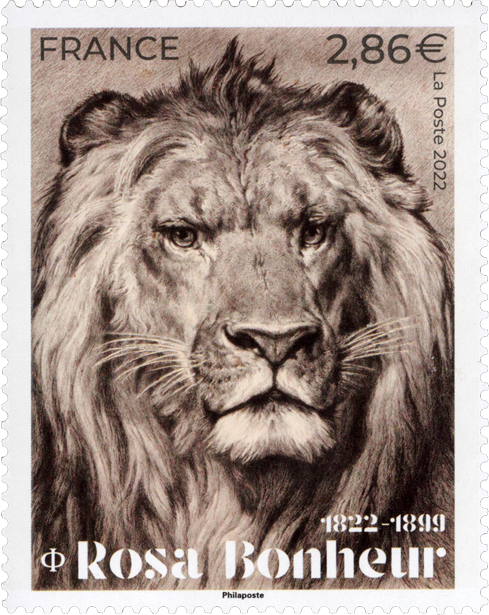 Jeanne Barret
France, Scott #6196
Jeanne Barret (1740-1807), the first woman to sail around the globe, was born to a poor family in Autun, France. Barret (also known as Baret) developed an interest in plants. As she grew older, she found employment as the housekeeper of naturalist Philibert Commerçon. After Commerçon's wife died, he became very dependent upon her and when he decided to join Louis Antoine de Bougainville's expedition on the ships La Boudeuse and Étoile, they concocted a plan for her to dress as a man so she could accompany him, since women were not allowed on such voyages. Their secret was discovered halfway around the globe, and she was left with Commerçon on the Indian Ocean island of Mauritius, where the frail Commerçon passed away. Nine years after the voyage began, Barret finally made it back to France where she married and lived until her death.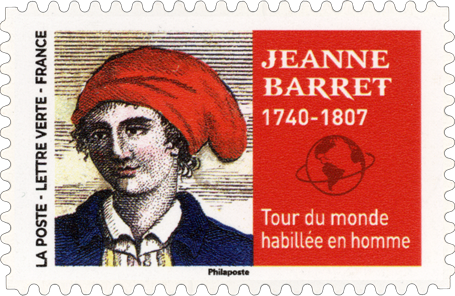 Isabelle Eberhardt
France, Scott #6198
Swiss explorer and author Isabelle Eberhardt (1877 - 1904) Educated in Switzerland by her father, as a teenager she published short stories under a male pseudonym. She became interested in North Africa, and was considered a proficient writer on the subject despite learning about the region only through correspondence. After an invitation from photographer Louis David, Eberhardt moved to Algeria in May 1897. She dressed as a man and converted to Islam, eventually adopting the name Si Mahmoud Saadi. Eberhardt's unorthodox behavior made her an outcast among European settlers in Algeria and the French administration. Her acceptance by the Qadiriyya, an Islamic order, convinced the French administration that she was a spy or an agitator. She survived an assassination attempt shortly thereafter. In 1901, the French administration ordered her to leave Algeria, but she was allowed to return the following year after marrying an Algerian soldier. Following her return, Eberhardt wrote for a newspaper published by Victor Barrucand and worked for General Hubert Lyautey. In 1904, at the age of 27, she was killed by a flash flood in Aïn Séfra.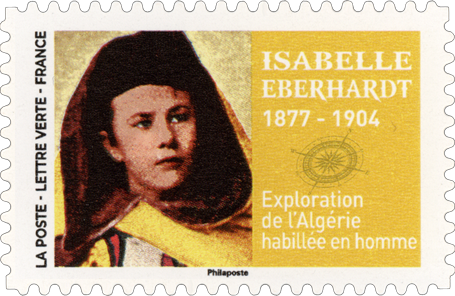 Joseph Gallieni
France, Scott #B99
Joseph Gallieni (1849-1916) was a French soldier, commander, and administrator, infamous in Madagascar for exiling Queen Ranavalona III and abolishing the island's 350-year monarchy. He was born at Saint-Beat in the central Pyranees and was educated at the Prytanéd Militaire and the École Spéciale Militaire de Saint-Cyr. He served in the Franco-Prussian War and was taken prisoner at Bazeilles. In the colonial service he went to Senegal, Reunion, Martinique, the French Sudan, French Indochina, and Madagascar. Returning to France, he commanded the Fifth Army until retirement in April 1914. At beginning of World War I, he was Military Governor of Paris. It was his order that used taxicabs to ferry troops to the First Battle of the Marne. In October 1915, he became Minister of War. Never married, he is mentioned in Noel Garde's Jonathan to Gide: The Homosexual in History.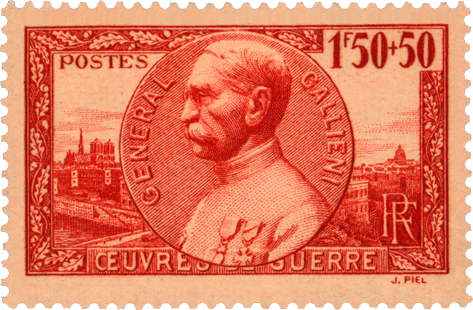 Louis, Grand Conde
France, Scott #B182
General Louis II de Bourbon, Prince of Condé (1621-1686) the most famous member of the Condé branch of the House of Bourbon. For his military prowess he was known as le Grand Condé. He was born in Paris and entered the Royal Academy. At age 17, he governed Burgundy. He was compelled by his father to marry 13-year-old Claire-Clémence de Maillé-Brézé. He fought in the siege of Arras, the Siege of Perpignan, the Thirty Years'War, the Reapers' War, and the Fronde. Arrested during the Fronde, he managed to receive a pardon in the Treaty of the Pyrenees. He loyally supported King Louis XIV, but did not hold military command again until 1667. He fought in the War of Devolution and the Franco-Dutch War. In a letter authored by Elizabeth Charlotte, Madame Palatine, she mentions Louis' lifelong homosexuality, having several affairs with his soldiers.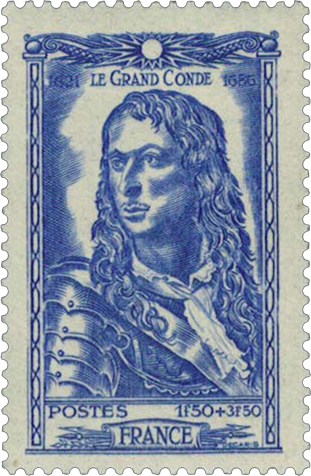 Michel de Mongaigne
France, Scott #B161
Michel de Montaigne (1533-1592) was born in the Aquitaine and was one of the most significant philosophers of the French Renaissance, known for popularizing the essay as a literary genre. He studied law and became a courtier at the court of Charles IX. He was deeply affected by the death of poet Étienne de la Boétie. His essay, On Friendship, was based on their passionate friendship.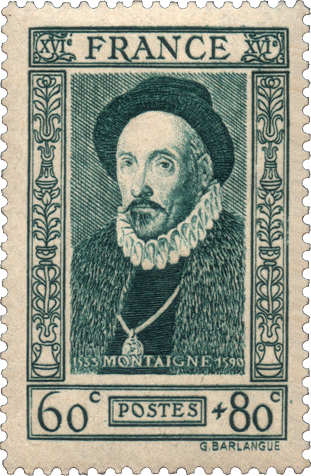 Gustav Flaubert
France, Scott #B267
Gustave Flaubert (1821-1880) began writing at an early age and moved from his birthplace of Rouen to Paris to study law, but abandoned both in 1846. He lived the rest of his life in Croisset, near Rouen. He travelled to the Middle East and North Africa, engaging male prostitutes in Beirut and Egypt. He had a passionate friendship with writer Maxime du Camp. He has been considered the leading exponent of literary realism in France. His best-known novel, Madame Bovary, appeared in 1857.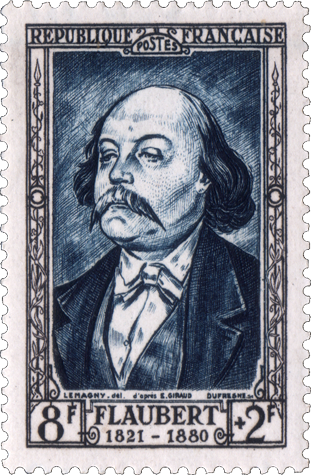 Hubert Lyautey
France, Scott #B281
Born in Nancy, capital of Lorraine, Army general and colonial administrator Hubert Lyautey (1854-1934) was educated at the École Spéciale Militaire de Saint-Cyr. He was posted to Algiers, French Indochina, and Madagascar before he became the first French Resident-General in Morocco from 1912 to 1925. In 1909, he married Inés Fortoul, though his homosexuality was widely regarded as an open secret. He was commissioner of the Paris Colonial Exposition of 1931, and he received the Grand Cross of the Legion of Honour.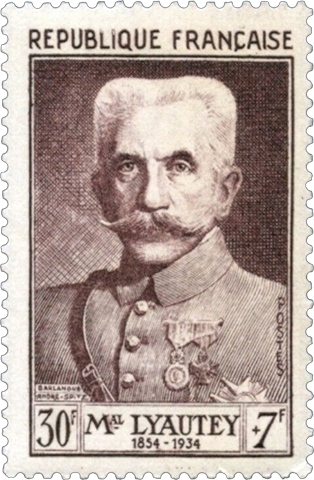 Maurice Ravel
France, Scott #B308
Maurice Ravel (1875-1937) was born in Ciboure, France, near the Spanish border, and grew up in Paris. He started piano lessons at age seven and entered the Conservatoire de Paris in 1889, concentrating on composition. It is believed he was in a sexual triangle with Manuel de Falla and Ricardo Viñes. He composed the ballet, Daphnis et Chloé, for Sergei Diaghilev's Ballets Russes. His best-known work, Bolero, appeared in 1928. By the 1920s and 1930s, he was internationally regarded as France':s greatest living composer. Although there is no evidence that Ravel had any lasting personal relationship with anyone of either sex and some biographers claim that his sole emotional relationship was with his mother, a number of biographers cite circumstantial evidence of his homosexuality and one commented "Friends say that Ravel has a prized collection of gay pornography, which he amassed after his service in the French Army during WWI."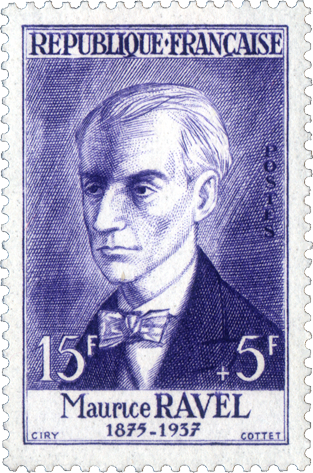 Marcel Proust
France, Scott #B396
Novelist, critic, and essayist Marcel Proust (1871-1922) is best known for his monumental novel Á la recherche du temps perdu (In Search of Lost Time), published between 1913 and 1927. He is considered one of the most influential authors of the 20th century. He was a dilettante and a social climber and lived most of his life in his family's home in Paris. He had a romantic relationship with composer Reynaldo Hahn and was infatuated with his chauffeur and secretary, Alfred Agostinelli.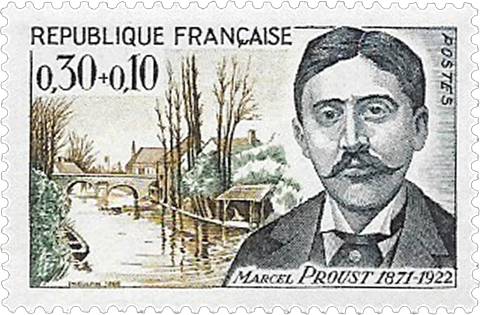 André Gide
France, Scott #B431
André Gide (1869-1951) was a French author who won the Nobel Prize in Literature in 1947. Although born in Paris, Gide was brought up in isolated conditions in Normandy, and published his first novel, The Notebooks of André Walter in 1891. He travelled to North Africa, where he came to accept his attraction to male youths. He married his cousin, but the marriage was unconsummated. He lived in Jersey for a while, and in 1916, met his longtime lover, Marc Allégret, and moved to Paris. His defense of homosexuality and pederasty in his book, Corydon, was published in 1924. He travelled to central Africa and to the Soviet Union and lived in Tunis and Algiers during World War II.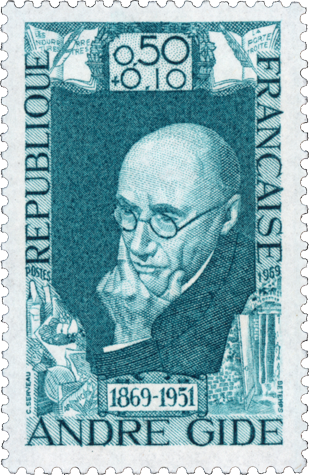 Alberto Santos-Dumont
France, Scott #B465
Brazilian inventor and aviation pioneer Alberto Santos-Dumont (1873-1932) is one of the very few people to have contributed significantly to the development of both lighter-than-air and heavier-than-air aircraft. He was born in the town of Palmira (now known as Santos Dumont), Minas Gerais, and attended the Escola de Minas in Minas Gerais. He moved to Paris in 1892 and studied physics, chemistry, mechanics, and electricity. He won the Deutsch de la Meurthe prize for the first flight from the Parc Saint Cloud to the Eiffel Tower and back in less than 30 minutes using his ship, No. 6, in 1901, making him an international celebrity. His first successful heavier-than-air flight happened in 1906 in his 14-bis, winning the Deutsch-Archdeacon Prize. The following month, he established the first world record recognized by the Federation Aeronautique Internationale, becoming the first person filmed in an airplane in flight. In 1932, his suicide note included "I have loved men and women; I'm both male and female, in my heart as well as mind; for better or worse, I couldn't ever separate such complementary, integral categories."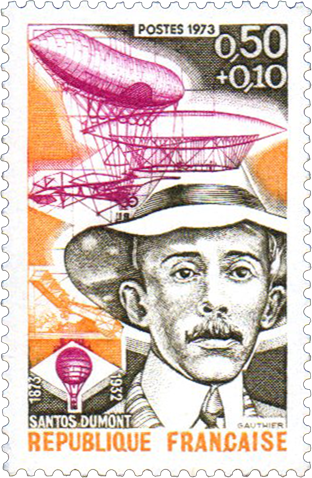 Colette
France Scott #B466
Author Colette (1873-1954) was nominated for the Nobel Prize in Literature in 1948. In 1893, she married author and publisher Henry Gauthier-Villars. Her first four novels, the Claudine stories, appeared under his name. She had relationships with women, including Mathilde de Morny, Marquise de Belbeuf. Colette was frequently acclaimed as France's greatest female writer. In 1944, she published Gigi, which was adapted to the stage and a successful film.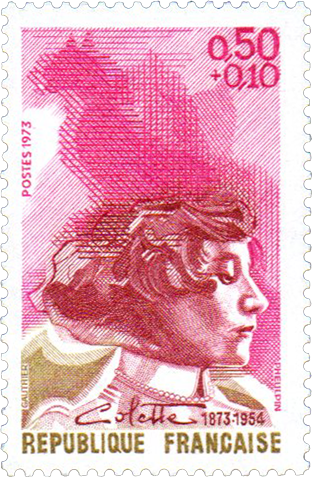 Francis Poulenc
France, Scott #B474
Composer and pianist Francis Poulenc (1899-1963) started piano lessons at the age of five. He made his debut as a composer in 1917 with Rapsodie négre, and his Trois mouvements perpétuel became an international success the following year. In 1923 for Sergei Diaghilev, he wrote the ballet, Les biches, one of his best-known scores. His first serious affair was with painter Richard Chanlaire. In 1932, his music was among the first to be broadcast on television, by the BBC. He had a relationship with chauffer Raymond Destouches. He was a soldier in World War II until the French surrender, and he set music to the words of poets active in the French Resistance. In the 1950s, his partner was salesman Lucien Robert. His successful opera, Dialogues des Carmélites, premiered in 1957. His last romantic relationship was with former soldier Louis Gautier.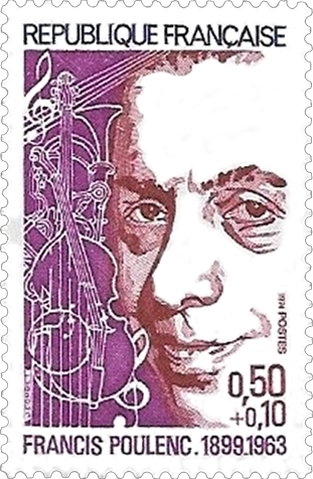 Max Jacob
France, Scott #B491
Max Jacob (1876-1944) was a French poet, painter, writer, and critic. He grew up in Quimper, Brittany, before attending school in Paris. He was one of the first friends that Pablo Picasso made in Paris in 1901. They remained lifelong friends, and Picasso's painting, Three Musicians, depicts Max. Openly gay, he was attracted to policemen and had a relationship with writer Maurice Sachs. His work is regarded as an important link between the symbolists and the surrealists. He was arrested by the Gestapo and died at Drancy shortly before he was scheduled to be transported to Auschwitz.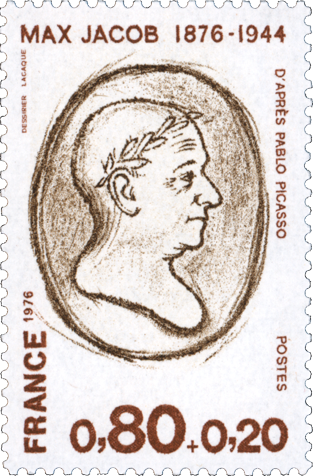 François Arago
France, Scott #B575
François Arago (1786-1853) was a French mathematician, physicist, astronomer, freemason, supporter of the Carbonari, and politician. He was born at Estagel, near Perpignan, in Pyrénées-Orientales, and in 1804, became secretary to the Paris Observatory. He worked until 1809 on median arc measurements to determine the exact length of a meter. A bizarre adventure that involved imprisonment and multiple attempts to get to Marseilles from Algiers led to the beginning of his 44-year connection with Alexander von Humboldt. He was elected a member of the French Academy of Sciences at only age 33, chosen for the chair of analytical geometry at the École Polytechnique, and named by the emperor as astronomer at the Paris Observatory. He delivered a remarkably successful series of popular lectures on astronomy from 1812 to 1845. He discovered rotatory magnetism, invented the first polarization filter, and was co-discoverer of eddy currents. It's not clear how much François felt about Alexander, though in one letter François wrote, "Apart from my family, you are without comparison the person I like the most fondly in the world. … There will be a bed for you at the Observatory."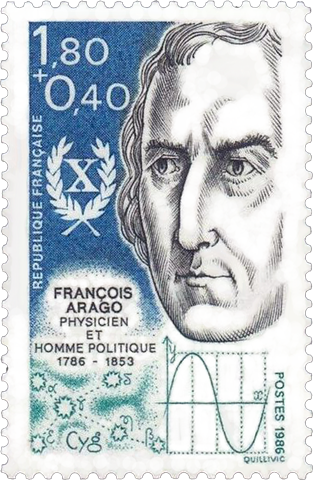 Pierre André de Suffren
France, Scott #B594
Pierre André de Suffren (1729-1788) was a French Navy officer and admiral. He began his career during the War of the Austrian Succession, fought in the Seven Years' War, and during the American Revolutionary War, he took part in the Siege of Savannah. He secured French domination of the seas in Indian waters until the Treaty of Paris. He practiced homosexuality quite openly and encouraged "campaign marriages" (i.e. same-sex unions at sea).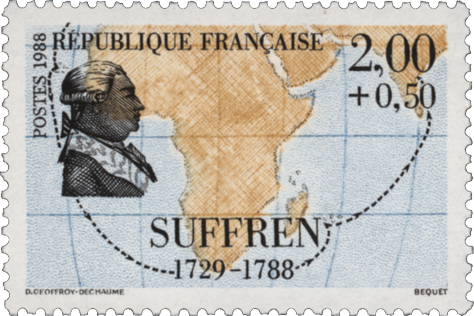 Maurice Chevalier
France, Scott #B616
Actor, cabaret singer, and entertainer Maurice Chevalier (1888-1972) was born in Paris and started his career in 1901 when he got a part in a local musical. During World War I, he was wounded and taken prisoner for two years, where he learned English. After the war, he performed in Paris, then made his Broadway debut in 1922's operetta, Dédé. Making his way to Hollywood, he starred in 1929's Innocents of Paris. In 1930, he received an Oscar® nomination for Best Actor for The Love Parade and The Big Pond. During World War II, he performed on stage in France, including in a successful Nazi propaganda revue in 1941. Despite harboring a Jewish family in the south of France, performing for prisoners of war in Germany (at the same camp where he was held prisoner), and succeeding in getting ten French soldiers freed, he was named on a list of French collaborators in 1942. He was formally accused and acquitted of collaboration in 1944. Upon appearing in the film, Gigi, he was awarded an Honorary Oscar® for achievements in entertainment. He married and divorced twice. He also had a relationship with his valet, Felix Paquet, the beneficiary of his estate.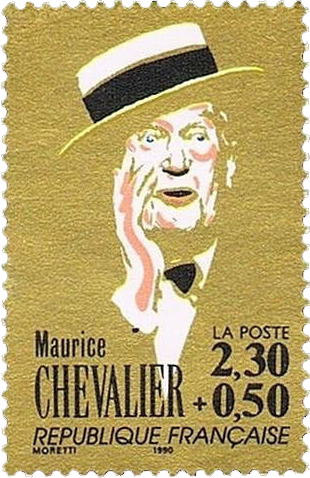 Louis Aragon
France, Scott #B630
One of the leading voices of the surrealist movement in France, Parisian Louis Aragon (1897-1982) served in the First World War. He was involved in Dadaism from 1919 to 1924, and in 1924 with André Breton and Philippe Soupault, co-founded the surrealist review,Littérapture. He joined the French Communist Party in 1927, writing for its newspaper, L'Humanité, and the journal, Commune. In 1939, he married Elsa Triolet. He was awarded the Croix de guerre for bravery during the beginning of World War II. He was France's leading poet of the Resistance. After Elsa's death in 1970, Louis came out as bisexual.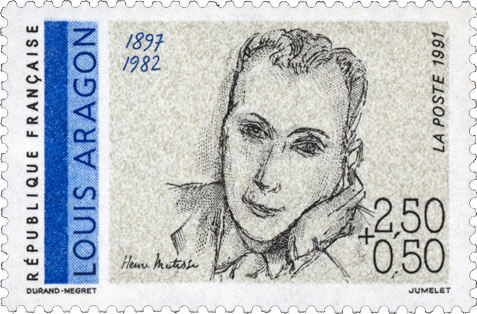 Jean Cocteau
France, Scott #B651: Monaco, Scott #1678
ean Cocteau (1889-1963) was a poet, novelist, painter, playwright, film maker, set designer, and actor. He began writing at age 10 and was a published poet by age 16. His exploration of theater began with "Ballets Russes", the company of Sergei Diaghile. During World War I, he served as an ambulance driver on the Belgian front. After the war, he met 16-year old poet and novelist prodigy Raymond Radiguet, who died five years later and left Cocteau in profound grief. Consequently, Cocteau became addicted to opium and wound up in a sanatorium. Recovering by the mid-1920s, he produced the play Orphée (1926) and his best known novel Les Enfants terribles (1929), followed by his greatest play La Machine infernale (1934). Though he always remained a poet at heart, he turned to films, all rich with symbolism and surreal imagery. His favorite actor was Jean Marais, who was Cocteau's lover from 1937-47. Marais appeared in almost every one of Cocteau's dozen films. Cocteau is regarded as one of the most important avant-garde directors in cinema.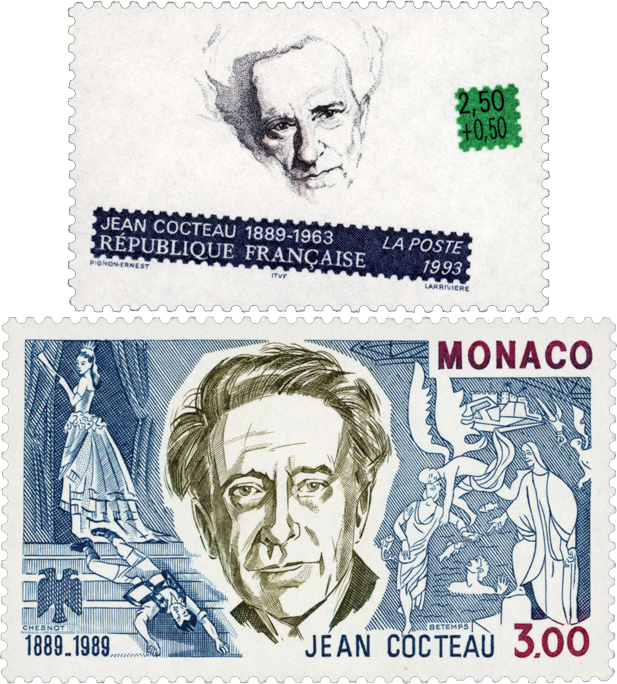 Josephine Baker
France, Scott #B658
St. Louis, Missouri, native Josephine Baker (1906-1975) dropped out of school by age 12, and headed to New York City with a vaudeville troupe at the age of 15 She became "he highest paid chorus girl in vaudeville." In 1925, she moved to Paris and became an instant success, known for exotic dancing and appearing practically nude onstage. She was the first African-American to star in a major motion picture, 1927's Siren of the Tropics. Josephine became a French citizen in 1937 and collected information for French military intelligence during World War II, for which she received the Croix de Guerre and the Rosette de la Résistance. While she had four marriages to men, she had several relationships with women, including singer Clara Smith and Mexican artist Frida Kahlo.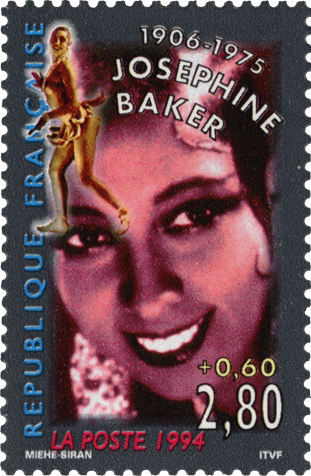 Pierre Loti
French Polynesia, Scott #659
French naval officer and novelist Pierre Loti (1850-1923) was born in Rochefort, entered naval school in Brest and studied at the French naval academy, École navale. He attained the rank of captain in 1906. As part of naval training, he lived in Tahiti for two months in 1872, where he "went native." The first book to introduce him to a wider public was Le Mariage de Loti, a Polynesian idyll published in 1880. His many books, set in exotic places around the world, became very popular with French readers. Loti's most homoerotic work, Mon Frére Yves (My Brother Yves) was published in 1883. In 1891, he was elected to the Académie française. His diary revealed his loves, both male and female, including cadet Joseph Bernard, Polynesian woman Rarahu, and companion Pierre Le Cor.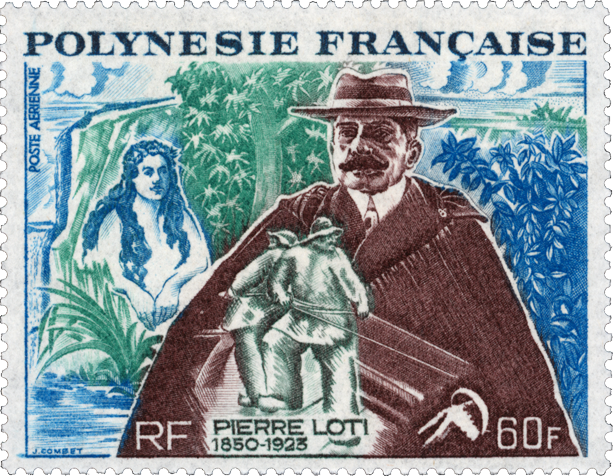 Pōmare II
French Polynesia, Scott #C131, 1276
Tu Tunuieaiteatua Pōmare II (c. 1782–1821) was the second king of Tahiti between 1782 and 1821. He was installed by his father Pōmare I at Tarahoi, February 13, 1791. Upon defeating his enemies at the Battle of Te Feipī, November 11, 1815, he became undisuputed King of Tahiti. He was responsible for the conversion of thousands of Tahitians to Christianity and, under the influence of missionaries, established a Protestant theocracy. According to A Herman Melville Encyclopedia by Robert L. Gale, "Pōmare II, who became literate and canny, was baptized in 1819 and built a 700-foot chapel, but he had a drinking problem and kept an entourage of homosexual servants." He was married to several women at one time. His austere Pōmare code of 1819 disrupted the Polynesian tradition, imposing the wearing of clothing covering the whole body, prohibiting dances and profane songs, tattoos, etc., but did not criminalize homosexuality. He died of alcoholism at the age of 39.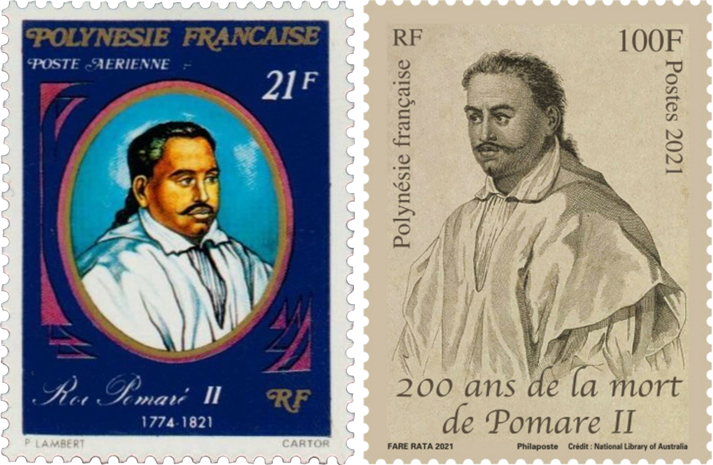 RETURN TO TOP OF PAGE