Welcome!
Welcome to the Gay and Lesbian History on Stamps (GLHS) website! After a five-year lapse, the GLHS was reactivated in 2018. We hope to be a resource for those who collect LGBTQ on stamps or who are LGBTQ and collect stamps. In addition, we gather for meetings and socializing at the Great American Stamp Show during the summer, various other philatelic events around the country and virtually on the internet; we look forward to seeing you!
The objectives of Gay and Lesbian History on Stamps are to promote the interest in the collection, study and dissemination of knowledge of world-wide philatelic material that depicts:
Notable men & women and their contributions to society for whom historical evidence exists of homosexual or bisexual orientation
Mythology, historical events and ideas significant in the history of gay culture
Flora and fauna scientifically proven as having prominent homosexual behavior.
Even though emphasis is placed on the above aspects of stamp collecting, GLHS strongly encourages other philatelic endeavors.
As you surf through our website, be sure and visit our Gallery featuring LGBTQ stamp issues, postmarks and covers. There's also an archive of our quarterly publication, the Gay and Lesbian History on Stamps Journal and a predecessor, the Lambda Philatelic Journal. Access to some features is limited without a membership in our society.
Want to join our Society and gain full access to all we have to offer? Select the membership link to apply.
Upcoming Meetings
Invitations to internet meetings will be sent by email to members several days before the event date. Members who do not receive the email or guests who want to attend may request an invitation by contacting the club at the first email address listed on the "Contact Us" page.
Internet Meeting
December 1, 2021, 4:30/7:30 p.m. PST/EST
The meeting presentation will be AIDS Philately.
Internet Meeting
March 8, 2022, 4:30/7:30 p.m. PST/EST
The meeting presentation will be Mystery History Covers…Going Beyond the Obvious.
Annual Meeting
August 2022
Meeting during the Greater American Stamp Show, August 25-28, 2022, in Sacramento, California, at the SAFE Credit Union Convention Center. Meeting day and time to come later. For more details on the event, co-sponsored by the American Philatelic Society, American First Day Cover Society and the American Topical Association, visit the APS Website.
GLHS Holds Second Virtual Meeting of Year
GLHS held its second internet meeting of the year on June 8, 2021, with 18 members hearing the presentation U.S. Foreign Joint Issues. To see a YouTube video of this program, use this link. The next internet gathering will be held on December 1, 2021. The group will meet in person during the next Great American Stamp Show in 2022; For details, see the "Upcoming Meetings" schedule on this page.
Serbian Archeologist Appears on Stamp
Archeologist Dragoslav Srejovic (1931-1996), one of the very few openly gay public personalities in Serbia, was honored with a stamp issued July 9, 2021. Srejovic's fields of research ranged from paleolithic and mesolithic sites in Yugoslavia, through the late Roman period, to Greco-Roman mythology. A prolific author, he had published more than 200 papers, over 20 monographs and a dozen guides and catalogs. He became a subscribing member of the Serbian Academy of Sciences and Arts in 1974, and a regular member in 1983, and later its vice-president. To order this and other stamps, visit the Serbian Post website.
Greece Adds to Pride Stamp Parade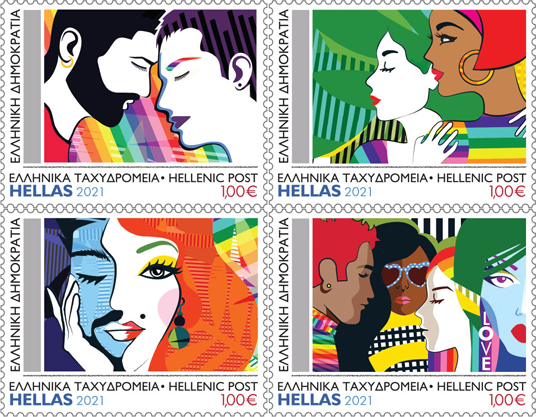 A booklet with four different LGBTQI+ stamps appeared on June 10 at Greek post offices. All stamps are denominated at €1.00 and feature gays, lesbians, bisexuals and transexuals. The booklet of self-adhesive stamps can be ordered from Hellenic Post. (Click on the image for a larger view of the four stamps.)
Pride Stamps Issued by Ireland
The Irish post office issued on June 10 a five-stamp booklet celebrating the Pride movement. Within are four domestic rate stamps, two featuring the universal term "Pride," and two having the Irish translation of the word – "Bród" – to recognize the distinct Irish Pride movement as part of an international grouping. A fifth stamp for the international rate also has the word "Pride." For every booklet sold, the post office is donating 2.5% to BeLonG To and LGBT Ireland. The booklet can be ordered from An Post. (Click on the image to see all three stamps.)
France Honors de Beauvoir
A French writer, intellectual, existentialist philosopher, political activist, feminist, and social theorist, Simone de Beauvoir (1908-1986) was known for her 1949 treatise The Second Sex, a detailed analysis of women's oppression and a foundational tract of contemporary feminism; and for her novels, including She Came to Stay and The Mandarins. Her most enduring contribution to literature are her memoirs. A known bisexual, she had a life long open relationship with Jean-Paul Sartre. The €1.28 stamp, issued March 8, can be ordered from the La Poste stamp shop.
Oscar Wilde's Mother Receives Tribute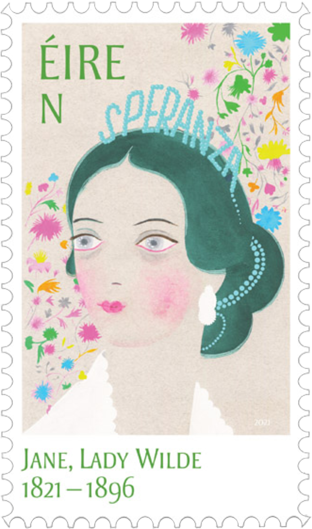 Appearing on March 4 at Irish post offices was a stamp celebrating the bicentenary of the birth of Lady Jane Wilde (1821-96). She married Sir William Wilde in 1851. Her younger son, Oscar Wilde (1854-1900), became a prolific and famous writer. An Irish nationalist, feminist, multilinguist, translator and staunch advocate of women's rights, she came to prominence in 1848 after writing an unsigned editorial. In January 1896 Lady Wilde contracted bronchitis and, dying, asked for permission to see Oscar, who was in prison, having been convicted of gross indecency with men. Her request was refused. It was claimed an apparition of her appeared in Oscar's prison cell as she died at her home. To obtain this and other Irish stamps, visit the an post shop.
Jean-Michel Basquiat's Art on French Emission
The artwork of American artist Jean-Michel Basquiat (1960-1988) is featured on a French stamp issued February 8. Born in Brooklyn, New York, to a Haitian father and a mother of Puerto Rican descent, Basquiat achieved his initial fame in the late 1970s as a street graffiti artist. He was also involved in the music scene, though this ended by the early 1980s when he focused mainly on his paintings. Bisexual, he died of a drug overdose in 1988. This €2.56 stamp and other French issues are available from the La Poste stamp shop.
New Zealand Issues Pride Stamp
The year 2021 marks 35 years since Homosexual Law Reform Bill was passed in New Zealand, a landmark piece of legislation that meant homosexual men could now live without fear of prosecution. For the anniversary, New Zealand Post released on February 3 a NZ$1.40 single that can be ordered now from their online philatelic shop.
2021 Slovenia Greeting Stamp Is LGBT Thematic
The 2021 entry in the continuing series of Slovenian greetings stamps, issued January 28, focuses on "more understanding of different ways of life and relationships that are an inherent part of the society we live in." The Pošta Slovenije stamp announcement goes on to note "In some parts of the world and some social environments, conditions are still far from being ideal and we are still witnessing cases of rejection, intolerance and other phenomena that attempt to push homosexual love and the whole LGBT movement to the margins of society, or even out of it altogether. For this reason, the stamp design in the characteristic a colors of the LGBT flag aims to draw attention to our tolerant encounters with human relationships of different kinds." The €.69 stamp is available online at Pošta Slovenia.