Welcome!
Welcome to the Gay and Lesbian History on Stamps (GLHS) website! After a five-year lapse, the GLHS was reactivated in 2018. We hope to be a resource for those who collect LGBTQ on stamps or who are LGBTQ and collect stamps. In addition, we gather for meetings and socializing at the Great American Stamp Show during the summer, various other philatelic events around the country and virtually on the internet; we look forward to seeing you!
The objectives of Gay and Lesbian History on Stamps are to promote the interest in the collection, study and dissemination of knowledge of world-wide philatelic material that depicts:
Notable men & women and their contributions to society for whom historical evidence exists of homosexual or bisexual orientation
Mythology, historical events and ideas significant in the history of gay culture
Flora and fauna scientifically proven to having prominent homosexual behavior.
Even though emphasis is placed on the above aspects of stamp collecting, GLHS strongly encourages other philatelic endeavors.
As you surf through our website, be sure and visit our Gallery featuring LGBTQ stamp issues, postmarks and covers. There's also an archive of our quarterly publication, the Gay and Lesbian History on Stamps Journal and a predecessor, the Lambda Philatelic Journal. Access to some features is limited without a membership in our society.
Want to join our Society and gain full access to all we have to offer? Select the membership link to apply.
Upcoming Meetings
Invitations to internet meetings will be sent by email to members several days before the event date. Members who do not receive the email or guests who want to attend may request an invitation by contacting the club at the first email address listed on the "Contact Us" page.
Internet Meeting
March 9, 2021, 4:30/7:30 p.m. PDT/EDT
Three short meeting presentations will be Pandemic Tennis, Sports Meets Art Philately and LGBTQ Authors of Children's Literature.
Internet Meeting
June 2021 [date and time to come]
The meeting presentation will be U.S.-Foreign Joint Issues.
Annual Meeting
August 2021 [date and time to come]
Meeting during the Greater American Stamp Show in Rosemont, Illinois. Details to come.
GLHS Holds Third Virtual Meeting
GLHS held its third internet meeting of the year on December 8, 2020, with 22 members enjoying a program on filmmaker, actor and author Edward Davis Wood Jr., who directed a number of low-budget science fiction, crime and horror films in the 1950s, including the cheesy Plan 9 from Outer Space (1959), regarded as one of the worst films of all time. The recording of the presentation is available now on our YouTube channel.
New Zealand Issues Pride Stamp
The year 2021 marks 35 years since Homosexual Law Reform Bill was passed in New Zealand, a landmark piece of legislation that meant homosexual men could now live without fear of prosecution. For the anniversary, New Zealand Post is releasing on February 3 a NZ$1.40 single that can be ordered now from their online philatelic shop.
2021 Slovenia Greeting Stamp Is LGBT Thematic
The 2021 entry in the continuing series of Slovenian greetings stamps, issued January 28, focuses on "more understanding of different ways of life and relationships that are an inherent part of the society we live in." The Pošta Slovenije stamp announcement goes on to note "In some parts of the world and some social environments, conditions are still far from being ideal and we are still witnessing cases of rejection, intolerance and other phenomena that attempt to push homosexual love and the whole LGBT movement to the margins of society, or even out of it altogether. For this reason, the stamp design in the characteristic a colors of the LGBT flag aims to draw attention to our tolerant encounters with human relationships of different kinds." The €.69 stamp is available online at Pošta Slovenia.
Uruguay Issues Sheetlet for Comte de Lautréamont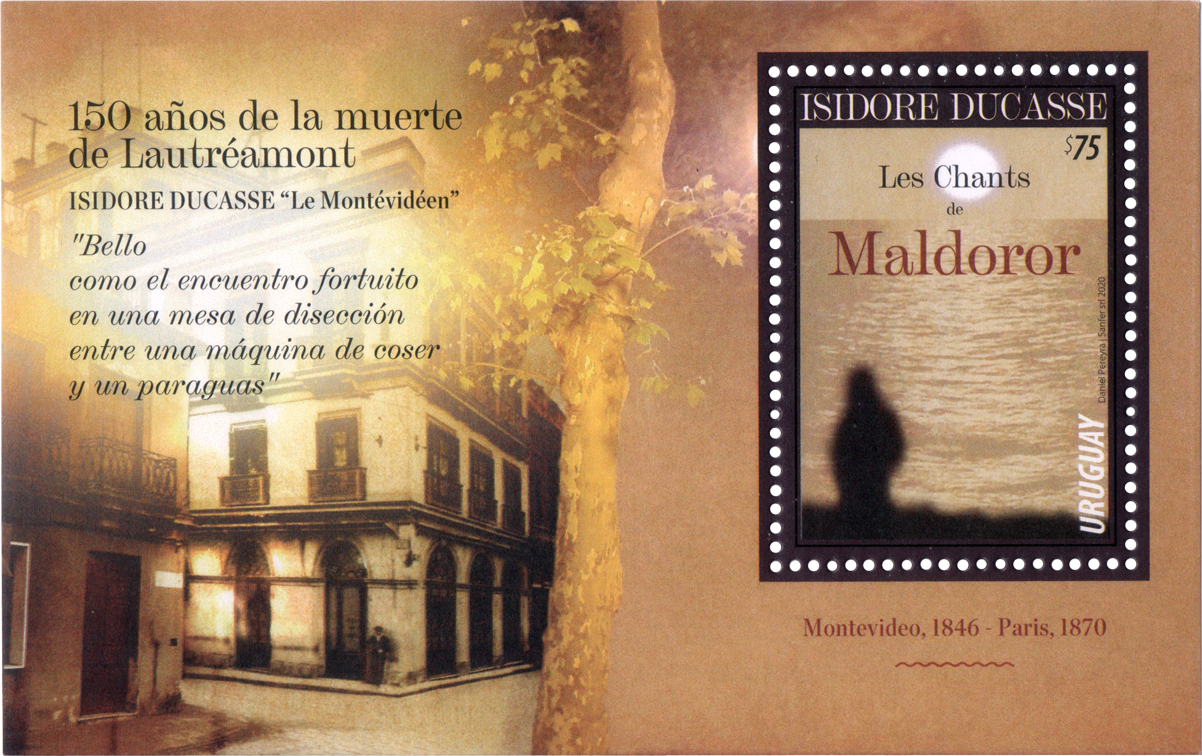 Uruguay issued November 24 a sheetlet on the 150th anniversary of the death of Isidore Lucien Ducasse (1846-1870), the son of a French consular officer. Born in Montevideo, Uruguay, his nome de plume was Comte de Lautréamont. At the age of 13, he was sent to France to continue his schooling. After graduation from Lycée Louis Barthou in Pau, Ducasse lived in Tarbes, where he started a homosexual relationship with Georges Dazet, the son of his guardian, and decided to become a writer. He briefly returned to Montevideo to stay with his father, but settled in Paris in 1867. Ducasse's masterpiece is Les chants de Maldoror, a book-length poem in prose including a homosexual theme in which male homosexuality is presented positively, and women rejected. After becoming sick with "a bad fever," Ducasse died on November 24, 1870, during the Seige of Paris by the Prussain Army. He was only 24 years old. In his only other published work, Poésies, Ducasse declared: "I will leave no memoirs," so many details of his brief life remain unknown.
More British Stamps with LGBT Characters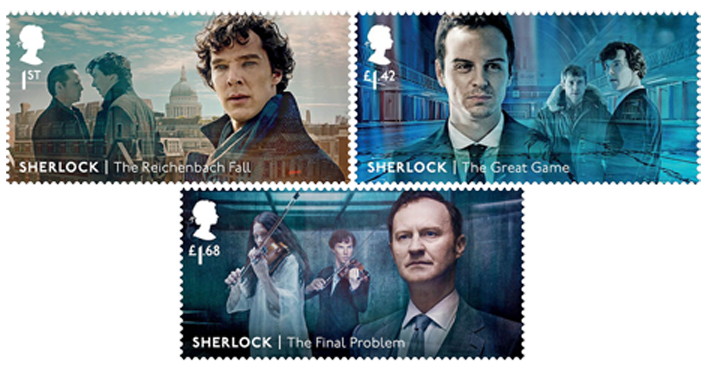 For the fourth time in 2020, Great Britain issued LGBT related stamps. The August 18 issue consisted of six stamps and a souvenir sheet of four stamps that celebrated the 10th anniversary Sherlock, a television series that ran from 2010-2017 with a modern take on the fictional private detective created by British author Sir Arthur Conan Doyles. Mark Gatiss co-created, produced, co-wrote and portrayed Sherlock's brother, Mycroft. Andrew Scott played Sherlock's nemesis, Jim Moriarty. Both Gatiss and Scott are openly gay. Moriarty can be found on two of the stamps The Reichenback Fall and The Great Game. Mycroft appears on The Final Problem. Like other British stamps, these may be ordered from the Royal Mail Shop.
Great Britain Honors Rock Group Queen and singer Freddie Mercury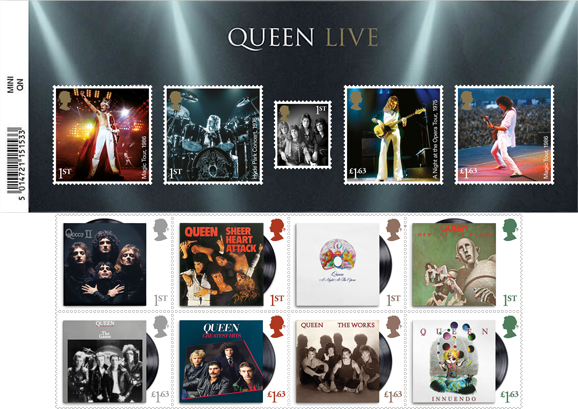 Great Britain commemorated Freddie Mercury and Queen's Brian May, Roger Taylor and John Deacon on 13 stamps that went on sale July 9, 2020. Like previous honorees in a continuing series of stamps honoring rock icons, some stamps have scenes from concert tours and others depict album covers. For the first time, there is a single definitive size stamp; it portrays Queen together in their first-ever studio photoshoot, captured at Primrose Hill in 1974. Lead singer Mercury, who previously appeared on one of the 1995 British Achievement stamps, died in 1991 at age 45 due to complications from AIDS. Though his relationships with other men are well documented, Mercury remained closeted to the end. The stamps, which may be ordered from the Royal Mail Shop. were issued in a number of configurations including sheetlets, presentation packs and a prestige booklet. To see a larger image of the stamps, click here.