LGBT Foreign Stamp Gallery
Below is a sampling of the many foreign LGBT themed stamps available. Shown are primarily stamps with subject matter that relates to the country of issue. Unless there is no other source, topical issues having themes with no connection to the issuing entity, usually promoted by philatelic agents, are not included here. Otherwise, if your favorite(s) are missing, help add to this page by contacting the webmaster who is listed on the "Contacts Us" page of this website. Either high resolution scans or actual items are acceptible; the latter will be scanned and returned if desired. Be sure to provide a brief description of the subject matter, to include how it relates to a LGBT theme.
The sexuality of famous personalities is often open to debate. Even today, many remain in the closet for fear of ruining their career and relationships. For some individuals depicted on the stamps listed below, all we have are clues as their being or possibly being gay, lesbian or bisexual; correspondence that would reveal homosexual relationships was often destroyed after the death of those involved. Also included are some LGBT icons. The biographical sketches below are drawn from Wikipedia, Biography.com, Britannica.com, the Gay and Lesbian History on Stamps Journal, the Lambda Philatelic Journal, and various LGBT websites.
The topic AIDS on stamps is not explored here. This subject matter is comprehensively covered up to the year 2016 on the AIDS on Stamps website.
Leslie Cheung
Hong Kong, Scott #1167
One of the founding fathers of Cantopop, Leslie Cheung (1956-2003) achieved huge success in music and film. He released his breakthrough album, Wind Blows On, in 1982. Two years later, his song, "Monica," became the best-selling single in Hong Kong history, making him a superstar. He starred in John Woo's 1986 film, A Better Tomorrow, breaking Hong Kong's box office record. Leslie moved to Vancouver in 1990 and became a Canadian citizen. In 1993, he won a Golden Horse Film Award for Best Original Song. Although he said he was bisexual, he announced his same-sex relationship with Daffy Tong Hok-tak during a 1997 concert. Cheung was diagnosed with depression and later died by suicide, jumping off the 24th floor of the Mandarin Oriental Hotel in Hong Kong.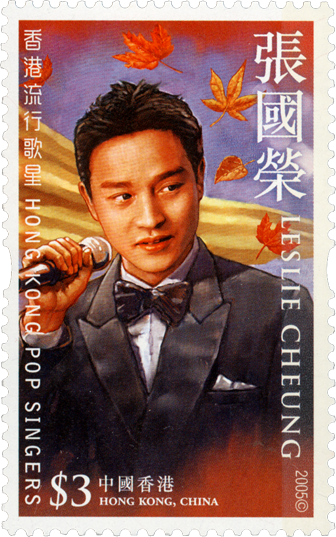 George Cukor
Hungary, Scott #3668
American film director George Cukor (1899-1983) was born in the Lower East Side of Manhattan, the only son of his Hungarian-Jewish parents. In 1920, he became stage manager of the Knickerbocker Players, then general manager of the Lyceum Players in upstate New York. He made his Broadway directorial debut in 1925 with Antonia. He went to Hollywood in 1929, making his solo directorial debut in 1931 with the film, Tarnished Lady. He quickly earned a reputation for coaxing great performances from actresses. Clark Gable got Cukor fired from Gone with the Wind because Clark had earlier been a male hustler and Cukor knew (or was one of his clients). It was an open secret that George was gay. He received directing Oscar nominations for Little Women, The Philadelphia Story, A Double Life and Born Yesterday, before finally winning the statue in 1964 for My Fair Lady.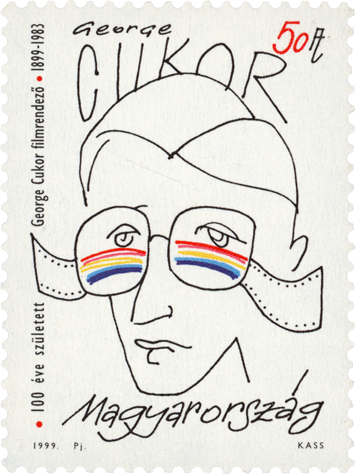 Reykjavic Pride Parade
Iceland, Scott #1304
Reykjavic's annual pride event was launched in 1999 and attracts 100,000 visitors, almost one-third the population of the entire country. The week-long event that includes a parade that was featured on one of the stamps in the 2013 town festivals issue.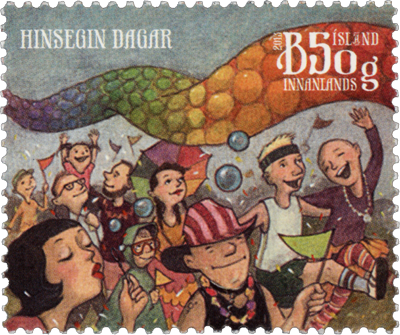 Oscar Wilde
Ireland, Scott #479, #1232
Oscar Fingal O'Flahertie Wills Wilde (1854-1900) is best known for his wit and flamboyance, and his literary efforts, with his novel The Picture of Dorian Gray and the play The Importance of Being Ernest his most lasting legacies. His criminal conviction for "gross indecency" and subsequent imprisonment led to his early death at age 46 in France, where he was buried. (Click on images to see more Oscar Wilde stamps)

Eileen Gray
Ireland, Scott #2085-88
Eileen Gray (1878-1976) was an Irish-born and French-based architect and furniture designer. Born Kathleen Eileen Moray Smith, after the death of a maternal uncle in 1895 she became the 19th Baroness Gray and was known as Eileen Gray thereafter. Gray's art education began in London in 1900, but she moved to Paris in 1902 then returned to London a few years later to be with her ailing mother. By 1907, she was back in Paris, training with Seizo Sugawara in the art of lacquer furniture; both left France after the beginning of the World War I. Returning to Paris in 1917, she soon opened her own shop. Gray and Jean Badovici had a romantic relationship. Badovici encouraged Gray's growing interest in architecture, resulting in the modernist E-1027 villa, built in the south of France near Monaco. Badovici and Gray split in 1931, and Gray designed and built another house nearby. Gray was bisexual, mixing in the lesbian circles of the time, being associated with Romaine Brooks, Loie Fuller, Marie-Louise Damien, and Natalie Barney. Her intermittent relationship with the singer Damien ended in 1938.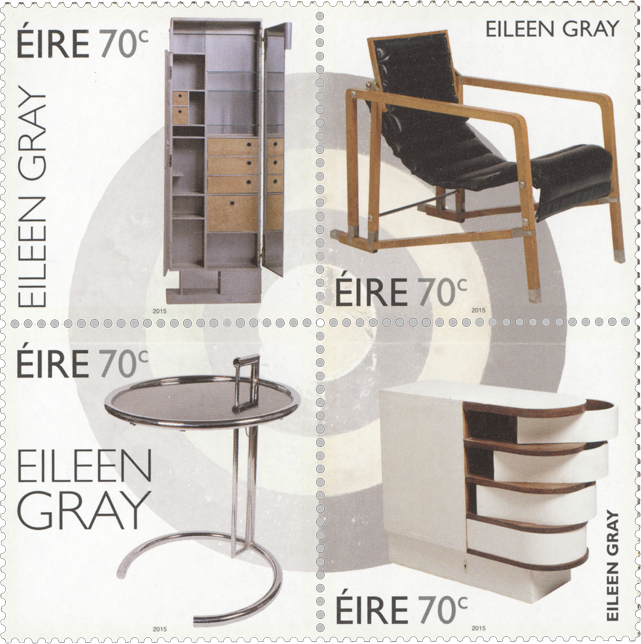 Patrick Henry Pearse
Ireland, Scott #2107b
After his execution, Patrick Henry Pearse (1879-1916) was seen by many as the embodiment of the Irish quest for independence. He grew up surrounded by books where he promised God that he would dedicate his life to Irish freedom from British rule. A schoolmaster and an advocate of the suppressed Irish language, his Irish Volunteers joined the smaller Irish Citizen Army of James Connolly and 200 women of Cumann na mBan, in seizing key locations in Dublin on Easter Sunday in 2016. In front of the main post office in Dublin, he proclaimed an Irish Republic. After six days of fighting, he ordered a surrender and was executed the following month. His lack of sexual interest in women has been speculated by some psychologists as due to Asperger's syndrome. Other historians and biographers have noted that his interest in boys and extracts from some to his poetry indicate he was not asexual. Pearse shows up on two other Irish stamps, released in 1966 (Scott #209) and 1979 (Scott #460).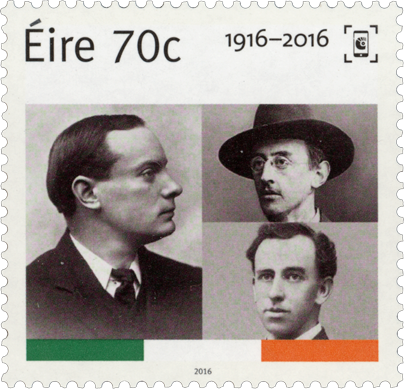 Kathleen Lynn and Elizabeth O'Farrell
Ireland, Scott #2107g
Kathleen Lynn (1874-1955), shown with Elizabeth O'Farrell (1883-1957) on a 2016 Irish issue noting the centenary of the failed Easter Uprising for Irish independence, was chief medical officer for the Irish Citizen Army. She met Madeleine ffrench-Mullen in 1913 and together they founded St. Ultan's Hospital in 1919, living together until ffrench-Mullen's death in 1944. Lynn died in 1955. O'Farrell was a nurse along with Julia Grenan during the Easter Rising. O'Farrell delivered the surrender along with Pearse, depicted on another stamp in the 2016 issue. A photograph was taken though she had taken a step back. Her feet were airbrushed from the photo. She and Grenan are buried next to each other in Glasnevin Cemetery, Dublin, Ireland.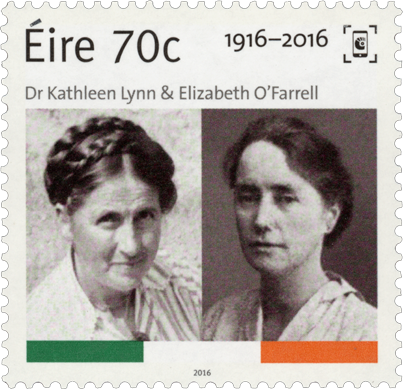 Roger Casement
Ireland, Scott #2107p
Diplomat and Irish revolutionary Roger Casement (1864-1916) worked for Henry Morton Stanley in the Congo, where he met Joseph Conrad. He joined the Colonial Service before working for the British Foreign Office as consul. Commissioned by the Balfour Government, he produced the hugely influential 1904 Casement Report, detailing human rights violations in the Congo Free State. Sent to Brazil, Roger reported in 1910 on abuses against natives in Putumayo, Peru. He was knighted in 1911 for these investigations. Retired from consular service, he helped form the Irish Volunteers in 1913. Hoping to recruit an Irish Brigade from Irish prisoners of war, he traveled to Germany where he helped secure arms that were later intercepted at sea. Three days before the 1916 Easter Rising, he arrived back in Ireland via German U-boat. He was shortly discovered and arrested before he was charged, tried, and finally executed in August 1916. While at trial, the prosecution produced Casement's diaries from 1903, 1910, and 1911, rife with detailed homosexual activity. He also appears on Irish stamps issued in 1966 (Scott #214-15) as well as another 2016 stamp not shown (Scott #2099).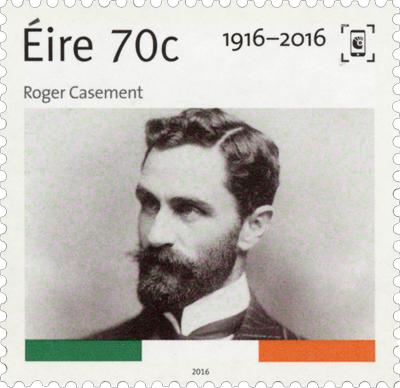 Iris Murdoch
Ireland, Scott #2245
Dublin, Dame Iris Murdoch (1919-1999) was awarded a first-class honors degree from Somerville College, Oxford, in 1942. She studied philosophy postgraduate at Newnham College, Cambridge, before becoming a fellow of Saint Anne's College, Oxford, teaching philosophy until 1963. She married John Bayley, a man who thought that sex was "inescapably ridiculous." Iris had multiple affairs with both men and women. She wrote more than 25 novels.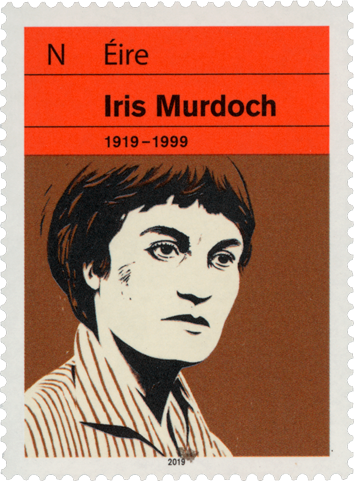 Sarah Purser
Ireland, Scott # to come
Sarah Purser (1848-1943) attended the Institution Evangélique de Montmirail, Switzerland, learning fluent French, and then the Dublin Metropolitan School of Art. She studied at the Académie Julian in Paris where she met lifelong friend, painter Louise Catherine Breslau. She worked mostly as a portraitist and regularly exhibited. She financed a stained-glass cooperative and ran it from 1903 until 1940. In 1924, Sarah became the first female Member of the Royal Hibernian Academy. For many years, she hosted a Tuesday afternoon "salon" at her home on the banks of the Grand Canal.
Catullus
Italy, Scott #529
A Latin poet of the late Roman Republic, Catullus (circa 84–54 BC) wrote chiefly in the neoteric style, about personal life rather than classical heroes. He was born in Verona, Cisalpine Gaul, and spent his young adult years in Rome. Many of his poems address love to "Lesbia," possibly identified as the married Clodia Metelli, who had several other simultaneous suitors. He also wrote explicitly sexual love poems to Juventius.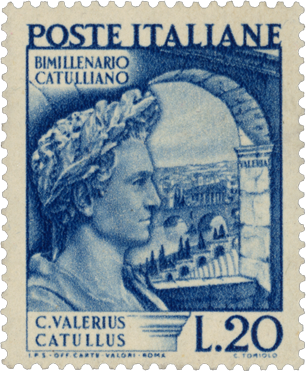 Sandro Botticelli
Italy, Scott #1118
Sandro Botticelli (1445-1510) was an Italian painter of the Early Renaissance. He was born in Florence, initially trained as a goldsmith, and apprenticed with painter Fra Filippo Lippi. By 1470, Sandro had his own workshop. In 1481, Pope Sixtus IV summoned him and others to fresco the walls of the Sistine Chapel, where Sandro contributed three of the fourteen large scenes. He returned to Florence to paint his masterpieces, Primavera (circa 1482) and The Birth of Venus (circa 1485). In 1502, he was accused of sodomy with one of his assistants.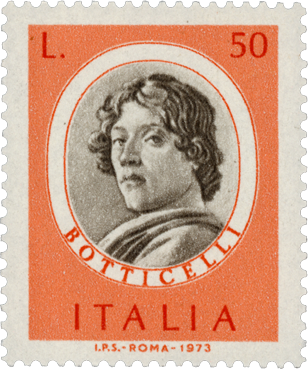 Raphael
Italy, Scott #1127
An Italian painter and architect of the High Renaissance, Raphael (1483-1520) was born in Urbino, Marche region, and apprenticed with painter Pietro Perugino. His first documented work was the Baronci Altarpiece. He was much in demand and led a "nomadic" life, though he spent a great deal of time in Florence. In 1508, he moved to Rome, commissioned by Pope Julius II to fresco the private library at the Vatican Palace, the first of three "Raphael Rooms." In 1514, he was named architect of the new Saint Peter's, though most of his work was altered or demolished after his death. He lived with his two favorite students, Giulio Romano and Gianfrancesco Penni, to whom he left his fortune.
Dalla
Italy, Scott #3599
Lucio Dalla (1943-2012), who became one of Italy's most popular singers, played clarinet in a Bologna jazz band and made his first record in 1961 with the Second Roman New Orleans Jazz Band. His first vocal hit was "4 Marzo 1943," released in 1970. His song, "Caruso," released in 1986, has been covered by international artists like Luciano Pavarotti, Julio Iglesias, and Andrea Bocelli. He was made a Grand Officer of the Order of Merit of the Italian Republic in 2003. Dalla kept his homosexuality private, which was revealed at the end of a funeral mass by his long-term partner Marco Alemanno, creating shock among his fans and a debate about attitudes towards homosexuality in the country.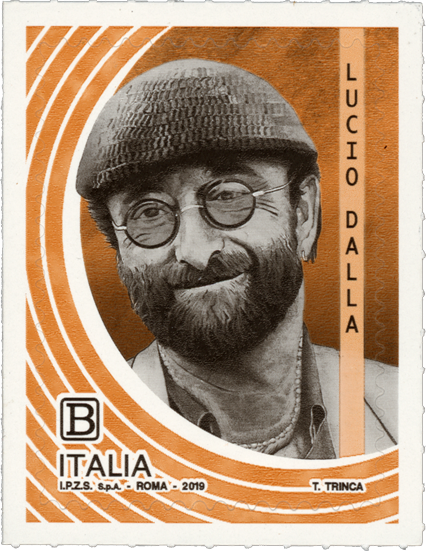 Matsuo Basho
Japan, Scott #1783-86
Matsuo Basho (1644-1694), the most famous poet of the Edo period in Japan, is recognized as the greatest master of haiku. Born near Ueno, in Iga Province (now western Mie Prefecture), the first extant poem by him was published in 1662. He wrote, "there was a time when I was fascinated with the ways of homosexual love." Biographers note that he was involved in same-sex affairs throughout all his life and that among his lovers were several of his disciples. The Narrow Road to the Interior (Oku no Hosomichi), considered his finest achievement was finished in 1694 and published in 1702.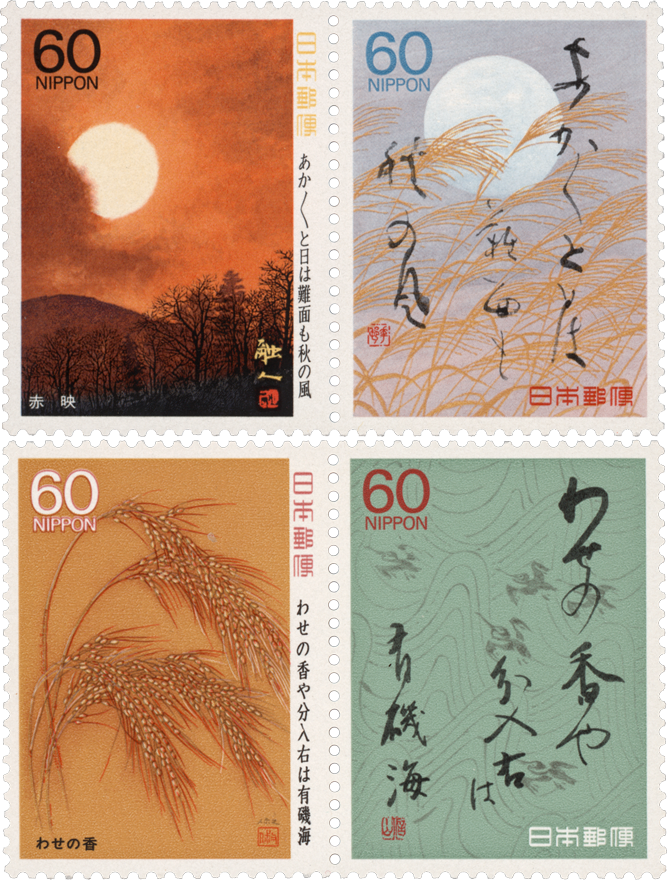 Li Bai
KyrgyzExpress Post, Scott #55
Li Bai (701-762) was a Chinese poet acclaimed as a genius and as a romantic figure who took traditional poetic forms to new heights. He was born in Suyab, present-day Kyrgyzstan, and spent his childhood in Jiangyou, near Chengdu, Sichuan. He lived a mostly restless life, wandering China, loving drink. He is known to have married four times. He was summoned to the court in Chang'an by Emperor Xuanzong to be employed as a translator and at the Hanlin Academy. He left the court, wandered for 10 years, then shared a room with poet Du Fu in 744 and 745. Late in life, he was arrested and sentenced to exile, but was reprieved before reaching his destination. Due to the content of his poems, he was a favorite poet among homosexual reading clubs and social gatherings in post WWI Germany. (click on image to see a larger version in a new window)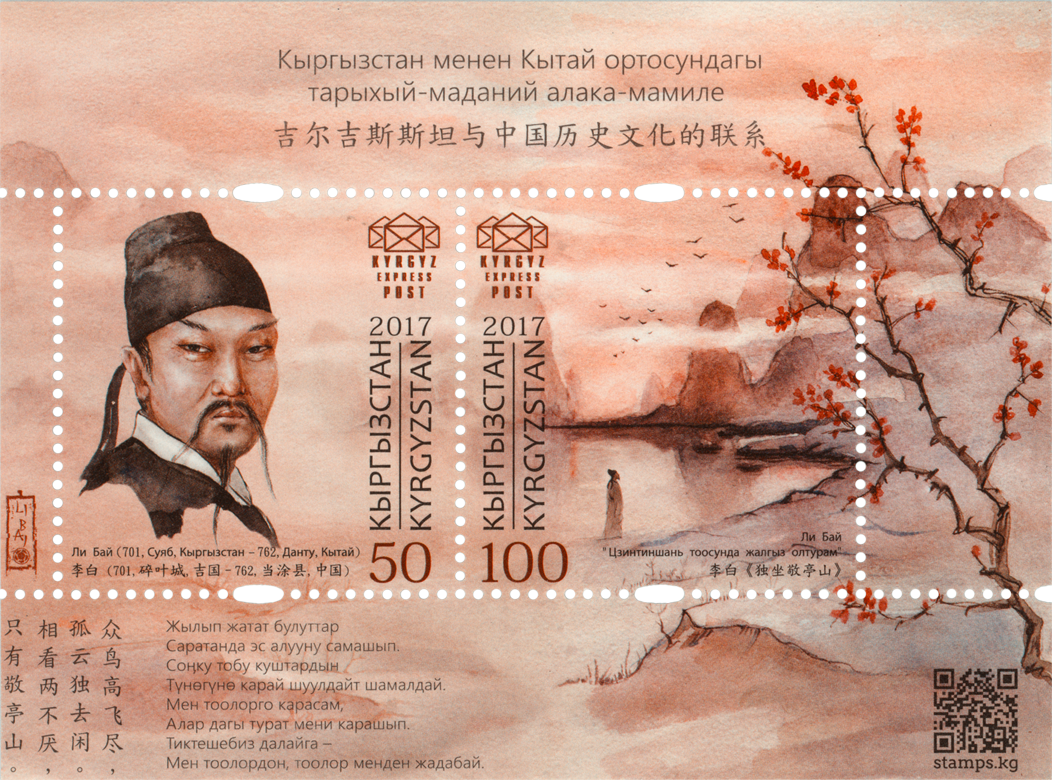 Diversity
Liechtenstein, Scott #1802
In 2019, Liechtenstein and Switzerland jointly issued four stamps commemorating Social Diversity, including two stamps featuring Throng, by Luigi Olivadoti, which appears to depict a Pride gathering with a Rainbow Flag, created by Gilbert Baker.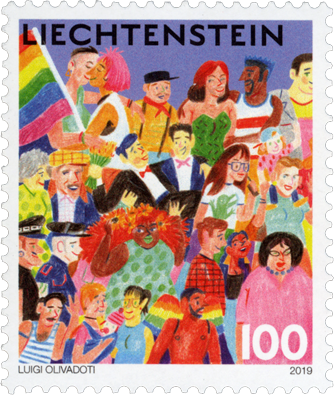 Luxembourg Remembers
Luxembourg, Scott #1407b
In Nazi concentration camps, each prisoner wore a downward-pointing triangle cloth badge, or in the case of Jews, the Star of David (i.e. superimposed upward and downward triangles). The color of the badge identified the reason for imprisonment. Eventually a pink triangle designated for homosexual men, bisexual men, and transgender women. Lesbians, bisexual women, and transgender men, when imprisoned and identified as such, were classified as "asocial", designated with a black triangle. The stamp shown here is part of a Luxembourg set marking the end of World War II.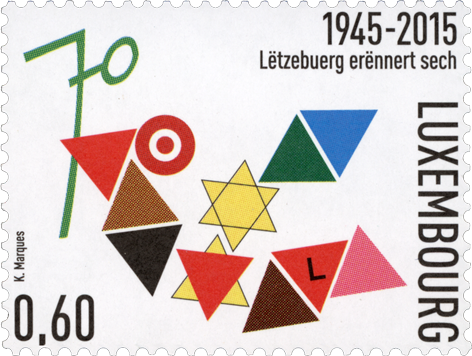 Equal Treatment
Luxembourg, Scott #1425
Gender equality and principles of equal treatment are principles of European law, with the Center for Equal Treatment being established in 2006 to support victims of discriminations on all grounds.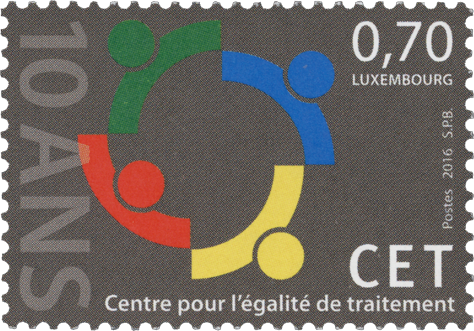 Sir James Brooke
Malaysia, Scott #1824
Sir James Brooke (1803-1868) was a British soldier and adventurer who ruled as the first White Rajah of Sarawak from 1841 until his death. He was born in Bandel near Kolkata, India. In 1819, he enlisted as an ensign in the Bengal Army of the British East India Company and was seriously wounded in the First Anglo-Burmese War in 1825. After he bought a 142-ton schooner, he arrived in Kuching in 1838 and helped end an uprising against the Sultan of Brunei. In gratitude, James was offered the governorship of Sarawak in 1841. He was granted knighthood in 1847. He had relationships with a Sarawak prince named Badruddin and with Charles T. C. Grant. He died eight months before the first Sarawak stamp appeared depicting him. (click on image to see a larger version in a new window)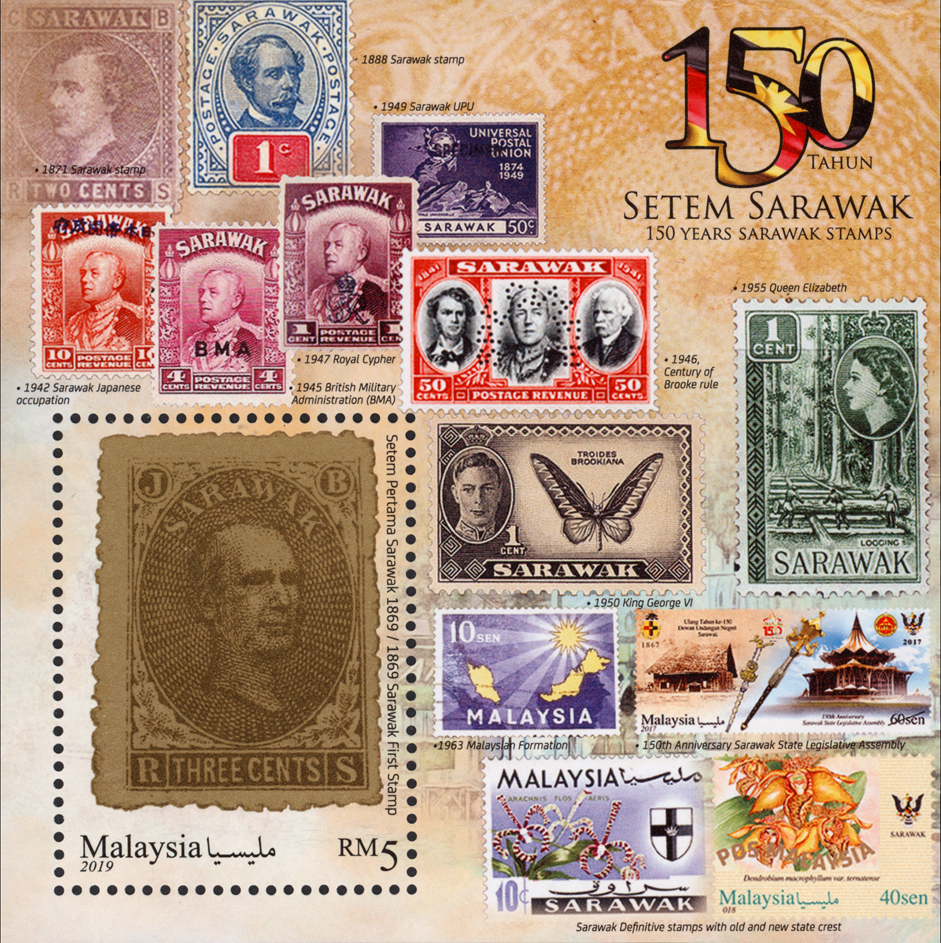 Caravaggio
Malta, Scott #1297
Italian painter Michelangelo Merisi Da Caravaggio (1571-1610) was born in Milan and apprenticed to painter Simone Peterzano. In 1592, he moved to Rome after "certain quarrels" and the wounding of a police officer. He worked in the workshop of Pope Clement VIII's favorite artist, Giuseppe Cesari. Caravaggio's innovation was a radical naturalism that combined a close physical observation with tenebrism, a violent shift from light to dark. He shared rooms for years with his young model, Mario Minniti. In testimony during a 1603 libel suit, he acknowledged Giovanni Battista as a sexual partner. He was notorious for brawling and fled first to Naples, then Malta, where he painted in 1608 The Beheading of Saint John the Baptist replicated on the Malta stamp shown here. He escaped prison and went to Sicily before dying in Naples. (click on image to see a larger version in a new window)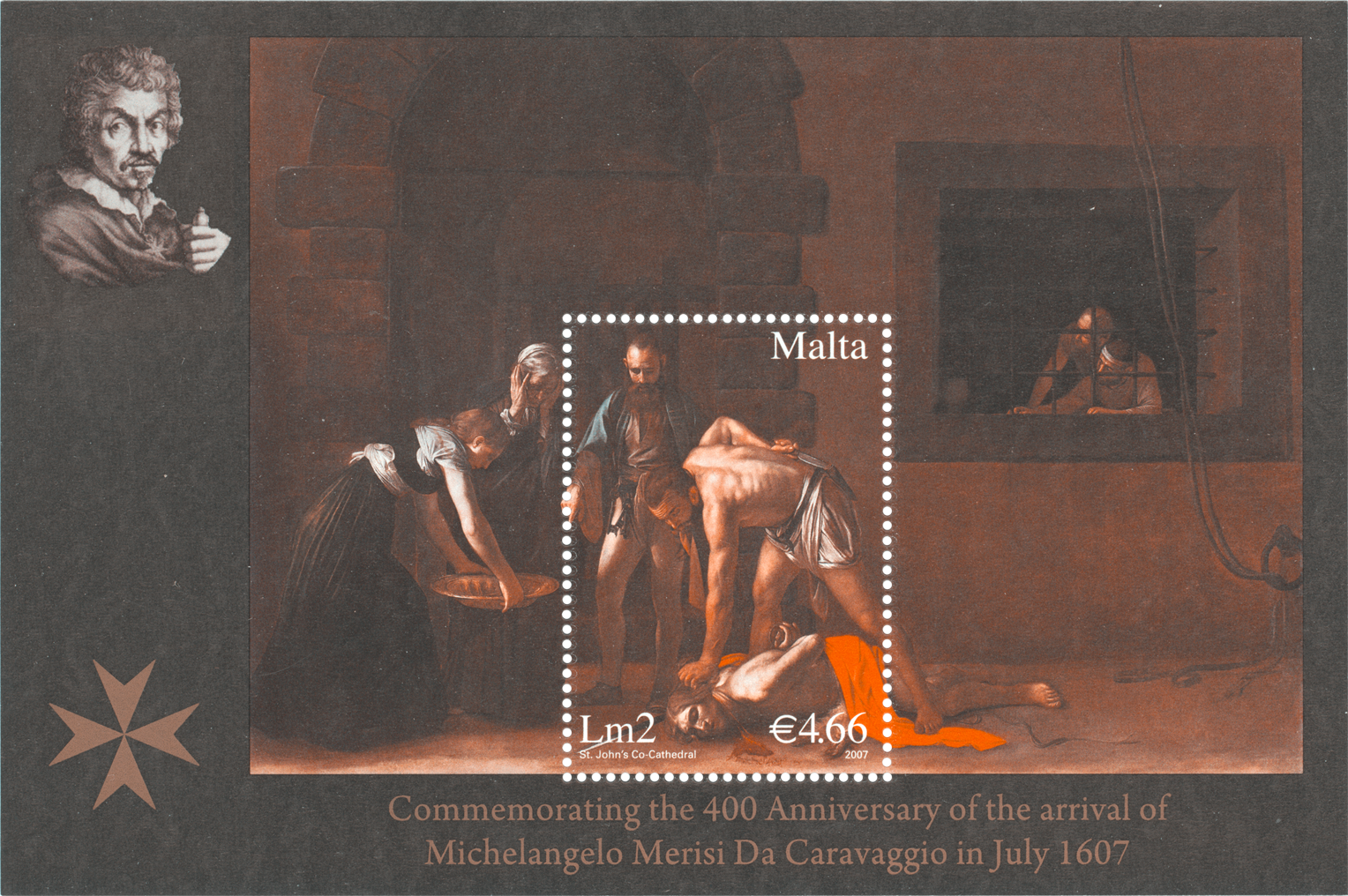 Ramon Navarro
Mexico, Scott #1440
Ramon Novarro (1899-1968) was born in Durango, Mexico, and accompanied his family to Los Angeles in 1913 to escape the revolution. He began his career in silent films in 1917, and his first major success was 1923's Scaramouche. His greatest success was starring in 1925's Ben-Hur. His career continued in the talkies, including starring with Greta Garbo in 1931's Mata Hari, and in television into the 1960s. He had romantic relationships with composer Harry Partch, journalist Herbert Howe, and Noël Sullivan.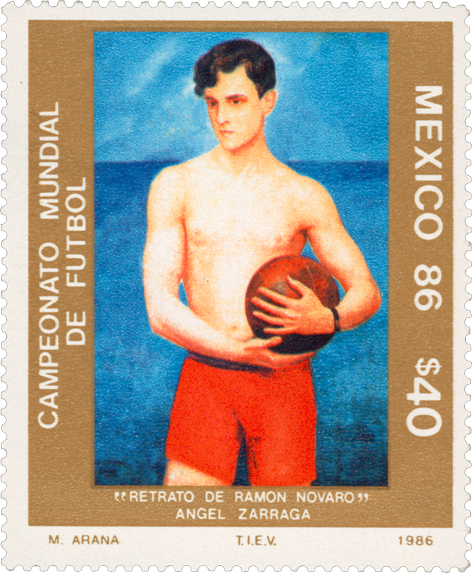 Frida Kahlo
Mexico, Scott #2228
Mexican artist Frida Kahlo (1907-1954), born Magdalena Carmen Frida Kahlo y Calderón, painted mainly folk-art style portraits or self-portraits inspired by the nature and artifacts of Mexico. Twice married to fellow artist Diego Rivera, both were ardent communists and Frida has a particular disdain for capitalist America, where both worked during the early 1930s. Frida's health was always fragile as were her marriages to Rivera; both pursued extra marital activities. She had numerous affairs, with Georgia O'Keeffe, Dolores Del Rio, Paulette Goddard, Josephine Baker, and Leon Trotsky being some better known names. Her artwork was largely ignored until being discovered in the late 1970s. The Mexican stamp was to be a part of an official joint issue with the U.S. Although the joint issue idea was aborted because of Kahlo's communist ties, the U.S. issued its stamp anyway. See the entry in the U.S. Stamp Gallery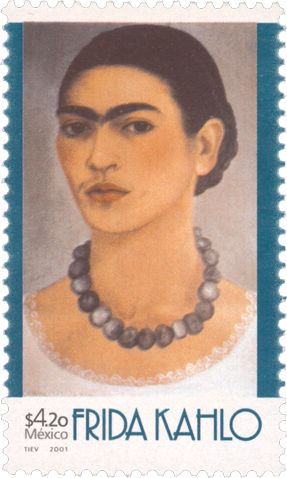 Euro Pride 2016
Netherlands, Scott #1517
These stamps appeared on July 18, 2016 to celebrate EuroPride being held in Amsterdam. EuroPride is a pan-European international event dedicated to LGBTQ pride. The first EuroPride was held in London in 1992.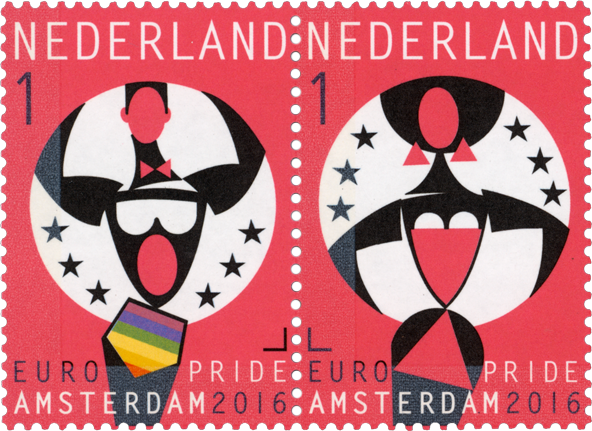 Erwin Olaf
Netherlands, Scott #1593
Erwin Olaf Springveld's (born 1959) often daring and provocative photos have been exhibited around the world. Known professionally as Erwin Olaf, he has provided advertising campaigns for Levi', Microsoft, and Nokia, and designed the 2014 Dutch euro coins featuring King Willem-Alexander. In a 2008 interview for The Telegraph, he said "I could never hide being gay, even when I was six." (Click on image to see a larger version in a new window)

Ian McKellen
New Zealand, Scott #1750, #1837, #1901
Sir Ian Murray Kellen (born 1939) is an English actor now widely known for his film roles. However, his early successes were in the theater, his first professional role being a Roper in the Belgrade Theater's production of A Man for All Seasons. Four years later, he debuted in London's West End district and by the 1970s and 1980s was performing frequently at the Royal Shakespeare Company and the Royal National Theatre. Early on, McKellen began taking film and television roles as well, but his appearances in Hollywood blockbuster film like the X-Men series and the Lord of the Rings trilogy extended his fame. His stepmother was unfazed when he told her he was gay. He has had several long term relationships over the years and publicly came out during a 1988 BBC radio program debate over an anti-gay law proposed in parliament. (click on image to see a larger version in a new window)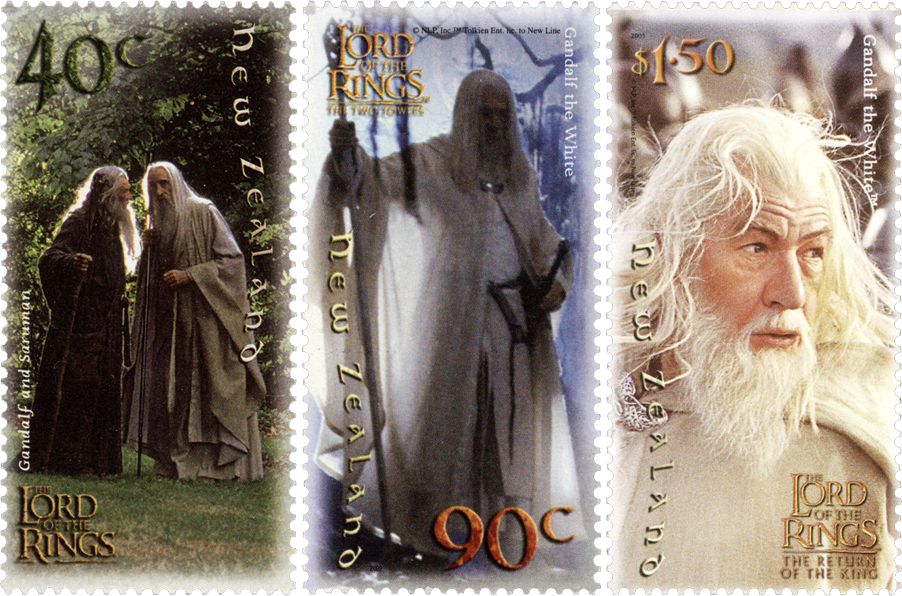 Edvard Grieg
Norway, Scott #255-58
Composer and pianist Edvard Grieg (1843-1907) was born in Bergen and started piano lessons at age six. He studied the instrument at the Leipzig Conservatory and made his concert debut in 1861. He moved to Copenhagen and married his first cousin, Nina Hagerup, in 1867. From 1874 to 1876, he composed incidental music to accompany Henrik Ibsen's play, Peer Gynt, including the famous excerpt, "In the Hall of the Mountain King." He was music director of the Bergen Philharmonic Orchestra from 1880 to 1882. Late in life, he met and fell in love with Australian composer Percy Grainger. (click on image to see the entire set of four in a new window)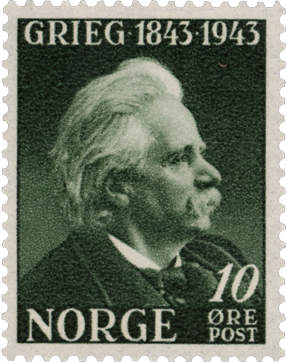 Love Knows No Gender
Philippines, Scott # to come
On February 6, 2020, the Philippines released four stamps celebrating Valentine's Day, including one featuring a rainbow heart with the text, "Love Knows No Gender." The country name and denomination are also in rainbow colors, unlike the other three stamps with inscriptions of "Love Nature," "Love for Country" and "Love Yourself."
Frédéric Chopin
Poland, Scott #1061, #2125, #3080, #3793
A Polish composer and virtuoso pianist of the Romantic era, Frédéric Chopin (1810-1849) was born in Zelazowa Wola, west of Warsaw, grew up in Warsaw, and began professional piano tutoring in 1816. A child prodigy, he began public performances at age seven, and in 1817, he composed two polonaises. In his youth, he had two unrequited same-sex loves. Starting in 1826, he studied music theory, figured bass, and composition at the Warsaw Conservatory. His passionate letters to Tytus Woyciechowski suggested a homoerotic relationship. He made his debut in Vienna, then moved to Paris, receiving French citizenship in 1835. In 1838, he and George Sand became lovers, their relationship lasting until 1847.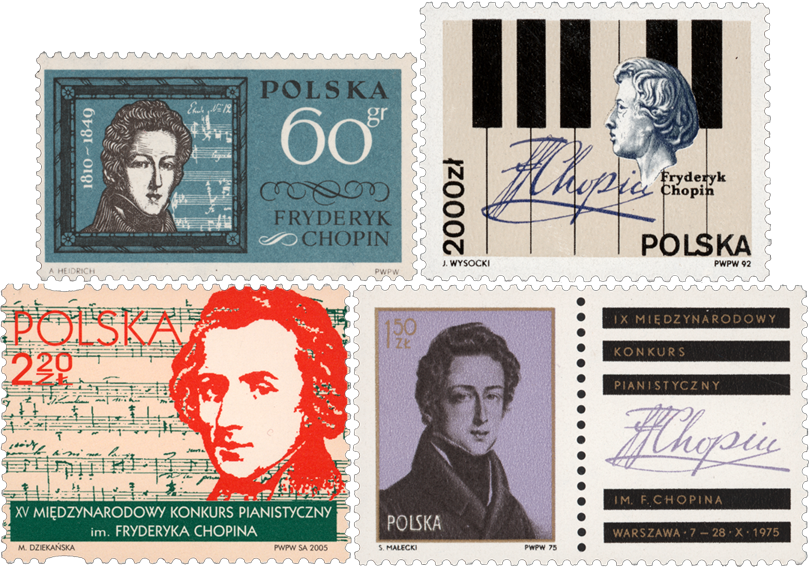 Karol Szymanowski
Poland, Scott #2514, #3861
Not as well known as Chopin, Karol Szymanowski (1882-1937) was also a Polish composer and pianist. Born in what is now Tymoshivka, Ukraine, he studied music privately with his father, and in 1901, attended the Warsaw Conservatory. Musical opportunities in Russian-occupied Poland were quite limited, so he travelled. He had relationships with chemist Stefan Kazimierz Spiess and dancer Boris Kochno. In Vienna, he composed the opera, Hagith, and song cycles, The Love Songs of Hafiz. In 1918, he completed a two-volume novel, Efebos, with homosexuality as its subject. From 1926 to 1930, he was Director of the Warsaw Conservatory. He died of tuberculosis at a sanatorium in Lausanne.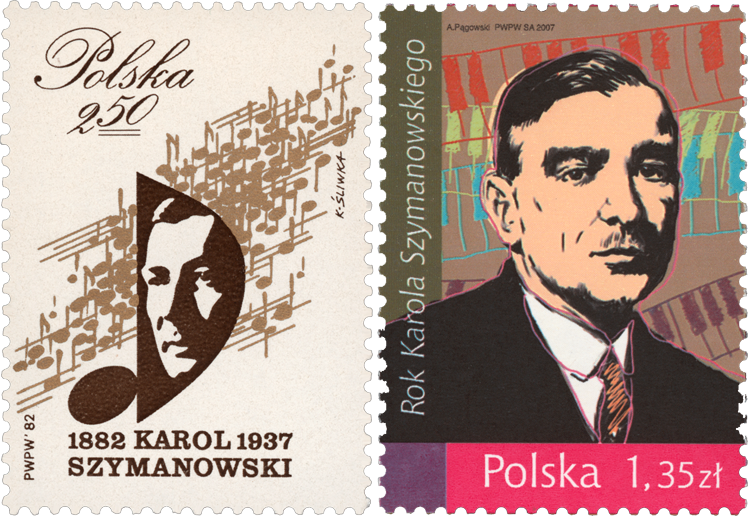 Narcyza Żmichowska
Poland, No Scott # for 2019 postal card
Narcyza Żmichowska (1819-1876) was a novelist and poet considered the precursor of feminism in Poland. She enrolled at the Bibliotheque Nationale in Paris and became one of the first women ever at the Académie Française. In Poland, she worked as a governess, wrote, published, founded a group of Suffragettes, and took part in anti-Tsarist activities. In her first novel, Poganka (The Heathen) she is known to have expressed interest in her friend Paulina Zbyszewska. (click on image to see a larger version in a new window)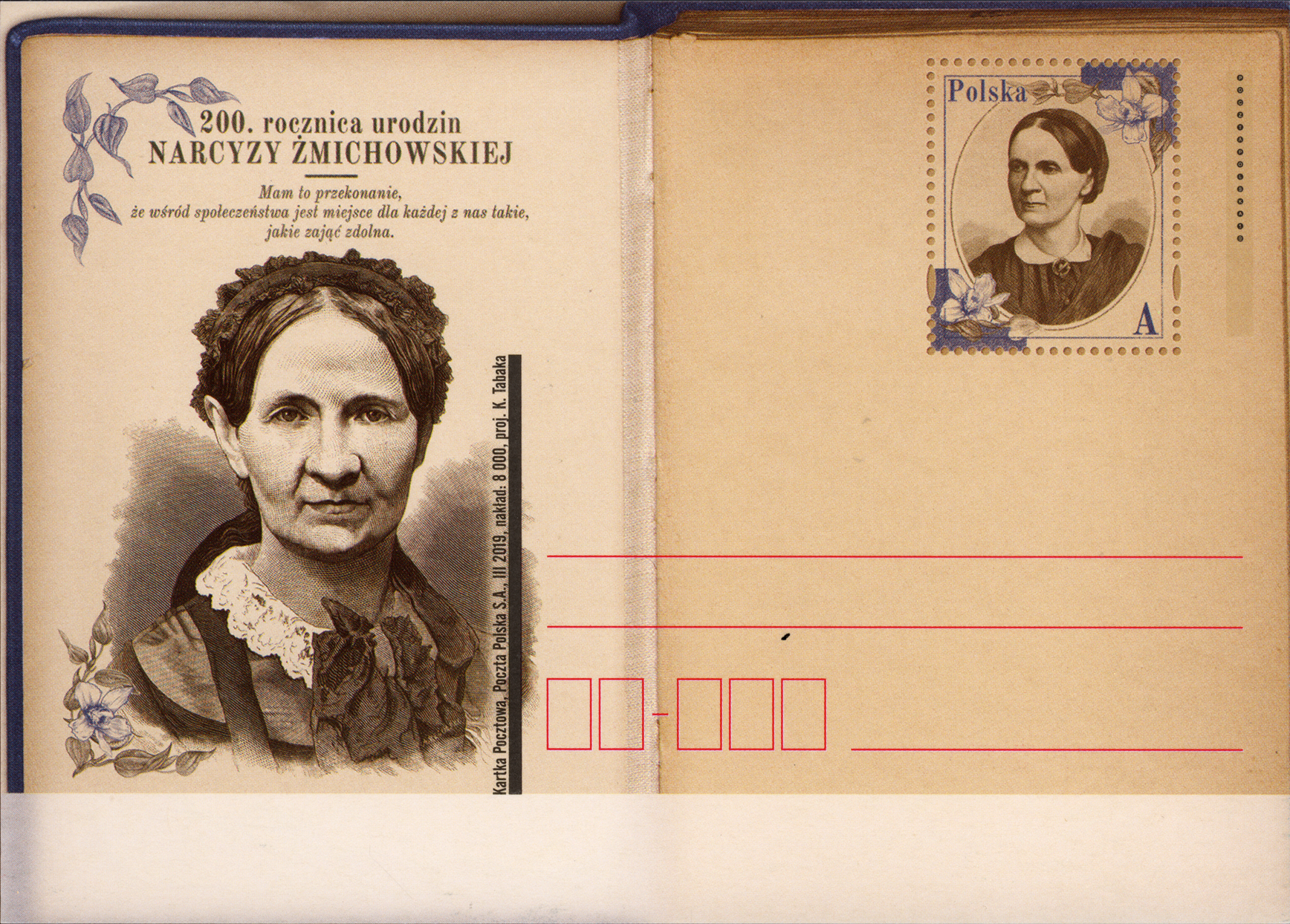 Henryk Tomaszewski
Poland, No Scott # for 2019 postal card
A mime artist and theater director, Henryk Tomaszewski (1919-2001) was born in Poznań and after World War II, settled in Kraków to study theater and ballet. In 1949, he moved to Wrocław to teach ballet. His Mime Studio had its first performance in 1956, and the renamed Wrocław Mime Theatre was granted State theater status in 1959. During the 1960s, he collaborated with the Służba Bezpieczeństwa (State Counterintelligence Service), possibly under blackmail over his homosexuality. (click on image to see a larger version in a new window)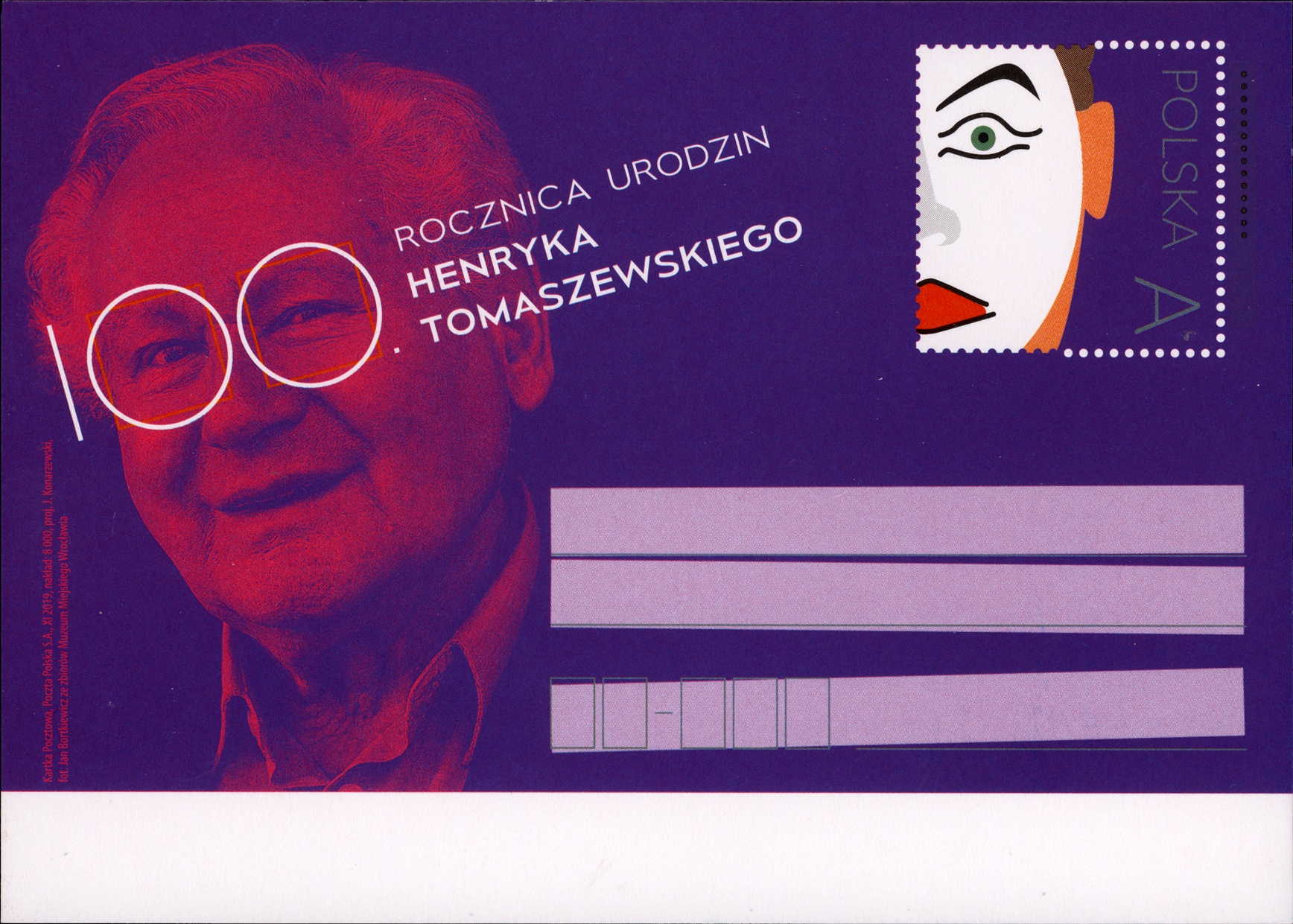 RETURN TO TOP OF PAGE