LGBTQ Foreign Stamp Gallery
Below is a sampling of the many foreign LGBTQ themed stamps available. Shown are primarily stamps with subject matter that relates to the country of issue. Unless there is no other source, topical issues having themes with no connection to the issuing entity, usually promoted by philatelic agents, are not included here. Otherwise, if your favorite(s) are missing, help add to this page by contacting the webmaster who is listed on the "Contacts Us" page of this website. Either high resolution scans or actual items are acceptible; the latter will be scanned and returned if desired. Be sure to provide a brief description of the subject matter, to include how it relates to a LGBTQ theme.
The sexuality of famous personalities is often open to debate. Even today, many remain in the closet for fear of ruining their career and relationships. For some individuals depicted on the stamps listed below, all we have are clues as their being or possibly being gay, lesbian or bisexual; correspondence that would reveal homosexual relationships was often destroyed after the death of those involved. Also included are some LGBTQ icons. The biographical sketches below are drawn from Wikipedia, Biography.com, Britannica.com, the Gay and Lesbian History on Stamps Journal, the Lambda Philatelic Journal, and various LGBTQ websites.
The topic AIDS on stamps is not explored here. This subject matter is comprehensively covered up to the year 2016 on the AIDS on Stamps website.
Thomas Mann
Germany, Scott #746, #1267c; GDR #301, #1626
Thomas Mann (1875-1955) was a German novelist who won the 1929 Nobel Prize in Literature. He was born in Lûbeck and attended the Ludwig Maximillian University of Munich and the Technical University of Munich. He first published in 1898 a short story, "Little Mr. Friedermann." In 1905, he married Katia Pringsheim. His diaries revealed his struggles with his homosexuality. In 1933, he emigrated to Switzerland and obtained Czechoslovak citizenship. After the German occupation of Czechoslovakia, Mann emigrated to the United States, eventually settling in Los Angeles and becoming an American citizen in 1944. He made anti-Nazi speeches broadcasted to Germany via BBC radio. (click on image to see additional stamp issues)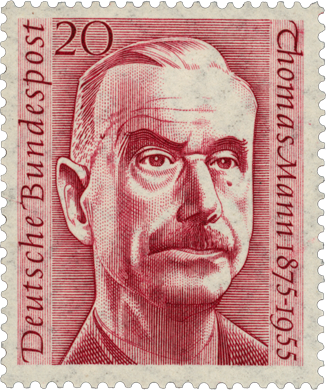 George Frideric Handel
Germany, Scott #804a
Baroque composer George Frideric Handel (1685-1759) spent most of his career in London. He was born in Halle, Brandenburg-Prussia, and sometime between ages seven and nine began lessons with a church organist, learning organ, harpsicord, violin, and oboe, and started composing. In 1702, he matriculated at the only recently founded University of Halle and met Georg Philipp Telemann. Handel moved to Hamburg and travelled to Italy, premiering all-Italian operas, Rodrigo and Agrippina. He moved permanently to England in 1712. He composed 42 operas, 25 oratorios, more than 120 cantatas, 18 concerti grossi, 12 organ concertos, and many other pieces. His oratorio Messiah debuted in 1742 and is among the most popular choral works. Some of his largely ignored cantatas give rich expression to the pleasures and dangers of same-sex love. Handel never came anywhere close to marriage, and spent a great deal of time in private, all male social circles.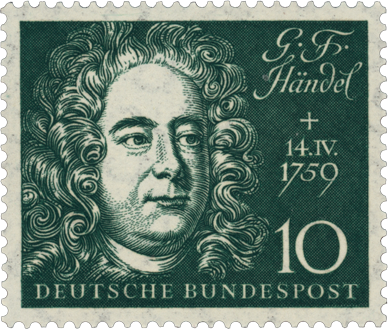 Albrecht Dürer
Germany Scott #827; Berlin, #9N179 (shown)
Painter, printmaker, and theorist of the German Renaissance Albrecht Dürer (1471-1528) was born in Nuremberg and established his reputation in his twenties due to high-quality woodcuts. In 1494, he married Agnes Frey, but the marriage was disastrous. His correspondence with lifelong partner Willibald Prickheimer discussed Albrecht's dual lust for German girls and soldiers. Several of his works display homoeroticism. Through his communication with and knowledge of Italian artists, he introduced classical motifs into Northern art. He was one of the first European landscape artists and is credited with inventing the basic principle of ray tracing.
Henrich von Kleist
Germany Scott #836; Berlin, #9N188 (shown)
Poet, dramatist, novelist, short story writer, and journalist Heinrich von Kleist (1777-1811) was born in Frankfurt (Oder), Brandenburg, and entered the Prussian army in 1792. He had a relationship with officer August Otto Rüle von Lilienstern and wrote a love letter to general Ernst von Pfuel. He retired from service in 1799 before studying law and philosophy at the Viadrina University. His restless spirit led him to rove between Paris and Prague before settling in Berlin.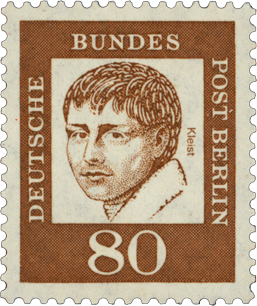 Friedrich Hölderlin
Germany, Scott #1016, #1791
Poet and philosopher Friedrich Hölderlin (1770-1843) was born in Lauffen am Neckar, Württemberg, and in 1784, entered the Lower Monastery in Denkendorf in preparation for entry into the Lutheran ministry. While there, he started composing verses. In 1788, he began theological studies at Tübinger Stift, obtaining his magister degree in 1793. He worked as a tutor and began writing his epistolary novel, Hyperion. In 1795, he enrolled at the University of Jena where he met Isaac von Sinclair, represented by the character Alabanda in Hyperion. Friedrich's poem, An Eduard (To Eduard) reveals their brotherhood. In 1796, he fell in love with the married Susette Gontard. In the late 1790s, he was diagnosed with schizophrenia, and while visiting Bordeaux, wrote his poem, Andenken (Remembrance). Discharged from a Tûrbingen clinic as incurable in 1807, he was taken in by carpenter Ernst Zimmer and given a room, in which he stayed for 36 years, in Zimmer's house, which had been a tower in the old city wall.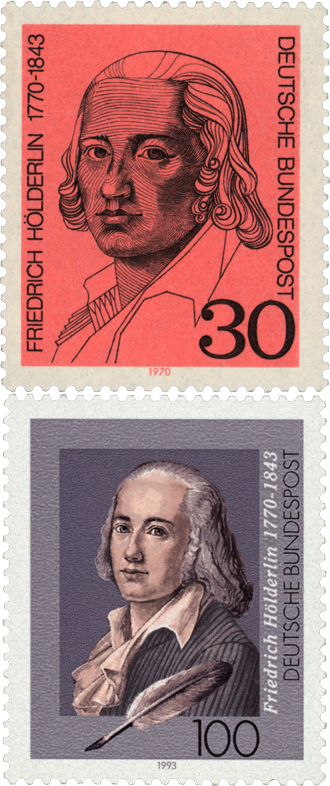 Anne Frank
Germany, Scott #1293
Anne Frank (1929-1945) was born in Frankfurt am Main and lived most of her life in or near Amsterdam. In July 1942, she and her family went into hiding in concealed rooms in the building where her father worked. From then until they were arrested by the Gestapo in August 1944, she kept a diary. While in hiding, she had a brief infatuation with Peter van Pels, who was a few years older than her. Frank's diary records a passionate adolescent attachment to another young woman, Jacqueline, prior to going into hiding. After arrest, she was deported first to Auschwitz, then to Bergen-Belsen, where she died.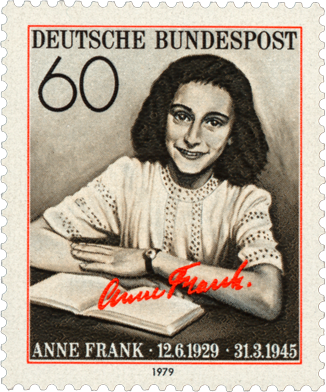 Franz Kafka
Germany, Scott #1395
Franz Kafka (1883-1924) was born in Prague, Czechoslovakia, and studied law at the Deutsche Karl-Ferdinands-Universität (the German language Charles University). In 1908, he found a position with the Worker's Accident Insurance Institute that was amenable to his writing ambitions. His most famous work, Die Verwandlung (The Metamorphosis) was written in 1912 and published in 1915. Critics regard it as one of the seminal works of fiction of the 20th century. He began Der Process (The Trial) in 1914, but never finished it. In 1917, he was diagnosed with tuberculosis, given a pension, and spent most of the rest of his life in sanatoriums. Throughout his life, Franz maintained an aversion to physical sexual contact. According to lifetime close friend Max Brod, he was "tortured by his sexual desires." His dreams were filled with both opposite-sex and same-sex fantasies, and they appeared in his works. He had relationships with several women, sometimes getting engaged, but he ended them all without intimacy.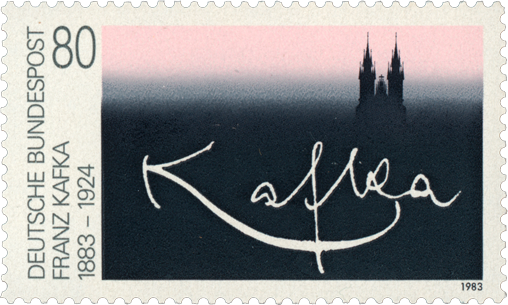 King Ludwig of Bavaria
Germany, Scott #1236, #1460
The King of Bavaria from 1864 until his death, Ludwig II (1845-1886) spent his childhood at Castle Hohenschwangau. After accession, the introverted and creative king summoned Richard Wagner to his court, beginning his patronage of the composer. Ludwig's diaries and correspondence revealed his strong homosexual desires. Bavaria lost in the Austro-Prussian War and joined the North German Confederation in 1870, essentially ending the independent monarchy. Using his personal fortune, Ludwig built Schloss Linderhof, and Herrenchiemsee and Schloss Neuschwanstein, the latter being Germany's most famous tourist attraction. He died in a still controversial drowning.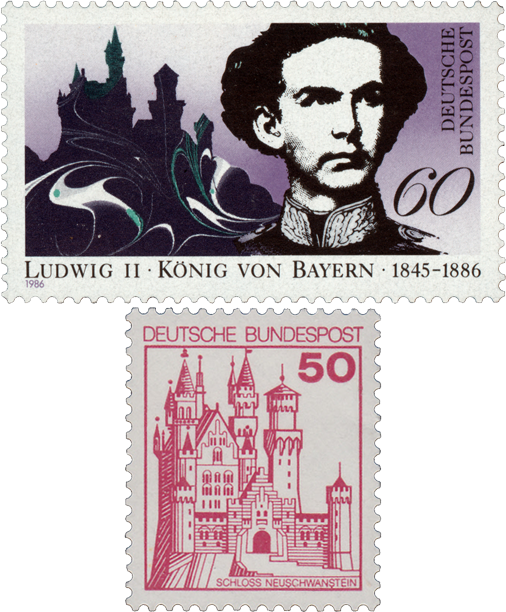 Frederick the Great
Germany, Scott #1469, #9N515
Frederick the Great (1712-1786) ruled the Kingdom of Prussia from 1740 until 1786, the longest reign of any Hohenzollern king. Effete, he was frequently beaten and humiliated by his father. After an affair with one of his father's pages, he began a relationship with officer Hans Hermann von Katte. They were arrested for plotting to flee to Britain. His father forced him to witness his lover's beheading. His marriage to Elisabeth Christine of Brunwick-Bevern was political, and after his accession, he refused to allow her to enter his court at Potsdam. Frederick patronized the arts and sustained military victories, winning the First, Second, and Third Silesian Wars and the Seven Years' War.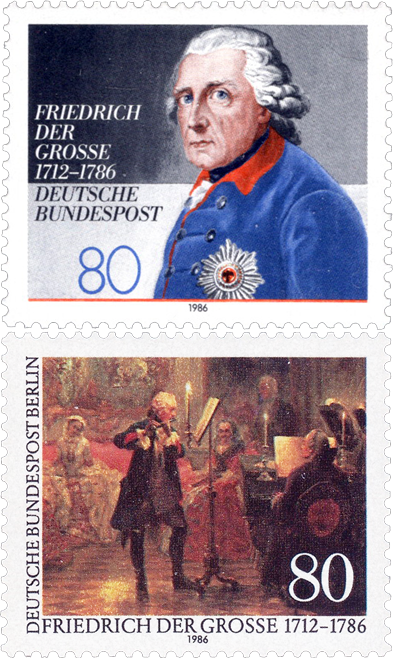 Marlene Dietrich
Germany, Scott #1727
Marlene Dietrich (1901-1992) was born in Berlin and studied violin. In 1922, she started work as a chorus girl. The following year, she made her film debut in The Little Napoleon and married Rudolf Sieber. She would have an unending string of affairs with both men and women, including Mercedes de Acosta. Her stage and film roles grew until her breakthrough role in The Blue Angel. She moved to the United States in 1930 to star in Hollywood films until she was dubbed "box office poison" in 1938. She became an American citizen, helped refugees fleeing Germany, and entertained troops during World War II, for which she received the Medal of Freedom and the Légion d'honneur.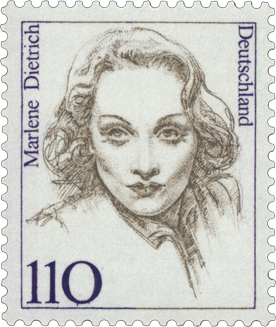 Friedrich Wilhelm von Steuben
Germany, Scott #1877, 9N455
In 1777 a former Prussian military officer, Friedrich Wilhelm von Steuben (1730-1794), was approached by Benjamin Franklin, then in France, about joining the rag-tag Continental Army. Steuben declined as he would have to come as a volunteer and upon returning to Prussia found that he was being threatened with prosecution for homosexuality. He returned to Paris and accepted the Franklin's offer, arriving in America in December of that year. George Washington first appointed Steuben temporary inspector general and, impressed with his organizational skills, recommended to the Continental Congress that Steuben be appointed permanent inspector general of the army with the rank of major general. Steuben served in the army throughout the Revolutionary War and his training program, which was used for decades thereafter, is credited with helping make the Continental Army a credible fighting force that was able to win the war. At Valley Forge, he began close relationships with Benjamin Walker and William North, officers both in their 20s, whom he later adopted and lived with until his death. Towards the end of his life, Steuben indicated in a letter that "an inconsiderate step and an implacable personal enemy" led to his leaving the Prussian army. The U.S. honored Steuben with a stamp on his birth bicentennial.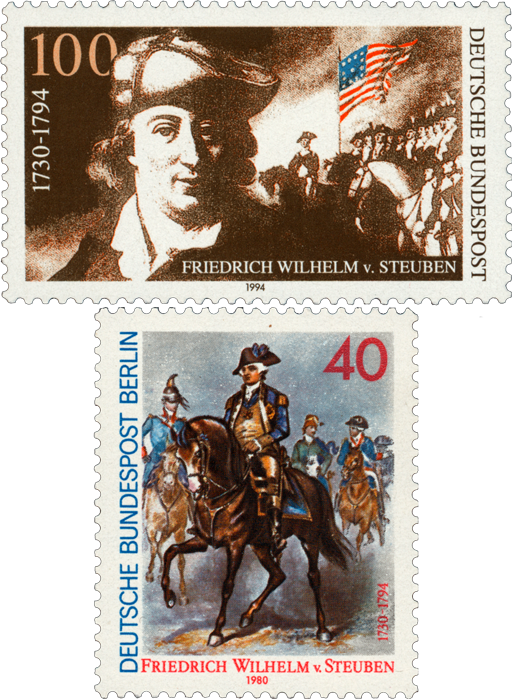 Bertolt Brecht
Germany, Scott #1990; GDR #362-63
Theatre practitioner, playwright, and poet Bertolt Brecht (1898-1956) was born in Augsburg, Bavaria. Between the ages of 16 and 20 he simultaneously pursued eight girls. He is known to have engaged in homosexuality, inviting literary and musically inclined male friends to his room on weekends to read erotic compositions. His diaries made mention of his need for both males and females to fulfill his sexual desires. Three of his first four plays portray sexual relationships between men, including In the Jungle (1923) and Edward II (1924). For his first three plays, Brecht won the prestigious Kleist Prize, probably Germany's most significant literary award before it was abolished in 1932. He wrote the scenario for a slapstick film, Mysteries of a Barbershop, now considered one of the most important films in German film history. In 1927, he started collaboration with composer Kurt Weill leading to their masterpieces, The Threepenny Opera (1928) and Rise and Fall of the City of Mahagonny (1930). Eventually settling in the United States, his most famous plays appeared during the war years were Mother Courage and Her Children, The Good Person of Szechwan, The Resistible Rise of Arturo Ri and The Caucasian Chalk Circle. After the war he was blacklisted by Hollywood, and on the day after testifying in front of HUAC, he returned to Europe.

Johann Wolfgang von Goethe
Germany, Scott #2052
An established writer by age 25, Johann Wolfgang von Goethe (1749-1832) works span the fields of poetry, drama, literature, theology, humanism, and science. His two-part drama Faust is lauded as one of the greatest in Western literature. From 1775 on, he lived in Weimer, where he also became involved in public service. In 1806, he legitimized an 18-year relationship with Christianne Vulpius. They produced five children, four of whom died young. Although Goethe celebrated the feminine in verse and courted some of Europe's most beautiful women, in a 1997 book, German historian and journalist Karl Hugo Pruys posited the literary giant was at heart not a ladies' man. "I wanted to write a book about the love that Goethe felt, about love in general in Goethe's life," Pruys said in an interview. "Then I got onto a trail dominated by homosexuality." His source was 2,500 surviving letters to and from Goethe. Other scholars say Pruys simply misunderstands the "Sturm und Drang" (storm and stress) spirit of the times, when young, intellectual dandies expressed strong, even erotic emotion toward each other. Goethe has appeared over the years on numerous German, DDR and occupation zone stamps.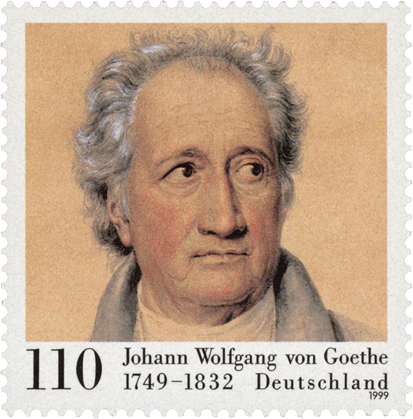 Justus von Liebig
Germany, Scott #2240
Scientist Justus von Liebig (1803-1873) is considered the founder of organic chemistry. Born in Darmstadt, he lived through 1816, the year "without a summer&$148; that caused famine, shaping his later work. He apprenticed with an apothecary before attending the University of Bonn and the University of Erlangen. He became sexually involved with poet August von Platen-Hallermünde, an older fellow student. In 1824, he became a professor at the University of Glessen and appointed to the Ordentlicher chair in chemistry the following year. The next year he married Henriette Moldenhauer. While continuing to lecture, he opened his own laboratory institute for pharmacy and manufacturing, engaging in empirical research on a large scale. It became renown as a model institution for the teaching of practical chemistry. In 1832, he founded what became the leading journal of chemistry, Annalen der Chemie. He invented an apparatus to determine the carbon, hydrogen, and oxygen content of organic substances. He popularized use of a counter-current water-cooling system for distillation, still called a Liebig condenser He also proposed a process of silvering that eventually became the basis for modern mirror-making. He developed nitrogen-based fertilizer for agriculture. Justus is the source for the widely-held false idea that searing meat seals in the juices. His discovery that yeast could be concentrated made possible the invention of Marmite.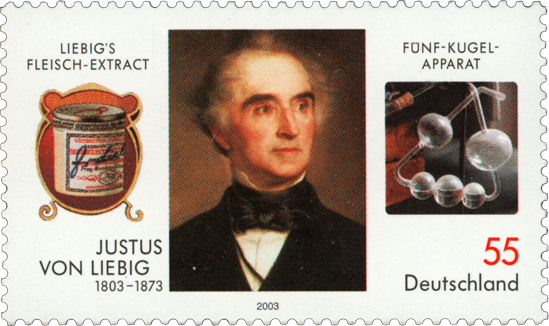 Johann Joachim Winckelmann
Germany, Scott #2996
Art historian Johann Joachim Winckelmann (1717-1768) was a pioneering Hellenist who first articulated the difference between Greek, Greco-Roman and Roman art. Winckelmann's private letters reveal his quest for ideal love relationships with cultured young men. In his works and correspondence Winckelmann sought to revive the ancient ideal love between males. The German Democratic Republic also issued a stamp depicting Winckelmann (Scott #939).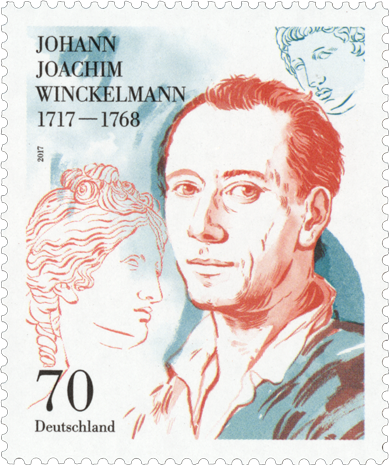 Mangus Hirschfeld
Germany, Scott #3053
One of the most important theorists of sexuality and gay rights advocates of the early 20th century was Mangus Hirschfeld (1868-1935). Born to Jewish parents, he obtained a medical degree in 1892, first establishing a medical practice in Magdeburg in 1894 and then moving to Berlin two years later, where he became actively involved in the study of sexuality. He maintained that sexual orientation was innate and not a deliberate choice. Along with Max Sphor, Franz Josef von Bülow and Eduard Oberg, he established the Scientific Humanitarian Committee, the world's first gay rights organization. His most notable publications were Yearbook of Sexual Types (1899-1923), The Transvestites (1910) and Homosexuality in Men and Women (1914). In 1919, he opened the Institute for Sexual Science in Berlin, whose library and archives were destroyed in 1933 by Nazi demonstrators. Different from the Others (1919), a film he helped produced that called for decriminalization and acceptance of homosexuality, was banned within a year. A gay man himself, he was regularly assaulted and his lectures disrupted by Nazi supporters. Upon completing an international speaking tour in 1932, he settled in Switzerland and then in 1934 moved to France, where he died the following year.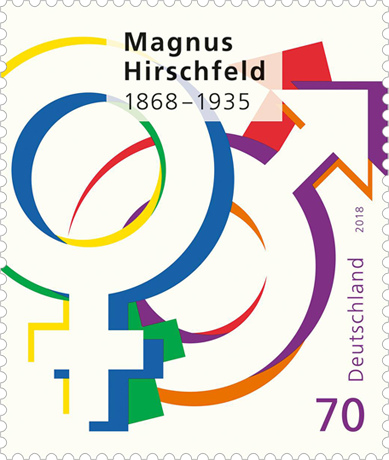 Fritz Bauer
Germany, Scott #3134
Fritz Bauer (1903-1968) was a closeted high-profile West German state prosecutor during the 1960s. He was Germany's first Nazi hunter, bringing Adolf Eichmann to trial and putting Nazis who ran Auschwitz in court for the first time. He founded the Humanist Union in 1961.
Ludwig von Beethoven
Germany, Scott #3144
Ludwig van Beethoven's (1770-1827) music is among the most performed of the classical repertoire. Born in Bonn, he began strenuous music lessons at age five on piano, violin, and viola. In 1780 or 1781, he started lessons in composition and published his first work in 1783. Moving to Vienna in 1792, Beethoven established his reputation as a piano virtuoso. He dated the beginning of his gradual hearing loss as 1798. His 8th piano sonata, Pathétique, appeared in 1799, and his First Symphony debuted the following year. By 1802, his deafness made playing at concerts difficult and contributed to social withdrawal. He began his "heroic" period with his Third Symphony in 1804. In 1812, Beethoven wrote a ten-page love letter addressed to "Immortal Beloved" which was never sent; the addressee's identity is still unknown. After the death of his beloved brother Kaspar in 1815, he fought his sister-in-law to ultimately become the sole guardian of his nephew Karl in 1820. Beethoven never had a sexual relationship with a woman and had a complicated relationship with Karl, becoming angry when his nephew would bring other men home. (click on image to see a small selection of numerous other Beethoven stamps from Germany)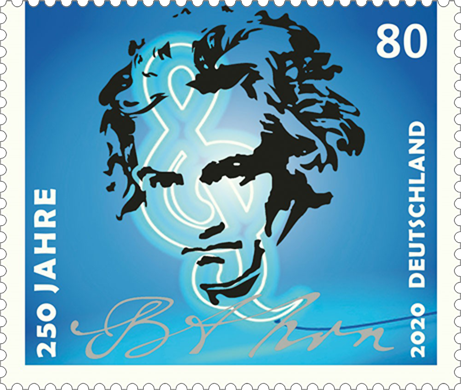 Alexander von Humboldt
Germany Berlin, Scott #9N281; Mexico Scott #2176
Friedrich Wilhelm Heinrich Alexander von Humboldt (1769-1859) was a Prussian polymath, geographer, naturalist, explorer, and influential proponent of Romantic philosophy and science. He traveled extensively during his lifetime and between 1799 and 1804 explored and subsequently described the Americas for the first time from a modern scientific point of view. His description of the journey was written up and published in an enormous set of volumes over 21 years. He became one of the most famous men in Europe, and among many other things, proposed that the South American and Africa continents were once joined and that humans could induce climate change. Humboldt never married and early biographers described him as asexual; contemporary biographers don't agree on the issue. However, his sister-in-law Caroline von Humboldt stated "nothing will ever have a great influence on Alexander that doesn't come through men." He had many strong male friendships, and at times had romances with men. He destroyed his private letters before his death. During the bicentennial of his exploration of the Americas, he was postally feted by many of the countries he visited.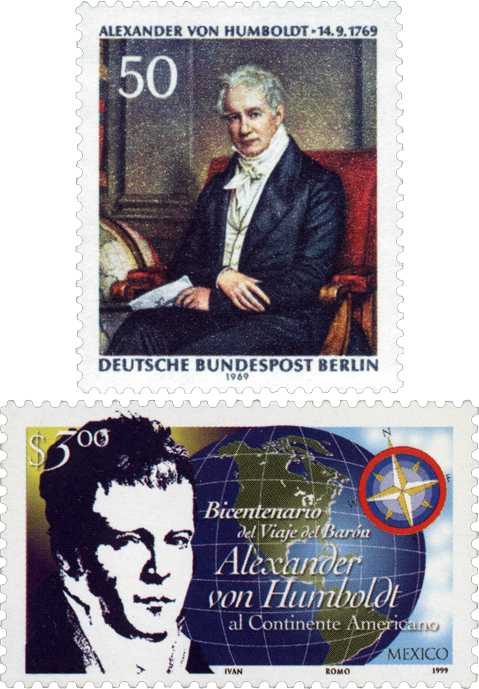 John Galliano
Gibralter, Scott #735-38
John Charles Galliano (born 1960) is a Gibraltar-born British-Spanish fashion designer. He was head designer for his own label, Givenchy and Christian Dior. In 2011, he was suspended from Dior after reports of anti-Semitic outbursts in Paris. In 2013, he made a comeback and is currently the creative director at Maison Margiela. He resides in Paris with his long-term boyfriend Alexis Roche, a style consultant.
Herbert Kitchener
Gibralter, Scott #1436
Field Marshal Lord Herbert Kitchener (1850-1916) was a British Army officer who won notoriety for his imperial campaigns, especially for his scorched earth policy and concentration camps against the South African Boers and for his early role in World War I. He was born in Ballylongford, County Kerry, Ireland, before being raised in Switzerland and attending the Royal Military Academy, Woolwich. He surveyed western Palestine, helped reconstruct the Egyptian Army, invaded Sudan, commanded the Second Boer War, and was Commander-in-Chief in India. At the beginning of World War I, he was appointed Secretary of State for War with responsibility of raising new armies and running the war effort. Lord Kitchener had no interest in women and had relationships with railway builder Sir Percy Girouard, officer Francis Aylmer Maxwell, and aide-de-camp Oswald Fitzgerald, with whom he lived and died.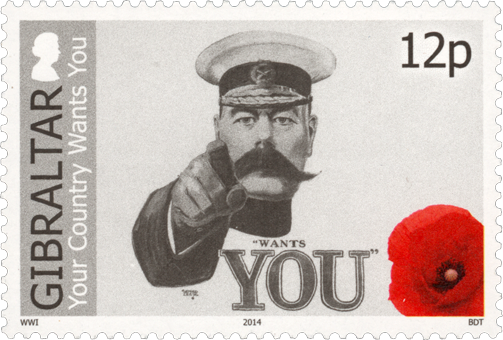 Sir Cecil Beaton
Gibralter, Scott #1668
British fashion, portrait, and war photographer, diarist, and costume designer Sir Cecil Beaton (1904-1980) is probably most famous for designing the costumes for the Broadway and West End original stage productions of My Fair Lady, as well as for its film adaptation. In philately, he is probably best known for taking the official coronation photos of Queen Elizabeth II. More than 150 unique stamp designs have been based on images from the 1953 photo session at Buckingham Palace on the afternoon following the ceremony. Beaton had a relationship with Greta Garbo, and his last male lover was Olympic fencer Kinmont Hoitsma.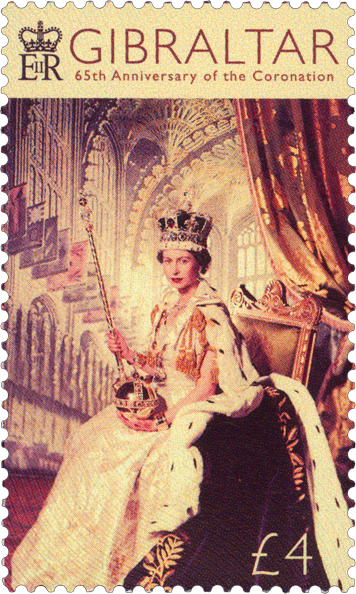 Thomas Gray
Great Britain, Scott #652
Poet, letter-writer, classical scholar, and professor Thomas Gray (1716-1771) was born in Cornhill, London, and attended Eton, where he met close friend Horace Walpole. He studied at Peterhouse, Cambridge, before accompanying Horace on his Grand Tour. He began seriously writing poetry in 1742 after the death of close friend Richard West. He moved to Cambridge and became Fellow first at Peterhouse, then Pembroke College. He completed his masterpiece, Elegy Written in a Country Churchyard, in 1750. He had a passionate friendship with Thomas Wharton, loved Norton Nicholls, and loved Charles Victor de Bonstetten.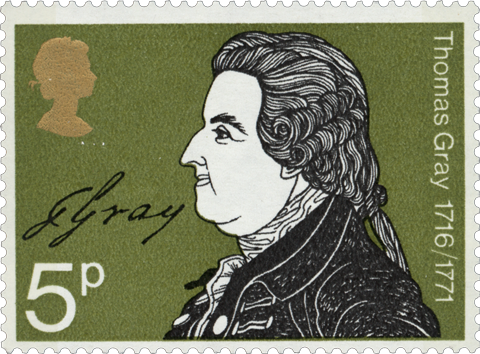 Vita Sackville-West
Great Britain, Scott #1027
Poet, novelist, and garden designer Vita Sackville-West (1892-1962) attended Helen Wolff's exclusive day school for girls in Mayfair, where she met her first loves Rosamund Grosvenor and Violet Keppel. She wrote eight unpublished novels between 190 and 1910. In 1913, she married Harold Nicolson. Both had same-sex relationships before and after the beginning of their open marriage. In 1930, they acquired and moved to Sissingthurst Castle in Kent. Vita designed the gardens which were first opened to the public in 1938. In 1947, she began writing a very popular column, "In Your Garden," in The Observer newspaper.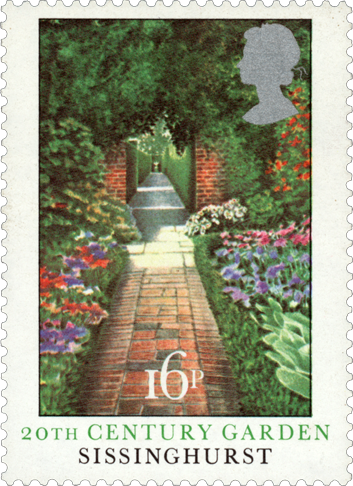 Angus McBean
Great Britain, Scott #1122, #3002
A successful British theater photographer, Angus McBean (1904-1990) was known for "surrealized" portraits and astonishingly creative montage Christmas cards. He was born in Newbridge, Monmouthshire, and moved to London in 1924. Working for society photographer Hugh Cecil in 1934, Angus took the photos of the Prince of Wales that became the official accession photos of King Edward VIII. He first met Vivien Leigh in 1936, beginning her thirty-year "love affair" with the McBean camera. During World War II, a cover photo of Diana Churchill's disembodied head under a kitchen chair was used by the Germans for propaganda, mistakenly believing she was Winston Churchill's daughter and not the unrelated actress. In late November 1941, Angus was arrested in Bath for criminal acts of homosexuality. He served 2½ years in prison. Between 1945 and 1955, he provided the world with its images of Olivier, Gielgud, Redgrave, Richardson, Quayle, Schofield, and Burton, plus Leigh, Ashcroft, Wynyard, Worth, Bloom, Jefford, Gingold, and Baddeley. Angus met lifetime ompanion David Ball in 1947.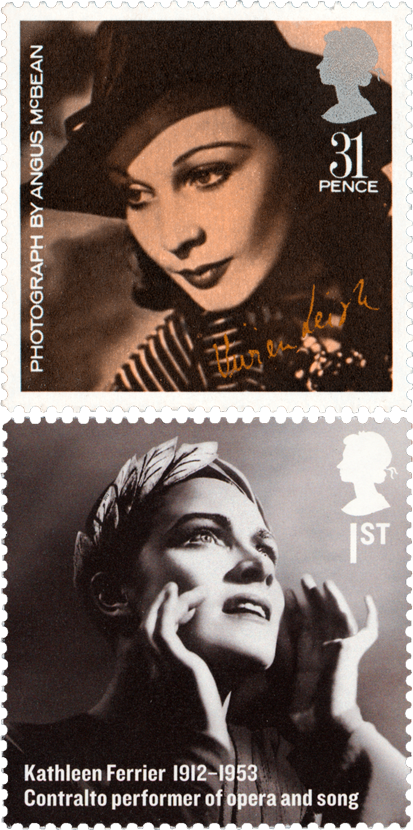 Isaac Newton
Great Britain, Scott #1172-75
Widely recognized as one of the most influential scientists of all time, mathematician, physicist, astronomer, theologian, and author, Sir Isaac Newton (1642-1727) laid the foundations of classical mechanics, made seminal contributions to optics, and shares credit for developing the infinitesimal calculus. Born in Woolsthorpe-by-Colsterworth, Lancashire, he studied at Trinity College, Cambridge. After graduation and the school's temporary closure due to the Great Plague, Newston was elected Fellow at Trinity, where he shared a room for 20 years with John Wickens. He never married and had no romantic involvement with the opposite sex. He had a nervous breakdown in 1693, shortly after the end of his relationship with mathematician Nicolas Fatio de Duillier. He moved to London and became Master of the Mint for 30 years. (click on image to see entire set of four in a new window)
Edward Lear
Great Britain, Scott #1226-29
Artist, illustrator, musician, author, and poet Edward Lear (1812-1888) is now known mostly for his literary nonsense in poetry and prose and his limericks. He was born at Holloway, North London, was raised by his older sister, and suffered from lifelong afflictions, including epilepsy and asthma. He became an ornithological draughtsman and the first major bird artist to draw from real live birds. Lear developed an infatuation for Franklin Lushington, whom he met in Malta and with whom he toured Greece. His travels continued to Egypt and India, painting landscapes. He illustrated his excursions to Italy and realized a lifelong ambition to illustrate some of good friend Alfred Lord Tennyson's poems. (click on image to see entire set of four in a new window)/p>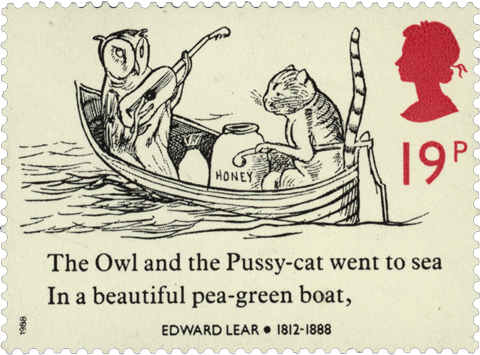 Alfred Lord Tennyson
Great Britain, Scott #1441-44
Alfred Lord Tennyson (1809-1892) was the Poet Laureate of Great Britain and Ireland during much of Queen Victoria's reign. He was born in Somersby, Lincolnshire, and studied at Trinity College, Cambridge, where he met Arthur Hallam. He published his first solo collection of poems in 1830. Upon his father's death, he returned to Somersby. Hallum came to stay and became engaged to Tennyson's sister. In 1833, Hallum's sudden death prompted Tennyson's masterpiece, In Memoriam A.H.H., finally published in 1850. It announced his profound emotional attachment, explicitly equating his love for Hallum to that between men and women. He married Emily Sellwood in 1850. One of his best-known works, "The Charge of the Light Brigade," appeared in 1855. (click on image to see entire set of four in a new window)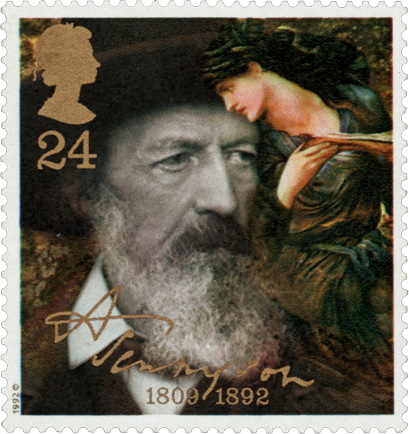 Arthur Sullivan
Great Britain, Scott #1458-62
Composer Sir Arthur Sullivan (1842-1900) is most known for his 14 operatic collaborations with dramatist W. S. Gilbert. He wrote 24 operas, 11 major orchestral works, ten choral works and oratorios, and two ballets. He was born in Lambeth, London, composed an anthem at age eight, and joined the choir of the Chapel Royal. He was awarded the first Mendelssohn Scholarship to the Royal Academy of Music, and he also studied at the Leipzig Conservatoire. Gilbert and Sullivan's first collaboration was a burlesque-style comic opera, Thespis, in 1870. Their 1878 H.M.S. Pinafore turned them into an international phenomenon. Despite an affair with married socialite Fanny Ronalds, Sullivan's homosexuality was widely known and discretely exercised. (click on image to see entire set of five in a new window)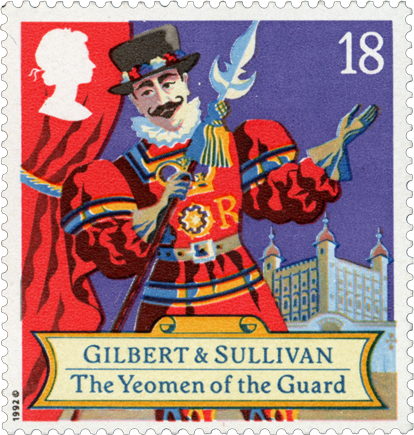 David Hockney
Great Britain, Scott #1467, #1856
An important contributor to the pop art movement of the 1960s, David Hockney (born 1937) is considered one of the most influential British artists of the 20th century. He was born in Bradford, West Yorkshire, and graduated from Bradford College of Art and the Royal College of Art. He was featured in the 1960 Young Contemporaries exhibition that announced the arrival of British Pop art. Hockney moved to Los Angeles in 1964 where he was inspired to make a series of paintings of swimming pools in acrylic using vibrant colors. He was a founder of the Museum of Contemporary Art, Los Angeles in 1979. He had lengthy relationships with Peter Schlesinger and Gregory Evans.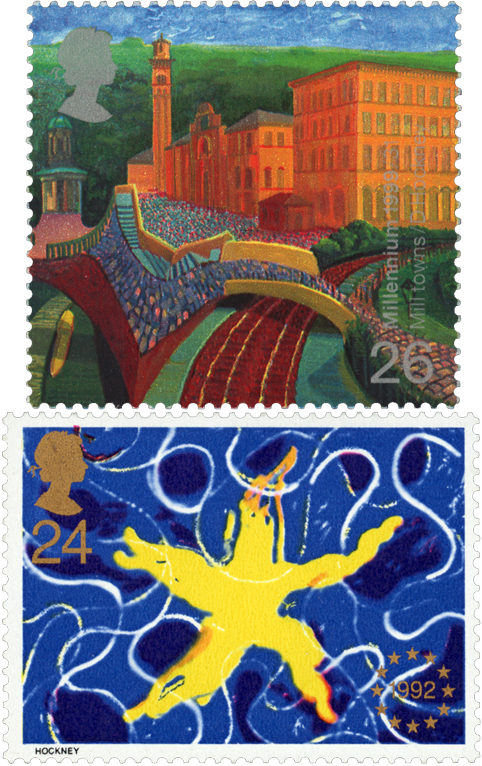 Hadrian
Great Britain Scott #1503, #3993"
Publius Aelius Hadrianus (76-138) is known as the third of the Five Good Roman Emperors, the other being Nerva, Trajan, Antoninus Pius, and Marcus Aurelius. Rather than pursuing the expansionist policies of Trajan, his predecessor, he preferred development of stable, defensible borders and the unification of the empire's disparate peoples. Reigning for 21 years, Hadrian undertook substantial building projects throughout the Roman Empire, including rebuilding the Pantheon in Rome and erecting Hadrian's Wall in northern Britain. He married around the year 100 as a political expediency; the marriage proved childless and unhappy. Over the years, he had a number of favorites, but his intense relationship with Greek youth Antinous is evidenced by numerous surviving statues of the teenager. Hadrian met the Antinous around 123 and they soon became companions. Hadrian was devastated by the youth's untimely death in 130 in Egypt. Antinous was deified, the Egyptian city of Antinopolis was established, and an Antinous cult was propagated throughout the empire.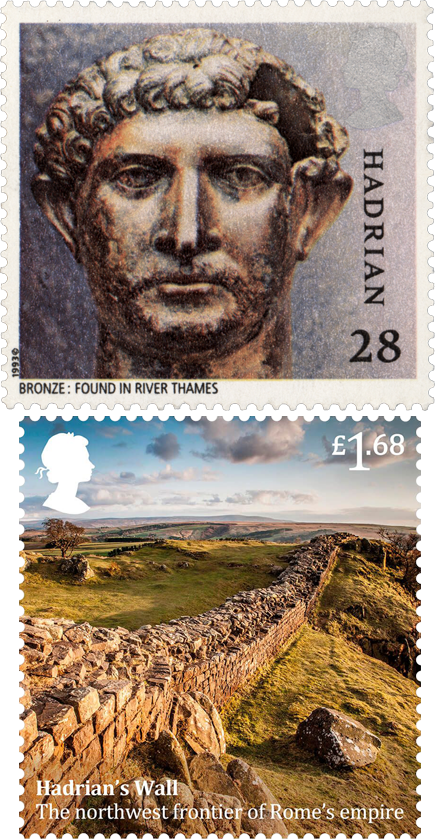 Violet Trefusis
Great Britain, Scott #1602X
Socialite and author Violet Trefusis (1894-1972) was most known for her lengthy affair with poet Vita Sackville-West. Growing up in Portman Square, Marylebone, London, she met Vita when she was ten. At 14, she confessed her love to Vita, giving her a ring. Vita married, but refreshed and intensified her bond with Violet in 1918, eloping to France for several months prior to Violet's marriage. Violet made Denys Trefusis promise to never have sex with her as a condition of marriage. Another elopement to France occurred after Violet' marriage. They ended their affair in 1921 after a third elopement. During World War II, Violet participated in the broadcasting of "La France Libre," earning her a Légion d'honneur. She was the inspiration for several fictional characters by various authors, including Princess Sasha in Orlando by Virginia Woolf.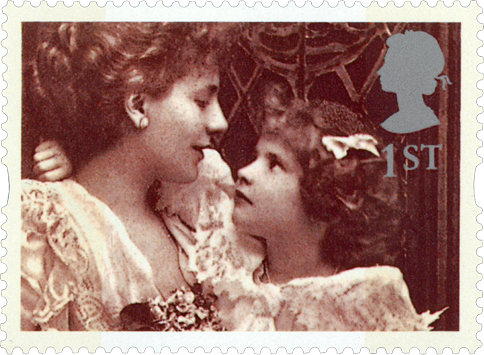 Robert Louis Stevenson
Great Britain, Scott #1756
Robert Louis Stevenson (1850-1894) was a novelist and travel writer who was born in Edinburgh, studied engineering and then law at the University of Edinburgh, but never practiced law, spending his energies on travel and writing. He married the divorced Fanny Van de Grift Osbourne in 1880. They and his stepson Lloyd Osbourne lived in Westbourne, Dorset, and the French Alps, during which he wrote Strange Case of Dr. Jekyll and Mr. Hyde, Treasure Island, and Kidnapped, all with homoerotic subtext. Robert and Lloyd's correspondence and Lloyd's memoirs left little doubt of their romantic devotion to each other. The two collaborated on three novels, also with homoerotic subtexts. In 1888, the three sailed from San Francisco, roaming the central and eastern Pacific for three years, before settling in Upolu, an island of Samoa.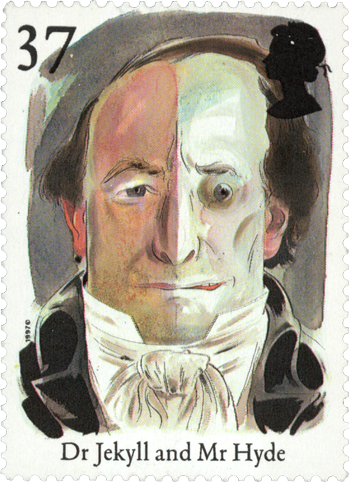 Freddie Mercury
Great Britain, Scott #1859
British singer, songwriter, and record producer Freddie Mercury (1946-1991), is regarded as one of the greatest lead singers in the history of rock music. Born Farrokh Bulsara in Zanzibar to Parsi parents from India, he attended English-style boarding schools in India from the age of eight and returned to Zanzibar after secondary school. His family fled the Zanzibar Revolution, moving to Middlesex, England. Having studied and written music for years, he formed Queen in 1970 with guitarist Brian May and drummer Roger Taylor. He wrote numerous hits for Queen, including Killer Queen, Bohemian Rhapsody, Somebody to Love, We Are the Champions, Don't Stop Me Now, and Crazy Little Thing Called Love. Mercury died in 1991 at age 45 due to complications from AIDS. Though his relationships with other men are well documented, Mercury remained closeted to the end, referring to Mary Austin, to whom he was married from 1970-1976, as "the love of his life."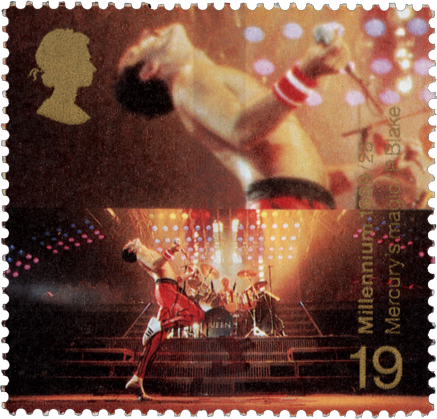 William Shakespeare
Great Britain, Scott #2391
William Shakespeare (1564-1616) is widely regarded as the greatest writer in the English language and the world's greatest dramatist. His extant works consist of 39 plays, 154 sonnets, and two long narrative poems. Born in Stratford-upon-Avon, Warwickshire, he married 26-year-old Anne Hathaway in haste in 1582. Sometime between 1585 and 1592, he left his family and moved to London where he began a successful career as actor, writer, and part-owner of the Lord Chamberlain's Men. Expressions of homoerotic feeling, gender confusion, and male couples exist in several of his plays. Two narrative poems on sexual themes, Venus and Adonis and The Rape of Lucrece, are dedicated to William's beloved (platonic) patron, Henry Wriothesley, third Earl of Southampton. The first 126 of his sonnets are addressed to a handsome young man referred to as "better angel" and "master-mistress of [his] passion." The last 26 sonnets concern the "dark woman" who took the handsome young man away. On the 400th anniversary of his birth in 1964, numerous stamps with his image, or scenes from his plays, were issued worldwide, including a set of five stamps from his native land.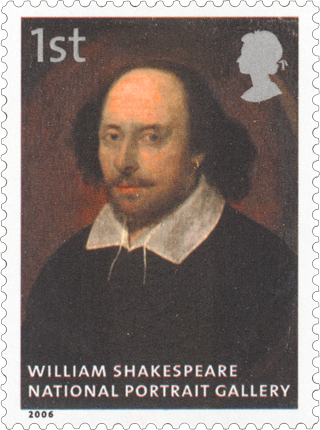 Maria Testino
Great Britain, Scott #2901
Mario Testino (born 1954) is a successful and influential fashion photographer whose images have redefined the auras of Madonna, Princess Diana, and Kate Moss. He was born in Lima, Peru, and moved to London in 1976. He lived with designer Patrick Kinmonth, and the two collaborated for over 25 years. In 1995, he was called by Madonna to create "Versace Presents Madonna by Testino," starting his celebrity portrait career. He first photographed Kate Moss when she was 16. Their continued professional relationship helped her reach supermodel status. In 1997, he photographed Princess Diana for Vanity Fair prior to a planned auction of her gowns at Christie's for charity. It was Diana's last official portrait sitting, just five months before her death. In 2010, Testino was appointed the Grand Cross rank of the Order of Merit for Distinguished Service in Peru, the highest award bestowed by the nation of Peru to commend notable civil and military merit. In 2014, Testino received an honorary OBE (Officer of the Most Excellent Order of the British Empire) in recognition of services in photography and charity.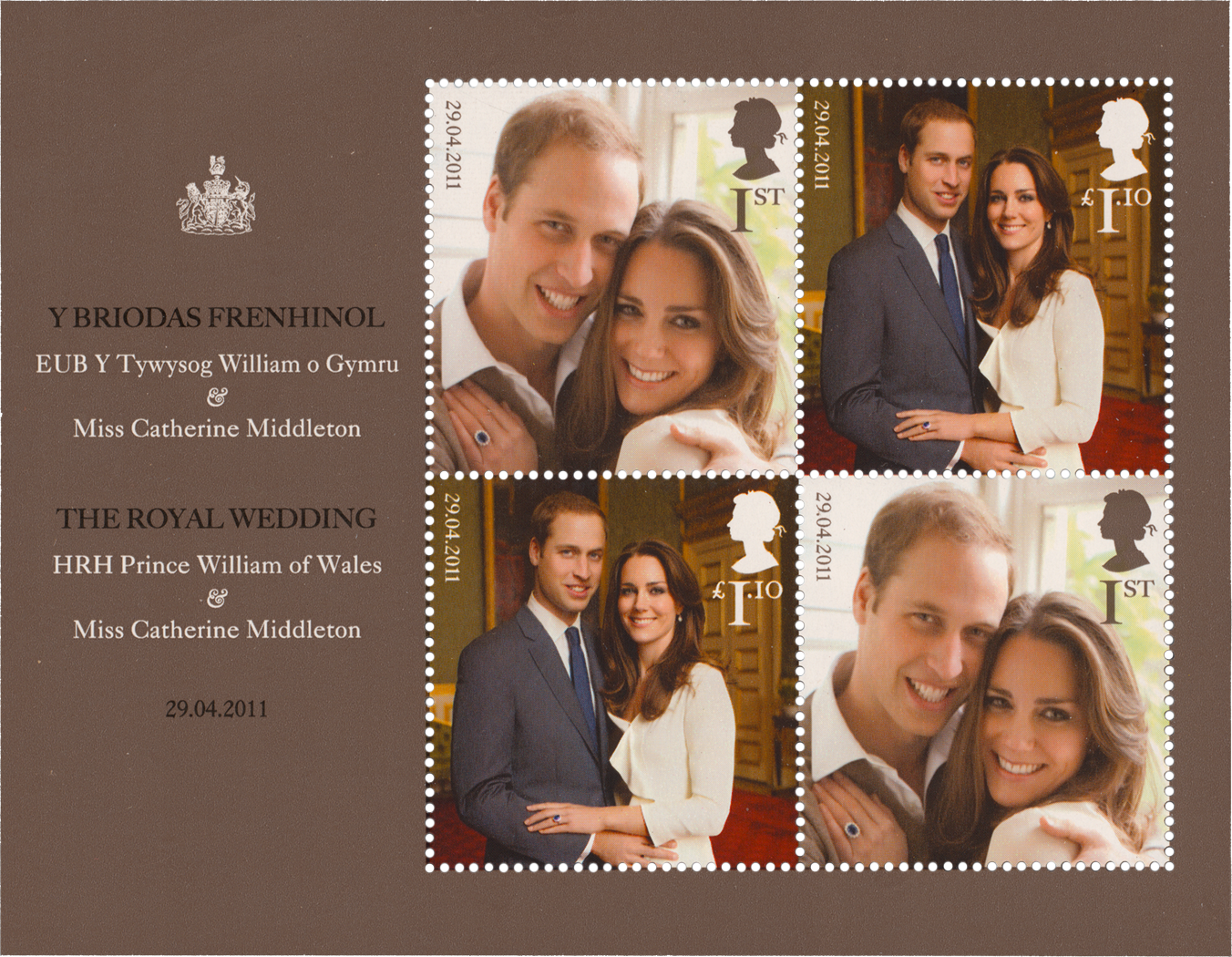 Alan Turing
Great Britain, Scott #3005
The man who cracked the code to win World War II was mathematician Alan Turing (1912-1954). In 1936, he published his paper, On Computable Numbers, with an Application to the Entscheidungsproblem, establishing what became to be known as Turing machines, leading to the central concept of the modern computer. During World War II, Turing worked at Bletchley Park to break German ciphers, concentrating on cryptanalysis of the German Enigma machine. Shortly after the war's end, he was appointed an Officer of the Most Excellent Order of the British Empire. In 1952, he published his masterpiece, The Chemical Basis of Morphogenesis, partially explaining things like spots and stripes on animals and why the human heart is on the left side of the chest. During a police investigation for a burglary at his home that same year, Alan disclosed his homosexuality. At trial for gross indecency, he was given the choice of either imprisonment or probation conditioned on chemical castration. He chose the latter; his housekeeper found him dead 14 months later, the cause being either suicide, as per the official inquest, or from accidental cyanide poisoning, as others have theorized. The Policing and Crime Act 2017 included what is commonly known as the "Alan Turing" law, pardoning those convicted for acts that are no longer considered offences.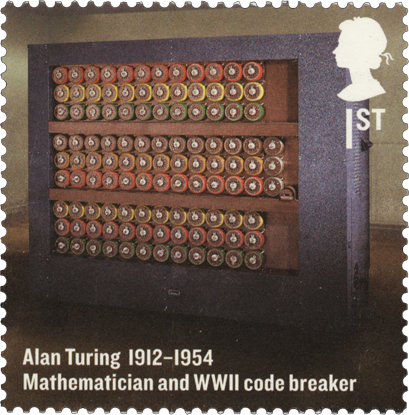 Sir Hardy Amies
Great Britain, Scott #3018
Sir Hardy Amies (1909-2003) was one of only three couturiers supplying fashions to Queen Elizabeth II. He was born in Maida Vale, Westminster, and after school, taught English in France and worked in Germany. He began work at Mayfair dressmaker Lachasse in 1934, eventually doing all the design work and most of the managing. He began a relationship with married antiques dealer Alexis ffrench that lasted until after the war. During World War II, Hardy headed the Belgian Section of the Intelligence Corps, responsible for organizing sabotage, subversion, and resistance. Shortly after D-Day, he parachuted into Belgium to set up headquarters in Brussels. He opened his own fashion house in 1945 and prepared a wardrobe for the 1951 State visit to Canada of Princess Elizabeth. Virtually all the clothes Hardy made for Queen Elizabeth II have been for the royal tours abroad. In 1952, Hardy began a relationship with designer Kenneth Fleetwood, living together until Fleetwood's death in 1996. The two worked with Stanley Kubrick to design costumes for the 1968 film, 2001: A Space Odyssey.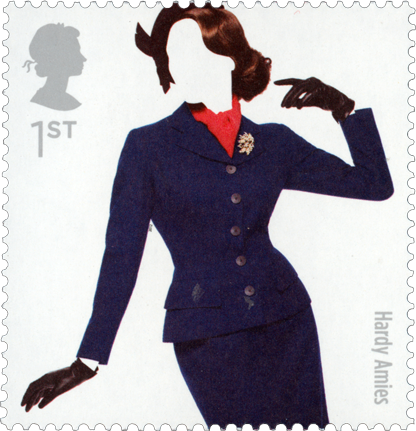 Norman Hartnell
Great Britain, Scott #3019
A leading fashion designer, Sir Norman Hartnell (1901-1979) is probably most famous for designing the 1947 wedding dress and the 1953 coronation dress of Queen Elizabeth II. His own embroidery workrooms became known for romantic, full-skirted evening dresses. His first royal commission was in 1935, and he achieved international acclaim for his "all-white" wardrobe for the Queen Mother for the 1938 State Visit to France (the nearly completed colorful wardrobe had to be remade in the royal-prerogative-for-mourning white in the weeks before travel). Norman remained quiet and discreet about his homosexuality.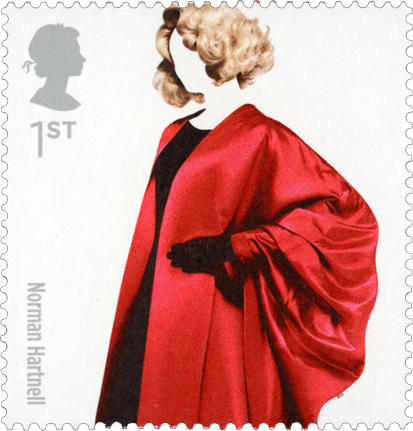 Benjamin Britton
Great Britain, Scott #3163
Benjamin Britten (1913-1975), born in Lowestoft, Suffolk, was a central figure of 20th-century British classical music. He began piano lessons at age seven and viola lessons at age ten and graduated from the Royal College of Music in 1933. He worked for the GPO Film Unit, providing music for documentaries, including Night Mail. In 1937, he met his lifetime companion, tenor Peter Pears. In 1945, he premiered his opera, Peter Grimes, and his most popular work, The Young Person's Guide to the Orchestra. He and Peter launched the annual Aldeburgh Festival in 1948, and his opera, Billy Budd, premiered in 1951. Gloriana was written for Queen Elizabeth II's coronation. His War Requiem premiered in 1962. Benjamin's last opera, Death in Venice, was completed in 1973.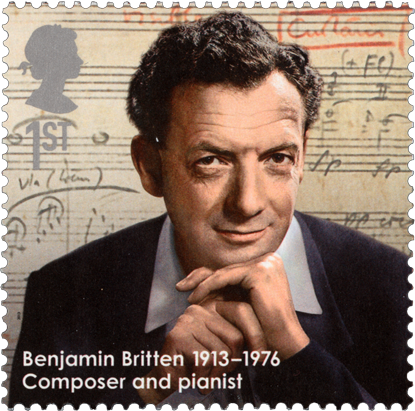 T.E. Lawrence
Great Britain, Scott #3289
An archaeologist, army officer, diplomat, and writer, T. E. Lawrence (1888-1935) was renown for his role in the Arab Revolt and the Sinai and Palestine campaign against the Ottoman Empire during World War I, a story told in the 1962 epic film Lawrence of Arabia. He was born in Tremadog, Camarvonshire, Wales, and in summer 1906 and 1907, he and a friend toured France by bicycle before he read History at Jesus College, Oxford, graduating with First Class Honors. From 1910 until the beginning of 1914, he excavated at Charchemish in northern Syria. There, he met and fell in love with teenager Selim Ahmed, known as "Dahoum." The dedication of his 1926 major work, Seven Pillars of Wisdom, was addressed to "S. A." and began. "I loved you, …" In 1914, he was co-opted by the British military to survey the Negev Desert. After enlisting, he was summoned to the new Arab Bureau Intelligence unit in Cairo, beginning his liaison role with the Arab push north to Damascus. On November 20, 1917, while reconnoitering Dera'a in disguise, he was captured, heavily beaten, and sexually abused by the local bey and guardsmen. He wrote later, "In Dera'a that night the citadel of my integrity had been irrevocably lost." His description of the beating suggested he was a masochist. While serving in the Royal Air Force from 1925 to 1935, he arranged to pay military colleague John Bruce to administer beatings to him.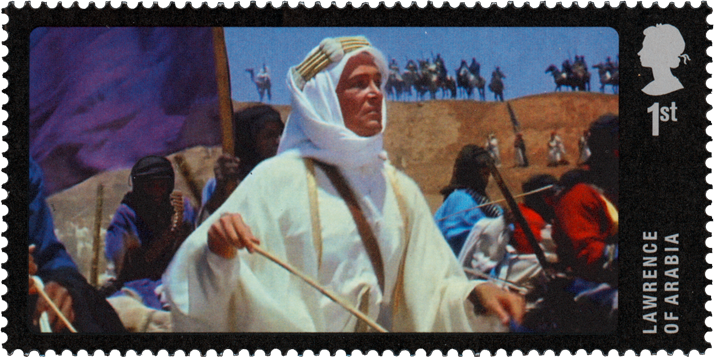 W.H. Auden
Great Britain, Scott #3294a
W. H. Auden (1907-1973) was born at York and grew up in a suburb of Birmingham. At boarding school, he befriended Christopher Isherwood, before attending Christ Church College, Oxford. Thereafter, he reunited with Isherwood, becoming lovers until 1939. The two collaborated on plays while Wystan published poems, his first book appearing in 1930. In 1936, he worked with the General Post Office (GPO) Film Unit making the 24-minute documentary, Night Mail, which ends with his poem of the same name recited to the accompaniment of music by Benjamin Britten. He emigrated to the United States where he met the love of his life, Chester Kallman. His last long poem, The Age of Anxiety, won the Pulitzer Prize in 1948.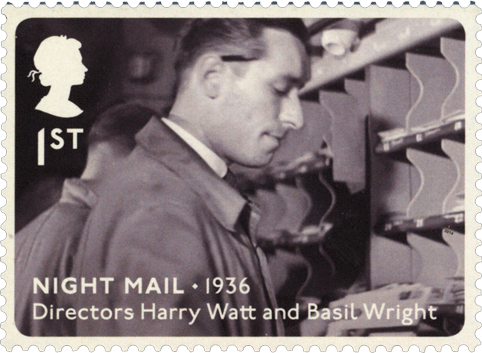 Graham Chapman
Great Britain, Scott #3388
Comedian, writer, actor, author Graham Chapman (1941-1989) was one of the six members of the surreal comedy group, Monty Python. Born in Leicester, he began studying medicine at Emmanuel College, Cambridge, where he met John Cleese. He toured New Zealand in the Footlights show, Cambridge Circus, before entering St. Bartholomew's Medical College. Chapman and Cleese began to write professionally for the BBC. Despite success on the television show, At Last the 1948 Show, he graduated and became a registered doctor. He met his long-term partner, David Sherlock, in 1966. In 1969, Monty Python was born, beginning with the sketch comedy series, Monty Python's Flying Circus. Five feature films followed. He moved to Los Angeles in the late 1970s.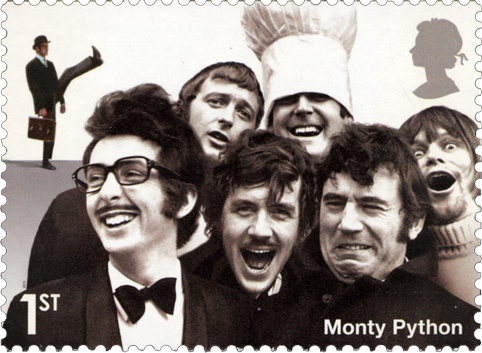 David Bowie
Great Britain, Scott #3591
Singer, songwriter and actor David Robert Jones (1947-2016), known professionally as David Bowie, was a leading figure in the music industry and is regarded as one of the most influential musicians of the 20th century. Born in Brixton, a district of London, Bowie formed his first band, the Konrads, in 1962 at the age of 15. He finally achieved his commercial breakthrough in 1969 with the song "Space Oddity." His career then fell into decline until one the first of many comebacks, 1972's Ziggy Stardust, a concept album about a space-age rock star. His 100-million plus worldwide record sales made him one of the best-selling musicians of all time. Following his death in 2016, Bowie was dubbed by Rolling Stone magazine as "The Greatest Rock Star Ever." Bowie, perhaps for shock value, declared himself gay in an interview with Michael Watts for a 1972 issue of Melody Maker, a weekly British music magazine. But in a September 1976 interview with Playboy, he declared "It's true—I am a bisexual." Finally, In a 1983 interview with Rolling Stone, Bowie said his public declaration of bisexuality was "the biggest mistake I ever made." and "I was always a closet heterosexual." In later years, he neither confirmed or denied that he had been in gay relationships. Bowie was married twice, from 1970 to 1980 and then from 1992 until his death.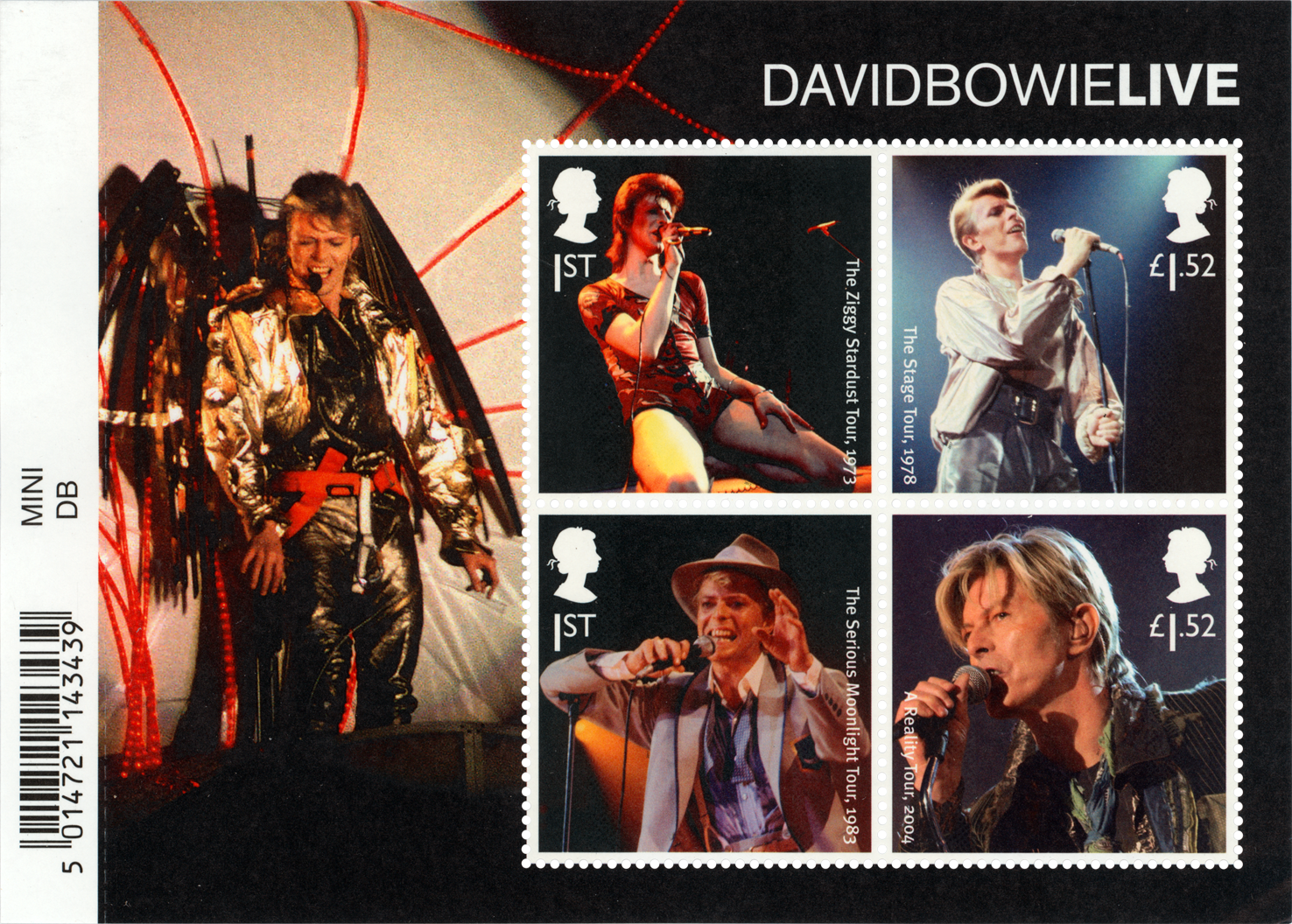 Laurence Olivier
Great Britain, Scott #3764
Actor and director Laurence Olivier (1907-1989) was a dominate force in the British stage during the middle of the 20th century. He was born in Dorking, Surrey, and briefly studied at the Royal Central School of Speech Training and Drama. In 1926, he joined the Birmingham Repertory Company. In 1930, he married lesbian Jill Esmond. His first successful West End role was Victor Prynne in Private Lives. His first Hollywood film was Friends and Lovers in 1931. He began an affair with Vivien Leigh in 1936 and they were married in 1940, but by the following year, the relationship was already waning. In a letter to Vivien, he revealed the nature of his ten-year relationship with Danny Kaye. He received Oscar nominations for Wuthering Heights, Rebecca, Henry V, Hamlet, Richard II, The Entertainer, Othello, Sleuth, Marathon Man, and The Boys from Brazil, winning for Hamlet. He married Joan Plowright in 1961. In 1962, he became the first director of the United Kingdom's National Theatre. In 1970, he became the first actor to be made a peer for services to the theater.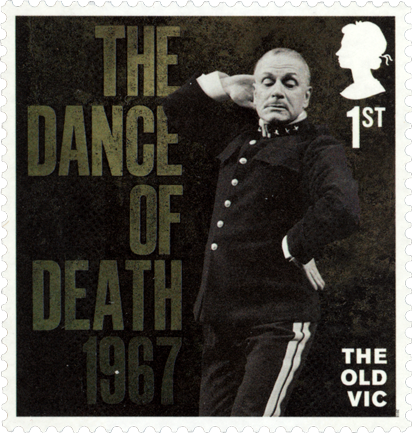 John Gielgud
Great Britain, Scott #3768
Actor and director Sir John Gielgud's (1904-2000) career spanned eight decades. In 1921, he made his professional debut in Henry V at the Old Vic. He made his screen debut the following year in Who Is the Man? In 1953, he was arrested in Chelsea for cruising a public lavatory, resulting in fines. In support, the audience greeted him with a standing ovation upon his next entrance on stage. In 1962, he met his longtime partner, interior designer Martin Hensler. Gielgud is one of the few actors to have won an Emmy, a Grammy, an Oscar, and a Tony. The stamp depicts Gielgud and Ralph Richardson.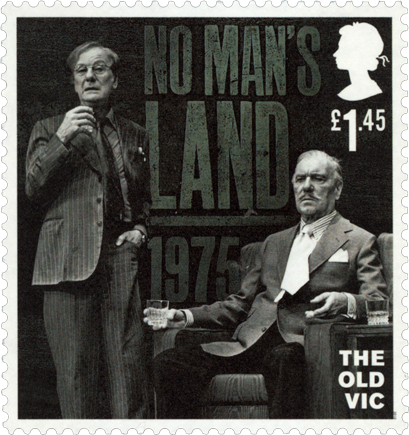 Simon Callow
Great Britain, Scott #3769
Actor, musician, writer, and theater director Simon Callow (born 1949) was born in Streatham, London, and studied at Queen's University Belfast. He made his stage debut in 1973 in The Three Estates in Edinburgh. He created the role of Mozart in the premiere of Amadeus at the National Theatre. He received BAFTA Film Award nominations for 1985's A Room with a View and 1994's Four Weddings and a Funeral. In June 2016, he married Sebastian Fox.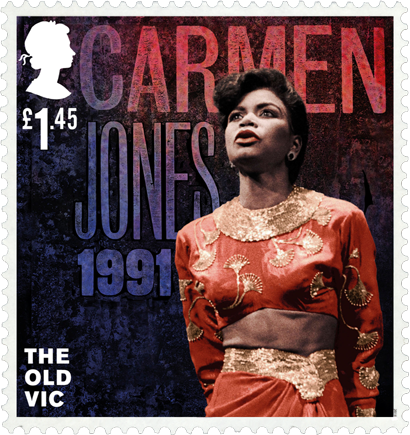 Franco Zeffirelli
Great Britain, Scott #3770
Franco Zeffirelli (1923-2019) was an Italian director and producer of operas, films, and television. He graduated from the Accademia di Belle Arti Firenze and entered the University of Florence. After World War II started, he fought as a partisan before becoming an interpreter for British soldiers. He famously directed Liz and Dick in The Taming of the Shrew, followed by Romeo and Juliet, his major breakthrough. In 1996, Franco came out as homosexual.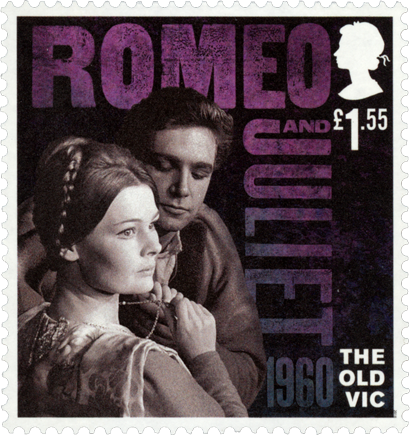 Michael Benthall
Great Britain, Scott #3771
Theater director Michael Benthall (1919-1974) was born in London, attended Eton, and studied at Christ Church, Oxford, where he met his lifetime companion, dancer Robert Helpmann. During World War II, he was with the Royal Artillery. He was artistic director of the Old Vic from 1953 to 1962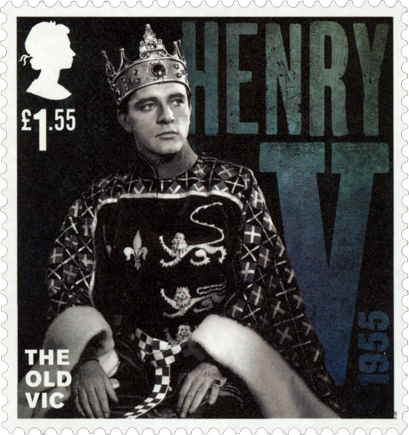 Winfred Owen
Great Britain, Scott #3773
Wilfred Owen (1893-1918) is regarded by many as the greatest poet of the First World War. He was born at Plas Wilmon, near Oswestry, Shropshire. He discovered his poetic vocation in about 1904 and attended classes at the University of Reading. From 1913 until the war, he worked as a private tutor at the Berlitz School of Languages in Bordeaux, France. He enlisted, was diagnosed with shell shock, and was sent to Craiglockhart War Hospital in Edinburgh, where he met fellow poet Siegfried Sassoon. After discharge from Craiglockhart, he was posted to Ripon, North Yorkshire, in 1918. He returned to France, was awarded the Military Cross, and was killed almost exactly one week before the Armistice. Homoeroticism is a central element in much of his poetry.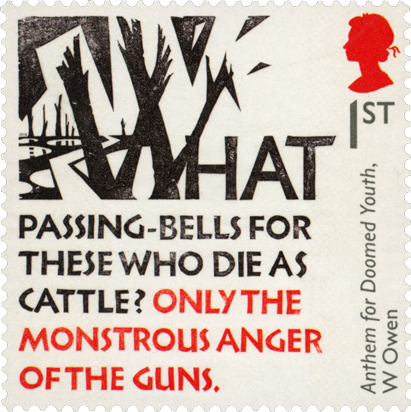 Miriam Margolyes
Great Britain, Scott #3790
Miriam Margolyes (born 1941) was born in Oxford, graduated from Newnham College, Cambridge, and is the first person to say "f***" on British television. In 1993, she won a BAFTA Award for Best Actress in a Supporting Role for The Age of Innocence. She received her OBE (Officer of the Order of the British Empire) in 2002. Miriam became an Australian citizen in 2013, referring to herself as a "dyke" on live television in front of Prime Minister Julia Gillard. She lives with retired professor of Indonesian Studies Heather Sutherland, her partner since 1967.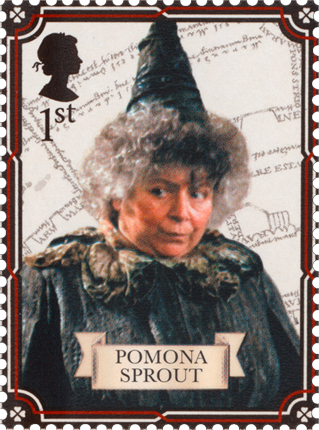 Georgia Elwiss
Great Britain, Scott #3898a, #3898d
Georgia Elwiss (born 1991) is an international cricketer, currently playing for the Melbourne Stars. She was raised in Wolverhampton and is a right-arm medium fast bowler and right-handed batsman. Her girlfriend, British footballer Carly Telford, revealed their relationship in a 2017 BBC Sport interview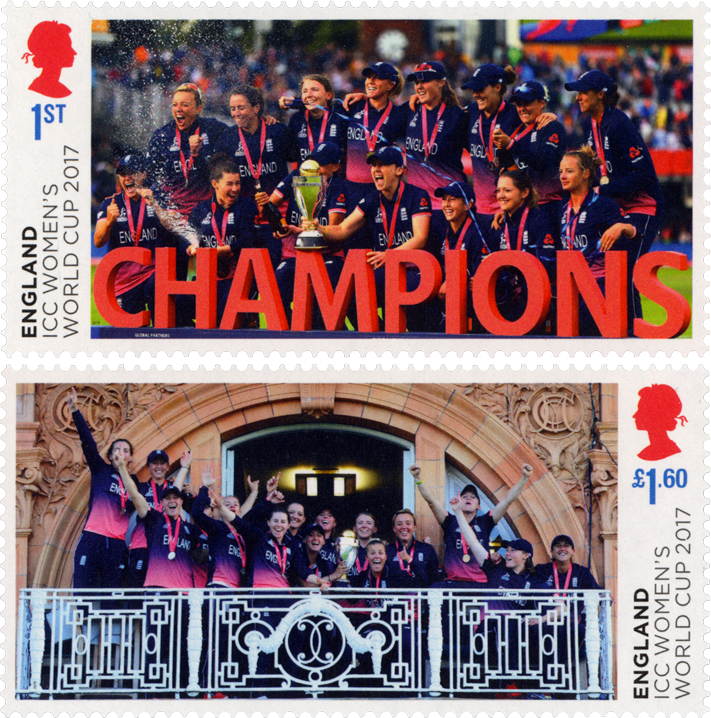 Elton John
Great Britain, Scott #3876-3883, #3884a
Sir Elton John (born 1947) is one of the world's best-selling musical artists with more than fifty Top 40 hits. His debut album, Empty Sky, appeared in 1969. His first hit single, "Your Song," appeared the following year. He has received five Grammy Awards, an Oscar, and a Tony Award. Receiving knighthood in 1998, John has been openly gay since 1988 and is married to Canadian filmmaker and former advertising executive David Furnish. (Click on image to see a larger one in a new window)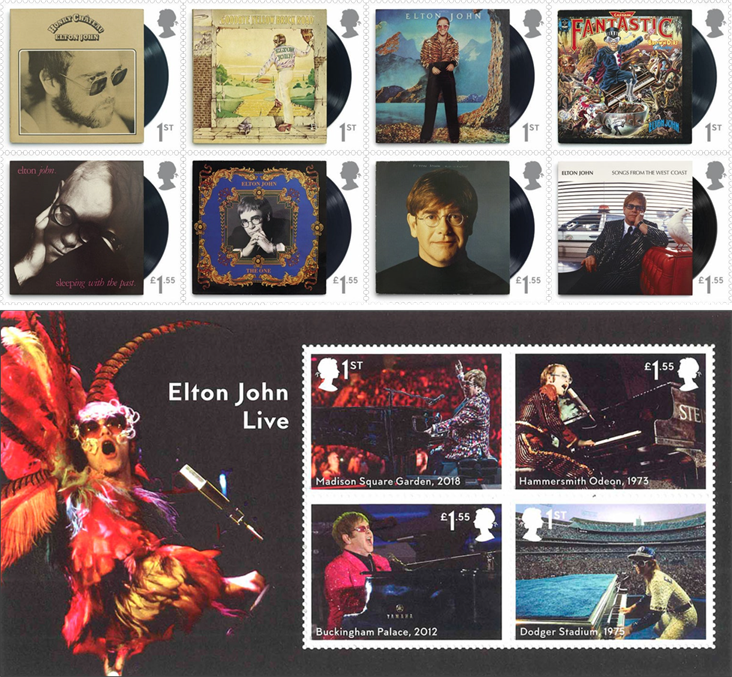 Coronation Street
Great Britain, Scott #3980
Eight stamps and a souvenir sheet were issued in 2020 for the 60th anniversary of Cornonation Street, the United Kingdom's longest-running soap opera. One stamp from the sheet of eight features the transgender fictional character Hayley Cooper, as portrayed by Julie Hesmondhalgh. Ms. Hesmondhalgh became the first Friend of Trans Media Watch in 2011. The soap opera is Great Britain's highest rated television program; some of the actors have been on the show since its inception.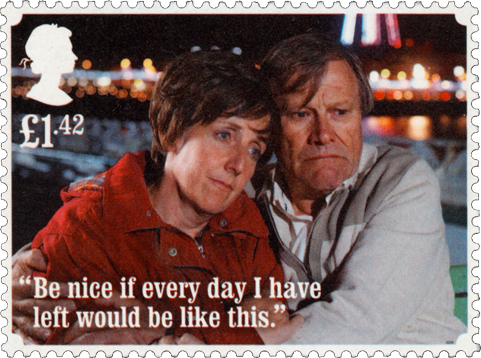 Isaac Brock
Great Britain: Guernsey, Scott #24-26, #1172a
Born at Saint Peter Port, Guernsey, army officer and colonial administrator Sir Isaac Brock (1769-1812) joined the 8th Regiment of Foot at age 15. He assumed substantial command of the 49th Regiment of Foot in 1798 and saw his first combat the following year. In 1802, the Regiment was ordered to Canada. He was temporarily in charge of the entire British army there. He bolstered defenses, strengthened the fortifications of Quebec, and strengthened the Provincial Marine. In 1810, he took command of all forces in Upper Canada and prepared for war. He ordered the attack on Fort Mackinac, captured Detroit, secured the support of Tecumseh, and died at the Battle of Queenston Heights. The papers of John Montgomery, who served under Isaac, said he "would choose a stalwart soldier often the youngest and tenderest…each and every night to lie by him." One, James FitzGibbon, would stay with him "in his private quarters for days at a time." (click on image to see entire set and an additional issue)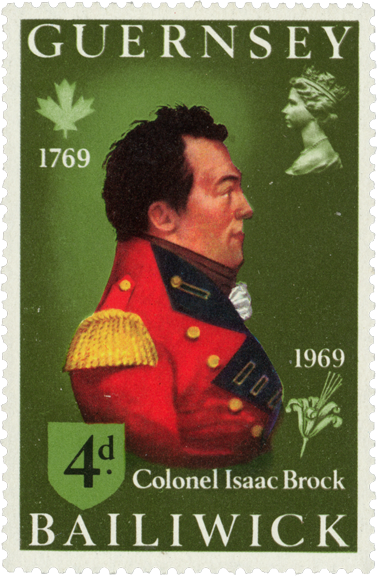 Carl Hester
Great Britain: Guernsey, Scott #1201
Olympian Carl Hester (born 1967) was raised on the Channel Island of Sark where a mail box is painted gold in his honor. He won the 1985 Young Dressage Rider Championship on Jolly Dolly before riding in the 1990 World Championships on Rubelit von Unkenriff. In 2012 at Barcelona, Carl became the youngest British rider to ever compete in an Olympic Games. As part of the dressage team, he won a gold medal riding Uthopia. In 2013, he was appointed as a Member of The Most Excellent Order of the British Empire. At the 2016 Rio de Janeiro Olympics, Carl won a silver medal riding Nip Tuck as part of the dressage team. He currently owns an equestrian yard in Gloucestershire. Carl is openly gay. (click on image to see a larger version in a new window)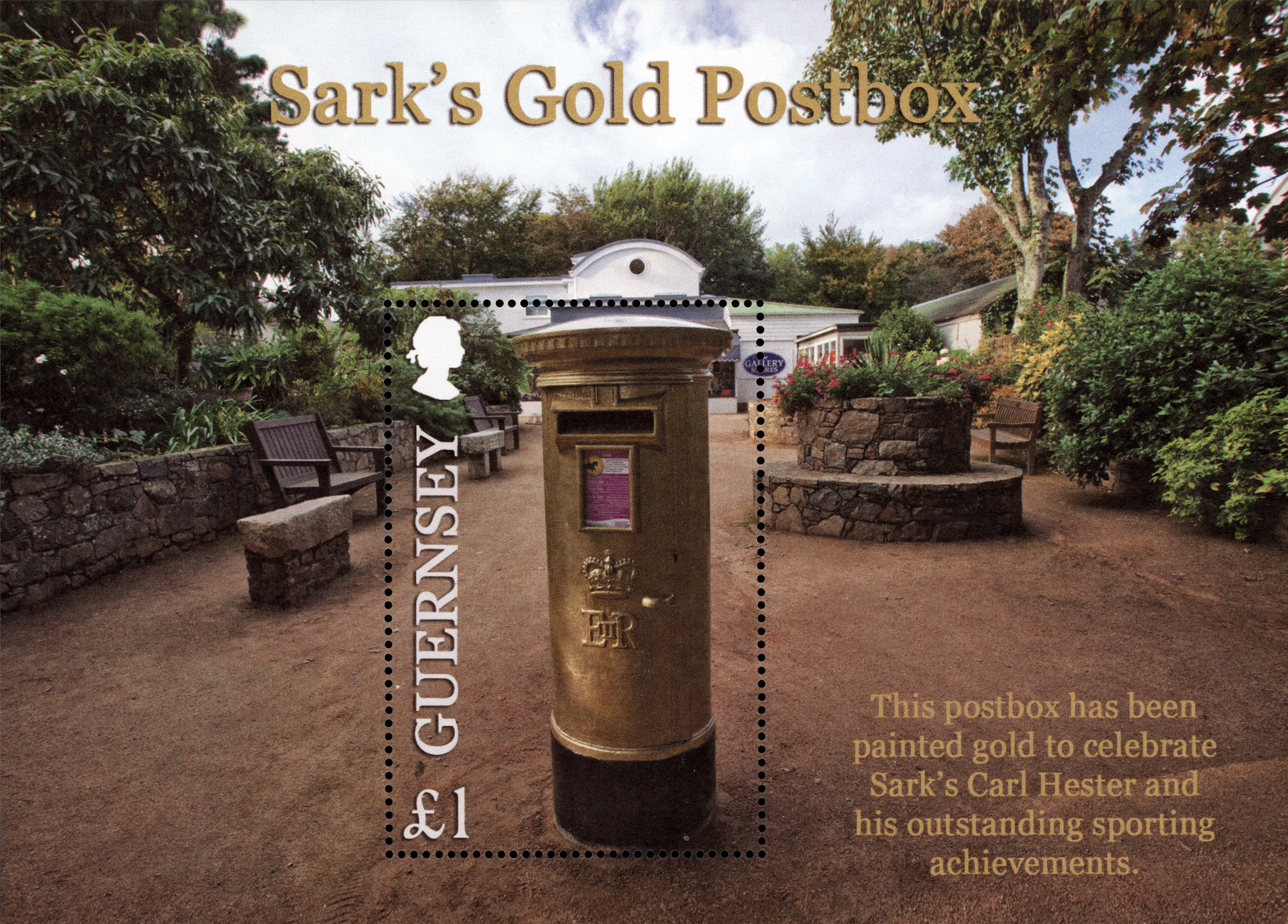 Kenneth Fleetwood
Jersey, Scott #505
Born in Wigan, Lancashire, Kenneth Fleetwood (1930-1996) won a BBC Children's Hour competition and attended Saint Martin's School of Art in London. In 1952, he began to work for couturier Hardy Amies, helping with sketches. The two began a relationship that lasted until Fleetwood's death. During the 1960s and 1970s, Amies spent more and more time designing menswear. As a result, Kenneth's responsibility for designing women's wear grew. The two worked with Stanley Kubrick to design costumes for the 1968 film, 2001: A Space Odyssey.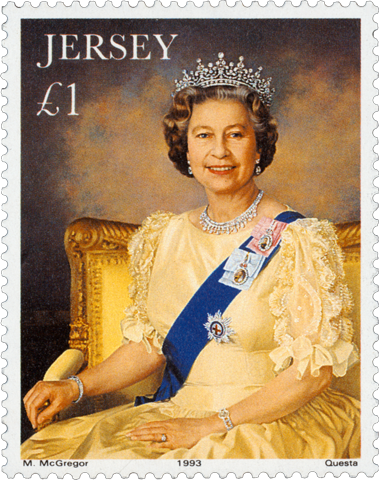 Claude Cahun
Jersey, Scott #2296-2303
A French surrealist photographer, sculptor, and writer, Claude Cahun (1894-1954) is best known for her androgynous self-portraits. Born Lucy Schwob in Nantes, France, she attended a private school in Surrey, Great Britain, before attending the University of Paris, Sorbonne. She began making photographic self-portraits as early as 1912. She adopted the gender-ambiguous name of Claude Cahun in about 1919 and during the 1920s settled in Paris with lifelong partner and stepsibling Suzanne Malherbe, who subsequently adopted the pseudonym Marcel Moore. They collaborated on written works, sculptures, photomontages, and collages. In 1937, they moved to Jersey where they became resistance workers and propagandists during World War II. They were arrested and sentenced to death, but the island was liberated before the sentence could be completed. (click on image to see entire set of eight in a new window)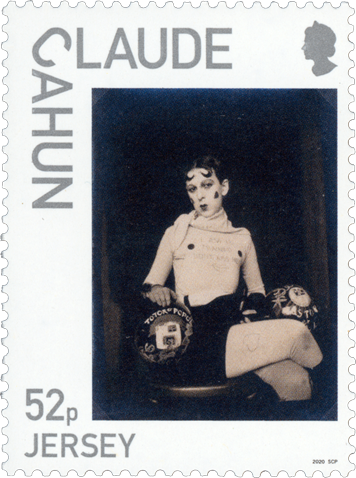 Christopher Biggins
Great Britain: Isle of Man, Scott #1836-41
Christopher Kenneth Biggins (born 1948) is a British stage actor and television personality. He has also made a few film appearances, appearing as a Transylvanian in the cult classic Rocky Horror Picture Show (1975). He was married to Beatrice Aston for a few years in the 1970s, but is now openly gay. He entered into a civil partnership with Neil Sinclair in 2006. Christmas Pantomimes by Christopher Biggins appeared on Isle of Man stamps in 2016. Pantomime is a musical comedy stage production designed for family entertainment, performed mainly in Britain during the Christmas and New Year's season. Although Biggins is not mentioned on the stamps, his name does appear on the Isle of Man's official first day cover. (click on image to see the entire set of six in a new window)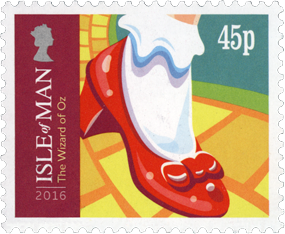 Arthur C. Clark
Great Britain: Isle of Man, Scott #1950
Joining Robert Heinlein and Isaac Asimov as one of the "Big Three" of science fiction writers of the 20th century, Sir Arthur C. Clarke's (1917-2008) biggest claim to fame was as a co-writer of the 2001: A Space Odyssey (1968) screenplay. Clarke married in 1953, but separated within six months; not until 1964 was a divorce finalized. In 1956, he moved to Sri Lanka and remained there until his death. He had an extremely close relationship with a Sri Lankan man, Leslie Ekanayake. They are buried next to each other in Colombo's Central Cemetery. Clarke did not publicize his sexuality, but would answer truthfully if asked. In addition to the 2018 Jersey issue shown here, he also appears on a Sri Lankan stamp issued in 1998.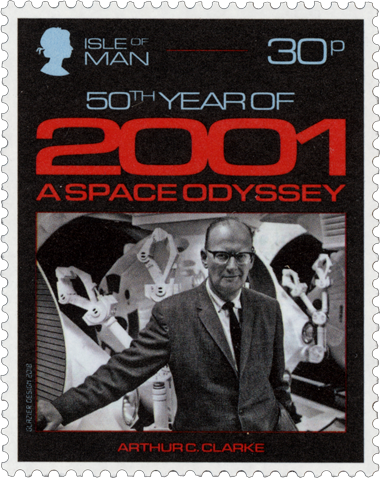 Lord Byron
Greece, Scott #316
British poet, peer, and politician Lord Byron (1788-1824) became a revolutionary in the Greek War of Independence and is considered of Rochdale at age ten, inheriting Newstead Abbey in Nottinghamshire. He attended Harrow, then studied at Trinity College, Cambridge, where he fell in love with chorister John Edleston. While on his Grand Tour, he had a relationship with Nicolo Giraud in Greece. With the publication of the first two cantos of Childe Harold's Pilgrimmage in 1812, he became a celebrity. He had an affair with Lady Caroline Lamb and married Annabella Millbanke, though she left him after learning of his affairs with both women and men. He permanently left England for Switzerland, then Italy, and finally, Greece, where he fell in love (unrequited) with page Lukas Chalandritsanos.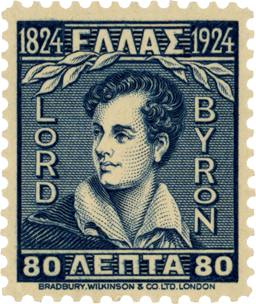 Alexander the Great
Greece, Scott #638
By the age of 30, Alexander the Great's (356BC - 323BC) had created one of the largest empires of the ancient world, spending most of his ruling years on an unprecedented military campaign through Asia and northeast Africa. His sexuality continues to be debated as ancient Greeks were quite fluid in their relationships. His life-long close companionship with his boyhood friend Hephaestion is well documented, though he did marry to produce an heir. Alexander has appeared on numerous Greek stamps, including Scott #2854, a souvenir sheet issued in 2018.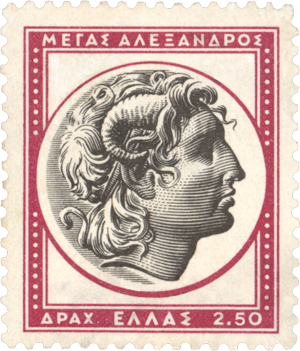 Sappho
Greece, Scott #1835
Widely regarded in ancient times as one of the greatest lyric poets, Sappho's (circa 630 -570 BC) works were written to be sung to the accompaniment of a lyre. Only about 650 of her approximately 10,000 lines of poetry exist today. Only one poem, Ode to Aphrodite, survives complete. Sappho 31 (fragment 31) describes her love for a young woman. She is well known as a symbol of love and desire between women, with the English words sapphic and lesbian derived from her name and the name of her home island of Lesbos.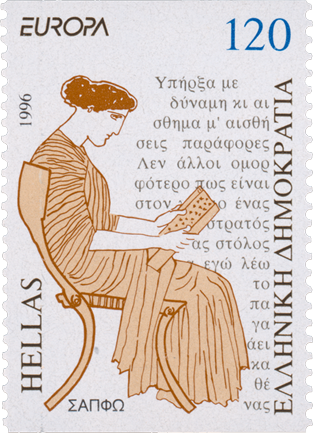 Aristotle
Greece, Scott #2740
Aristotle (384-322 BC) was a Greek philosopher and polymath during the Classical period of Ancient Greece. Taught by Plato, he founded the Lyceum, the Peripatetic school of philosophy. He was born in Stagira in Northern Greece, joining Plato's Academy at age 17 or 18. Practitioner of pederasty, he loved youths Theodectes and Hermias. He tutored Alexander the Great and travelled to Asia Minor and Lesbos, where he married Pythias, before returning to Athens. His works contain the earliest known formal study of logic.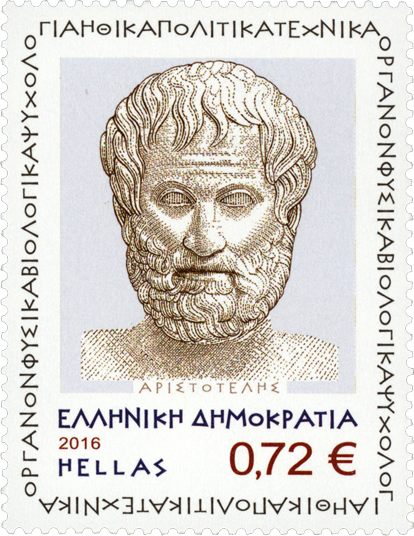 Solon
Greece, Scott #2798
An Athenian statesman, lawmaker, and poet, Solon (circa 630-560 BC) was made leader of Athenian forces when contesting the possession of Salamis. He was able to improve the morale of troops with a poem and defeated the Megarians in battle around 595 BC. He was chosen archon, or chief magistrate, in 594. Practitioner of pederasty, he loved Peisistratos. He also celebrated the love of youths in his poetry. He enacted reforms, then travelled to Egypt, then Cyprus, and finally, Sardis, capital of Lydia. He returned to Athens, opposed Tyrant Peisistratos, and died in Cyprus.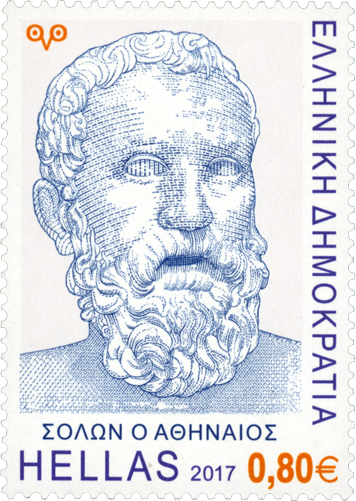 Xenophon
Greece, Scott #2879
A Greek philosopher, historian, soldier, and student of Socrates, Xenophon (431-354 B.C.) commanded the Ten Thousand that marched into modern day Turkey and was one of the greatest commanders of antiquity. He was among the first to use flanking maneuvers and feints. He was an authority on Socrates, with his works presenting Socrates' dialogues, including his teaching on same-sex love. A practitioner of pederasty, Xenophon loved youths Clinias and Autolycus.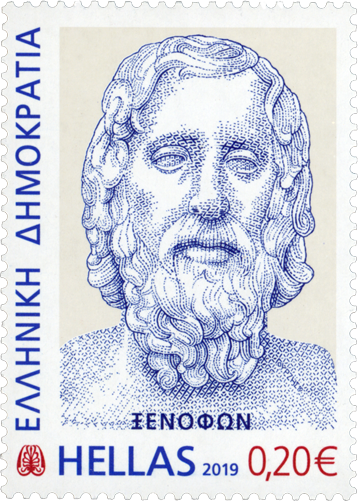 Socrates
Greece, Scott #2880
Credited as one of the founders of Western philosophy and as being the first moral philosopher of the Western ethical tradition of thought, Socrates (circa 470–399 BC) was born in Athens. Plato and Xenophon were his students. His lover, Alcibiades, was also his student. He participated in the battles of Potidaea (432), Delium (424) and Amphipolis (422). In his 50s, he married Xanthippe. In 399, he went on trial, was found guilty of both corrupting the minds of the youth of Athens and of impiety, and was sentenced to death via a drink containing the poison hemlock.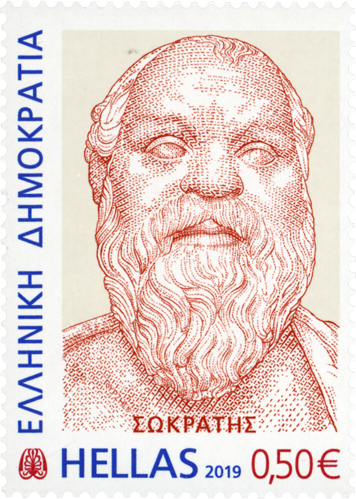 Euripides
Greece, Scott #2882
Euripides (circa 480–406 BC) was a tragedian of classical Athens. Of his over 90 plays, only 18 or 19 have survived more-or-less complete. His plays won first prize only five times (Aeschylus won 13 victories, and Sophocles won at least 20). He loved poet Agathon, and he and Sophocles had a male prostitute in common.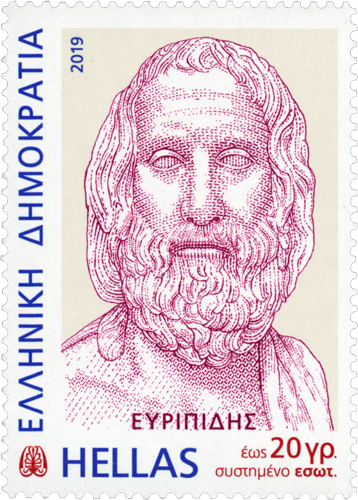 HEADING HERE
Greenland, Scott #700
TGreenland's gay pride stamp was issued in 2015. Nuuk Gay Pride, held annually in June, began in 2010 and features concerts, films and a parade.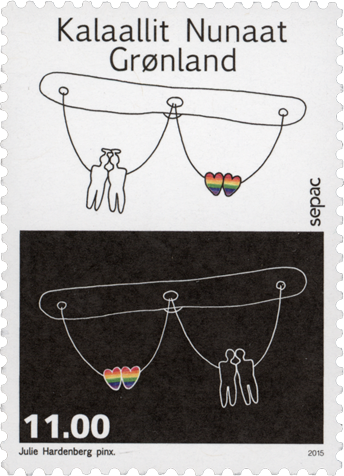 Rosa Bonheur
Grenada, Scott #4032
Rosa Bonheur (1822-1899), the great French animal painter, was hailed as the most popular artist, male or female, of the 19th century. She met her life partner Nathalie Micas while they were both teenagers. She was one of only 12 women to obtain a cross-dressing permit in the 1850s. Her most famous work is The Horse Fair, first exhibited at the Paris Salon of 1853. Rosa was the first female artist to earn admittance to the once exclusively male club founded by Napoleon Bonaparte, the French Legion of Honor. (click on image to see a larger version in a new window)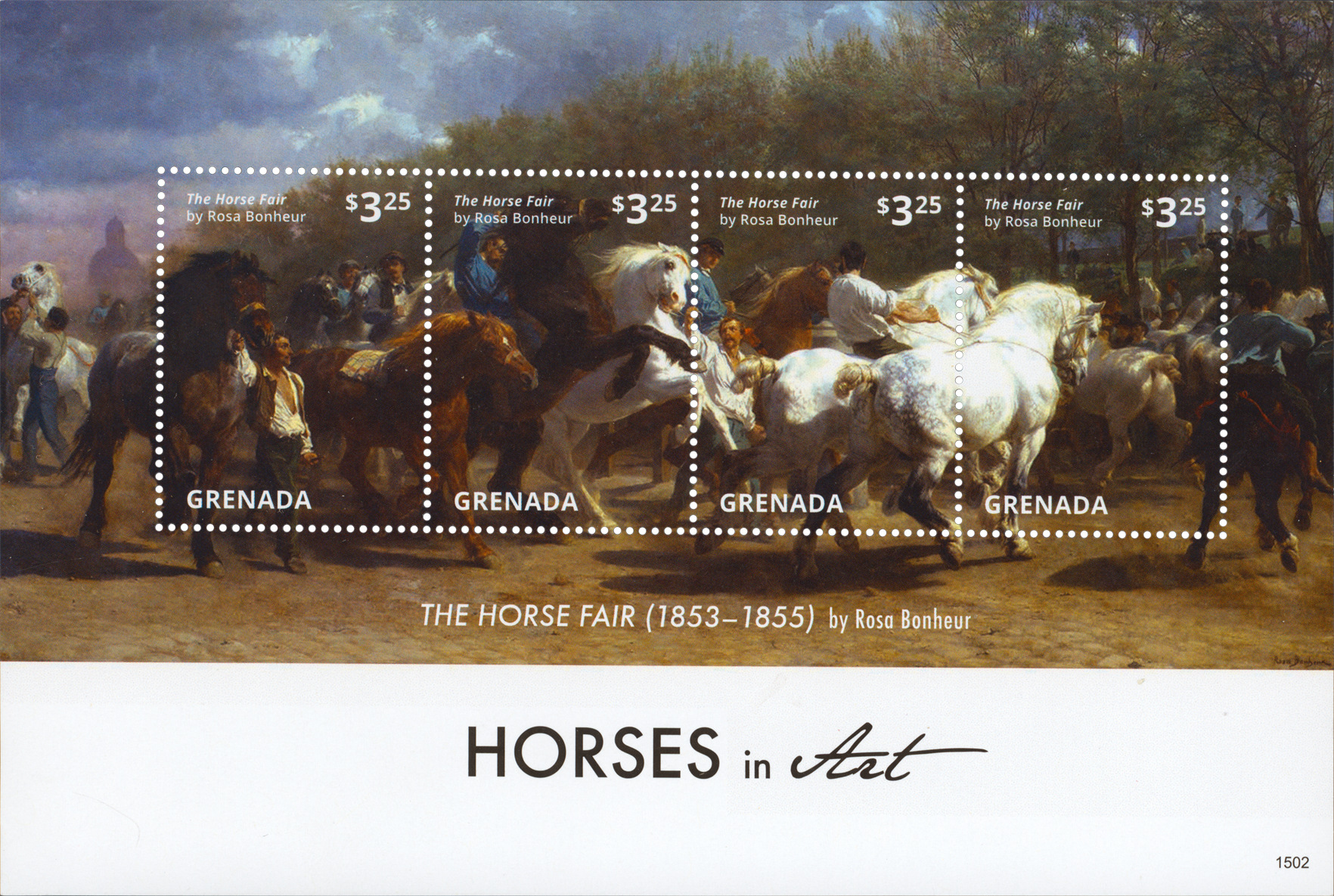 RETURN TO TOP OF PAGE