LGBTQ Cover and Postal History Gallery
This is the place for your favorite LGBTQ covers and postal history items. Perhaps you have in your collection a letter from a well-known LGBTQ personality, old correspondance relating to a LGBTQ relationship, or a non-commerical first day cover. By providing a high resolution scan (at least 300 dots per inch at 100% size with minimal jpg compression) along with a brief description of the subject matter, you might inspire others to search for similar items and perhaps even prepare a philatelic exhibit. To share your material, get in touch with the Webmaster as listed on the "Contacts Us" page of the website.
Lesbian Love Letter?
Could this be a love postcard between two women from 1944? It does look that way! Click on the post card image to see what's written on the back side.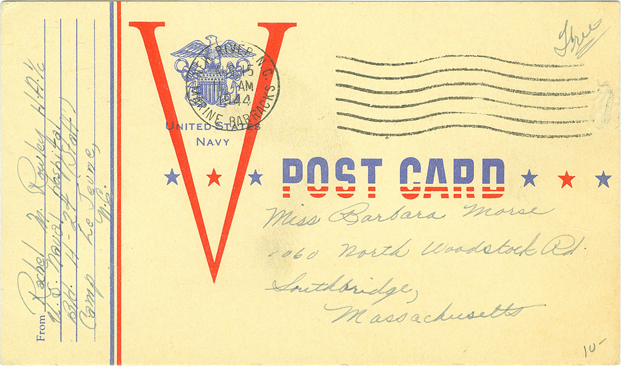 First Pride Cancel?
This cover appears to show the first pride cancel from any nation, but unlike most items shown on this website, this image is from a copy rather than an original item. It was first illustrated in the summer 1988 edition of the Lambda Philatelic Journal with no details as to its origin but is known to be from the collection of Gay and Lesbian History on Stamps Club cofounder Paul Hennefeld. Further information would be appreciated.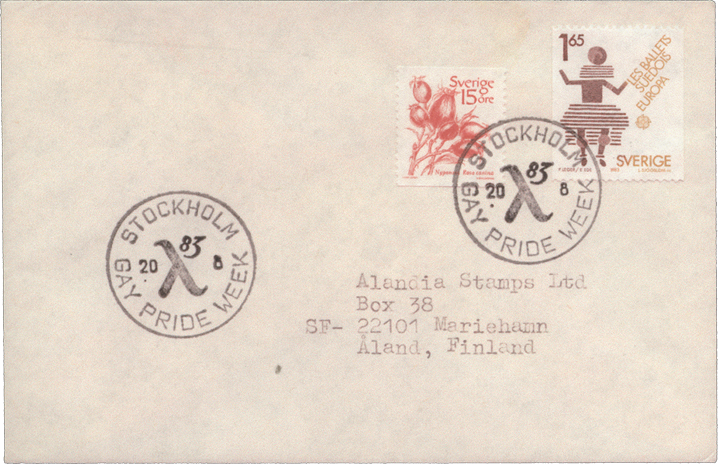 Second Pride Cancel?
This postcard has a cancel similar to the one listed above and even has a few details as to event organizers. This image is also from a copy of the the original piece and may also have originated from the collection of Gay and Lesbian History On Stamps Club cofounder Paul Hennefeld. The current Stockholm Gay Pride events only dates to 1998, so further information is requested as well.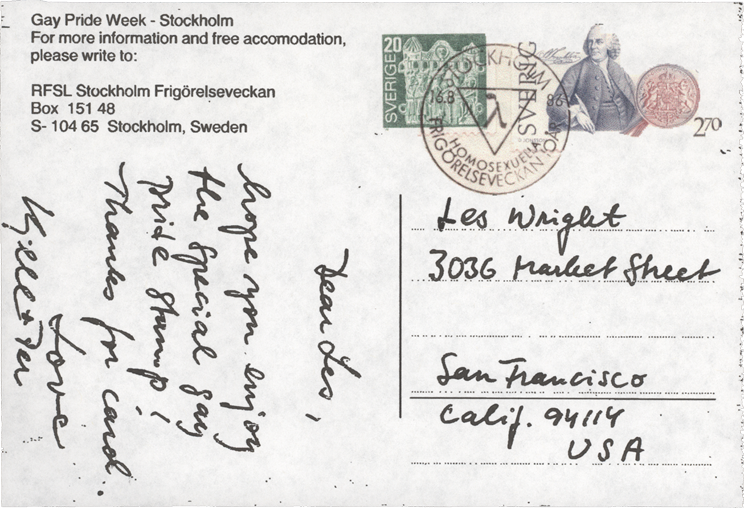 First U.S. Pride Cancel
The first U.S. pride cancel appeared on June 25, 1989 in conjunction with that year's New York City Pride events. The cancel features the Heritage of Pride logo designed by Keith Haring (1958-1990), an internationally known gay pop artist. The cachet is based on a design for Paul Hennefeld's (1932-2016) exhibit Alternative Lifestyles of Famous People that was shown at stamp shows during in the late 1980s and early 1990s. Controversial at the time, the U.S. Postal service conservatively estimated more than 15,000 cancels were applied that day, about four to five times the typical number.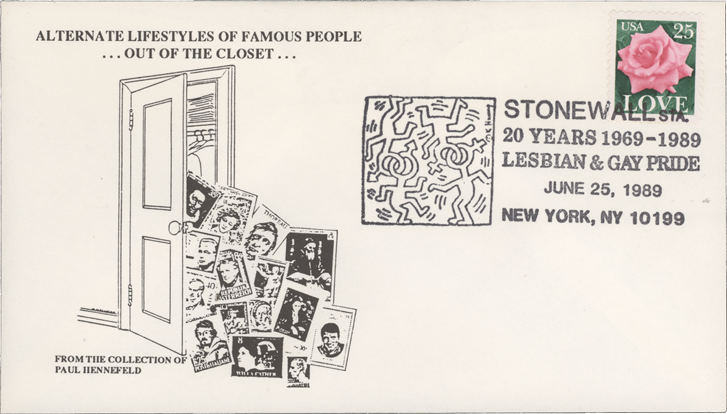 Errol Flynn
Errol Flynn (1909-1959) was born in Tasmania and made his film debut starring in 1933's In the Wake of the Bounty. He soon obtained worldwide fame in Hollywood, known for romantic swashbuckler roles in films such as Captain Blood (1935) and The Adventures of Robin Hood (1938). His hedonistic personal life included hard drinking, narcotics, three marriages, two accusations of statutory rape, and multiple brief affairs with women and men, including Howard Hughes.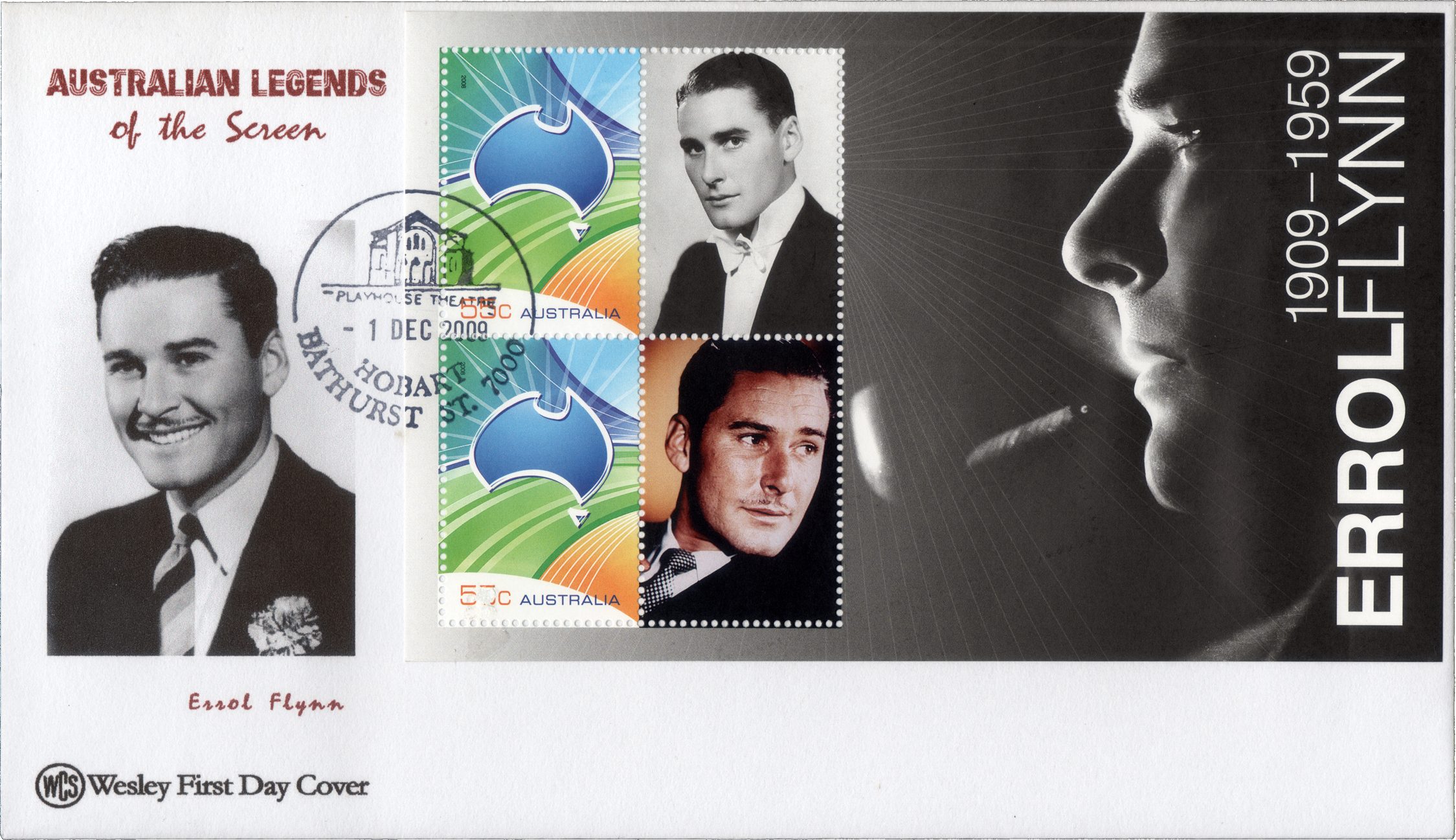 Martina Navratilova
Although Martina Navritolova's streak of reaching the Wimbledon singles finals for nine consecutive years ended when this cover was prepared, she reached the finals three other times as well. During her career, she won 18 Grand Slam singles titles, 31 major women's doubles titles (an all-time record), and 10 major mixed doubles titles, combined marking the open-era record for the most number of Grand Slam titles won by one player, male or female. First claiming to be bisexual, she came out as a lesbian in 1981 and continued her astounding performances until retiring in 1994. She made a brief return in 2004, playing at Wimbledon and the French Open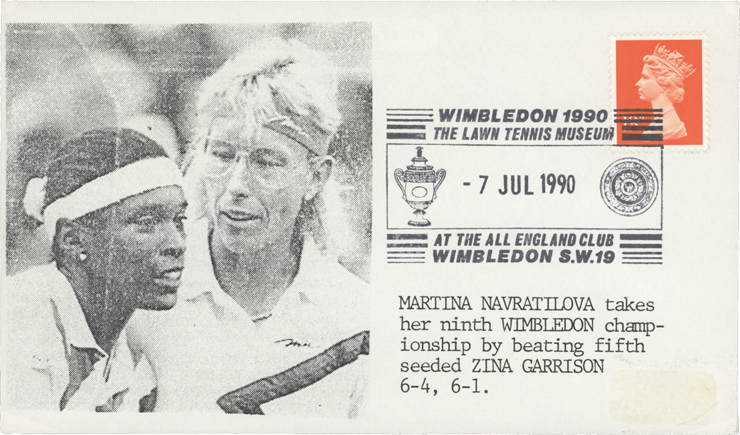 Tom of Finland
On September 8, 2014, Finland issued what is probably the world's first homoerotic stamps that featured the artwork of Touko Laarksonen (1920-91), better known as Tom of Finland. Although there was some public opposition in Finland to the issue, the Finnish postal service nevertheless had 200,000 sheets of three stamps printed, and reported a record demand, with pre-orders from 178 countries. Image from gulfmanncollection.blogspot.com/ 2014/09/finland-tom-of-finland-cover.html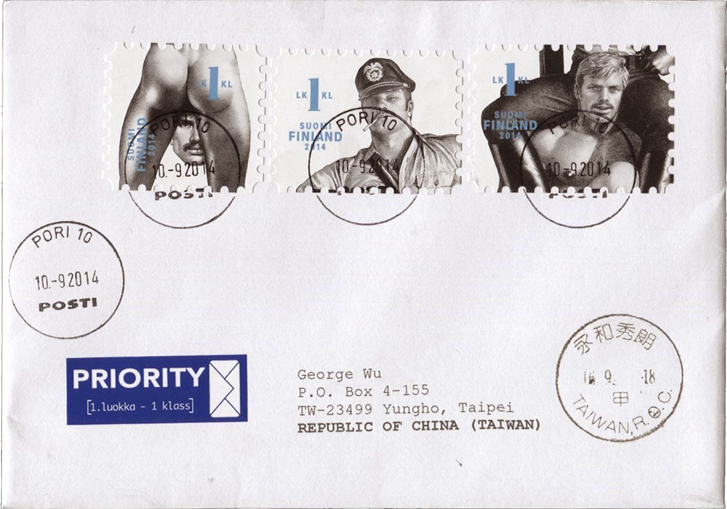 Great Britain LGBT+ History Month
During February 2020, Great Britain's Royal Mail used a LGBT History month spray cancel. The cancel was used at multiple mail centers.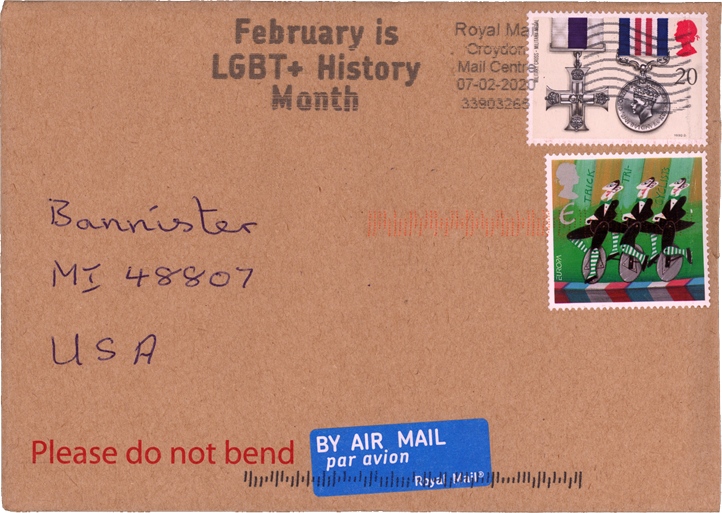 RETURN TO TOP OF PAGE