Welcome!
Welcome to the Gay and Lesbian History on Stamps (GLHS) website! After a five-year lapse, the GLHS was reactivated in 2018. We hope to be a resource for those who collect LGBTQ on stamps or who are LGBTQ and collect stamps. In addition, we gather for meetings and socializing at the Great American Stamp Show during the summer, various other philatelic events around the country and virtually on the internet; we look forward to seeing you!
The objectives of Gay and Lesbian History on Stamps are to promote the interest in the collection, study and dissemination of knowledge of world-wide philatelic material that depicts:
Notable men & women and their contributions to society for whom historical evidence exists of homosexual or bisexual orientation
Mythology, historical events and ideas significant in the history of gay culture
Flora and fauna scientifically proven as having prominent homosexual behavior.
Even though emphasis is placed on the above aspects of stamp collecting, GLHS strongly encourages other philatelic endeavors.
As you surf through our website, be sure and visit our Gallery featuring LGBTQ stamp issues, postmarks and covers. There's also an archive of our quarterly publication, the Gay and Lesbian History on Stamps Journal and a predecessor, the Lambda Philatelic Journal. Access to some features is limited without a membership in our society.
Want to join our Society and gain full access to all we have to offer? Select the membership link to apply.
Upcoming Meetings
Invitations to internet meetings will be sent by email to members several days before the event date. Members who do not receive the email or guests who want to attend may request an invitation by contacting the club at the first email address listed on the "Contact Us" page.
Internet Meeting
June 7, 2022, 4:30/7:30 p.m. PST/EST
The meeting presentation is to be determined.
Meeting at CAPEX 2022
June 10, 2022
Special meeting at the CAPEX international stamp show in Toronoto, Canada. The meeting begins at 4:00 p.m. For more details on the event, visit the CAPEX website.
Annual Meeting
August 2022
Meeting during the Greater American Stamp Show, August 25-28, 2022, in Sacramento, California, at the SAFE Credit Union Convention Center. Meeting day and time to come later. For more details on the event, co-sponsored by the American Philatelic Society, American First Day Cover Society and the American Topical Association, visit the APS Website.
GLHS Presence at CAPEX 2022
GLHS will hold an in-person meeting at CAPEX 2022, the international stamp show to be held June 9-12, 2022, in Toronto, Canada at the Metro Toronto Convention Centre. The show presents the world's first international one-frame exhibit competition, with around 400 entries expected. An international philatelic literature competition, both printed and digital, is also scheduled. The largest philatelic event in Canada in more than 25 years, there will be an 86-booth dealer bourse, R. Maresch & Son Ltd., auctions, seminars and philatelic society meetings, including our own. For details on the GLHS meeting, refer to the "Upcoming Meetings" schedule on this page. Other information on the show, including hotel accommodations, are available on the CAPEX website.
USPS to honor Edmonia Lewis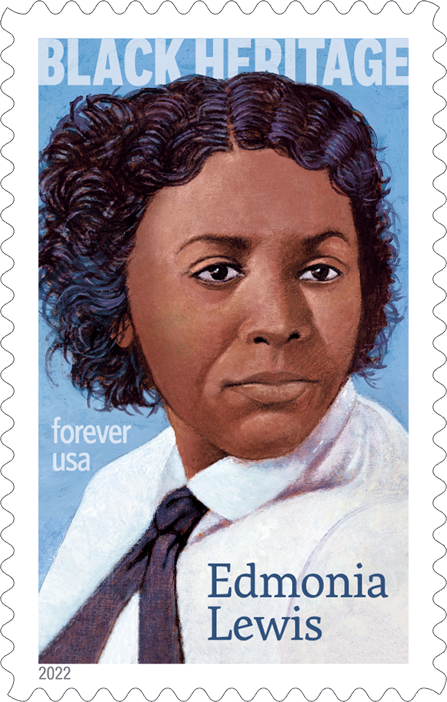 Mary Edmonia Lewis (circa 1844-1907) will be the subject of the 45th stamp in the Black Heritage series. The release date will be January 26, 2022. The first African-American and Native American sculptor to achieve international recognition, Edmonia Lewis challenged social barriers and assumptions about artists in mid-19th century America. One of her most prized works was Forever Free (1867), a sculpture depicting a Black man and woman emerging from the bonds of slavery. Another piece, The Arrow Maker (1866), draws on her Native American roots and shows a father teaching his young daughter how to make an arrow. Lewis also created busts of American presidents. Lewis was part of an American expatriate circle in Rome consisting mostly of openly lesbian women. She never married, had no known male companions, and no children.
Austria fetes Ludwig Wittgenstein
Austria post issued on January 19 a stamp honoring Ludwig Wittgenstein (1889-1951), considered to be one of the greatest philosophers of the modern era. Born in Vienna into one of Europe's richest families, he inherited a fortune from his father in 1913, but after World War I, gave it away to his brothers and sisters. He worked mostly in academia after the war. Being of Jewish descent, he wound up in England before the onset of World War II. Wittgenstein contributed several ground-breaking ideas to philosophy, primarily in the foundations of logic, the philosophy of mathematics, the philosophy of language, and the philosophy of the mind. His two major works are Tractatus and Philosophical Investigations (Philosophische Untersuchungen) , the latter published posthumously. He had numerous relationships with men, many of which are documented in his writings. The stamp is available from Austria Post's Online Shop.
Moliére's 400th Birthday Celebrated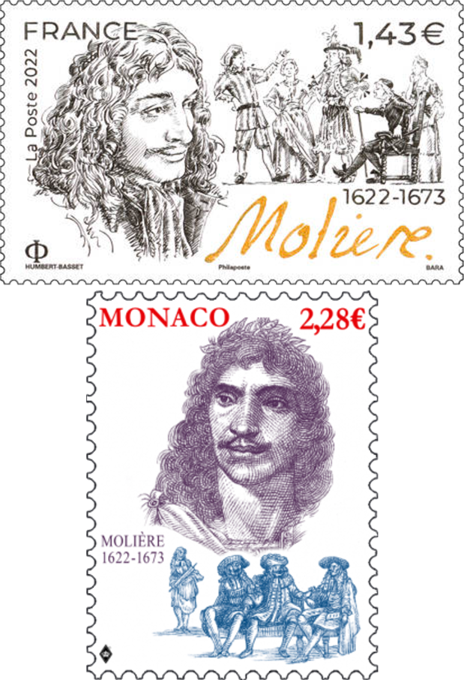 France and Monoco feted in January the 400th birthday of actor, troupe leader, author and director, Jean-Baptiste Poquelin (1622-1673), known as Moliére. He exploited the whole gamut of comedic effects, making laughter a weapon to combat the mores and constraints of his time, arousing resounding controversies and lasting hostility from devout circles. Moliére's work constitutes one of the pillars of literary education in France and remains one of the references of universal literature. The stamps can be ordered from France's La Poste and Monaco's Office des Timbres.
Polynesia Again Honors King Pōmare II
The 200th anniversary of the death of King Pomare II of Tahiti was noted on a Frency Polynesia stamp issued December 17, 2021. Pōmare was known for converting Tahitians to Christianity, but also for keeping a retinue of homosexual servants. A stamp with his likeness was previously issued in 1976. The new stamp is available from the Philatelic Center of French Polynesia.
Josephene Baker Gets Second French Stamp Issue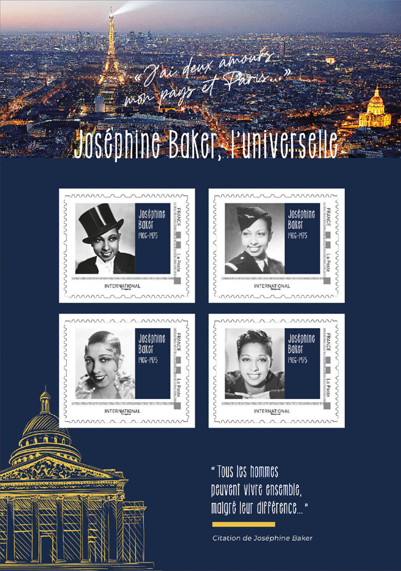 Expartiate Josephine Baker (1906-1975) has received another tribute from the French post office with a stamp issued on November 30, 2021. On that date, she became the first American and black woman to be inducted into the French Pantheon, the nation's mausoleum of heroes. The bisexual Saint Louis, Missouri, native achived great success on French stage and screen, and was previously honored on a stamp issued in 1994, which is depicted in our Gallery. To order this and other stamps, visit the La Poste website.
Argentina fetes María Elena Walsh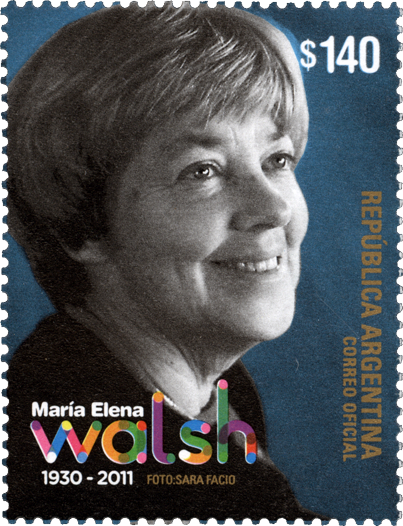 The 10th anniversary of the passing of María Elena Walsh (1930-2011) was noted with a single issued on November 23, 2021. Walsh was a poet, novelist, musician, playwright, and composer best known for her songs and books for children. Her partner for 33 years was photographer Sara Facio. Stamps depicting illustrations from her books were issued in 2008.