Welcome!
Welcome to the Gay and Lesbian History on Stamps (GLHS) website! After a five-year lapse, the GLHS was reactivated in 2018. We hope to be a resource for those who collect LGBTQ on stamps or who are LGBTQ and collect stamps. In addition, we gather for meetings and socializing at the Great American Stamp Show during the summer, various other philatelic events around the country and virtually on the internet; we look forward to seeing you!
The objectives of Gay and Lesbian History on Stamps are to promote the interest in the collection, study and dissemination of knowledge of world-wide philatelic material that depicts:
Notable men & women and their contributions to society for whom historical evidence exists of homosexual or bisexual orientation
Mythology, historical events and ideas significant in the history of gay culture
Flora and fauna scientifically proven as having prominent homosexual behavior.
Even though emphasis is placed on the above aspects of stamp collecting, GLHS strongly encourages other philatelic endeavors.
As you surf through our website, be sure and visit our Gallery featuring LGBTQ stamp issues, postmarks and covers. There's also an archive of our quarterly publication, the Gay and Lesbian History on Stamps Journal and a predecessor, the Lambda Philatelic Journal. Access to some features is limited without a membership in our society.
Want to join our Society and gain full access to all we have to offer? Select the membership link to apply.
Upcoming Meetings
Invitations to internet meetings will be sent by email to members several days before the event date. Members who do not receive the email or guests who want to attend may request an invitation by contacting the club at the first email address listed on the "Contact Us" page.
Internet Meeting
December 13, 2022, 4:30/7:30 p.m. PST/EST
The meeting presentation will be Crossdressing and Drag: You Wouldn't Believe Who's Done It!
Annual Meeting
August 2023
Meeting during the Greater American Stamp Show, August 10-13, 2023, in Cleveland, Ohio, at the Huntington Convention Center. For more details on the event, co-sponsored by the American Philatelic Society, American First Day Cover Society and the American Topical Association, visit the APS Website.
Centenary of Tutankhamun's tomb discovery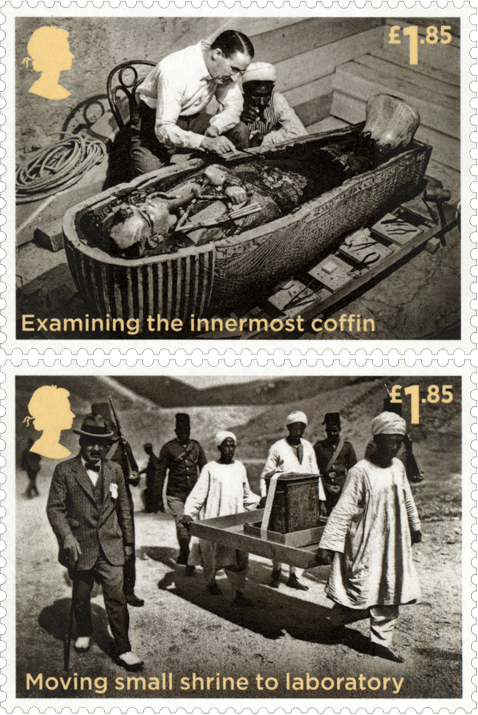 November 2022 marked the centenary of the discovery of Tutankhamun's tomb by British archaeologist and Egyptoligist Howard Carter (1874-1939), with a British souvenir sheet (two stamps from the sheet that depicted Carter are shown here) and a set of eight stamps being issued to mark the occasion. Carter never married and has been the subject in recent years of discussion over his relationship with Lord George Herbert, Earl of Carnavon, who funded Carter's expeditions to Egypt. The new releases are available from Great Britain's Royal Mail .
Antonio Canova's death bicentenary noted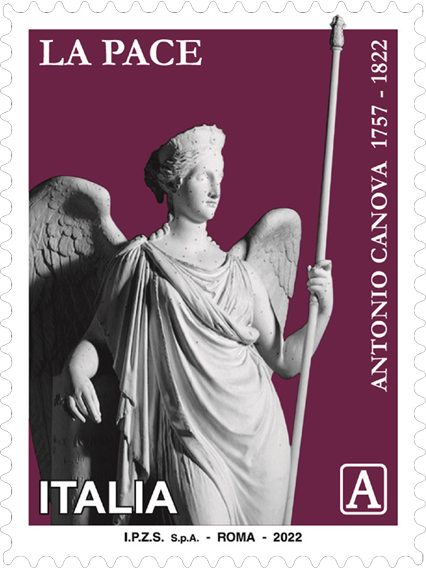 The bicentenary of the death of Antonio Canova (1757-1822), one of the greatest neoclassical artists, was noted on a single stamp issued October 13, 2022. Senator Giovanni Falier hired Canova to create sculptures for his garden, which brought Canova fame, and the senator's son became Canova's intimate friend for life. Canova's birth was feted on three Italian stamps issued in 1957. The new stamp is available from Poste Italiane.
Grand Prix stamp features Yves Montand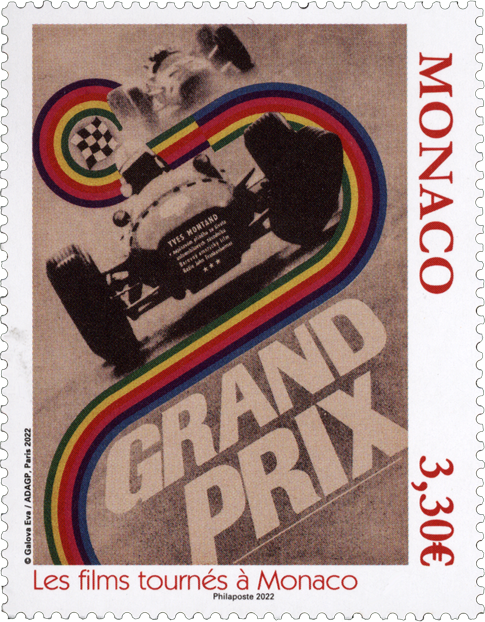 An October 4, 2022, issue from Monaco shows a Polish film poster promoting Grand Prix, a 1966 film made in the principality with an all-star cast. The poster includes only the name of French/Italian actor and singer Yves Montand (1921-1991). Openly gay actor Jean-Claude Brialy (1933-2007) sent shockwaves throughout France when he revealed Montand had during his youth a gay affair with operatta singer Reda Caire, who was popular in the 1920s and 1930s. Montand admitted in a 1980s interview with the now-defunct French weekly Gai Pied to having sex with boys "like all the boys from the Meditérannée." Monaco's Office des Timbres currently has the stamp on sale.
Ian McKellen on another Lord of the Rings stamp
New Zealand released on September 7, 2022, six stamps for the 20th anniversary of Lord of the Rings: Twin Towers, which was filmed there. One stamp features the gay English actor Ian McKellen, who played Gandarf. The stamp is available from NZ Post.
Finland issues latest Moomins stamp
One of Tove Janssen's Moomin characters appears on an alphabet stamp issued by Finland on September 7, 2022. The beloved characters created by the lesbian author, novelist, painter and illustrator have appeared on Finnish stamps since 1992. Contact the Finnish Post to place an order for a booklet.
King Ludig's Castle makes another appearance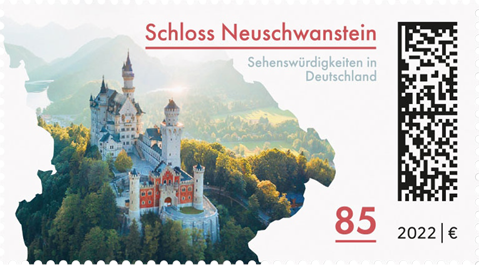 The German Post issued on September 1, 2022, a stamp depicting Schloss Neuschwanstein, the fairytale castle and now popular tourist attraction built by King Ludwig II of Bavaria. The subject of the stamp, offered by German Post Shop, has previously appeared several times on German adhesives.
Pasolini Birth Centenary Feted
On July 12, 2022, San Marino released a stamp for the birth centenary of Pier Paolo Pasolini. The stamp depicts a portrait of Pasolini taken from a work by Gianluigi Toccafondo. Born in Bologna, Pasolini (1922-75) distinguished himself as a poet, investigative journalist, columnist, film director, screenwriter, novelist and author of musical lyrics. He is best known for his erotic film series Trilogy of Life, released in the 1970s and based on material by Boccaccio, Chaucer, and tales from One Thousand and One Arabian Nights. His teaching career was ruined in 1949 when political enemies publicized his homosexuality, leading to his trial for seducing three teenage boys, expulsion from the Communist Party and loss of his teaching job. He was murdered in Novmeber 2017 by a 17 year old he had picked up in Ostia, who beat him with a nail-encrusted board and then ran over him with a sports car. The stamp is available from Poste San Marino.
Poland memorializes Miron Białoszewsk
June 30, 2022, saw the release of a stamp issue for poet, novelist, playwright and actor Miron Białoszewsk. He studied linguistics at the clandestine courses of the University of Warsaw during the German occupation of Poland. Following the end of the Warsaw Uprising, he was sent to a labor camp in the Third Reich, and returned to Warsaw at the end of World War II. First, he worked at the central post office, and then for a number of popular magazines, some of them for children. In 1955 Białoszewski took part in the foundation of a small theatre called Teatr na Tarczyńskiej, where he premiered his plays Wiwisekcja and Osmędeusze, and acted in them with Ludmiła Murawska. In the same year Białoszewski debuted in Życie literackie along with another renowned Polish poet and his contemporary, Zbigniew Herbert. His live-in partner was painter Leszek Soliński. The stamp is among the offerings from Post Poland.
Great Britain Releases Eight Pride Stamps
To mark the 50th anniversary of first the first protest rally in the U.K. with the name "Gay Pride," Great Britain's Royal Mail released the most ambitious pride issue yet: four se-tenant pairs in sheet format, of which four are illustrated here. The eight stamps, designed by lesbian artist Sofie Birkin, were went on sale July 1, 2022, and are denominated in the first class and international standard rates. The issue is available for order from the Royal Mail Shop. To see all eight stamps, including the international rate ones, click on the stamp image.
Pride Stamp Appears From Norway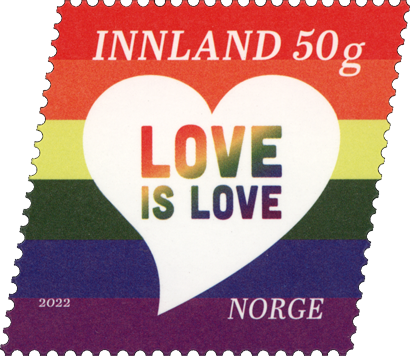 Norway's contribution to the continuing parade of pride stamps appeared June 17, 2022. A breakthrough for the homesexual movement occurred on April 21, 1972, with the repeal of Section 213 of the Norwegian Penal Code, which prohibited sexual acts between men, and led to a more open fight for equal rights for homosexuals. The stamp is available from the Posten Web Shop.
Croatian card fetes Queer Zagreb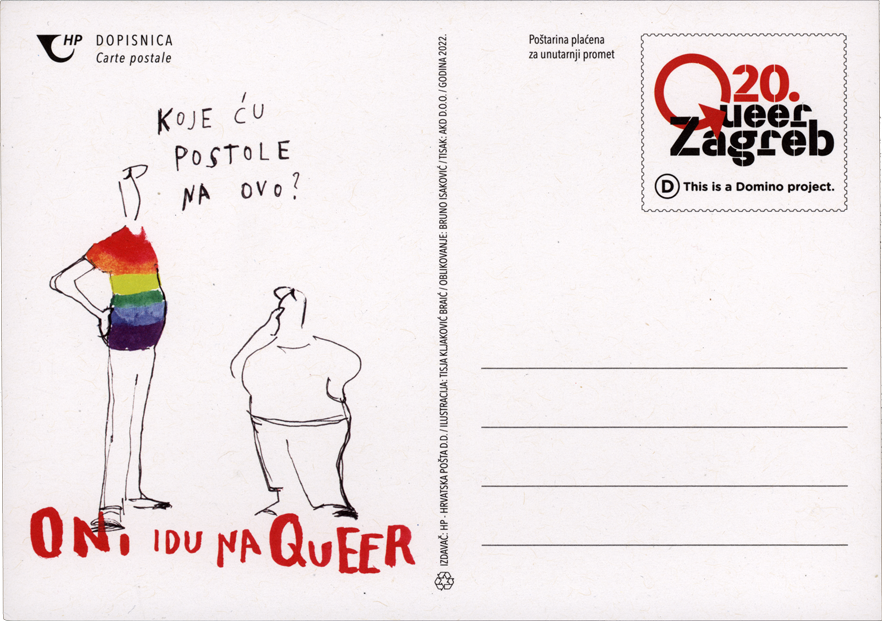 Croatia issued on June 29. 2022, a postal card for the 20th anniversary of the Queer Zagreb festival. The 2022 festival was actually held from May 24 through June 5. The card is available from WOPA+ Stamp and Coin or the Croatian ePost Shop.
Israel Issues Pride Stamp
Israel's first pride stamp was issued on June 28. Despite heat warnings, upwards of 170,000 people were said to have attended the 20th Annual Pride Parade held in Tel Aviv on June 10, 2022. The stamp is available from your favorite new issue dealer or Israel Post.
Ballet Russes Founder Gets Stamps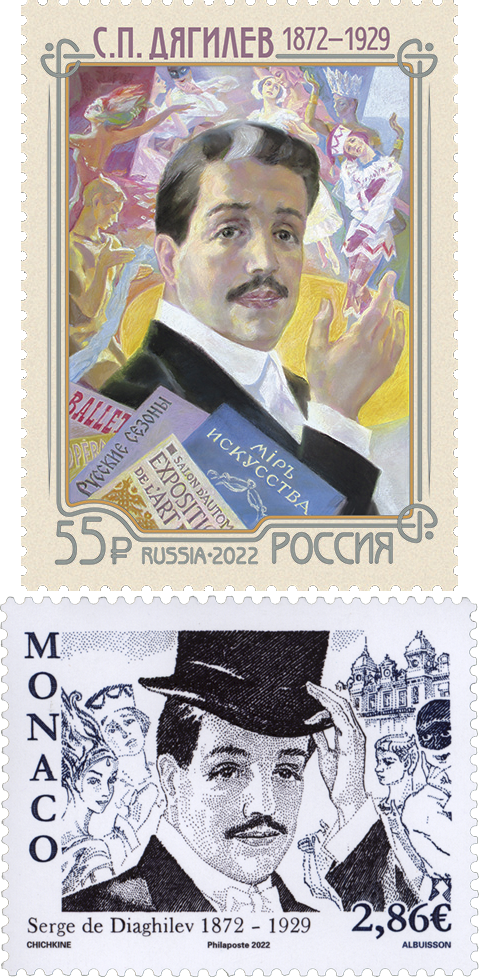 For the sesquicentennial of his birth, Sergei Pavlovich Diaghilev (1872-1929), a Russian art critic, patron, ballet impresario and founder of the Ballets Russes, appears on stamps from Russia and Monaco. Initially studying in Saint Petersburg to become a composer, he was told by Nikolai Rimsky-Korsakov he lacked talent. In the late 1890s, Diaghilev turned to organizing art exhibitions and became involved in the publication of a journal dedicated to the arts and in the Imperial theater. In 1906, Diaghilev emigrated from Russia, and wound up in Paris, France, the world's cultural capital. There he concieved the Ballets Russes, an itinerant company that performed in Europe, and toured North and South America between 1909 and 1929. Considered the most innovative and influential company of the 20th century, Ballets Russes completely reinvigorated the art of performing dance, and introduced its audiences to tales, music, and design motifs drawn from Russian folklore. His most famous lover was dancer Vaslav Nijinsky. After Nijinksky married a woman in 1913, Nijinksy was dismissed from Ballets Russes, though he later returned occasionally. Of Diaghilev's various lovers, only choreographer and dancer Léonide Massine, who replaced Nijinsky, provided him with "so many moments of happiness or anguish." Aside from Russian and Monoco emissions that appeared March 31 and May 9 respectively, Diaghilev and Ballets Russes have been the topic of a number of previous stamps from those countries.
USPS honorS Edmonia Lewis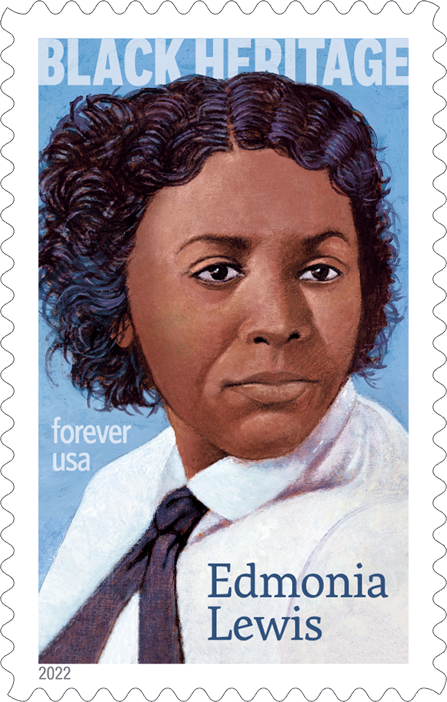 Mary Edmonia Lewis (circa 1844-1907) is the subject of the 45th stamp in the Black Heritage series. The release date was January 26, 2022. The first African-American and Native American sculptor to achieve international recognition, Edmonia Lewis challenged social barriers and assumptions about artists in mid-19th century America. One of her most prized works was Forever Free (1867), a sculpture depicting a Black man and woman emerging from the bonds of slavery. Another piece, The Arrow Maker (1866), draws on her Native American roots and shows a father teaching his young daughter how to make an arrow. Lewis also created busts of American presidents. Lewis was part of an American expatriate circle in Rome consisting mostly of openly lesbian women. She never married, had no known male companions, and no children.
Moliére's 400th Birthday Celebrated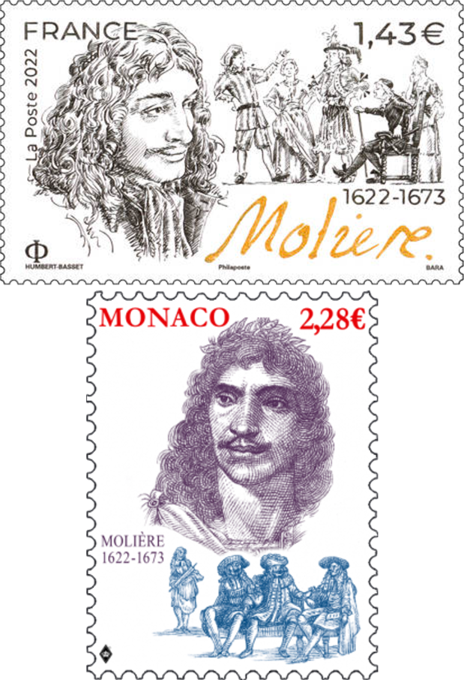 France and Monoco feted in January the 400th birthday of actor, troupe leader, author and director, Jean-Baptiste Poquelin (1622-1673), known as Moliére. He exploited the whole gamut of comedic effects, making laughter a weapon to combat the mores and constraints of his time, arousing resounding controversies and lasting hostility from devout circles. Moliére's work constitutes one of the pillars of literary education in France and remains one of the references of universal literature. The stamps can be ordered from France's La Poste and Monaco's Office des Timbres.